Auto
Last Updated Nov 28, 2022, 8:54 AM
NASCAR Blue-Emu Maximum Pain Relief 400 Picks, Predictions
Do you know how I know the new NextGen car is producing the best start to a NASCAR Cup season ever? Because there have been seven different winners in the first seven races, and three of them were first-time winners. 
Seven winners in the first seven have only happened six times in the modern era.
If an eighth different winner wins at Martinsville Speedway Saturday, it will be only the third time in NASCAR history. Two times with nine straight, in 2003, and 2000, and only one season (2000) has 10 straight different winners to start a season, the final win of the streak by Jeremy Mayfield at Fontana. 
By the way, Mayfield tweeted he's watching NASCAR again – even he loves the NextGen car. What's not to like? Lots of passing, lots of parity, and for bettors lots of beefy prices are offered on drivers with cars that can actually win.
BLUE-EMU MAXIMUM PAIN RELIEF 400 PICKS & PREDICTIONS
The combined margin of victory (0.458-second) is the closest through seven races since the advent of electric scoring in 1993. The new car has also produced the most green flag passes for the lead since NASCAR Loop Data was created in 2007. It also has set a few individual track records for parity.
I can make a case for at least 20 drivers to win this week, maybe 28 drivers. It's been like superspeedway racing for the last two decades. 
I absolutely love 2022 NASCAR racing, and while I'm still accumulating data from each race and a viable angle to follow, I've found I like spreading my odds-to-win bet wagers across six or seven drivers with staggered amounts based on who I like most. I'm still not betting the driver matchups, or at least until I can find an angle where I think I have some kind of edge. I feel like the angles are getting better.
So let's give the NASCAR upper management and engineers a people's award as appreciation for making NASCAR much better with the new car. However, we take it back next week because the same people love putting knobby tires on these beautiful cars at Bristol while dumping mounds of dirt on one of NASCAR's cathedrals. I can't believe we're doing it again next week.
Anyway, this week I'm pumped. I want to see an eighth different winner and we have a few guys that have also historically been good at Martinsville's flat 0.526-mile paperclip layout. Best of all, we get Martinsville at night with some serious bumping and banging and feelings get hurt and tempers flare. How about a skirmish after the race? Let's make the number Yes -500. Dang, someone laid it before I could finish typing it, now the number -700.    
I feel like this could be the best Saturday night of television since the early 1980s when ABC showed T.J Hooker, the Love Boat, and Fantasy Island back-to-back-to-back. All the best FS1.
Since the theme of the week is possibly having an eighth straight different winner in the new car, let's talk about some of the quality drivers that could extend the streak starting with this week's favorite. 
Betting On NASCAR
Best NASCAR Betting Sites:
bet365 | BetMGM | Caesars Sportsbook | DraftKings | FanDuel | FOX Bet | PointsBet | Unibet | Best US Sportsbooks
Where to bet on NASCAR:
Arizona | Colorado | Illinois | Indiana | Louisiana | Michigan | New Jersey | New York | Pennsylvania | Tennessee | Virginia | West Virginia
BLUE-EMU MAXIMUM PAIN RELIEF 400 BETTING ANALYSIS
BetMGM has Martin Truex Jr. as the 5-to-1 favorite to win Saturday night's Blu-Emu Maximum Pain Relief 400 on the basis that he's won three of the last five at Martinsville including the most dominant win in the track's history as it celebrates its 75th year anniversary. In 2019, he led 464 of the 500 laps in the fall race – good riddance to that car. He hasn't won yet with the new car and his team is still adjusting weekly, but last week was a great sign.
"I feel pretty good about how things are going," Truex said. "I think everyone up and down pit road is still trying to get a handle on this new car, but I definitely liked the improvements we had last week at Richmond. James (Small, crew chief) and all my guys and everyone back at Joe Gibbs Racing and TRD are working so hard right now to put us in position to win. It was great to see their hard work pay off last week with what I thought was the best car there. Hopefully we can keep that up and maybe carry some of that momentum to Martinsville."
Kyle Busch is listed by BetMGM at 8-to-1 odds to win and even though he has only two Martinsville wins, he has the most top-fives (17) among active drivers in his 33 Cup starts (11.8 average finish). He's always there with a chance to win. He's also got the most short track wins (16) among actives when adding in Richmond (6 wins) and Bristol (8 wins). What's the strategy for short track races like Martinsville?
"I think just being able to get comfortable, get settled, and make sure that you're good to go for those long hauls," Busch said. "Don't worry about what lap it is, ever, during a race. That's the worst thing that could happen to you. You just try to not ever worry about what lap you're on or what's going on around you. You just keep battling, keep driving, keep your focus forward on what you're doing. That's the best way to go about those races. This one is a bit shorter with 400 laps instead of the 500 laps we are used to there, but there are still going to be some long hauls, for sure."
I love that this race is shorter at night. Put some urgency into making something happen. It's not that I like wrecks, but I do like conflict, and I do like seeing drivers show emotion during and after a race. If you gotta pay back someone from last week or the first seven weeks, or even last year, Martinsville is probably the best place to do it because of the slow speeds. Punting someone likely won't put him in the hospital. 
I believe the last Martinsville race with only 400 laps was in 1976 due to a gas shortage, an era in which I lived and I promise you that 2022 gas troubles are nothing like the late 1970s. High prices? How about no gas?
Caesars Sportsbooks have Tyler Reddick at 30-to-1 odds and I bet him due to a resurgence at RCR and being competitive in most races, but mostly how he ran on the flat quarter-mile layout at the L.A. Coliseum when he led 51 laps in the non-points Busch Light Clash.
BLUE-EMU MAXIMUM PAIN RELIEF 400 BETTING RESOURCES
Date: Saturday, April 9, 2022
TV-Time: FS1, 7:30 p.m. ET
Venue: Martinsville Speedway
Location: Ridgeway, Virginia
Distance: 210 miles
Laps: 400
How about 2020 Martinsville winner Chase Elliott who is tied for the most points (241) this season but has yet to win. It's a good track for him. He was runner-up last spring and also in the spring race of 2019. But the new car is obviously still a challenge as Elliott's crew chief Alan Gustafson explains.
"Martinsville is super unique and that's what I like about it," he said. "I really like going there. With this new car, it's just going to be a huge difference for us to get it to do what the old car did setup-wise, so that's going to be a learning curve for us."
I love it. The new car is making it harder for teams to be creative, and I say creative as an alternative because cheating sounds so bad. If you're not cheating, you're not trying. Caesars and BetMGM both have listed at 7-to-1 odds to win.
Ryan Blaney at 8-to-1 odds to win is fool's gold. I've been a fool at least three times this season betting him to win. He has three poles and leads a bunch of laps, but he's been ordinary in traffic and can't move ahead. I didn't bet him this week but had to mention him as a candidate to win because he has a 10.7 average finish at Martinsville with five top-fives in 12 Cup starts. Just great, watch him win now.
Kevin Harvick looked good at both Richmond and Phoenix, tracks he's been traditionally good at his entire career and he's been racing at Martinsville since 1998 when he started a Truck Series race. He respects the track.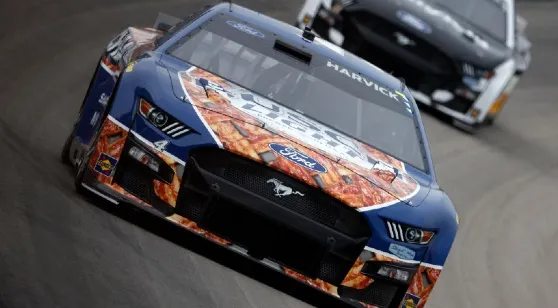 "Martinsville has a deep history in our sport," Harvick said. "It's a place that's just a part of NASCAR racing and I think you have to respect that. But I definitely would tell you it's not a racetrack that I would say, 'This is where I want to go.' It's just not been a place where I've had streaks of success."
Harvick is right about his success with only one win and five top-fives in 41 Cup starts, but he was born a short-track driver. That's where his success moved him up the ranks. I think he's sandbagging. I think he's trying to pull the reverse mush – say something not positive so the win is sweeter. Just saw it with Denny Hamlin last week who sandbagged it in a pre-race interview. Caesars is offering 25-to-1 and I'm going to wait for higher odds after practice Friday. Harvick has seven short-track wins over his career.
And then there's Joey Logano at 10-to-1 odds that I find the most attractive among the typical short-track guys. He has six short-track wins just like Truex, with one coming at Martinsville in 2018 along with eight top-fives and 1,098 laps led. He's led laps in 14 of his last 16 Martinsville starts. He gets to the front and that's the toughest battle. He flows through the turns nicely and it's the reason he won the Busch Light Clash at the Coliseum in early February as he led the final 35 laps. I like how his team has performed most of the season and I felt at times he was going to be my winner on the day. 
We should also talk about Kurt Busch at 50-to-1 odds to win. He's been ninth or better in five of his last seven Martinsville starts. He's a two-time winner and also has 10 shorts track wins over his which ranked third among active drivers. His last win came in the spring of 2014 in his first season with a new team (SHR).  Sounds familiar with his situation this season in the No. 45.
BLUE-EMU MAXIMUM PAIN RELIEF 400 CONTENDERS
Now, let's check out the candidates who have already won in the first seven races starting with Kyle Larson who BetMGM is offering at 10-to-1 odds.
"I love racing at Martinsville, but I haven't been that fast there in the past – at least fast enough to win," Larson admitted. "I always go there with enthusiasm, with the mindset to continue to work hard and evolve and to become better. Hopefully, we can battle for the win."
The new car brought Larson back to the pack after a 10 win 2021 and over his career, he averaged a 20th-place finish in 14 Cup starts at Martinsville with a best of two top-fives. I might need 20-to-1 odds to take a shot here. 
I really like Larson Hendrick's teammate Alex Bowman offered at 15-to-1 odds at Caesars Palace. Help me figure out the logic of having all his teammates 10-to-1 or less, including one who has no wins yet (Elliott), and Bowman won the last race at Martinsville? He comes in hot with momentum.
"We have had three back-to-back top-10 finishes, which is getting us closer to our goal of being consistent," Bowman said. "Having a great race at COTA and then following that up with an eighth-place at Richmond boosts the confidence of everyone on the team, not just myself. Greg (Ives) and the rest of the guys at the shop work really hard to give me the best Ally Chevy they can put together and it's showing. Going back to Martinsville, a place that I won late last year, is something that keeps us looking in the right direction. I think we can go down there and repeat our success from last season."
I'd like to see it too.
I also bet Ross Chastain at 30-to-1 because of his road course racing skills which should help him navigate the tight corners at each end. Get in and out as fast as possible without losing control. That's all Chastain, and he's a badass so this track is perfect for him. I also considered that this is also a track he could have some enemies and be punted easily. But Chastain is tough and this new car is also extremely tough.    
The last driver I'll discuss is Denny Hamlin who grabbed his first top-10 of the season last week with a win at Richmond. The Virginia native got some home cooking at a track where he was one of the best and he gets a chance to get more home cooking at the other track at Martinsville where he leads all active drivers with an average finish (10.1), wins (5), and lap led (1,987). Let's just say a win can cure all evils and now he has momentum.
"Obviously winning gives you confidence," Hamlin said. "For our team, it was really validation because we know we have a great team and just had a really bad first few races. We went to Richmond with a new direction with the car and that was definitely an improvement on where we were at Phoenix particularly. But now we go to Martinsville, which is a lot different than anything else that we've seen with this car, so it's going to be its own thing. Hopefully, some of what we learned will translate and can help us, but nothing is guaranteed right now, so we're going to have to have the same mindset and just make the most of what we have."
Haha, Hamlin is sandbagging again.
It's going to be a fun Saturday night special, get your grills ready and call over the friends. Tailgating begins early.
BLUE-EMU MAXIMUM PAIN RELIEF 400 TOP-5 FINISH PREDICTION
#48 Alex Bowman (15/1)
#1 Ross Chastain (30/1)
#11 Denny Hamlin (8/1)
#8 Tyler Reddick (30/1)
#22 Joey Logano (10/1)
We may be compensated by the company links provided on this page.
Read more