Auto
Last Updated Jul 24, 2022, 12:59 PM
NASCAR M&M's Fan Appreciation 400
I'm thinking Sunday's M&M's Fan Appreciation 400 at Pocono Raceway will be the most interesting NASCAR race held on the Tricky Triangle simply due to the NextGen car making its race debut on the 2.5-mile layout. 
Nothing against the first 88 Cup races previously held at Pocono, but lack of passing has been an ongoing issue there. But now we have more variables with the new car. More cars are equal. Elite teams can't buy extra horsepower and creative engineering is tougher to get past NASCAR inspections.
I think best of all I'm excited to see more gear shifting than ever has been done on NASCAR's most unique track. The new car has five gears and they'll all be used getting around the three different turns that each get flatter with Turn 3 being the trickiest of all, but it also provides the best spot to make passes.
With Christopher Bell's first win of the season last week, we now have 14 drivers with a win through 20 races with six races to go until the NASCAR Playoffs begin at Darlington Raceway on Labor Day weekend. 
I've posted all the top contender's odds to win offered by BetMGM sportsbooks for drivers listed up to 66-to-1 and here's what I'm thinking for Pocono Raceway this weekend.
M&M'S FAN APPRECIATION 400 PICKS & PREDICTIONS
The first time I ever saw Chase Elliott (7/1) race was in a Pocono ARCA race in 2013 and he won. Now he's a NASCAR champion already and he leads the Cup Series in wins (3) and points (734) in 2022. But Pocono is still a place he remains winless at in 12 Cup starts.
 "I mentioned before about how New Hampshire and Pocono were two places where I felt like we really needed to improve and try to have good runs at," Elliott said. "I feel like we accomplished that last week at New Hampshire. The team gave me a great car, but I just wasn't able to get the job done. Still a far improvement from where I feel like we've been prior to that. Now we need to go and do the same thing this weekend at Pocono."
That uncertainty and the short price have me crossing off Elliott as one of my selections to win, but I also won't be betting against him in driver matchups out of respect to his skills and his crew chief Alan Gustafson's ability to create winning cars. He's basically a non-entity this week to me unless he wins and ruins my Pocono betting portfolio.
Denny Hamlin (8/1) my pick to win this week. I think Toyota will win again as they have seven of the last nine races there and it's Hamlin that leads active drivers with six wins and 797 laps led. We knew it from the beginning as well in 2006 when he won both Pocono races as a rookie.
"I think the track just fits my driving style and it's a place I picked up on right from the first time there in my rookie season," Hamlin said. "It's a great racetrack, very challenging and it's tough to get your car balanced for all three turns. Obviously, I have been very fortunate to work with some great teams and crew chiefs throughout my career as well. That gives me a lot of confidence every time I go to Pocono. This week especially, it's unlike anywhere we have been so far this season, but I feel like our team and everyone at Joe Gibbs Racing and Toyota have been working very hard and making gains throughout the year. I'm looking forward to getting on track Saturday and seeing where we stack up because I feel like it's a place that we can take advantage of and hopefully pick up some more playoff points."
I think Hamlin is fired up about the race because I think he knows Toyota is going to run well this weekend. I like betting Hamlin when he's fired up.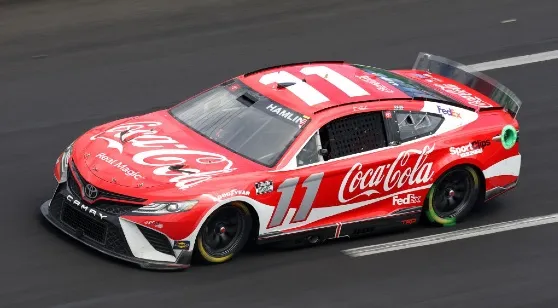 In Kyle Busch's (8/1) first 25 Cup starts at Pocono he had a few runner-ups, but no wins. But in his last nine races, he's been a beast with four wins, including one in the last race there last season. He has an understanding of the track now and explains some of the features that stand out to him.
"Every time you go there, it's a bit different," Busch said. "The bumps change, the characteristics change, where the bumps are. Are they getting bigger? Are they getting worse? Are there more? That turn-two tunnel turn is always a culprit for the bumps, and the harsh winters up there really change the racetrack. Then, what happens in turn three, where the wind is blowing and stuff like that, is always kind of a convoluted piece to Pocono, and how you get through turn three versus turn one versus two. There are three distinctly different corners, there's definitely going to be compromise."
Toyota is going to be very fast this week and Busch should challenge Hamlin for the win. It's hard to believe Busch's only win this season came in that awful dirt race at Bristol. He leads all Toyota drivers with six top-fives. 
M&M'S FAN APPRECIATION 400 BETTING RESOURCES
Date: Sunday, July 24, 2022
Venue: Pocono Raceway
Location: Long Pond, Pennsylvania
Distance: 400 miles
Laps:160
Network-Time: USA - 3:00 p.m. ET
Defending Champion: Kyle Busch
It's not like Kyle Larson's (8/1) not running well because he has eight top-fives and only Chastain has more with 10, but the guy won 10 races last season. He has just one win this season and it came in the second week of the season at Fontana. This week's race is the 21st of the season. No wins at Pocono, but he has an 11th-place average finish in 14 Cup starts with four top-fives.   
 "I always enjoy going to Pocono – it's a track that for some reason suits my driving style," Larson said. "I've had some good runs there and was close to winning there last year, so I'm excited to go back. It should be interesting in the Next Gen car. I don't know how many times we'll be downshifting. In the previous car, this was really the only oval we'd downshift at, so it may not be too different."
I said it's going to be a good week for Toyota and Martin Truex, Jr. (10/1) will benefit from it on a track he has two wins at already. After leading a bunch of laps last week at New Hampshire and winning the first two stages and having a win slip away, he has to be fired up to get back on the track.
"I am optimistic about this weekend," Truex said. "I feel like James (Small, crew chief) and everyone back at JGR has been working very hard and making gains. From where we were a few months ago, it's impressive to see all the work that has gone in. I feel like Pocono is a place we can have success based on how we've been running. Regardless of the car, it's going to come down to getting the balance as close as possible in all three corners and then maintaining track position throughout the race."
In six Cup starts at Pocono Ross Chastain (10/1) has a 29th-place average finish, but you can throw all that stuff out the window. New season, new car, with new tires and he's the most consistent with the 2022 race package with 10 top-fives and two wins. His road racing win and the balance set-up to be successful should help him run very well this weekend.
Ryan Blaney (10/1) grabbed his first career Cup win at Pocono in 2017 driving the famous No. 21 Wood Bros. car and has averaged an 11th-place finish in 12 Pocono starts, including fifth and sixth in the two race weekend last season, but I can't bet him. Especially not at 10-to-1 odds. He has no wins this season and part of it is because he's soft. He lets other drivers take advantage of his softness. Yes, Ryan Blaney is bullied often. Some day he'll stand up for himself, but until then I can't bet him.
William Byron's (10/1) last top-five this season was his win at Martinsville in week 8. It was his second win of the season. Since then it's been a struggle. But Pocono is a very good track for him. No Cup wins yet, but his 9.1 average finish is best among all active drivers. He also has a 2016 Truck Series win at Pocono.
"I'm excited to get to Pocono this weekend," Byron said. "It's a track that both myself and Rudy (Fugle, crew chief) have had success at in every level of our careers. We were close to getting the win there twice last year and we won there together in Trucks. I think there's a little bit more of an unknown for Sunday's race this time though. Even though Pocono has three different corners, they are all primarily flat and flat tracks have been an area we have struggled at this year with the Next Gen car. I think last weekend at New Hampshire we showed some improvement on those style of tracks, but ride quality was still off throughout a run. It has been hard to get the balance right for all three corners (at Pocono), and I feel like that may be an issue still this weekend. I still think my biggest focus, though, will be my drive off of turn three because it really carries you down the straightaway and sets you up with good momentum through turn one and on to turn two."
Get the VI Daily Newsletter!
Get the VI Daily Newsletter!
M&M'S FAN APPRECIATION 400 CONTENDERS
Kevin Harvick (12/1) leads all active drivers with 15 top-fives at Pocono but has only one win (2020) in 42 starts. His lone win came in the season he won nine races, and also the season of his last win. His last win came 64 races ago. But sure BetMGM, he's 12-to-1 to win as if the risk on him is anticipated to be high. Loads of bettors keying on Harvick this week, are they? Imagine a sportsbook basically putting a closed sign on a driver with unbettable odds because he's due, or has one win in 42 starts at a track, or hasn't won in two years. If you like him this week, wait to bet him as his price should rise.
The last two seasons during the pandemic, Pocono had two races on one weekend and I thought it was awesome and the wave of the future. But it wasn't to be. Harvick won one of those races and he liked the format as well.
"Any time we can get two races in one weekend, I'm in," Harvick said. "I think it added a unique element to the weekend just because of the invert and everything that happened from the first day to the second day. I always thought that was a cool weekend and I hated to see it go."
Christopher Bell (16/1) has a 23rd-place average finish among his four Pocono Cup starts as well as a 2017 Truck Series win there. He comes off a win at the flat New Hampshire layout and that excellence he showed around the turns may help him here. Plus, I love that he tested there in May for Goodyear and brought JGR and Toyota home plenty of notes to set their car up perfectly. He'll be good this week as well.
"With our tire test at Pocono I expect the race to be a good one for us," Bell said. "Pocono has been a great track for me in the past and we are carrying some momentum coming off the win last weekend in Loudon."
Just one 2012 Pocono win on Joey Logano's (16/1) record with a 17th-place average finish in 26 Cup starts. Only four top-fives. But you know what? I wouldn't be surprised if he won. Team Penske has been the bizarro squad this season on a different pattern than other teams. Logano's 2022 wins came at Darlington and St. Louis. 
I have a bet on Kurt Busch (20/1) already because I think all the Toyotas will be fast this weekend. The elder Busch has always been good at Pocono with three wins, 14 top-fives and 596 laps led. He's been strong all season even at tracks where the JGR cars struggled.  
M&M'S FAN APPRECIATION 400 BETTING ANALYSIS
Chase Briscoe (25/1) won a 2016 ARCA race at Pocono and won there in a 2020 Xfinity Series race. Nothing great in his two Cup starts but I think he'll run well this weekend.
"Pocono is definitely one of the most unique racetracks we go to," Briscoe said. "The three corners are so different that your car's never going to drive good in one or two of them. You've got to get it driving good through the tunnel turn, and you want to try to get it as close as possible to being good in the others. You want to be able to come out of the tunnel turn with the right balance for that long straightaway. Then you throw in shifting and it adds a whole new element. Most drivers already shifted there, but only in one of the corners. Now, we're going to shift in all of them. 
Richard Childress Racing last won a Cup race at Pocono in 1993 with Dale Earnhardt so I'm not pumped about betting his top driver this week. But Tyler Reddick (25/1) is good enough to win. He was 11th and ninth in last season's two races at Pocono. Bubba Wallace (28/1) had his best Pocono finish last season finishing fifth in the Sunday race which dropped his average finish down to 22.3 among nine Cup starts. He'll have a good car this week as should all who drive a Toyota and comes off a solid third-place finish at New Hampshire.
I made a bet on Daniel Suarez (33/1) just because I know if he has a good car he can win. And I believe he'll have a good car because Trackhouse Racing has given him and Chastain good cars all season and won two of three on the road courses and Pocono is called the superspeedway that drives like a road course. Suarez was a contender tow in at Pocono when he drove for Joe Gibbs. 
Aric Almirola (40/1) been strong at Pocono ever since joining SHR with both his top-fives coming on a 2020 weekend. In the Saturday race, he started from the pole and led a race-high 61 laps before finishing third. Another reason to like him this week is that he did the May Goodyear tire test for Ford and his team might have an early set-up edge due to it. 
"I think we had a really good test there," Almirola said. "We felt like we were the best car at the tire test. That doesn't always translate to success on race weekend because Goodyear could always bring a different tire, so it's hard to put too much weight into how you did at the test. I did feel good about it and I think we learned a lot. I feel like Pocono is going to be somewhat of a wild-card race. It's going to be crazy on restarts and the track is so wide. Track position is going to be as important as always, so there will be a lot of risk-taking on that big, long, front straightaway."
M&M'S FAN APPRECIATION 400 LONG SHOTS
One reason you might bet Austin Cindric (50/1) is because he won an Xfinity Series race there last season. Another reason you might is that he has great road course skills and that should help him enter and exit Turn 3 faster than most. And another reason you might bet him is that he's got Team Penske equipment.
Always a good track for Brad Keselowski (66/1) with a 10.6 average finish between 24 Cup starts with a 2011 win. He was always ready to compete at Pocono and settled for 11 top-fives. His new team at RFK Racing has shown power which is good for the long straightaway but finding the right balance has been a problem so far.
"There's obviously not a ton of experience with the new car at Pocono," Keselowski said. "From what I understand the cars can get really loose off the corners, so trying to manage that is going to be tricky, but will make it fun as well. We put together a complete run last week at Loudon, so carrying momentum is key from here on out to continue to build on our program."
In 10 Cup starts at Pocono Erik Jones (66/1) finished half of them inside in the top-five, but all five of the top-fives came when he drove for Joe Gibbs Racing. His two starts last season for Richard Petty didn't go well. But I still like the way he fights every week. He has skills suited for Pocono, but drives for Petty. 
M&M'S FAN APPRECIATION 400 TOP-5 FINISH PREDICTION
#11 Denny Hamlin (8/1)
#18 Kyle Busch (8/1)
#45 Kurt Busch (20/1)
#19 Martin Truex Jr. (10/1)
#24 William Byron (10/1)
We may be compensated by the company links provided on this page.
Read more