NCAAB
Last Updated Feb 24, 2023, 8:15 PM
Xavier Musketeers vs. Seton Hall Pirates Picks, Predictions, Odds
Dreams of a Big East title have largely been dashed for the Xavier Musketeers. They are two games behind the Marquette Golden Eagles with three games to play after dropping three of their last four tilts. The Zach Freemantle injury has been very tough for Xavier to overcome, but the Musketeers have been incredibly unlucky too. Four of their five Big East losses have been by a total of five points, so that makes it unlikely we see a blowout when they face the Seton Hall Pirates on Friday night.
The Seton Hall Pirates are in desperate need of a win against the Xavier Musketeers to keep their NCAA Tournament hopes alive. They will host the Musketeers at the Prudential Center in Newark, New Jersey on Friday, February 24, 2023, at 7 p.m. ET on FS1.
Xavier Musketeers vs. Seton Hall Pirates Betting Prediction
The return of Sean Miller has made Xavier a program to be feared once more. The Musketeers were a perennial NCAA Tournament team under Miller and Chris Mack, but they took a step back under Travis Steele. Xavier never made the NCAA Tournament in his four seasons at the helm, and the team never finished with 20+ wins. The Musketeers already have 20 wins this season despite the absence of Freemantle, and a win over Seton Hall on Friday night would likely ensure they are a top-eight seed for March Madness. That will be difficult considering Freemantle led the team in scoring in the first meeting between these teams, but the Musketeers will do enough to get the job done.
Score Prediction: Xavier 74, Seton Hall 67
Best Bet: Xavier -1.5 (-110)
Take Xavier!

Xavier Musketeers vs. Seton Hall Betting Odds
Xavier Musketeers vs. Seton Hall Betting Resources
Date: Friday, Feb. 24, 2023
TV-Time: FS1, 7:00 p.m. ET
Venue: Prudential Center
Location: Newark, New Jersey
Matchup
Expert Picks
Xavier Musketeers vs. Seton Hall Betting Stats
Xavier Musketeers
SU: 20-8
ATS: 15-12-1
O/U: 17-10-1
PPG: 81.9
OPPG: 74.8
Seton Hall
SU: 16-12
ATS: 15-12
O/U: 11-15-1
PPG: 68.3
OPPG: 64.4
Straight Up (SU), Against the Spread (ATS), Over-Under (O/U)
Points Per Game (PPG), Opponents Points Per Game (OPPG)
Xavier Musketeers Betting Analysis
Zach Freemantle is going to be out once again on Friday night, so Xavier's other big men will need to step up and fill his shoes. The Musketeers have played well on defense without Freemantle in the lineup, and Jack Nunge has done a respectable job trying to fill in for him. Nunge is averaging 14.6 PPG and 8.0 RPG, and he has scored 10 points or more in each of his last six games. The seven-footer has given opponents issues with his range too as he is making 52.6% of his field goals and 41.2% of his three-point attempts.
This Xavier offense was ranked inside the top ten nationally prior to Freemantle's injury, and his absence has not affected this team's ability to hit threes. All five of the Musketeers' starters are hitting at least 39% from beyond the arc, and that has Xavier ranking fifth nationally in three-point percentage (39.4%). The passing and distribution has been exquisite too as two-thirds of the Musketeers' successful field goal attempts are off of assists. That's the second-highest mark in the nation.
Along those lines, every Xavier starter is averaging at least 2.0 APG. Colby Jones is the top distributor at 4.7 APG, and Souley Boum is right behind him with 4.6 APG. Somewhat surprisingly for a team that shoots so well from beyond the arc, the Musketeers struggle at the free throw line. Boum and Adam Kunkel have both been lights out, making over 84% of their attempts, but the other three starters are shooting less than 70% from the charity stripe.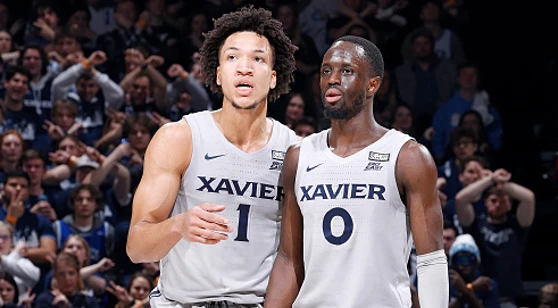 Seton Hall Pirates Betting Analysis
Shaheen Holloway pulled off one of the greatest coaching feats we've seen in a long time last year. Holloway led the Saint Peter's Peacocks to the Elite Eight as a No. 15 seed in the 2022 NCAA Tournament. The Peacocks knocked off Kentucky, Murray State, and Purdue before losing to North Carolina with a spot in the Final four on the line, but that run put the school and Holloway on the map.
Holloway brought forward K.C. Ndefo with him to Seton Hall in order to help hammer home his defensive philosophy. The Pirates rank 13th nationally in defense according to Ken Pomeroy, and that has made them a bubble team. Opponents are making just 29.8% of their threes against Seton Hall, and the Pirates rank in the top 50 in block percentage and steal percentage.
The only thing that Seton Hall does well on offense is get to the free throw line. The Pirates really struggle with everything else, and only three members of this squad are scoring in double digits. Al-Amir Dawes has been the go-to guy when push comes to shove, and he is averaging 12.7 PPG and making over 40% of his threes on almost 170 attempts. Kadary Richmond is a good passer and a solid three-point shooter, but the Pirates need so much more on offense.
We may be compensated by the company links provided on this page.
Read more