NCAAB
Last Updated Mar 10, 2023, 9:41 PM
Big East Semifinal: Creighton vs. Xavier Picks, Predictions, Odds
Either the Creighton Bluejays or the Xavier Musketeers will have the opportunity to claim their first Big East Tournament title on Saturday night in the Big Apple. However, while Xavier has only been the bridesmaid in the Big East Tournament once, Creighton has finished runner-up four times in the last eight tournaments. That has the Bluejays looking for a breakthrough, and they might finally have their catharsis this weekend. Although they split their season series with Xavier, the Musketeers are not the same team with star forward Zach Freemantle out.
The second semifinal in the Big East Tournament is slated to start at 9 p.m. ET from Madison Square Garden in New York, New York. The Creighton Blue Jays and Xavier Musketeers will face off on FS1 with the victor taking on either UConn or Marquette in the Big East Championship Game on Saturday.
Creighton Blue Jays vs. Xavier Musketeers Betting Prediction
The Xavier Musketeers are 7-3 without Zach Freemantle, and they have knocked off Providence twice in that stretch. However, they haven't defeated any of the other top teams in the Big East since his injury, so it's hard to back Xavier here even though Sean Miller has been able to rally the team. Creighton has a lot of size, and the Bluejays should have a lot of success giving the ball to Ryan Kalkbrenner in the paint.
Best Bet: Creighton -3.5 (-110)
Score Prediction: Creighton 83, Xavier 72
Creighton Blue Jays vs. Xavier Musketeers Betting Odds
Creighton Blue Jays vs. Xavier Musketeers Betting Resources
Date: Friday, Mar. 10, 2023
TV-Time: FS1, 9:00 p.m. ET
Venue: Madison Square Garden
Location: New York, NY
Matchup
Expert Picks
Creighton Blue Jays vs. Xavier Musketeers Betting Stats
Creighton Blue Jays
SU: 21-11
ATS: 16-16
O/U: 15-17
PPG: 76.8
OPPG: 67.9
Xavier Musketeers
SU: 24-8
ATS: 17-15
O/U: 21-11
PPG: 82.1
OPPG: 74.5
Straight Up (SU), Against the Spread (ATS), Over-Under (O/U)
Points Per Game (PPG), Opponents Points Per Game (OPPG)
Creighton Blue Jays Betting Analysis
Ryan Kalkbrenner is one of the most efficient scorers in the country as a 7'2 center with good mobility. Kalkbrenner is averaging 15.3 PPG, and he is making 73.6% of his two-point attempts. He is a very good free throw shooter, and although he is only averaging 6.2 RPG, that's because he allows the guards to grab the rebounds to look for quick scoring opportunities.
Trey Alexander is the second leading scorer on Creighton. Alexander is averaging 13.7 PPG, and he is an elite three-point shooter that is making 43.8% of his triples. He is also a very good free throw shooter, as that's the standard for the Blue Jays. All five starters are making at least 72.1% of their free throws, and the three guards (Alexander, Baylor Scheierman, and Ryan Nembhard) are all making at least 80% of their freebies.
Creighton ranks 14th in defensive efficiency per Ken Pomeroy. The Blue Jays don't commit unnecessary fouls, and they rebound extremely well as the guards do a great job helping out in this department. Opponents are making just 45.5% of their two-point attempts against this team, so Xavier will need to shoot well from beyond the arc in order to pull off the upset. The only thing that Creighton doesn't do well on defense is turn opponents over.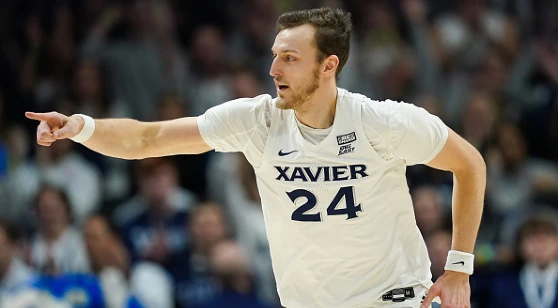 Xavier Musketeers Betting Analysis
There is still a decent amount of size on Xavier even with the season-ending injury to Freemantle. Jack Nunge is a seven-footer that has seen his minutes increase over the last month, and he is now averaging 14.3 PPG and 7.8 RPG. Nunge is making 42.7% of his threes too, allowing him to help the Musketeers spread the floor. Jerome Hunter is the other frontcourt player to watch, and he has been very good at grabbing offensive rebounds to give Xavier second chances.
Souley Boum and Colby Jones have taken more shots with Freemantle out, and they are now the two leading scorers on the Musketeers. Boum is averaging 16.8 PPG and he is making 42.8% of his threes, while Jones is averaging 15.5 PPG and making 52.6% of his field goal attempts. That has led to this offense remaining elite with Xavier ranking sixth nationally in offensive efficiency.
There are some big concerns on defense though. The Musketeers allowed 84 points to DePaul on Thursday, and teams do a very good job of knocking down their threes against this perimeter defense. Xavier has been tough to watch without Freemantle on this end, as the Musketeers don't force a lot of turnovers, but they are led by four seniors and will be gritty.
We may be compensated by the company links provided on this page.
Read more