MLB
Last Updated Aug 30, 2021, 9:52 AM
World Series Best Bets - L.A. Dodgers vs. Tampa Bay Rays
2020 World Series Betting Preview
After a wild LCS round that nearly saw the Houston Astros come all the way back from a 3-0 series hole against Tampa Bay, and the Los Angeles Dodgers coming back to beat Atlanta after going down 3-1 in their series, it's the Dodgers and Rays left standing; the two teams who finished this unique 60-game regular season with the best records in their respective leagues.
We saw chalky teams cash at the window in both the NHL and NBA playoffs this year with Tampa Bay winning the Stanley Cup and the L.A. Lakers winning the NBA title, and now one of those cities is less than 10 days away from celebrating another professional sports title.
World Series Schedule
Game 1 - Tuesday, Oct. 20
Game 2 - Wednesday, Oct. 21
Game 3 - Friday, Oct. 23
Game 4 - Saturday, Oct. 24
*Game 5 - Sunday, Oct. 25
*Game 6 - Tuesday, Oct. 27
*Game 7 - Wednesday, Oct. 28
* If Necessary
Will it be this Tampa Bay Rays team who will be yet another team to spoil a L.A. Dodgers title pursuit and put the third World Series loss on this Dodgers franchise in the past four years?
Or will all that pressure of finally getting over the hump and realizing a championship with this core they've got in LA push this Rays franchise to 0-2 all time in World Series appearances?
The series price suggests it will be the "City of Angels" who will be the ones to finally get that title that's eluded them through two "suspect" World Series appearances in 2017 and 2018 that had them get 'cheated' out of a ring in both tries.
World Series Odds:
Los Angeles Dodgers (-200)
Tampa Bay Rays (+160)
World Series Historical Notes
Before the specifics of this matchup get brought up, there are a few key historical things I found in my research that should at least be made aware of.
To start, these 2020 League Championship Series (LCS) rounds marked the first time since 2004 that both the ALCS and NLCS needed the full seven games to be decided, and that was the year of the historical Boston Red Sox comeback from 3-0 down in that ALCS to the New York Yankees.
The St. Louis Cardinals needed the full seven games to get by Houston in the NLCS that year, as Boston went on to sweep the Cardinals for the title. The only other time that happened in the modern era prior to 2020, was actually the year prior in 2003. It was the then Florida Marlins who knocked off the New York Yankees in seven games in the World Series, one round after coming back from a 3-1 deficit in the NLCS against the Chicago Cubs; the year of the infamous Steve Bartman game.
You can see that World Series winners by league is a dead heat at 1-1 in those past situations, but I bring them up because both the Red Sox and Marlins have something in common with the 2020 LA Dodgers; they all came back from 3-1 deficits in the LCS round.
Each of the past five MLB teams to come back from a 3-1 series deficit at some point in the playoffs has gone on to win the World Series that season, with four of the five comebacks coming in the LCS round (2003 Marlins, 2004 Red Sox, 2007 Red Sox, and 2012 Giants). The Chicago Cubs of 2016 were the last team to successfully overcome that type of deficit and they did it in the World Series itself.
Even taking it all the way back to the 1925 World Series, there have now been 14 times (thanks to the Dodgers) where a MLB team came back from a 3-1 series hole, and of the previous 13 to do it, 11 of them were holding the trophy at season's end. That's some pretty good history on the side of the Dodgers in this series.
Yet, the last time we had a MLB team come back from a 3-1 series deficit and not go on to win the World Series that year was also the same time we last saw the Atlanta Braves franchise in a LCS round; 1996.
Means next to nothing for the specifics of this year's World Series I know, but it is interesting to note that the last MLB organization to come back from 3-1 down and not win a title was the one the Dodgers just beat in the same fashion to get to a World Series vs. an AL East team, as the Braves did in 1996. Atlanta won the first two games of that World Series before dropping the final four, so just keep that in mind in the Dodgers love in the market continues to go through the roof if they grab an early series lead.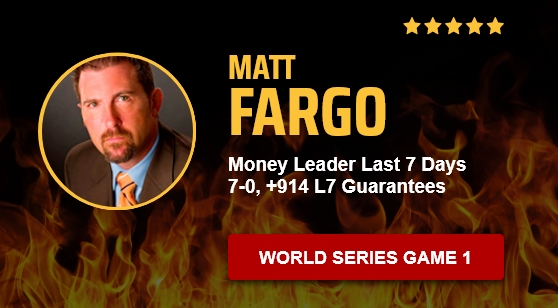 How to bet the World Series
Individual player specifics aside, the question that most of the betting market has to be asking themselves is whether or not this L.A. Dodgers group can/will actually lose three World Series in the past four years.
It's an interesting dilemma to wrap your head around, because the popular answer to that question is always going to be "No, the Dodgers won't lose three titles in four years," especially when they were cheated out of the previous two. Dodgers fans will always state that those contests against the Astros and Red Sox would have definitely been different had the sign stealing thing not gone on, but that's not ACTUALLY the case.
They could have been different for sure, and definitely would have been different overall, but different doesn't equate to the Dodgers winning those series'. That idea tends to land on deaf ears though because seeing the Dodgers lose again is a concept that's going to be hard to fathom.
So if the Dodgers are going to be the consensus play, it then becomes about price point and how willing you are to lay -200 on a team you know has boatloads of pressure on them to finally get the job done and win that World Series. The pressure hasn't cost them yet, but they were down and out to the Braves there for awhile late in that series and if there ever was a sign that the pressure of the moment could be getting to Los Angeles, falling down in that LCS like they did, and the extreme outbursts of celebration/relief after some of the huge plays Mookie Betts made defensively in those final few games would have to be that sign.
And yet here I am, 1000 words in and have not even touched on what the 2020 Rays are bringing to the table here. That's making the same mistake many bettors make in terms of completely disregarding one side (or multiple perspectives) of a game because it's contradictory to what the mind has already made up. And for a variety of reasons, most of the baseball world has already made up their minds that the Dodgers are going to be 2020 champs.
Look, this Rays team is a very good baseball team that could easily win this series if they continue to play the fundamentally sound baseball they have to get to this point. Tampa Bay just doesn't shoot themselves in the foot too often with errors and/or base running mistakes like the Dodgers benefited from against San Diego and Atlanta, and the stable of pitchers the Rays have from front to back could end up providing plenty of fits for this L.A. team.
But I, like most of the marketplace am going to have to side with the Dodgers here as well. The pressure to win a championship is slightly concerning given what we saw from them last round, and it was my belief at the start of that Atlanta/Los Angeles series that L.A. wouldn't deal with that pressure well and used it as part of the secondary support for my play on the Braves to win that series. The Dodgers proved me wrong though, and just getting back to this championship series has to be a huge relief.
World Series Predictions
And while I'm not a huge "experience" guy in the playoffs that many bettors are, the fact that this is the 3rd World Series in four seasons for the bulk of this L.A. team does have to account for something positive in LA's favor as well. They've been apart of all these bright lights and media coverage – back in pre-COVID days when there were exponentially a lot people around – and the experience of being in a World Series is going to be completely new for basically the entire Tampa team. Pressure can be overwhelming, but so can stage fright.
Now I'm still not completely confident in backing the Dodgers here because of the price, as losing three titles in four years isn't completely unheard of in professional sports, but even at what's seemingly a slightly inflated price on Tampa, I really don't want much to do with the Rays winning four of seven here.
Even just going through the history of World Series winners in this league, in relative recent history since the 1970's, almost every time we've had a team make at least three World Series appearances in a stretch of about a handful of years (5-7 years), we've always seen that organization come away with at least one title.
The San Francisco Giants did it at the beginning of last decade (2010's), While the Yankees at the turn of the century, Braves in the early 1990's, Oakland at the end of the 1980's, St Louis in the early-mid 1980's, and even this Dodgers organization in the late 1970's all fit the bill.
Heck the two times it's happened there where the franchise actually lost the first two of those World Series appearances like the 2020 Dodgers – the 1977 and 1978 LAD and 1991 and 1992 Atlanta Braves – they both went on to win the championship in that next try a few years later (Dodgers in 1981, and Braves in 1995).
With both the 1981 and 1995 World Series' finishing in six games, and each of the last three teams to come back from a 3-1 LCS series deficit sweeping away their foes in that respective World Series (2012 SF Giants, 2004, 2007 Boston Red Sox), I've decided that the two units I'd have to lay in LA just to win the series, may be better spread out on two different exact series wagers to hopefully connect on a nicer payday.
World Series
Exact Game Prices
No. 1 L.A. Dodgers vs. No. 1 Tampa Bay Rays
Tampa Bay Rays 4-0 +2300
Tampa Bay Rays 4-1 +1100
Tampa Bay Rays 4-2 +650
Tampa Bay Rays 4-3 +550
Los Angeles Dodgers 4-0 +7775
Los Angeles Dodgers 4-1 +350
Los Angeles Dodgers 4-2 +350
Los Angeles Dodgers 4-3 +460
The Dodgers to win 4-2 is priced at +350 currently, while a Dodgers sweep is +775.
Connecting on either earns more than simply betting two to win one, and it could also create some interesting hedging opportunities in certain games depending on the series score and if they come up in Games 4, 5 or 6.
Given the Game 1 price already having the Rays listed as a huge underdog, you know that they'll be 'dogs in every game of this neutral field World Series and that's never a bad thing when that's the side you need to hedge.
World Series Series Best Bets
L.A. Dodgers to win 4-0 +775
L.A. Dodgers to win 4-2 +350
World Series MVP Best Bets
Mookie Betts +800
AJ Pollock +2500
*Note – we haven't had consecutive World Series MVP winners be pitchers since the 1996 and 1997 seasons; Washington SP Stephen Strasburg won MVP in 2019
Daily Newsletter - Sign Up Today!
Sign up to get daily betting columns and advice delivered directly to your inbox.
We may be compensated by the company links provided on this page.
Read more