Milwaukee Bucks vs. Denver Nuggets Picks, Predictions, Odds
Regular season NBA action resumes on Saturday night with a heavyweight non-conference clash between the Denver Nuggets and Milwaukee Bucks. Coverage begins from Ball Arena in Denver at 9:00 p.m. ET on NBA TV.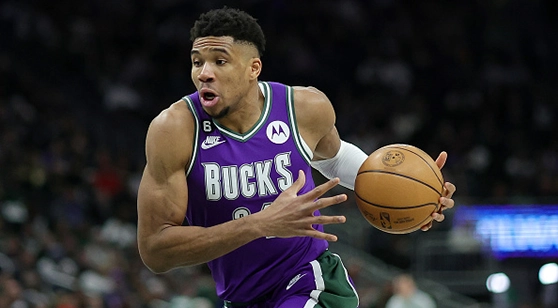 MILWAUKEE BUCKS vs. DENVER NUGGETS BETTING PREDICTION
The top seeds from opposing conferences meet in Denver on Friday, and not to mention, a pair of MVP candidates will as well, as Nikola Jokic (+250) and Giannis Antetokoumpo (+350) both trail Joel Embiid (-150) by a slim margin in the MVP race, but they'll both have a chance to make up some ground with a convincing performance in the spotlight tonight.
Jokic has been the frontrunner for most of the year, which may seem like the correct choice on paper, as the two-time reigning MVP winner is averaging 25 PPG, 11.9 REB, and 9.9. AST on the season, yielding similar scoring numbers to Embiid and Giannis, yet pacing them in the other two major statistical categories.
In years past, total stats and games played served as clear differentiating factors for Jokic in the MVP race, but this time around, the overall picture is far more muddled. Believe it or not, NBA awards voters are real people too, and they are just as susceptible to buying into particular narratives or statistical reasoning as the average basketball fan.
So, where exactly does the general perception lie at the moment? There's no denying the fact that Jokic is having another MVP-worthy campaign, however, his scoring numbers are slightly less impressive than years prior, averaging almost three points less than he has in previous seasons, and he's far worse at the defensive end than his runningmates.
As an NBA center, Jokic's primary job is to protect the rim, and quite frankly, he tends to underperform in that particular facet of the game, as opposed to Embiid and Giannis, who have played just as well as the Joker on offense, while also managing to maintain the status of being All-World defenders.
The talk surrounding Jokic's defensive struggles certainly isn't new, it's been a lingering argument against him in MVP discussions for years now, but this year, it's finally due to catch up with him in the voting, just like it continues to hurt them in matchups against elite frontcourts.
Make no mistake about it, Jokic is one of the most talented players in the league at the offensive end of the floor, and most of the time, he skates by with his defensive woes because in this day and age, there's only a handful of players truly capable of dominating a game from the painted area.
Will the MVP voters finally acknowledge the fact that Jokic is far inferior at 50% of the game than his runningmates? Only time will tell; but in real basketball, this is a total mismatch in the down low. Take Milwaukee in this one.
Score Prediction: Bucks 116, Nuggets 110
Best Bet: Bucks +1.5 (-110)
MILWAUKEE BUCKS vs. DENVER NUGGETS BETTING ODDS
MILWAUKEE BUCKS vs. DENVER NUGGETS BETTING RESOURCES
Date: Saturday, March 25, 2023
Venue: Ball Arena
Location: Denver, Colorado
TV-Time: NBA TV, 9:00 p.m. ET
Matchup
Expert Picks
MILWAUKEE BUCKS vs. DENVER NUGGETS BETTING STATS
Milwaukee Bucks
SU: 52-20
ATS: 41-31
O/U: 34-38
PPG: 116.4
OPPG: 112.1
Denver Nuggets
SU: 49-24
ATS: 40-33
O/U: 35-37-1
PPG: 116.7
OPPG: 112.8
Straight Up (SU), Against the Spread (ATS), Over-Under (O/U)
Points Per Game (PPG), Opponents Points Per Game (OPPG)
MILWAUKEE BUCKS vs. DENVER NUGGETS BETTING TRENDS
•