NFL
Last Updated Jan 26, 2023, 11:23 AM
NFL Divisional Playoffs Over-Under Picks, Predictions, Odds
The NFL Divisional Playoffs round has four games on tap and we'll be focusing on over-under wagers. 
Bettors riding the 'over' in the Wild Card Weekend round had a great weekend as the high side posted a 5-1 record and it could have easily been 6-0 if the Dallas Cowboys kicker showed up in the finale on Monday. 
None of those games had a closing total listed above 50 points but that's not the case for the Divisional Playoff round as there are two totals listed at 50.5 or higher and they both take place in the AFC.
Historically, there aren't many recent trends to note as we've seen the 'over-under' post an 8-8 mark over the last 16 Divisional Playoff games with a 2-2 mark each of the last four years. 

Let's break down the totals with our VegasInsider NFL Experts.
Cincinnati Bengals vs. Buffalo Bills Over-Under Pick
Date: Sunday, January 22
TV-Time: CBS, 3:00 p.m. ET
Cincinnati Bengals
Overall O/U: 7-9-1
Road O/U: 3-5-1
Last 5 O/U: 3-2
PPG: 26
OPPG: 19.9
Buffalo Bills
Overall O/U: 7-10
Home O/U: 6-3
Last 5 O/U: 4-1
PPG: 28.8
OPPG: 18.6
Recent Meetings
2019 - Buffalo 21 vs. Cincinnati 17 (Under 43.5)
2017 - Cincinnati 20 vs. Buffalo 16 (Under 38.5)
Best Bet: Under 48.5 (-110)
Twenty days before this game will be played, Damar Hamlin collapsed from a heart attack and the game between the Bengals and the Bills was cancelled. It's a big game obviously, with a lot on the line. Honestly, it would not be difficult to write a convincing argument for either of these teams to win. It's going to be a competitive battle, but the team that plays the best defensively is going to come out on top.
These offenses are basically a "wash" when healthy. However, these defenses seem to be a bit underrated. Both teams closed out the regular season with some high-scoring affairs, but I expect this particular game to be won today by field position and in the trenches.
Due to injuries along the offensive line, we believe Cincinnati will rely on a short passing game and ground attack to keep Buffalo off the field. Protecting QB Joe Burrow won't be easy but Miami managed to make plays when it had to, just not enough. Defensively, the Bengals have two great edge rushers and we expect both to trouble the Bills offense and hope they force turnovers.
The Bills are 4-0 at home in the playoffs with QB Josh Allen and while he gets a lot of credit, the defense needs respect too. Last week, the Dolphins put up 31 but they were gifted a defensive touchdown and short tracks due to miscues by the Bills. Miami only had 231 total yards and was 4-of-16 on 3rd downs.
In the other three playoff games under Allen at home, the defense allowed 14.7 PPG. Cincy gets stifled here and we're looking at a 27-17 final in Upstate New York.
Dallas Cowboys vs. San Francisco 49ers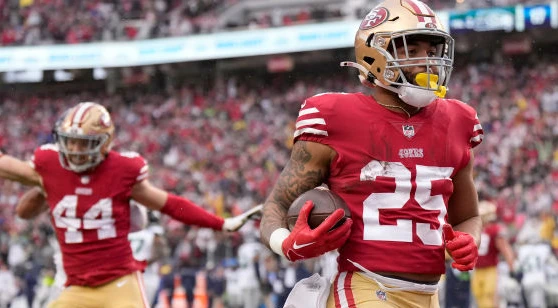 Date: Sunday, January 22
TV-Time: FOX, 6:30 p.m. ET
Dallas Cowboys
Overall O/U: 9-9
Road O/U: 4-5
Last 5 O/U: 2-3
PPG: 27.7
OPPG: 19.8
San Francisco 49ers
Overall O/U: 10-8
Home O/U: 6-4
Last 5 O/U: 4-1
PPG: 27.3
OPPG: 16.7
Recent Meetings
2022 - San Francisco 23 at Dallas 17 (Under 51)
2020 - Dallas 41 vs. San Francisco 33 (Over 45.5)
Best Bet: Over 46.5 (-110)
We're a bit surprised this "total" isn't higher, especially after watching both of the offensive units connect in the Wild Card Round. We are aware that these teams met last year in the Wild Card round and San Francisco captured a 23-17 win over Dallas, hitting 'under' (51) tickets.
Both teams moved the football in that game, surpassing 300 total yards of offense and eight scores. Unfortunately for bettors on the 'over' in this game, we had 4 field goals and 4 touchdowns. You flip the 3s into 7s, well maybe 6's for Dallas...and you hit the 'over' here.
Different season however and the San Francisco 49ers didn't have running back Christian McCaffrey at this time a year ago, either. In last year's game, SF ran for 169 yards on the ground. Dallas can't run the football against anyone, and we don't believe that will change versus the Niners.
This looks like a perfect spot for quarterback Dak Prescott to post his usual hollow stats after the outcome is decided, which likely helps push this one beyond the mid 40s "totals" price. We'll take the 'over' and expect the fireworks to continue for both teams.
Jacksonville Jaguars vs. Kansas City Chiefs Over-Under Picks
Date: Saturday, January 21
TV-Time: NBC, 4:30 p.m. ET
Jacksonville Jaguars
Overall O/U: 9-9
Road O/U: 6-3
Last 5 O/U: 2-3
PPG: 24.2
OPPG: 21.1
Kansas City Chiefs
Overall O/U: 8-9
Home O/U: 2-6
Last 5 O/U: 3-2
PPG: 29.2
OPPG: 21.7
Recent Meetings
2022 - Kansas City 27 vs. Jacksonville 17 (Under 51.5)
2019 - Kansas City 40 at Jacksonville 26 (Over 49)
Best Bet: Over 52.5 (-110)
The pattern in most of the playoff games last week was "over" at least for teams with competent offenses, and would expect that to be the case in this matchup even though it landed on only 44 in the November 13 regular-season meeting. That game was a 27-17 victory by the Chiefs and it could easily have been a higher-scoring affair.
The Chiefs fumbled in the red zone and Jacksonville missed not one but two field goals.
Kansas City was "over" in both of its playoff games last season and the Trevor Lawrence-led Jags offense scored 31 points in barely over 30 minutes to come back on the Chargers last week.
The Chargers also left points off the board last week, scoring 30 points on six scores. The Chiefs have a more efficient offense than the Chargers and if afforded the chance to get six scores, we'd expect KC to get at least four touchdowns, possibly five.
KC has been held under 30 points twice in its last 10 playoff games, scoring 22 and 24 in those. In the rest, the club averaged 37.6 points per game. If the offense is clicking, 40s could be on the board here.
New York Giants vs. Philadelphia Eagles Over-Under Pick
Date: Saturday, January 21
TV-Time: FOX, 8:15 p.m. ET
New York Giants
Overall O/U: 8-9-1
Road O/U: 4-5
Last 5 O/U: 3-2
PPG: 22
OPPG: 21.9
Philadelphia Eagles
Overall O/U: 10-7
Home O/U: 6-3
Last 5 O/U: 2-3
PPG: 28.1
OPPG: 20.2
Recent Meetings
2022 - Philadelphia 22 vs. N.Y. Giants 16 (Under 43)
2022 - Philadelphia 48 at N.Y. Giants 22 (Over 44.5)
2021 - Philadelphia 34 vs. N.Y. Giants 10 (Over 41)
2021 - N.Y. Giants 13 vs. Philadelphia 7 (Under 45.5)
Best Bet: Over 48 (-110)
The Eagles have become notorious for wasting no time kicking off the scoring in their matchups this season. Philadelphia has produced the following point totals by halftime in its 17 regular-season games this year: 24, 24, 24, 20, 14, 20, 21, 14, 14, 3, 27, 21, 24, 10, 20, 0 (without Jalen Hurts vs. the Saints) and 16.
And in their home matchup against New York in the regular season, the Birds led 16-0 at halftime, although, we all know the G-Men rested starters galore in that contest.
The Eagles have been far from great on defense this year, though, which was on full display in Week 18, considering the Giants rolled into Philly with their scrubs, and the Birds had no answer for New York's ground game.
However, the Giants' aerial attack was virtually nonexistent in that matchup. But, if they do a better job of protecting him this time around. I think we'll see New York generate some points and keep this one close.
Clearly, the Giants' offense is comfortable on the road. They just racked up 31 points in a playoff matchup in Minnesota last week, and they beat the Packers in London.
Both teams will get into the 20s and we believe the winner will be in the 30s.
We may be compensated by the company links provided on this page.
Read more