When it comes to playing at Ohio online casinos residents will not have any choices at this time. The current laws in the state do not allow for any online casinos to operate in Ohio. However, players are free to engage in real money wagering at offshore sites. There are no laws to prevent players from doing this, but for now, Ohio online casinos are not an option for real money play.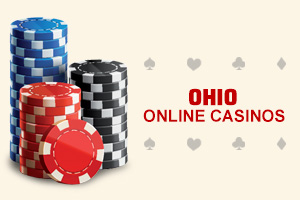 CONTENTS
Updated on : 07/03/2022
MOST LIKELY OHIO ONLINE CASINO SITES
Should the current gambling laws change in the state, you can expect the best online casinos to enter the market. With Ohio online casinos, you will be able to wager on the best games online and will also enjoy player incentives. Ohio online casinos may not yet be available, but this is believed to happen in the near future. Check out some of the great sites that will most likely become available.
BETAMERICA CASINO
BetAmerica casino is a newer online casino that just entered the state of New Jersey in 2019. When Ohio passes laws for online gambling, you can expect his casino to be one to enter the market. BetAmerica offers a well-rounded selection of games, though it does not have the largest portfolio. There are currently just over 350 games being offered in New Jersey. At this time, there are no live dealer games presented.
BETMGM CASINO
BetMGM is also a successful casino site in New Jersey and is one name you can expect to be offered in Ohio. The site offers a handsome welcome bonus and many ongoing offers. One of the highlights of the BetMGM Casino is the section of exclusive games. These are mostly slots but are titles that are not found anywhere else. The casino also offers a great assortment of classic card and table games as well as a live dealer section.
DRAFTKINGS CASINO
DraftKings has also entered the casino market. This sports betting giant also offers a great casino platform for members. The casino is powered by leading providers and delivers a great selection of titles. In order to access the casino, members must signup through the sportsbooks as the casino platform is integrated. Since the DraftKings casino is relatively new, it does not feature many games. In fact, there are just five games offered, which include blackjack, roulette, video poker, and two slot selections.
FANDUEL CASINO
FanDuel is another leading sports betting site that also offers casino games. You can expect this site to be one of the first to enter Ohio when online gambling is legalized. The current casino is operating in New Jersey and offers an impressive line-up of games. There are tons of slots from NextGen, IGT, NetEnt and other providers. The site also offers video poker, live dealer games, and a great selection of classic card and table games.
FOX BET CASINO
FOX Bet casino is currently offered in Pennsylvania and may make its way to Ohio. FOX Bet remains a top choice for online sports betting in PA and NJ, but it does offer a scattering of casino games. Overall, the casino section does not feature too many games at this time. However, the company plans to focus on the casino option and add new games regularly. Here, you can play slots, table games, and poker. This casino site will be one to watch as there are plans for huge growth in the coming year.
POINTSBET CASINO
PointsBet is one of the top sports betting platforms that have enjoyed great success in multiple US states. When Ohio passes laws to allow wagering online, this betting site will surely be one to become available. For now, PointsBet only offers sports wagering and there are no casino games included. There is no word on whether these types of games will be added in the future. This site will surely be a leading choice for an Ohio sportsbook and you will benefit from some great odds, bonuses, and markets.
WILLIAM HILL CASINO
William Hill is one of the most respected brands in the industry. For years, this company has offered offshore online casinos. It has recently entered the US market and provides a great experience to players. With the William Hill Casino, you will find games from multiple software providers. The online casino offers a huge selection of titles and also has live dealer game options. William Hill is also one of the more popular online sports betting sites operating in the US.
BEST CASINOS IN OHIO
Even though Ohio online casinos are not yet available, you will have some excellent gambling options in the state. There are some super land-based casinos that house top-rated games and provide many ways to win. These casinos offer a chance to legally gamble in Ohio and are the only option until Ohio online casino sites become legal.
MIAMI VALLEY GAMING CASINO
One of the popular casinos in the state is Miami Valley Gaming Casino. This is a great casino located between Cincinnati and Dayton. Open 24 hours, you will find aisles of great video terminals that support many wagers. The casino floor contains over 1900 amazing gaming machines, so you will be able to find enjoyable titles. You will not find any table or card games being offered at this casino. It only offers video lottery terminals, so you can play slots and video poker games.
HOLLYWOOD CASINO COLUMBUS
Hollywood Casino Columbus is a full casino location, offering some of the best games in the industry. Here, you will enjoy the thrills of slots as well as table and card games. The casino offers over 2,100 gaming machines and there are 100 table games that include poker options. Some of the great games you will find include 3 Card Poker, Blackjack, Craps, Roulette, Sic Bo. Baccarat, and Let It Ride. If you want to take a break from gaming, you will find this casino to offer multiple restaurants and bars, including the popular Epic Buffet.
MGM NORTHFIELD PARK
If you want to enjoy the thrills of video gaming and live harness racing, MGM Northfield Park is a great choice. The gaming floor consists of 200,000 square feet and there are many exciting video lottery terminals. Sone of the popular games you will encounter with a visit to this racino include Fu Dai Lian Lian Dragon, Dollar Strom, Money Link, and Griffin's Throne. There is also a high limit room offered as well as outdoor gaming patios that have over 240 of the popular games available. No table games are featured at MGM Northfield Park.
LIST OF OHIO CASINOS
If you are a resident of Ohio or are visiting the state, you do have some great options when it comes to gambling at land-based locations. There are currently 11 casinos operating in the state. Unlike many other states in the US with casinos, none of the Ohio venues are Indian casinos.
You will find four standalone casino venues that are available. All other sites in the state are racinos that offer some form of casino gambling at a race track. No matter what venue you choose, you will be able to engage in exciting real money play on some of the most popular games.
Here, we offer a quick overview of the current casinos in the state, all of which offer legal gambling to those over the age of 21.
Belterra Park Gaming & Entertainment Center – 1,600 video lottery games, no table games
Hollywood Casino Columbus – Fully operating casino
Hollywood Casino Toledo – full casino offered
Hollywood Gaming at Dayton Raceway – 1,000 video games, no table games
Hollywood Gaming at Mahoning Valley Race Course – 850 video games
Jack Cincinnati Casino – full casino
Jack Cleveland Casino – full casino
Jack Thistledown Racing – 1,100 video games
MGM Northfield Park – 2,300 video games
Miami Valley Gaming – 2,500 video games
Scioto Downs Racino – 2,100 video games
OHIO CASINO LAWS
For many years, there were limited options when it came to legal gambling in Ohio. The state only offered horse racing betting, charity bingo games, and social poker games. In 2009, things started to change when the state licensed casinos and racinos. This allowed current race tracks to install and offer video lottery terminals to players. Those who are at least 21 years of age can now enjoy the thrills of slots at these locations.
There are just four full casinos located in the state. These are where you will have to go if you wish to engage in the action of table and card games. With gambling now legal in the state, you can expect Ohio online casinos to soon be offered. As for now, online gambling is not legal, but it is believed that online casinos and even online sportsbooks will be available soon.
FUTURE CASINO LEGISLATION IN OHIO
Ohio online casinos may be something that will be available in the near future. Right now, there are no bills in place that would allow for the operation of any online casino within the state. However, with the abrupt change back in 2009 that allowed casinos to operate, Ohio online casinos may be on the horizon. As things stand, online casinos are not the focus. Instead, lawmakers are paying more attention to online sportsbooks.
If online sports betting becomes legal in Ohio, you can expect Ohio online casinos to follow suit and soon become available. For now, you will have to rely on the operating venues in the state or play at offshore online casino sites until the gambling laws change.
CASINO GAMES AVAILABLE
Should Ohio online casinos start operating legally in the state, you will find these sites to present many games and many ways to win. Some of the best online casinos will enter the market and will offer hundreds, even thousands of game titles that can be played for real money. If you are interested in online casino play, be sure to check out the types of games you can expect as soon as Ohio online casinos are legalized and launched.
SLOTS
Slot games are always popular choices with online gamblers. With the launch of Ohio online casinos, you will find hundreds of slots from the best online casino providers. These games are easy to play and support a wide variety of betting options. You will find three and five-reel games along with the top paying progressive jackpot slots. With online casinos, you can also preview most slot games for free prior to wagering.
TABLE AND CARD GAMES
Not only will the leading Ohio online casinos provide players with exciting slots, but there will also be table and card games. Online casinos present games just like those in a land casino. When these sites become legal in the state, you can expect these games to be supported. You will be able to engage in your favorite casino classics. This will most likely include variations of blackjack, roulette, and poker. Sites may also offer baccarat, Craps, Casino War, and other table games.
POKER OPTIONS
Poker games will also be available. For Ohio online casinos to compete with offshore sites, they will have to provide a complete game portfolio. The casino sites will include various poker games. These may include Casino Hold'Em, Texas Hold'Em, Three Card Poker, Caribbean Stud, Let It Ride, and some other popular titles.
Some Ohio online casinos may also offer separate poker rooms. In these, you will find daily, weekly, and monthly poker tournaments. These events can offer huge payouts and hours of entertainment. Sites that make use of software that allows for live dealer games will also offer live poker. With this option, you will play in real-time and can enjoy the benefits of a professional dealer.
OHIO CASINO APPS
Until Ohio online casinos become legal, you will not find any casino apps being offered for real money play. There are many apps that can be accessed for free. These offer a way to play casual games with no monetary risk or gain.
With the launch of Ohio online casinos, you will see the offering of mobile apps. You will also find that the best online casinos will present a web-based mobile platform. This can be used with any operating system, allowing every member the chance to gamble on the go.
Some online sportsbooks that are operating in other states are joined with online casinos and casino apps. In states like New Jersey, some of the leading sites offer sports betting and casino gaming with the same mobile platform. Sites like SugarHouse, BetMGM, and Harrah's all offer casino apps as well as sports betting apps. Ohio will follow suit and will provide both options when they become legal.
OHIO ONLINE SPORTSBOOKS
At this time, online sports betting is not legal in Ohio. Lawmakers are taking a look at the benefits and will be pushing for a bill in 2020. With Ohio sportsbooks, you will be able to wager on professional and college sports right from home.
Sports betting has become the leading gambling activity in the US. Many states have already legalized online betting and offer well-known and respected sportsbook sites. When Ohio sportsbooks become available, you can expect the biggest names in the industry to enter the market and provide for exciting betting options. Ohio sportsbooks are on the horizon and you may find that online sports betting will become legal before online casinos.
FINAL THOUGHTS ON CASINO GAMBLING IN OHIO
Despite Ohio being late to the game when it comes to legalizing online gambling, there is hope. No bills have been presented that would legalize online casinos, but a bill was introduced last year for sports betting. It will once again be brought up in 2020 to see if it will pass. Most believe that once sports betting is legalized, Ohio will also start to offer online casinos.
Watch for our updates on Ohio gambling laws to stay informed of any changes regarding online gambling in 2020.
We may be compensated by the company links provided on this page.
Read more