NFL
Last Updated Aug 08, 2022, 01:43 PM
2022 Pittsburgh Steelers Betting Odds, Picks & Predictions
2022 PITTSBURGH STEELERS BETTING ODDS, PREDICTIONS, PREVIEW
The Steelers finished second in the AFC North with a record of 9-7-1 last season, which narrowly edged a handful of 9-8 squads for the final playoff spot in the conference; however, the Big Ben era in Pittsburgh inevitably came to a screeching halt with a blowout loss to the Chiefs on Wild Card Weekend (L, 42-21).
Despite still making the playoffs, the Steelers' offense struggled miserably at times last season, highlighted by Pittsburgh finishing the year ranked 21st in scoring and 28th in yards per play (20.2 PPG, 4.8 YPP); with four of their nine wins coming in matchups in which they scored 20 PTS or less.
However, Pittsburgh's offense should have a brand-new look this year, for better or worse, as the Steelers signed former Bears and Bills QB Mitch Trubisky to a two-year deal this past offseason, and they also selected former Pitt' Panthers QB Kenny Pickett with the 20th overall pick in the draft; so, it'll be interesting to see if HC Mike Tomlin can lead Pittsburgh to .500 or better for a 16th straight season with this rough-and-tumble bunch in the QB room.
Best Bet: Steelers to Make the Playoffs (+270)
2022 PITTSBURGH STEELERS SCHEDULE
Week 1 - at Cincinnati (CBS, 1:00 p.m.)
Week 2 - vs. New England (CBS, 1:00 p.m.)
Week 3 - at Cleveland (Prime Video, 8:15 p.m.)
Week 4 - vs. N.Y. Jets (CBS, 1:00 p.m.)
Week 5 - at Buffalo (CBS, 1:00 p.m.)
Week 6 - vs. Tampa Bay (FOX, 1:00 p.m.)
Week 7 - at Miami (NBC, 8:20 p.m.)
Week 8 - at Philadelphia (CBS, 1:00 p.m.)
Week 9 - BYE
Week 10 - vs. New Orleans (FOX, 1:00 p.m.)
Week 11 - vs. Cincinnati (NBC, 8:20 p.m.)
Week 12 - at Indianapolis (ESPN, 8:15 p.m.)
Week 13 - at Atlanta (CBS, 1:00 p.m.)
Week 14 - vs. Baltimore (CBS, 1:00 p.m.)
Week 15 - at Carolina (CBS, 1:00 p.m.)
Week 16 - vs. Las Vegas (NFL Network, 8:15 p.m.)
Week 17 - at Baltimore (CBS, 1:00 p.m.)
Week 18 - vs. Cleveland (TBD)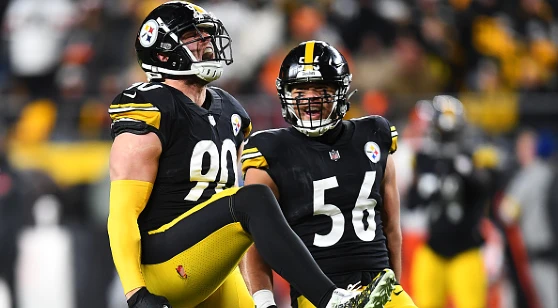 WIN TOTAL ODDS
Over 7.5 (-115)
Under 7.5 (-115)
Pittsburgh's win total is stationed at OU 7.5 with both sides of the over-under laying -115, which may seem like an easy over considering the Steelers have never posted a losing season under Tomlin; however, they still have six tough AFC North matchups on this year's slate, plus a daunting non-division schedule containing the Bills, Buccaneers, Patriots, Colts, Eagles, and Raiders; so, Pittsburgh should ultimately stay under this number, but tread with caution, history isn't on the under's side.
Get the VI Daily Newsletter!
Get the VI Daily Newsletter!
PITTSBURGH STEELERS ODDS TO WIN AFC NORTH
+850
Pittsburgh is listed at +850 to win the AFC North, which is a distant longshot behind the Ravens (+150), Bengals (+185), and Browns (+300); and while the Steelers' QB situation might turn out to be an utter disaster this year, they've still finished 1st or 2nd in the division in nine straight seasons, so there's definitely some value at +850 here.
PITTSBURGH STEELERS ODDS TO WIN AFC CHAMPIONSHIP
+4000
The Steelers are listed at +4000 to win the AFC, which is the fourth-worst odds to win the conference only ahead of the Jaguars (+6600), Jets (+6600), and Texans (+15000); and while a Pittsburgh Super Bowl appearance is highly unlikely, I personally believe the question marks surrounding the Steelers give them enormous upside heading into this season, so I don't hate Pittsburgh as a longshot play; however, those same uncertainties also lead me to believe they'll stay under their win total.
PITTSBURGH STEELERS ODDS TO WIN SUPER BOWL 57
+8000
The Steelers are listed at +8000 to win this year's Super Bowl, which is the caboose of a mid-range longshot cluster containing the Raiders (+4000), Vikings (+4000), Patriots (+4000), Saints (+4000), and Commanders (+6600); and while Pittsburgh seemingly lands at the tail-end of this pack because of uncertainties at the QB position, I tend to fall on the optimistic side of the spectrum, as for the most part, we're familiar with the lackluster capabilities of other squads within this group, however, the Steelers could potentially take a major step forward following Big Ben's retirement.
PITTSBURGH STEELERS MVP CONTENDERS & ODDS
Mitchell Trubisky (QB) +6000
Kenny Pickett (QB) +12500
Najee Harris (RB) +15000
T.J. Watt (DE) +15000
Diontae Johnson (WR) +20000
Trubisky (+6000) and Pickett (+12500) are both listed as distant longshots to win this year's MVP award, which isn't worth much consideration; however, other awards are still on the table, as Pickett comes in as the preseason favorite to win Offensive Rookie of the Year at +500, while Trubisky boasts the sixth-best odds to win Comeback Player of the Year at +1200; which are far more realistic options.
PITTSBURGH STEELERS TO MAKE PLAYOFFS ODDS
Make Playoff?: Yes (+270) | No (-360)
The oddsmakers have been quick to write off Pittsburgh since the retirement of Big Ben, with the Steelers heading into this year as -360 favorites to miss the playoffs; however, Roethlisberger wasn't all that impressive in his last few seasons and Pittsburgh still strung together solid campaigns, so I feel decent backing the Steelers to continue their success at +260 after making the playoffs in six of the last eight seasons.
2021 PITTSBURGH STEELERS BETTING RESULTS
SU: 9-8-1
ATS: 8-10
O/U: 7-10-1
ATS-Home: 4-5
ATS-Road: 4-5
ATS-Favorite: 2-5
ATS-Underdog: 6-5
We may be compensated by the company links provided on this page.
Read more