NFL
Last Updated Sep 27, 2021, 5:00 PM
Total Talk - Week 4
Most Popular NFL Betting Resources
In these last two weeks of NFL play we've had five different teams coming into the week off a game where they finished +3 or better in turnover margin and the full game 'under' has now gone 4-1 in those contests. Team totals for these five teams have also gone 4-1 to the 'under' following a week where they benefited from 3+ turnovers, as Chicago and New England were the latest two teams to deal with that scenario in Week 3 and neither came anywhere close to their respective team total or cashing a full game 'over' ticket.
With Week 3's results league wide bringing us five different Week 4 teams coming off a +3 or better turnover game, there are 10 possible 'under' plays to look at (team totals and full games) to really see if this ideology can hold up. A two-week sample size is getting doubled in short order this week, but the concept behind totals being slightly inflated after a turnover-positive filled effort still makes plenty of sense.
So let's start with the five teams this applies to for Week 4's action and see if we can't pick the best of the bunch regarding these 10 possible 'under' plays.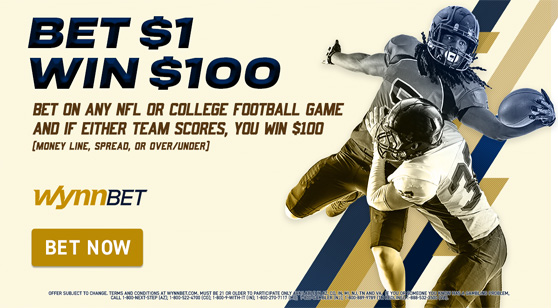 Who Fits?
LA Chargers (+4 TO Margin)
New Orleans (+3 TO Margin)
Indianapolis (+3 TO Margin)
Arizona (+3 TO Margin)
Buffalo (+3 TO Margin)
Indianapolis/Miami (43)
Houston/Buffalo (48)
NYG/New Orleans (43.5)
Arizona/LA Rams (54.5)
Las Vegas/LA Chargers (53)
Right off the bat it's the Indianapolis Colts I think we can eliminate from being one of the strong 'under' plays in this group for a few reasons. For one, they were the only one of those five teams to get 3+ turnovers in Week 3 that didn't ultimately win the game. The Colts were also the only team in that group of five that didn't score at least 28 points in Week 3, so any sort of negative scoring regression ideas off a high turnover game are really not applicable with the Colts. Without question they should have had more than just the 16 points they scored on the Titans, but there ultimately was no skewed advantage for Indy on the scoreboard thanks to those extra possessions. Does fly in the face of the overall theory here.
Now it's always going to be tough to pick and choose, and the counter argument to including a Colts 'under' selection this week (team total or full game) is that the offense is struggling so much that they could only score 16 points against a bad Titans defense despite having three extra possessions. That's something that completely makes sense here, and the ultimate big idea picture with these theories and concepts is to find ones that consistently work overall so as to not pick and choose each week and land on the right/wrong ones.
So there is no way I'd be against an 'under' play on the Colts team total (20.5) or the full game total of 43, but with the basis of scoreboard regression being behind this thought process, off the game with 3+ turnovers being a loss with just 16 points scored, passing and tracking the Colts game this week is the end result.
The Giants/Saints game is another game that fits with a relatively low total, as the Saints were the only other team on that list to score less than 30 points in Week 3, as the 28 they put up was more than enough to dispatch of New England.
However, it's not a complete pass this week as despite the low full game total, the Saints team total is currently posted at 26.5. With a theoretical baseline point total being that 24 points is hard for teams off a 3+ turnover game (per post-Week 1 specifics ), any time there is a team total at that 24.5 number I'm going to be interested. Remember, this is a Saints team that's been on this list twice already this year, as the 38 points they put up in Week 1 was aided by 3+ turnovers as well.
Give any NFL team 3+ turnovers in a game and 30ish points shouldn't be hard to get. New Orleans has scored 38 and 28 so far in two games like that this season. But in their other game where New Orleans finished -1 in TO margin, it was just a measly 7 points from this offense, coming in the 4 th quarter of a game that was already 17-0 against them.
Three weeks is three weeks, but we've seen nothing to suggest that this New Orleans team can score 24+ points without the help of multiple turnovers, and if the thinking is they won't be getting them this week, going 'under' on the Saints team total has to be done.
Buffalo hosts a Texans team that's still a huge question mark for me on offense, as I just have a hard time seeing how anyone can trust Houston to consistently put up points on a weekly basis. They make for a good fit to be involved in these games as the Bills are 17-point home favorites and could be kind to 'under' bettors with a blowout win after bleeding the clock away with a methodical rushing attack in the 2 nd half. Meaning that an 'under' 48 for the full game is making the card, as is Buffalo's team total going 'under' 33.5. That's just far too big of a number for me to not ride out this 3+ turnover history with.
The other two games are ones with totals in the 50's which already puts a full game 'under' look in play if 24 points for these two teams is already treated as a paper ceiling. Yes, it's different opponents and matchups, but both are also divisional games for the two applicable teams – Arizona and LA Chargers – and I'll always believe that blindly siding with 'unders' in divisional games as a defacto starting point for handicapping is never a bad idea. In both instances we've got two teams battling for 1 st place in those respective divisions as well, so defenses could end up ruling the day in those contests.
But it's only three of the four possible 'under' options that I'm adding to the card this week though, as Arizona's team total is currently 23.5 (-130 to 'over') and that's right on the cutoff where it's easy enough to pass. A 30- 24 game for either Arizona or the LA Rams still connects on the FG 'under' with the Cardinals going 'over' their team total in either case, so based on the pure number of it all I'm passing and tracking Arizona's team total this week.
Preferring to use that 24-point barrier as the level of resistance still means there is some slight hesitancy in trusting how effective this theory could be long term because the results have been great so far this year, but we've also had Houston, New Orleans, Dallas, Chicago, and New England be a part of it.
They are all far from some of the offensively built teams we've got applicable this week – Chargers, Cardinals, Bills – and using 24 points as the barrier is more fair than considering the 13.4 points per game average those previous five teams that have been a part of this role this season have produced.
Hopefully looking at these 'unders' for teams post-3+ turnover game will continue to keep the bankroll healthy though as it's full of selections this week.
Best Bets
New Orleans Saints Team Total Under 26.5
Buffalo Bills Team Total Under 33.5
Houston/Buffalo Under 48
LA Chargers Team Total Under 28.5
Las Vegas/LA Chargers Under 53
Arizona/LA Rams Under 54.5
We may be compensated by the company links provided on this page.
Read more