Total Talk – Week 6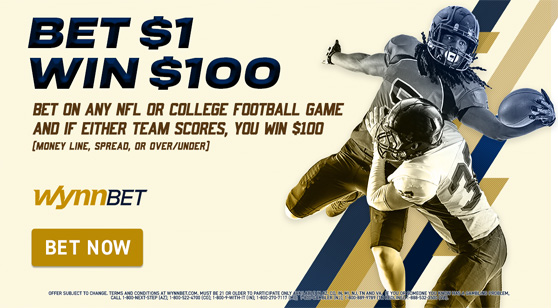 Week 5 was the first losing week since Week 1 with these total plays, as last week's selections ended up finishing 1-2 overall to make it a 12-8 (60%) record for the season.
The atrociousness of Kansas City's defense is what caused the negative results for the week, as the TD they gave up to Buffalo in the final two minutes of the first half was inexcusable. To have that score and a Buffalo pick-six being behind losing the 'under' on the full game total by a single point stung, but losses like that have to be expected in this wild and wacky league. You've just got to live with the result and move on.
One thing is for certain though, that despite the 'unders' on that full game and Buffalo's team total, the confidence in keeping with those strategies hasn't really wavered, because it was far from a no doubt loser in both cases (3+ TO margin or being highest scoring team from previous week) as those are things I'll continue to incorporate with totals betting.
Going 'over' with the lowest-scoring team from the previous week did end up being a no doubt winner in the end though with New England and Houston trading scores for most of that game.
Taking the 'over' in the game involving the team that scored the fewest points the previous week is now a perfect 4-0 this year, and this week's entrant in that role – Las Vegas – is an interesting case to potentially keep it going.
No. 1 Over-Under Angle
3+ Turnover Margin last week
Here we are on repeat, as the Buffalo Bills are the only team coming off an effort of being +3 or better in turnover margin once again.
We got burned by going 'under' on Buffalo's team total and the full game total last week, and this week the Bills are in primetime again facing another suspect defense (Tennessee).
The Titans rank T25 (tied) in opponent yards per play this season (6.2), but at home they've been decidedly better, ranking T12 with a 5.5 raw number.
Slowing down this Bills offense is proving to be no easy task for any NFL team this year, but at the same time, the best defense (by current ranking) Buffalo has played this year in terms of the opponent yards per play stat has been Pittsburgh in Week 1 – the only game Buffalo has lost this year.
Pittsburgh ranks T15 in that category (5.7), while the Bills other opponents – Miami, Washington, Houston, KC – currently rank T21, 20th, T21, and 32nd.
Not exactly a murderer's row of defensive talent that quarterback Josh Allen and company have faced, but you can't fault Buffalo for who's on its schedule, and they've done what they were supposed to in those games scoring 35+ in all of them.
Tennessee's defense falls right in line with that group ranking T26 in opponent yards per play this year which is far from a ringing endorsement for any 'under' play in this game, but the Bills still own a 1-3 O/U record in conference play this year, that 'over' by a single point vs KC being the lone 'over' result.
However, even if the Titans defense is just marginally better than the bottom-feeding Chiefs, the fact that the Bills team total (30.5) has been bumped up by a full FG for this game continues to appear like books have no problem shading these Bills totals higher because of this four-game streak of them scoring 30+. That's how I view this line, and while going back to the well with both full game and team total 'under' plays for Buffalo this week, it's the team total that's far more attractive.
Over-Under Best Bets to Make
Buffalo Team Total Under 30.5
Buffalo/Tennessee Under 54
No. 2 Over-Under Angle
Lowest Scoring Team
A 4-0 'over' run for the team that scored the fewest points the previous week means that bettors should expect points in the Las Vegas Raiders game this week, and after all the drama that's gone on in that organization the past 72 hours or so, it's hard to disagree with looking at the 'over' for their game at Denver.
Without question the Jon Gruden controversy weighed on the Raiders performance last week in only putting up nine points in their loss to Chicago, and now that Gruden is no longer involved with the team as head coach, I think we see a much looser effort from the Raiders this week.
Denver's defense ranks 3rd in the league in opponent yards per point so it's a stout unit that has found success this year, but the raw number of 19.2 opponent yards per point Denver has comes despite them being a league-worst (24.7) in that category at home.
Obviously being just five weeks into the season it's hard to put a whole lot of weight into home/road splits as the main basis for making a selection, but supporting evidence like that doesn't hurt the cause by any means.
It's a good spot to see points, and with a full game total of 44 – the 3rd lowest total on the entire card this week – I see no reason to change from this strategy either.
Over-Under Best Bets to Make
No. 3 Over-Under Angle
Highest Scoring team each week and teams involved in games that have 70+ total points scored
The other part of the high/low weekly equation this week has the Los Angeles Chargers and the 'under' in their game worth a look after they topped the league in scoring with 47 points last week.
Taking the 'under' in games involving these teams has now gone 2-2 through four applicable weeks this year with that Bills loss last week, but again that result was far from a deterrent for me here. The Chargers find themselves as road underdog (+3)s in Baltimore this week, and given the wild fourth quarters we saw from both teams in Week 5, this total of 51.5 is more likely to move up than down as the week goes on.
However, and this applies to the Cleveland Browns as well in Week 6, there is an interesting scenario involving teams that are coming off a game where 70 or more total points were scored and it's more rooted in team totals than the full game:
In the four previous games this year that saw 70+ total points scored, those teams are 3-5 O/U the following week and averaging just 19.875 points per game.
Week 1 saw San Francisco and Detroit finish with 74 total points, and while the full game results went 1-1 O/U for those two teams in Week 2, both of them managed just 17 points.
Week 2 had the Atlanta/Tampa Bay and Baltimore/KC games finish with 70+ points and the Week 3 results for those four teams were 1-3 O/U with the team totals being 17, 24, 19, and 24 points respectively.
Week 4 had the KC/Philadelphia game finish with 72 total points and we saw those two teams go 1-1 O/U this past week, scoring 20 and 21 points respectively. Add it all up and we get that 19.875 points/game average for these teams off a wild shootout type effort, with not one of them scoring more than 24 points.
The Chargers team total for Week 6 currently sits at 24.5 juiced to the 'under', and Cleveland's team total as they host the undefeated Arizona Cardinals sits at 26.5 juiced to the 'over'. Both numbers are above that 24 point cut off range we've seen so far this year, and in Cleveland's case you've got basically a full TD to work with at 26.5, relative to that 19.875 points/game average.
That information is good enough for me to look to the low side of those team totals for the Chargers and Browns this week, while I'll wait to see if the Chargers/Ravens full game total climbs at all throughout the week before potentially adding it. After all, taking the 'under' in those games with the highest scoring team from last week has just proved to be a 50% proposition so far.
Over-Under Best Bets to Make
L.A. Chargers Team Total Under 24.5
Cleveland Browns Team Total Under 26.5
2021 Over-Under Results
Week 5: 10-6
Overall: 38-42
Primetime:10-5
Team Notes
-- Five Teams have an 'over' record of 4-1 (Cowboys, Chiefs, Rams, Buccaneers, Washington
-- Eight Teams have an 'under' record of 4-1 (Panthers, Bears, Bengals, Broncos, Chargers, Patriots, Steelers, Seahawks
-- The Cowboys, Rams and Bucs have seen the 'over' go 3-0 in all of their home games
-- The Panthers, Vikings and Patriots are 3-0 to the 'under' at home
-- The N.Y. Giants and Titans are 3-0 to the 'over' on the road while Seattle is 3-0 to the 'under' away from home
•