NFL
Last Updated Oct 19, 2021, 5:00 PM
Total Talk - Week 7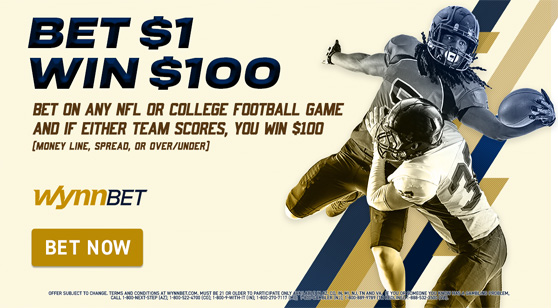 Not sure how many more team total 'under' plays I'm going to lose by the hook, but the Buffalo Bills finishing with 31 points and the full game going 'over' killed my chance of having a perfect Week 6 with totals.
A 3-2 record for the week pushes things to 15-10 (60%) for the season still.
The Bills have killed quite a bit of confidence in looking to the 'unders' on teams that are coming off an outing with 3+ turnover margin, and with the Arizona Cardinals being one of three teams in that role this week (Indy and Las Vegas the others), and hosting last week's lowest scoring team (Houston) on Sunday, it's an instance of data conflict where choosing between which subset of information a bettor deems more valuable (if at all) is left up to their individual preferences.
But in this specific instance, I prefer to side with the undefeated 5-0 run to the 'over' on last week's lowest scoring team (Houston), so let's start there.
The Houston Texans have been held to three points or less in two of their last three games. (AP)
No. 1 Over-Under Angle
Lowest Scoring team each week
The Texans are in this spot for the 2nd time in three weeks after nearly beating the Patriots outright as eight-point home underdogs the last time. The 47 points those two teams combined for (with three missed Xps) easily surpassed their full game total in that spot, and I believe that an 'over' result in Houston's game at Arizona will be the outcome again.
I'm not going to try and persuade anyone into thinking the Texans may ultimately win this game straight up (SU) with Arizona, but as 17-point road underdogs, there are enough game script scenarios where one can expect points that have nothing to do with this lowest scoring team trend. The first being that Houston does threaten the SU outcome by consistently moving the ball and putting up points.
In that case, it's unlikely that this Houston defense that's allowed 21 or more points in all six games this year (28.7 average points allowed) is going to hold down Arizona quarterback Kyler Murray and his offensive attack to anything less than 21+ points.
And while we could get a very tight Cardinals (or Texans) win that finishes something like 24-21 to stay 'under' the total of 47.5, I believe the probability of that type of result happening in a game where Houston's in it until late just isn't that high.
A 28-21 final score for the Cardinals puts this game 'over' the current number, and knowing that Houston has allowed 21+ in every game suggests that their own offense will need at least that many to have a shot at the outright win, which is what we are considering in this scenario. More than enough to lean to the 'over' there.
Secondly, in the case that it's an Arizona blowout win from start to finish, it means that as 17-point favorites we are going to get plenty of garbage time action and soft shell defensive coverages from the Cardinals defense in the 2nd half. Arizona just wants to take the "survive and advance" approach to this game they are expected to win comfortably, so I don't believe they care all too much about covering this big a number. Not off the Cleveland game and with the Packers on deck too.
That scenario suggests that the backdoor ATS cover is going to consistently be there for the Texans this week, and while a 31-3 type result that we saw from Houston in Week 6 rains on this thought parade, the fact that it's not a division game for Houston (as last week's was) does mitigate most of that fear in these scenarios for me.
Arizona's put up 30+ points in every game but one themselves this year, so it's not like we even need to ask a whole lot from Houston's offense regardless. Giving them plenty of garbage time/soft shell defenses to face in the 2nd half of a blowout should help them in that regard too.
Over-Under Best Bets to Make
Houston Team Total Over 14.5 points
Houston/Arizona Over 47.5 points
New York Jets rookie QB Zach Wilson was intercepted four times in his matchup against the New England Patriots. (AP)
No. 2 Over-Under Angle
Division Rematch Flip Flop
We are still a ways away from division rematches littering the NFL card each week, but this is a theory I've subscribed to for years. It doesn't have to be bet blindly as individual matchups and scenarios have to be considered, but it is as simple as it sounds.
When division rivals play for the 2nd time in a season, look to flip both the ATS and total result from the first game. So if the first meeting went to Team A and 'under', look to back Team B and the 'over' the next time around.
This week there is one game that fits this bill:
New York Jets at New England
These two teams battled to a 25-6 score in the first meeting, as the Patriots defense had the Jets number from the outset there.
This time around though, the Jets are coming off a bye week where they've had two full weeks to look back at that film to self-scout, as well as look at things that have started to work for them in scoring 20 or more points in their last two games.
Without question, that extra prep time to study the same opponent in such a short span (these two played in Week 2) will help rookie QB Zach Wilson and help familiarize him with all the odd looks a Belichick-led defense is likely to show.
Secondly, the reason the Jets are off a bye week is because they are in that post-London role, something that was a boom to 'over' bettors in 2019 – the last time the NFL had London games. That year, all eight teams that went overseas to play in London ended up going 6-2 O/U in their next outing (always after a bye week), and those games averaged 53.25 points per game.
In fact, four of those eight teams (Chicago, Las Vegas, Carolina, and Cincinnati) saw their next outings finish with 60+ points and this Week 7 Jets/Patriots total is nearly 20 full points below that 60-point number at 42.5.
Not to mention that two of those eight 2019 post-London games were also divisional battles like this week's Jets/Patriots game, and they finished 2-0 O/U with an average of 54 points per game. The Baltimore/Cincinnati (49-13 Ravens win) was also a positive result for the division flip flop idea too after the Bengals covered the number in an 'under' result in the earlier meeting.
So sign me up for the 'over' in this week's Jets/Patriots game as we could end up getting a QB duel between these two rookie starters that could end up going at it for a very long time.
Over-Under Best Bets to Make
New York Jets/New England Over 42.5
We may be compensated by the company links provided on this page.
Read more