NFL
Last Updated Sep 18, 2022, 11:18 PM
NFL Week 1 Rewind
Week 1 of the NFL regular season was unbelievable, especially the early-window of games. If this is what the 2022 NFL season has in store for us, we're going to be tremendously entertained. But if this is what the 2022 NFL season has in store for us, betting is going to be extra tricky.
NFL WEEK 1 RESULTS
WAGER (Favorites-Underdogs)
Straight Up (SU): 10-5-1
Against the Spread (ATS): 8-8
WAGER (Home-Away)
Straight Up (SU): 6-9-1
Against the Spread (ATS): 10-6
WAGER (Totals O/U)
Over-Under: 5-11
NFL SEASON RESULTS
WAGER (Favorites-Underdogs)
Straight Up (SU): 10-5-1
Against the Spread (ATS): 8-8
WAGER (Home-Away)
Straight Up (SU): 6-9-1
Against the Spread (ATS): 10-6
WAGER (Totals O/U)
Over-Under: 5-11
BIGGEST UNDERDOGS TO CASH
Giants (+7.5, ML +290) 21 @ Titans 20
Steelers (+7.5, ML +265) 23 @ Bengals 20 (OT)
Seahawks (+7, ML +260) 17 vs. Broncos 16
Bears (+6.5, ML +230) 19 vs. 49ers 10
BIGGEST FAVORITES TO CASH
Chiefs (-6.5) 44 @ Cardinals 21
Ravens (-6.5) 24 @ Jets 9
Chargers (-4.5) 24 vs. Raiders 19
Dolphins (-3.5) 20 vs. Patriots 7
BIGGEST ROAD FAVORITES TO CASH
Ravens (-6.5) 24 @ Jets 9
BIGGEST BAD BEAT OF THE WEEK
The bad beats in the NFL aren't nearly as dirty as college football, but we still have them.
If you were holding a Raiders +4.5 ticket, you were sucking wind all day long. The Raiders were down 17-3 at halftime, and just couldn't get their new-look offense moving. However, RB Brandon Bolden scored on an 18-yard reception from QB Derek Carr, and the Raiders were in business. I wonder what the astronomical odds of Bolden being the first Vegas TD scorer were, by the way.
The Chargers restored their 14-point lead with a scoring connection from QB Justin Herbert to TE Gerald Everett, making it 24-10 midway through the third. The Raiders wouldn't go away, though. A field goal late in the third made it 24-13.
Both teams saw the defenses take over in the fourth quarter, but the Raiders weren't done. With 4:32 to go in regulation, Carr hit WR Davante Adams for a 3-yard TD, making it 24-19. The Raiders elected to go for two, and much to the dismay of those holding +4.5 tickets, they misfired. The final score was 24-19, and Raiders side bettors missed by a half-point. Ouch.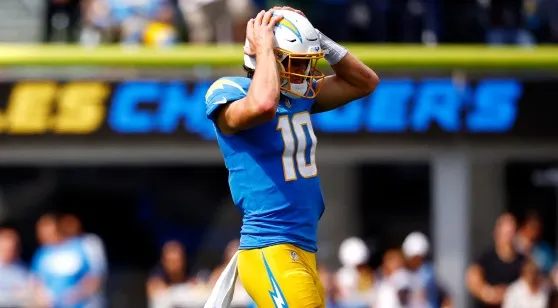 BAD BEAT HONORABLE MENTIONS
N.Y. GIANTS at TENNESSEE (-5.5, Total - 44)
This was a sickening finish for both Titans side bettors laying -5.5, while individuals holding OVER tickets couldn't believe their fortunes, either.
The Titans fired out to a 13-0 lead at halftime, and this looked like the same ol' G-Men despite the change to head coach Brian Daboll. But the third quarter is when the Giants came alive, and, in particular, RB Saquon Barkley resurfaced.
After years of nagging injuries, Barkley is back, and he looked awfully dangerous. The Giants saw Barkley score early in the third quarter, making it 13-6. The G-Men then struck with a big play, as QB Daniel Jones hooked up with WR Sterling Shepard for a 65-yard score, knotting up the game at 13-13.
The Titans struck late in the third, as QB Ryan Tannehill found RB Dontrell Hilliard for his second touchdown catch of the day, making it 20-13.
Jones attempted to hit Barkley in the left corner of the end zone in the fourth quarter, but he was picked off. Daboll came over to Jones on the bench, and bawled out the quarterback. It apparently lit a fire under the signal caller, as the next time the Giants got the ball back, Jones led the team down the field for a touchdown with just 66 seconds left in regulation. Instead of playing for overtime, Daboll elected to go for two, and Jones hit Barkley for the go-ahead conversion, making it 21-20.
The hopes of the Titans side bettors went up in smoke. But OVER bettors still had a chance, as the Titans drove down the field. However, PK Randy Bullock misfired on a game-winning field goal at the buzzer, crushing OVER bettors, and anyone who might have decided to foolishly bet the money line.
PITTSBURGH at CINCINNATI (Total - 44.5)
This game was wild. The Steelers took the lead on a pick-six by FS Minkah Fitzpatrick just 2:17 into the game, one of four interceptions and five total turnovers by QB Joe Burrow. It got worse.
The defending AFC champs were down 17-6 at halftime. The scoring slowed to a crawl in the second half, and we had a 48-yard field goal from PK Chris Boswell early in the fourth quarter to make it 20-14 in favor of the visitors.
The Bengals nearly pulled it off, however, driving the field, with Burrow hitting WR Ja'Marr Chase with a 6-yard touchdown with just :02 left in regulation. The Bengals simply needed an extra point to win. And PK Evan McPherson's PAT was blocked.
Can you imagine the sinking feeling of being on the right side of the UNDER all day long, only to have overtime spoil your day? Well, luckily Boswell and McPherson each misfired on field goal attempts in OT. It went all the way down to the wire before Boswell finally cashed in, walking it off for a 23-20 win in OT. UNDER bettors hung on, and OVER bettors, nearly gifted a winner, suffered a bad beat, although it certainly wasn't a textbook bad beat.
JACKSONVILLE (+2.5, Total - 43.5) at WASHINGTON

The Commanders went up 14-3 at halftime, and things were looking good for the newly named home side. But the Jaguars fought back, scoring a touchdown and field goal in the third quarter to cut the lead to 14-12.
It got better for the Jags, as they scored another field goal and touchdown, turning things from a 14-3 deficit, to a 22-14 lead for the visitors. However, Washington quickly answered, as WR Terry McLaurin posted a 49-yard touchdown to cut the lead to 22-20, although it missed on a 2-point attempt.
UNDER bettors were hanging in there, but rookie WR Jamar Dotson hauled in a 24-yard touchdown from QB Carson Wentz, making it 28-22, handing Jaguars side bettors, Jaguars money line bettors and UNDER bettors a bad beat with one flick of the wrist.
We may be compensated by the company links provided on this page.
Read more