NFL
Last Updated Feb 03, 2023, 10:37 AM
Conference Championship Over-Under Picks, Predictions, Odds
The 2022-23 NFL season only has three games remaining and two of them take place on Sunday Jan. 29 with the NFC and AFC Championship games. 
Total bettors placing 'over/under' wagers in this year's NFL Playoffs have been riding high and low emotions, literally. 
After watching the 'over' post a 5-1 record in the Wild Card Weekend, the 'under' struck back in the Divisional Playoffs round with a 4-0 record. Through 10 games, we've got a stalemate of results with a 5-5 mark. 
In last year's conference championships, the 'under' went 2-0 despite three of the four teams eclipsing 20-plus points and the AFC title game went to overtime as well. The 2-0 sweep to the 'under' has been a rare occurrence over the Championship game weekend, with the last occurrence taking place in the 2013-14 playoffs. In between those years, the 'over' has produced a 10-4 record. 
Looking at the totals for Sunday's game and the point-spreads, the key number will be 23 for team total bets and individuals looking to combo the side-total into parlays. 
With the help from our VegasInsider NFL Experts, let's handicap the Championships totals!
N.Y. Giants vs. Philadelphia Over-Under Pick
Date-Time: Sunday, Jan. 29, 3:00 p.m. ET
Matchup & Betting Trends
San Francisco 49ers
Overall O/U: 10-9
Road O/U: 4-4
Last 5 O/U: 4-1
PPG: 27.3
OPPG: 16.7
Philadelphia Eagles
Overall O/U: 10-8
Home O/U: 6-4
Last 5 O/U: 1-4
PPG: 28.1
OPPG: 20.2
Advanced O/U Stats (Quarters & Halves)
San Francisco 49ers
1st Half: 11-7-1
2nd Half: 7-11-1
1Q: 8-8-3
2Q: 11-8
3Q: 9-10
4Q: 8-10-1
Recent Meetings
2021 - San Francisco 17 at Philadelphia 11 (Under 49)
2020 - Philadelphia 25 at San Francisco 20 (Under 46)

49ers-Eagles Over-Under Prediction
When you break down the four units on the field for Sunday's matchup between the 49ers and Eagles, we believe the Philadelphia offense is the best of the four and that's how we're handicapping this total. 
Statistically, the San Francisco defense is ranked second in total yards (301) and second in rushing yards allowed (79). Rather than dismiss the numbers, we dug into them further and we believe the unit hasn't been tested and in certain situations, they were exposed. 
In two road games versus inferior opponents who had quarterbacks that could run, the Nners allowed 168 yards and 135 rushing yards to the Falcons and Raiders respectively. San Francisco fell to Atlanta (28-14) and barely squeaked past Las Vegas (37-34). Marcus Mariota and Jarrett Stidham are both good athletes but they're not on the same level as Eagles dual-threat quarterback Jalen Hurts. 
Hurts and the herd of the Philadelphia running backs should have their way with this defense and be able to set up big plays down the middle and on the outside and the Niners will commit to stopping the run. 
We also believe this could be a game of two halves with Philadelphia running and gunning from the start and San Francisco making the comeback in the final 30 minutes. The numbers, offensively, tell us that too. The Eagles lead the league with first-half scoring, averaging 18 points per game while San Francisco is ranked fifth in second-half scoring with 12.7 PPG. We just saw the 49ers put up 25 and 10 in the second halves versus Seattle and Dallas respectively, for an average of 17.5 PPG. 
Should be a great game with plenty of big plays. We're buying the over and are looking at a 30-27 outcome, either way on Sunday. 
49ers-Eagles O/U Best Bet
Over 46.5
Cincinnati vs. Kansas City Over-Under Pick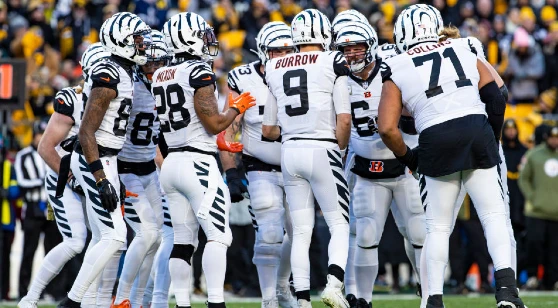 Date-Time: Sunday, Jan. 29, 6:30 p.m. ET
Matchup & Betting Trends
Cincinnati Bengals
Overall O/U: 7-10-1
Road O/U: 3-6-1
Last 5 O/U: 3-2
PPG: 26
OPPG: 19.9
Kansas City Chiefs
Overall O/U: 8-10
Home O/U: 2-7
Last 5 O/U: 3-2
PPG: 29.2
OPPG: 21.7
Advanced O/U Stats (Quarters & Halves)
Recent Meetings
2022 - Cincinnati 27 vs. Kansas City 24 (Under 53.5)
2022 - Cincinnati 27 at Kansas City 24 (Under 54.5)
2022 - Cincinnati 34 vs. Kansas City 31 (Over 51)
Bengals-Chiefs Over-Under Prediction
Kansas City Chiefs quarterback Patrick Mahomes practiced in full on Wednesday. If Mahomes is anywhere close to 100 percent after injuring his ankle last week, we believe this total is too low
Even with both team's defenses being underrated, the Bengals and Chiefs have too much offense for a total this low. Mahomes is the best quarterback in the NFL and Cincinnati signal caller Joe Burrow is right near him on that short list with Josh Allen of the Buffalo Bills. 
The Chiefs led the NFL in scoring at more than 29 points a game and also were No. 1 in total yards and passing yards. They have scored 24 points in every one of their games in the second-half of the season and at least 27 points in five of their last six games. 
More importantly, Burrow and Cincinnati have even better weapons than Mahomes and the Chiefs. The Bengals have gone against five strong defenses during their last five games - Bills, Ravens twice, Patriots and Buccaneers. 
During this span, Cincinnati averaged 26.8 points and we believe Kansas City is below the five aforementioned teams. 
Weather shouldn't be a problem at Arrowhead Stadium on Sunday evening with the forecast being for sunny skies, temperatures in the upper 20's and wind in the 10-12 mph range. 
In the three meetings between the teams in 2022, the combined points were 51, 51 and 65 between the pair. And in the results that landed on 51, Mahomes and the Chiefs left points off the board in both games. 
We're expecting both teams to get above 24 and the winner in the 30s.
Bengals-Chiefs O/U Best Bet
Over 47
NFC Championship Game Over-Under History
Last 10 Years - O/U (7-3)
2022: San Francisco 17 at L.A. Rams 20 - Under (45.5)
2021: Tampa Bay 31 at Green Bay 26 - Over (53.5)
2020: Green Bay 20 at San Francisco 37 - Over (47)
2019: L.A. Rams 26 at New Orleans 23 - Under (55)
2018: Minnesota 7 at Philadelphia 38 - Over (39)
2017: Green Bay 21 at Atlanta 44 - Over (60)
2016: Arizona 15 at Carolina 49 - Over (47)
2015: Green Bay 22 at Seattle 28 (OT) - Over (45)
2014: San Francisco 17 at Seattle 23 - Under (40.5)
2013: San Francisco 28 at Atlanta 24 - Over (48)
More...
AFC Championship Game Over-Under History
Last 10 Years - O/U (4-6)
2022: Cincinnati 27 at Kansas City 24 (OT) - Under (54.5)
2021: Buffalo 24 at Kansas City 38 - Over (55)
2020: Tennessee 24 at Kansas City 35 - Over (51.5)
2019: New England 37 at Kansas City (OT) - Over (56.5)
2018: Jacksonville 20 at New England 24 - Under (46)
2017: Pittsburgh 17 at New England 36 - Over (50.5)
2016: New England 18 at Denver 20 - Under (45)
2015: Indianapolis 7 at New England 45 - Under (52.5)
2014: New England 16 at Denver 26 - Under (57)
2013: Baltimore at New England 13 - Under (49.5)
More...
We may be compensated by the company links provided on this page.
Read more