TRAINER SUGARHILL STEWARD COMMENTS ON TYSON FURY VS. DEONTAY WILDER
US Sportsbooks · Bonus Codes · Betting News · Special Update
We've got the insider scoop on the upcoming Fury v. Wilder 3, which is being billed as Once and For All. This matchup between two heavyweight icons of recent memory takes place at T-Mobile Arena in Paradise, Nevada on October 9, 2021. Here's what Tyson Fury's trainer and former police officer SugarHill Steward has to say: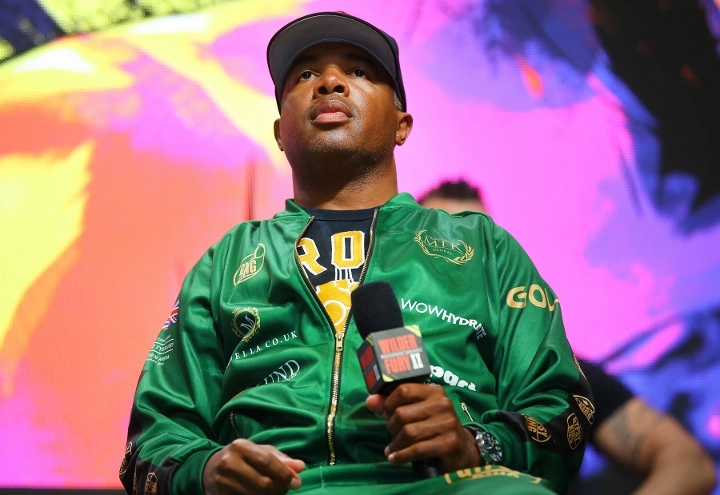 SugarHill: Tyson Fury will weigh 20 pounds more than last time: 'The bigger the better, the heavier the stronger'
"It's not going to be 300 pounds, it's probably going to be like 290 or something but not 300 exactly. Heavier than last time by 20 pounds or so, why not? The bigger the better, the heavier the stronger. He's training with that weight, he's built up. It's not like he's just putting on fat, it's building up muscles. The bigger the better, the heavier the stronger."
SugarHill: Tyson Fury has the fear factor ahead of Wilder showdown
"There's always that fear factor, you've got to have that. That's what keeps you sharp. You have got to have that. That's not to say you believe it always or you're afraid of anyone, but to keep you sharp it's a really important thing."
SugarHill: Tyson Fury is preparing for an improved Deontay Wilder
"I have to consider everything. We're preparing for the best Deontay Wilder that he can be. Let's just say he's improved so much. You can't go in there and think anything less. We're preparing for him to come in at the highest peak of his abilities and that's how we're training and preparing - for the best Deontay Wilder."
SugarHill: The bond Tyson Fury has with me is like static
"In truth, we don't have any clue what we are doing, neither one of us. We both just do what we want to do when we want to do it. We both don't know what the hell is going on. But we have so many similarities; thinking, acting, we both enjoy life - so we try to show it. And then try to rub off on other people. I guess we rub off on one another all the time, it's like static when you drag your feet on the carpet."
SugarHill: Tyson Fury is a 'bit crazy' and has 'something special missing' that gives him an 'extra edge'
"My uncle Emmanuel Steward talked about champions being built from the inside. I think he was talking about myself and Tyson Fury. It's a characteristic that you have inside yourself, built-in entirely, which makes you a champion - people that just don't quit. It's a combination of things. You have to be able to not quit, but you've also got to have a creative mind as well.
"If stuff isn't right, you gotta make it right and adapt. There's not really one thing, you can't put your finger on it. It's a special combination of things built inside of someone that makes them a champion. And also at the same time - you've got to have something missing. Something special missing inside that has emphasis somewhere else to make you a champion. An old trainer once told me every great champion is kind of a bit crazy. It's almost the same as a great artist who is somewhat kind of crazy - that has something missing somewhere - to give them the extra edge to be a great artist or a great champion."
SugarHill: The psychological side of boxing is more important than physical... the mind controls everything
"The psychological side has a lot to do with fighting because the mind is what controls the body. Let's just keep it real simple - whatever the mind can conceive it can achieve. Someone with a strong mind can definitely beat someone who is more physical than them. Just because you have a strong bicep does not mean you can control that bicep. The mind is what controls everything.
"A lot also depends on how a person adapts to certain situations. Someone may say something negative to you, how do you react to that? Tyson has had that a lot in his career. How long does it stay with you mentally before you block it out? Everyone is different, some people can overcome things and some people can't. Some people can change and adapt quicker than others depending on each individual's ability. Tyson has been able to do that."
If you're looking to place a legal, safe bet on this fight, check out our reviews of the following sportsbooks:
•