NCAAB
Last Updated Feb 11, 2023, 7:46 AM
Duke vs. Miami Picks, Predictions, Odds
The Duke Blue Devils are coming off a gritty win over the rival North Carolina Tar Heels this weekend. Neither team shot better than 40% from the floor, but Duke emerged victorious as freshman Dereck Lively II had his best defensive outing yet with eight blocks and 14 rebounds. The Blue Devils can't afford a letdown though, as they must travel to south Florida to face the Miami Hurricanes on Monday night.
Miami nearly upset Duke at Cameron Indoor Stadium earlier this season, and the Hurricanes will look to even the season series at home on Monday, February 6, 2023. The game is scheduled to tip off at 7 p.m. ET on ESPN from the Watsco Center in Coral Gables, Florida.
Duke Blue Devils vs. Miami Hurricanes Betting Prediction
The Miami Hurricanes are undefeated at home so far this season. Miami is 12-0 at the Watsco Center with wins over Rutgers, Virginia, and North Carolina State. Meanwhile, Duke has been rather pedestrian outside of Durham with a 3-2 record at neutral sites and a 2-4 record in road games. Their only road wins have come against ACC minnows Boston College and Georgia Tech, so Miami has to be the pick in this one.
Score Prediction: Miami 79, Duke 72
Best Bet: Miami -3.5
Duke Blue Devils vs. Miami Hurricanes Betting Odds
Duke Blue Devils vs. Miami Hurricanes Betting Resources
Date: Monday, Feb. 6, 2023
TV-Time: ESPN, 7:00 p.m. ET
Venue: Watsco Center
Location: Coral Gables, Florida
Matchup
Expert Picks
Duke Blue Devils vs. Miami Hurricanes Betting Stats
Duke Blue Devils
SU: 17-6
ATS: 9-14
O/U: 8-14-1
PPG: 72.5
OPPG: 63.4
Miami Hurricanes
SU: 18-5
ATS: 14-9
O/U: 10-12-1
PPG: 78.3
OPPG: 70.3
Straight Up (SU), Against the Spread (ATS), Over-Under (O/U)
Points Per Game (PPG), Opponents Points Per Game (OPPG)
Duke Blue Devils Betting Analysis
Duke is now 8-4 in conference play after its win over North Carolina, and the Blue Devils will almost certainly make it to the NCAA Tournament in Jon Scheyer's first season at the helm barring a complete collapse. They haven't been great on offense though as the only two things they excel at are rebounding and free throw shooting. The Blue Devils rank second in offensive rebounding percentage per Ken Pomeroy, and they are hitting 76.3% of their free throws.
Freshman Kyle Filipowski is coming off one of his worst games of the season, as he shot just 4 of 14 from the field against UNC. Filipowski is still Duke's leading scorer (15.7 PPG) and rebounder (9.3 RPG), but Jeremy Roach is taking on more of a leadership role as the season has progressed. Roach has played 77 minutes in Duke's last two games, finishing as the team's leading scorer with 20+ points against in-state rivals Wake Forest and North Carolina last week.
The Blue Devils are really struggling from beyond the arc. They are making just 32.6% of their threes as a team, as both Filipowski and Roach have had their shooting woes. Freshman Mark Mitchell is making 39.4% of his threes, but he has only taken 33 triples this season, while Tyrese Proctor leads the team in three-point attempts but has only made 28.1% of his triples.
This team does have a solid defense that keeps it in games. Duke allows opponents to make just 29.9% of their three-point attempts, and the interior defense has been nearly as good thanks to Dereck Lively II and others swatting shots.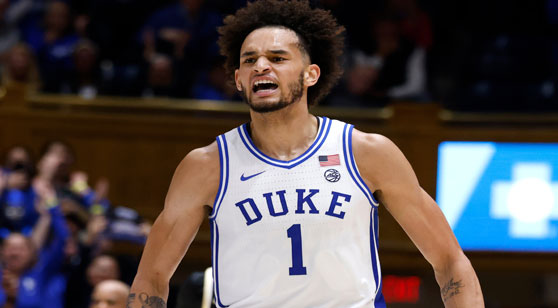 Miami Hurricanes Betting Analysis
Miami ranks 11th in offensive efficiency per Pomeroy. The only thing the Hurricanes don't do well on offense is get to the free throw line often enough, but they make up for that with their ability to get off good shots. They rank 22nd in effective field goal percentage on offense, and the Hurricanes are making over 55% of their two-point field goals.
Isaiah Wong is the leading scorer on Miami with 16.1 PPG, but he must perform better than he did in his first game against Duke a few weeks ago. Wong was held to just seven points, and he failed to have much of an impact on the outcome. The bench bore the brunt of the blame though as four players combined to go 3-15 from the floor. Bensley Joseph had a really off night in particular, as he missed several good looks.
Norchad Omier is averaging a double-double for Miami with 13.7 PPG and 10.1 RPG. Omier is making over 63% of his two-point field goals, and he has one of the best rebounding rates in the country. Jordan Miller is listed as a guard, but the 6'7 senior often operates as the second forward for the Hurricanes. Miller is averaging 14.8 PPG and 5.7 RPG, and he is making 53.9% of his field goals and 37.9% of his threes. Nijel Pack has been a standout three-point shooter, making 40.6% of his treys on over 100 attempts.
We may be compensated by the company links provided on this page.
Read more