NCAAB
Last Updated Feb 17, 2023, 1:52 PM
Fade & Shade Team Betting Predictions
US Sports Betting Industry Expert
7 minute read
---
Whenever the college regular season rounds the far turn and readies for the stretch drive, more team trends than usual begin to appear...both hot and cold weekend action mostly confirmed some of these late-season developments, and the Tuesday card, though relatively light as it void of any low-major action, features several teams appearing to be slanting one way or the other.

Following is a quick "Fade & Shade" update for teams playing on Tuesday night.
College Teams to Shade
North Carolina State
N.C. State vs. Syracuse (7:00 p.m. ET)
Granted, the Wolfpack has a recent loss in the mix last week at Virginia.  But Tony Bennett's Cavs provide such a unique defensive challenge that we almost want to give opponents a mulligan for losing to the Wahoos. 
That proved a good idea in regard to the Wolfpack, who went out and destroyed BC 92-62 on the weekend and on the heels of the loss to UVa.  Along the way the bruising 6-9, 275-lb. Winthrop transfer DJ Burns has started to treat ACC defenses like he did the past couple of years to the rest of the Big South, excelling at both ends of the floor.   
Burns has taken over as the centerpiece of Kevin Keatts' offense, attempting almost 30% of the NC State shots while he is on the floor; across the last five games, Bruins is scoring 19,.2 pg and hauling down 7.2 rpg, all in about an average of 27 minutes of floor time. He is certainly balancing the floor, as Keatts also has three perimeter weapons in Gs Terquavion Smith, Jarkel Joiner, and Casey Morsell combing to score nearly 48 ppg.   
The Pack has won 12 of 15 outright, and while the spread mark isn't quite as shiny, the emergence of Burns suggests more Ws could be on the way.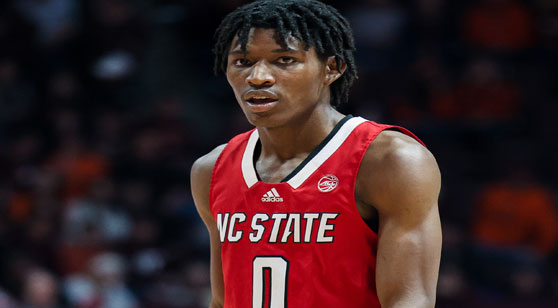 Vanderbilt
Vanderbilt vs. South Carolina (6:30 p.m. ET)
The Dores weren't even being discussed over breakfast by the locals at the Pancake Pantry after the 101-44 blowout loss to Bama two weeks ago, which marked a third straight loss for Jerry Stackhouse and further erosion of his slim support base in Nashville. 
But prior to the Bama setback, 6-10 post threat Liam Robbins (team-high 14.2 ppg) returned to active duty after missing a couple of weeks due to an ankle injury, and Stackhouse's Ray Rhodes-like tough love approach began to resonate. 
Three straight wins have followed, including significant upsets of Tennessee and Florida, with jr. G Tyrin Lawrence suddenly coming alive with four games scoring 18+ across the past month as the Dores look to have finally become comfy playing without Scottie Pippen Jr, who dominated the ball much of the past two seasons. 
Oklahoma State
Kansas vs. Oklahoma State (9:00 p.m. ET)
It wasn't long ago that nobody was including Mike Boynton's Cowboys in any of the Bracketology projections.  But here we are in mid-February and if Selection Sunday were held tomorrow instead it looks like a good chance the Cowboys would be included in the field of 68. 
The Saturday win at Iowa State was the latest in a string of eye-openers won by the Cowboys, who have now won and covered five straight and seven of their last eight and wrested the honor of the top Big 12 defense away from the Cyclones when holding them to only 56 points on 67 possessions on Saturday. 
OSU has now won five in a row and seven of eight (6-2 vs. spread that span) and suggesting that it has the stuff to avoid getting overrun by the relentless Big 12 schedule. Kansas visits Gallagher-Iba Arena on Tuesday after barely surviving the first meeting at the Phog (69-67) back on New Year's Eve.
Villanova
Butler vs. Villanova (8:00 p.m. ET)
We know the pointspread marks have yet to suggest the Cats belong on any "go with" lists.   But Nova is now getting wins where it wasn't not long ago, including Saturday's 58-54 success (though narrow non-cover) vs. combative Seton Hall.
It's only wins in two straight after three preceding losses, but those defeats were all competitive vs. upper-tier Big East competition, and with key G Justin Moore now back in action after missing roughly ten months with an Achilles tendon tear, at least Kyle Neptune has all hands-on deck for the first time this season. 
Regarding Moore, note he was scoreless in 31 minutes of action on Saturday vs. the Hall, so the rust obviously hasn't yet worn off, but he did score 30 combined points across the previous two games vs. DePaul and Creighton, and would expect more of these sorts of efforts moving forward.  Tuesday
College Teams to Fade
Bowling Green
Central Michigan vs. Bowling Green (7:00 p.m. ET)
The season hinted at the outset of becoming a difficult slog for eighth-year HC Michael Huger, who looked to rebuild on the fly with seven newcomers from various levels (D-I & d II transfers, jucos, frosh). 
Things never really hit stride for the Falcons all season, with stop-end deficiencies having become acute (such as ranking 340 in scoring defense at 78.1 ppg, and not much better in field goal percentage defense, sitting 308th at 46.2%). Now the losses are mounting in the longest slump of the season (five straight-up and spread in a row), allowing almost 87 ppg in this latest skid.  Not good! 
Massachusetts
Loyola-Chicago vs. UMass (7:00 p.m. ET)
Oh, for the heady days of November, when UMass briefly looked like one of the "it" teams in the nation as the Minutemen raced out of the gate for new HC Frank Martin, who seemed to install the sort of defensive mindset that recent editions lacked at the Mullins Center under Derek Kellogg. 
Eyes were opened by a surprise win at the Myrtle Beach Tourney in the week before Thanksgiving, but soon after Martin was dealt a jolt when senior and on-floor quarterback Noah Fernandes went out in early December, missing most of the month with an ankle injury, then reaggravating it again in mid-January after scoring 17 ppg and dishing out nearly five assists per game in a four-game January stretch. 
The Minutemen began to lose altitude minus Fernandes in December and have completely veered off course without him in recent weeks, as the Minutemen are now working on four consecutive SU and spread losses, and no word on when we can expect Fernandez back on the floor. 
Duke
Notre Dame vs. Duke (7:00 p.m. ET)
Since when isn't Duke getting the benefit of the calls?  Or so they are saying elsewhere on Tobacco Road after the ACC admits the refs erred ("incorrect adjudication" the official term) in the final sequence or regulation time last Saturday at Virginia when Kyle Filipowski didn't have a chance to shoot tie-breaking free throws in the last second before the game went into overtime and the Blue Devils lost.  (Would that have ever happened to Coach K?) 
Though Duke might have deserved better at Charlottesville, it's a fact that the Blue Devils have covered just three of their last fourteen games and just once all season on the ACC trail (and that was at Georgia Tech, which perhaps shouldn't count). 
A bigger concern for Jon Scheyer is that he has been starting four freshman in recent games and needs the one non-frosh, G Jeremy Roach, has been blowing hot-and-cold, with a recent shallow 10-point effort in the blowout loss at Miami last Monday between 20 and 16-point efforts. 
Duke gets its next game at home vs. struggling Notre Dame, but even that hasn't been the old automatic go-with play that it used to be at Cameron Indoor Stadium. 
Fade & Shade Bonus Teams
FADE
Albany
Georgia Tech
Pepperdine
San Diego
SHADE
South Florida
Boston College
Long Beach
Navy
Pacific
We may be compensated by the company links provided on this page.
Read more