NCAAB
Last Updated Feb 18, 2023, 8:34 PM
Baylor Bears vs. Kansas Jayhawks Picks, Predictions, Odds
The Kansas Jayhawks have ruled the Big 12 in college basketball for nearly all of the 25 years they have been in this conference. Kansas has won at least a share of the regular season title 20 times since 1997, and the Jayhawks have won the Big 12 Conference Tournament on 12 occasions. However, the rest of the conference is getting better, and teams like the Baylor Bears are regularly challenging them for supremacy now. These two programs are tied for first place in the Big 12 at 9-4, and the winner of Saturday's game will have the inside track on claiming the regular season conference championship.
On Saturday, February 18, 2023, the Kansas Jayhawks will welcome the Baylor Bears to Allen Fieldhouse in Lawrence, Kansas. Tip off is scheduled for 4 p.m. ET on ESPN.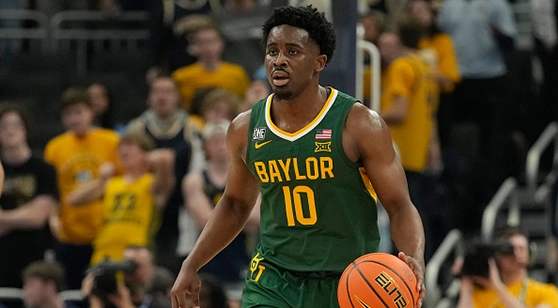 Baylor Bears vs. Kansas Jayhawks Betting Prediction
Baylor is 9-33 against Kansas since these two teams became Big 12 rivals. The Jayhawks have long had the upper hand on the Bears, but Baylor is currently on a winning streak against Kansas for the first time ever in this series. Baylor beat Kansas 75-69 in Waco on January 23 as the Bears grabbed 17 offensive rebounds and only had nine turnovers, and that bodes well for the Bears in the rematch on Saturday afternoon.
Score Prediction: Baylor 69, Kansas 66
Best Bet: Baylor +5 (-110)
Take Baylor!

Baylor Bears vs. Kansas Jayhawks Betting Odds
Baylor Bears vs. Kansas Jayhawks Betting Resources
Date: Saturday, Feb. 18, 2023
TV-Time: ESPN, 4:00 p.m. ET
Venue: Allen Fieldhouse
Location: Lawrence, Kansas
Matchup
Expert Picks
Baylor Bears vs. Kansas Jayhawks Betting Stats
Baylor Bears
SU: 20-6
ATS: 14-11-1
O/U: 13-13
PPG: 78.3
OPPG: 69
Kansas Jayhawks
SU: 21-5
ATS: 12-14
O/U: 15-11
PPG: 76.6
OPPG: 68.2
Straight Up (SU), Against the Spread (ATS), Over-Under (O/U)
Points Per Game (PPG), Opponents Points Per Game (OPPG)
Baylor Bears Betting Analysis
Freshman Keyonte George is the top scorer on Baylor even though this is a veteran led team. George is a potential lottery pick because of his playmaking ability, and he is averaging 16.5 PPG, 4.5 RPG, and 3.1 APG. He hasn't been the most efficient shooter on the Bears, but this team needs points from him after he totaled just 10 points in victories over West Virginia and TCU the last two games.
Baylor does have two lights out perimeter shooters in Adam Flagler and L.J. Cryer. They are two of the players left over from the national championship team two years ago, and they have graduated from role players to become two of the three most important players on the roster. Flagler is averaging 15.8 PPG and 5.0 APG while making 42.7% of his field goals and 41.9% of his threes. As for Cryer, he is averaging 14.9 PPG while making 46.7% of his field goals and 42.8% of his triples. Flagler and Cryer are both excellent free throw shooters too with both players hitting 85%+ from the charity stripe.
Jalen Bridges and Flo Thamba are the other starters in the lineup. Bridges and Thamba do a good job on the glass, but neither player shoots the ball that much. They are asked to do a lot on defense given that three guards are usually on the floor, so we don't see too much out of them on offense.
Kansas Jayhawks Betting Analysis
Jalen Wilson has been the best player in the Big 12 so far this season. Wilson is averaging 20.3 PPG and 8.2 RPG, but the junior has somewhat struggled on the offensive end after six straight games of 20+ points. He has just 34 points over the last three games for Kansas, and he is averaging just 5.0 RPG in that stretch too.
Freshman Gradey Dick may be entrenching himself as a lottery pick. He exploded in wins over Oklahoma State and Texas over the last couple weeks, and the 6'8 guard is currently averaging 14.7 PPG and 4.9 RPG while knocking down 42.7% of his threes. Dick is one of three players on Kansas making over 30% of their threes along with Dajuan Harris Jr. (38.9%) and Wilson (35.8%).
The Jayhawks rank in the top 20 in both offense and defense according to Ken Pomeroy. Harris is a great distributor that is averaging 6.1 APG, while Kevin McCullar Jr. is a solid all-around player that paces Kansas with 2.2 SPG. The big question with Kansas is depth, as four of their players are averaging 30+ MPG. Bill Self really doesn't trust his bench, and that's a growing cause for concern.
We may be compensated by the company links provided on this page.
Read more