NCAAB
Last Updated Mar 03, 2023, 5:06 PM
Fade & Shade Picks, Predictions, Odds
US Sports Betting Industry Expert
8 minute read
---
We're a week away from the first conference tournaments and just a further week from Selection Sunday as the college hoops season hits the homestretch. 
The coaching carousel is starting to spin, too, with Kermit Davis walking the plank at Ole Miss on Friday.  The weekend shade and fade alert thus proceeds with a few interesting twists and some new teams to spotlight as February comes to a close
Teams to Shade
We're backing (shading) three schools this weekend, which are listed below: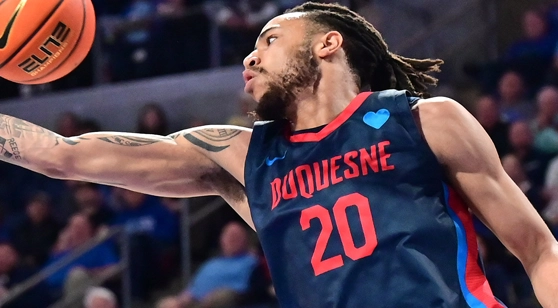 Duquesne Dukes
Sunday vs. Davidson (2:00 p.m. ET)
There are rumors coming out of the A-10 that vet Iron Dukes HC Keith Dambrot (once upon a time having been LeBron James' coach at St Vincent-St Mary High School in Akron), a consistent winner throughout his career, might be considering hanging 'em up at the end of the campaign. 
Whether or not those rumors have lit a fuse under the Duquesne team is anyone's guess, but no one is doubting that a fuse has been lit, and the Dukes suddenly look a chic pick in the up-for-grabs A-10 Tourney that starts two weeks hence at Barclays Center in Brooklyn. 
No team in the loop is playing any better at the moment, as Duquesne has won and covered five of six and just got done romping past a recently-streaking La Salle at midweek in Philadelphia. 
Impressive work by Dambrot, who had some significant outflow in the portal last offseason when guards Primo Spears (to Georgetown) and Jackie Johnson III (to UNLV) were on the move. 
But Dambrot filled the gaps wisely, perhaps even upgraded, with ex-Miami O Dae Dae Grant (15.4 ppg and better than 40% triples) and ex VCU and juco Jimmy Clark III (12 ppg) having filled those openings more than adequately, while another MAC refugee, ex-Bowling Green F Joe Reece, just scored 26 in the midweek win over the Explorers. 
With the next two games on the Bluff, there's a chance to develop more momentum into March. 
Merrimack Warriors
Saturday at LIU (1:00 p.m. ET)
A tough pre-league slate and resultant losses got everyone off the scent of the Warriors, picked by many as the team to beat in the Northeast entering November. 
But league play has been a snap for the 'Mack, which hasn't had to worry about Big East entries like Stt John's or Providence, or a Missouri Valley contender like Bradley, in the NEC. 
Instead, Joe Gallo's experienced Warriors have taken charge of their loop and ride a seven-game SU win streak into the regular-season finale on Saturday.  No NEC entry has scored more than 71 points on the stingy Warriors defense, and while this offense won't be confused with Gonzaga's senior F Jordan Minor (17.2 ppg) and frontline mate senior Ziggy Reid (14 ppg) have made a nice Batman and Robin-like 1-2 combo, enhanced by the familiarity factor as they are playing in their fourth year together at North Andover.   
Keep in mind, too, that even though MC is in its last transition year to D-I competition and thus ineligible for the Big Dance or NIT, there are no such restrictions from the CBI or Basketball Classic, the latter having invited the Warriors last season.   
And, unlike the past few seasons, Merrimack is going to be allowed to compete in the upcoming Northeast Tourney, with the only provision that if the Warriors win the event, the runner-up team will get the Big Dance invite, (A bit different from last season in the A-Sun, when Bellarmine was allowed to compete in the conference tourney even though ineligible for the Dance or NIT, though the A-Sun had decided that regular-season champ Jacksonville State, not tourney runner-up Jacksonville, would get the NCAA bid after the Knights won the conference tourney).  
Nebraska Cornhuskers
Saturday vs. Minnesota (3:30 p.m. ET)
Of the many twists and turns in the Big Ten, this one didn't figure, as suddenly the Huskers are perhaps the hottest team in the loop. 
All after Fred Hoiberg looked to have one foot out the door entering February, a restructured contract last offseason creating an easier lane for AD Trev Alberts to part ways as Hoiberg universally acknowledged to be a last-chance saloon this term. 
Hoiberg isn't safe yet, and not sure it's a case of the team rallying for its coach, but the effect is the same, with Nebraska winning and covering three straight (all vs. likely Big Dance-bound entries) and four of its last five. 
Along the way the Huskers have done things like erase a 17-point second half-deficit vs. Wisconsin and gut out a pair of overtime wins, with menacing 6-9 PF Derrick Walker on a heater, scoring at an 18 ppg across the past four games. 
Nebraska will rate an interesting dark horse in the fast-approaching Big Ten Tourney, and a couple of more wins would get Hoiberg above .500 and perhaps a call from the NIT.  Would it be enough to save his job?   
Teams to Fade
We're also fading (going against) three teams on Saturday:
Alabama Crimson Tide
Saturday vs. Arkansas (2:00 p.m. ET)
We don't want to wade too far into the current Brandon Miller situation without having all of the information on the table. 
But if it walks like a duck, and sounds like a duck, it's probably a duck, and from the outside it would seem like handing your gun to a friend who then uses it in a murder has to be something of a distraction. 
Miller didn't seem too affected by it all when pouring in 41 points at midweek at South Carolina, but his teammates looked a bit zombie-like in that narrow OT escape vs. one of the SEC's bottom feeders, so don't think they aren't impacted by the news reports, and something tells us this is not a distraction that is going to disappear anytime soon. 
The Tide's February form chart had already included some subpar efforts at LSU and a loss at Tennessee, and the schedule is ramping up into the SEC Tourney with three likely Big Dance entrants lined up in the queue. 
Bama would certainly have an excuse if the minds wander a bit in the next week while the Miller storyline continues to evolve. 
SIU-Edwardsville Cougars
Saturday vs. SE Missouri State (4:30 p.m. ET)
We want to be careful here because we are putting "fade" next to a team that hasn't lost outright in its conference as we move into later February.  But old Oral is indeed back, as the now-called Golden Eagles (who were known as the Titans when they made a run all of the way to the Elite 8 in 1974) are accelerating thru the Summit the way their school namesake used to hit the donations overdrive long ago in his weekly TV sermons, still unbeaten in the league race as we move past mid-February. 
A familiar name from  two years ago, G Max Abmas, is still bombing away (22.8 ppg) as he was in that breathless 2021 tourney run (and we can only guess that ORU has figured out how to play the NIL game if Abmas is still in tow), though he has some different running mates these days in Tulsa, including former Vandy transfer G Isaac McBride (12.4 ppg) and the Spruce Goose of the Summit, 7-3 Connor Vanover, who showed up from Arkansas this season and continues to fool defenses by often stepping out behind the arc to fire 3-balls in a sight that recalls the days of Manute Bol.
Make no mistake, Paul Mills' guys can score, as their 85.5 ppg (ranks only behind Gonzaga) suggests.  Here is the rub, however; oddsmakers and the wagering public are now onto ORU, and point-spreads are consistently inflating well into the teens. 
After Thursday's narrow escape vs. North Dakota, that's now three straight spread Ls, not even close laying those sort of bomber prices the last two vs. Western Illinois and the Fighting Hawks.  The Golden Eagles have become a semi-public team again, and the oddsmakers are now putting hefty premiums on ORU prices.  Proceed carefully. 
Syracuse Orange
 Saturday at Pittsburgh (5:00 p.m. ET)
We're getting to that time of year again when Jim Boeheim's future becomes the first topic of discussion at the Dome. 
At 78 years old, Boeheim already addressed the latest speculation a few weeks ago by saying "It's my choice," but a couple of heavy losses to Duke and Clemson into this weekend seem to confirm that barring a dramatic run in the ACC Tourney (back to its roots at the Greensboro Coliseum), the Orange will miss another Big Dance after forging a brief rally earlier in February. 
By this time, it is apparent that the trademark Boeheim zone defense isn't as sticky as in the past, and while Boeheim could once upon a time live with a one-and-done like Carmelo Anthony who could lead the 'Cuse to a national title, some sources say if mercurial frosh PG Judah Mintz does the same and bolts, Boeheim might decide that enough is enough. 
Worth noting that several of the same ACC observers were thinking that after last season might have provided the proper exit point after sons Buddy and Jimmy graduated, but Boeheim didn't budge. 
As he and he alone is apparently going to be allowed to decide when it's time to hang 'em up, some Orange followers fear this could turn into another Bobby Bowden-at-Florida State situation, staying at the party a bit too long.  Whatever, the 'Cuse doesn't appear to be rallying for the old coach.
We may be compensated by the company links provided on this page.
Read more