MLB
Oct 30, 2021
Houston Astros vs. Atlanta Braves Predictions, Odds, Preview
October 31, 2021

Jonathan Willis
MLB Expert
VegasInsider.com
Game 5 of the World Series sees the Atlanta Braves trying to close out the Houston Astros with a 3-1 lead and playing at home. Opening pitch is set fro 8:09 p.m. ET and will air on FOX from Truist Park in Atlanta, Georgia.
Houston Astros vs. Atlanta Braves Game 5 Predictions
he Atlanta Braves can wipe away decades of heartbreak for their fans with a win over the Houston Astros on Saturday night. Atlanta has been one of the most star-crossed franchises in baseball over the last three decades with a lot of regular season success but just one World Series title. However, they won't be able to ease their city's longing for a championship in Game 5 on Sunday night.
Brian Snitker has a tough decision ahead of him tonight. Snitker will either have to start Max Fried on short rest or use another reliever in order to save Fried and Ian Anderson for a potential Game 6 and Game 7 in Houston. This bullpen has been excellent against the Astros so far, but they will stumble with the World Series in their grasp.
Score Prediction
Astros 7, Braves 4
Best Bets
Over
Astros ML
Houston Astros vs. Atlanta Braves Game 5 Betting Odds
Odds Provided by DraftKings - Subject to Change
Astros -115
Braves -105
Astros -1.5 (+145)
Braves +1.5 (-165)
Over 8.5 (-110)
Under 8.5 (-110)
The Atlanta Braves have won nine straight home games. (AP)
Houston Astros vs. Atlanta Braves Game 5 Betting Resources
Matchup: AL West vs. NL East
Date: Sunday, October 31, 2021
Venue: Truist Park
Location: Atlanta, Georgia
TV-Time: FOX - 8:15 p.m. ET
Inside the Stats - Houston Astros
Record: 103-73
Run Line: 84-92
O/U: 95-73-8
Runs: 863 (1st)
Batting Average: .267 (1st)
On Base Percentage: .339 (1st)
ERA: 3.76 (7th)
WHIP: 1.23 (8th)
Inside the Stats - Atlanta Braves
Record: 98-77
Run Line: 90-85
O/U: 81-84-10
Runs: 790 (8th)
Batting Average: .244 (12th)
On Base Percentage: .319 (12th)
ERA: 3.88 (8th)
WHIP: 1.24 (10th)
Key Players to Watch
HOU: Jose Altuve - 2B (.277 avg, 31 HR, 83 RBI)
HOU: Yordan Alvarez - DH (.277 avg, 33 HR, 104 RBI)
ATL: Austin Riley - 3B (.303 avg, 33 HR, 107 RBI)
ATL: Freddie Freeman - 1B (.300 avg, 31 HR, 83 RBI)
Houston Astros vs. Atlanta Braves Game 5 Probable Pitchers
HOU: Framber Valdez - (11-6, 3.14 ERA, 125 K, 1.25 WHIP)
ATL: Undecided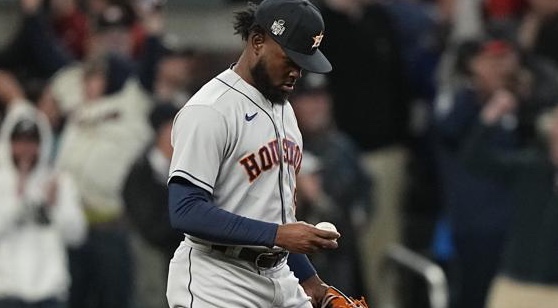 The Houston Astros have lost three of their last four games. (AP)
Houston Astros vs. Atlanta Braves Game 5 Betting Analysis
Framber Valdez will get the start in Game 5 with Houston's World Series hopes on the line. He was not sharp in Game 1, allowing eight hits and five earned runs in just two innings. Jorge Soler and Adam Duvall both took him deep to left field before he was pulled, but he should pitch better tonight.
Valdez was not good in his first two postseason starts, but he was superb in Game 5 against Boston in the ALCS. He pitched eight innings and allowed just four baserunners and one earned run in a 9-1 win. That is the type of performance that Houston needs from him tonight, and Valdez will largely come through.
Houston does need more out of an offense that has been held to two runs or less in three of four games against Atlanta.
Yordan Alvarez has walked five times in the World Series, but he has just one hit after winning the ALCS MVP. Michael Brantley has six hits and has been one of the most reliable hitters with a .323 batting average this postseason. Yuli Gurriel is come alive too, getting on base five times against the Braves.
Kyle Tucker could be the X-Factor in this game. Tucker had two hits last night, and he is fearless on the basepaths. He has five of Houston's 11 stolen bases this postseason, and his .891 OPS is the second-best mark on the team behind Alvarez.
Atlanta will likely use Drew Smyly for at least a couple innings, even if he isn't the starter. Smyly has pitched better than his numbers indicate, but Snitker is likely to have a quick hook if he struggles. Jesse Chavez and the recently called up Tucker Davidson are probably going to head to the mound for at least an inning of work as well.
The Braves have heavily relied on Tyler Matzek, Luke Jackson, and Will Smith out of the bullpen. All three relievers have thrown in at least 10 games this postseason, and they all pitched at least an inning on Friday and Saturday. Snitker will likely have to turn to A.J. Minter in the late game, and he may throw more than usual as a result.
Eddie Rosario has continued his heroics in the World Series after winning the NLCS MVP and is the only Atlanta player with an OPS over 1. Freddie Freeman and Jorge Soler are both carrying OPS totals over .940, but the rest of the roster has struggled to hit and hit with power.
That inability to get on base will hurt Atlanta against a quality starter in Game 5. The Braves' bullpen is gassed, and the lineup won't provide enough protection to close out the World Series tonight.
Houston Astros vs. Atlanta Braves Game 5 Betting Trends
Atlanta has won nine straight home games.
Atlanta has gone UNDER the run total in four of its last five games.
Jose Altuve has hit a HR in two of his last three games.
We may be compensated by the company links provided on this page.
Read more