Game 4 – Nuggets vs. Heat Picks, Predictions, Odds
NBA Playoffs Picks
Series Odds | Expert Picks
Free Picks | Prop Picks
The NBA Finals resume on Friday night with a pivotal Game 4 clash between the Denver Nuggets and Miami Heat. Coverage begins from the Kaseya Center in South Florida at 8:30 p.m. ET on ABC.
DENVER NUGGETS vs. MIAMI HEAT BETTING PREDICTION
Well, the never ending rollercoaster ride continues for Miami, as the Heat followed up their monster offensive performance in Game 2 with a miserable shooting night in Game 3, as Erik Spoelstra's squad shot just 37% from the field and 31% from three-point range in an ugly 109-94 loss on Wednesday night, immediately forking back over the homecourt advantage that they secured in their previous matchup.
Truth be told, Denver didn't exactly bring its A-Game either in Game 3, especially in the long-range shooting department, highlighted by the Nuggets knocking down just 28% of their 18 three-point attempts in Wednesday's contest.
However, they still managed to shoot 51% from the field overall, and when combined with Miami's abysmal performance, Denver managed to force the Heat into desperation mode down the stretch by outscoring them 58-44 in the second and third quarters of the event – in turn, allowing the Nuggets to run away with a 15-point victory in the final stanza.
The Nuggets have become notorious for their struggles away from home throughout the year. They posted a record of 19-22 on the road during the regular season, and they went just 4-3 in their seven road playoff games prior to this series.
And to a certain extent, the Nuggets' road struggles continued in Game 3, aside from a few standout performers, highlighted by Nikola Jokic, Jamal Murray, and surprisingly, Christian Braun combining for 81 points on 61% from the floor in their latest victory – while the rest of the team scored just 28 points on 10-of-29 field goal attempts.
The Nuggets were clearly irritated by the fact that Miami handed them their first home loss in Game 2. So, they wanted to make a statement in the following matchup, and a statement was certainly made, as Jokic and Murray became the first duo in NBA Finals history to record a pair of 30-20-10 triple-doubles in the same contest on the way to a double-digit road victory in Game 3 – but can they replicate a similar result in Game 4?
Personally, I think there's a good chance that we see Denver take its foot off the gas a little bit in Friday's contest. The Nuggets' superstar duo left it all on the floor in Game 3, and truly played with a sense of urgency and desperation, as Murray and Jokic exhausted themselves by corralling a total of 31 rebounds and 20 assists on roughly 44 minutes apiece in the most recent meeting between these teams less than 48 hours ago.
To be fair, if the Heat conjure a repeat performance and knock down just 11-of-35 three-point attempts like they did in Game 3, Denver might smell blood in the water and move in for the kill on Friday night – however, that's not the scenario that I envision playing out in Game 4.
The Heat have jacked up 34 three-point attempts per game at a 39% clip over a 21-game sample size this postseason. Don't start digging this team's grave after one bad shooting performance. When you wager your fate on the longball, sometimes you die on the sword.
But if there's anything that this Miami' team has demonstrated throughout this postseason, it's the fact that a bunch of misses simply means that they are destined to start falling eventually. There's a good chance that we'll see the pendulum swing back the other way on Friday night. Back the Heat to win Game 4.
Score Prediction: Heat 106, Nuggets 101
Best Bet: Heat ML (+135)
DENVER NUGGETS vs. MIAMI HEAT BETTING RESOURCES
Date: Friday, June 9, 2023
Venue: Kaseya Center
Location: Miami, Florida
TV-Time: ABC, 8:30 p.m. ET
Matchup
Expert Picks
DENVER NUGGETS vs. MIAMI HEAT BETTING STATS
Denver Nuggets
SU: 67-33
ATS: 56-44
O/U: 47-53
PPG: 115.8
OPPG: 112.5
Miami Heat
SU: 58-47
ATS: 46-57
O/U: 53-50
PPG: 109.5
OPPG: 109.8
Straight Up (SU), Against the Spread (ATS), Over-Under (O/U)
Points Per Game (PPG), Opponents Points Per Game (OPPG)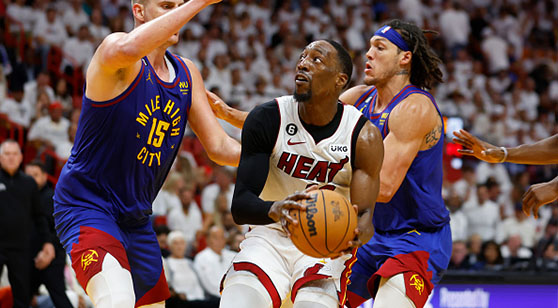 DENVER NUGGETS vs. MIAMI HEAT BETTING TRENDS
The Nuggets are 4-1 SU in their last five games.
The Nuggets are 8-1 ATS in their last nine matchups against Miami.
The Heat are 7-3 ATS in their last ten home games.
The Nuggets are 8-1 SU in their last nine games against Miami.
The Heat are 13-6 ATS in their last 19 games.
The total has gone UNDER in six of Miami's last seven games.
The Heat are 2-5 SU in their last seven games.
The Nuggets are 5-0 ATS in their last five road games against Miami.
The total has gone OVER in six of the last eight matchups between Miami and Denver.
•