Buccaneers vs. Washington Wild Card Playoff Predictions, Odds
Bucs vs. Washington Best Bets
Buccaneers vs. Washington - Predictions
Score Prediction: Tampa Bay 24 Washington 20
Best Bet: Washington +8
The Washington Football Team were the ultimate winners of the disastrous NFC East division this year, but despite that victory over Philly on Sunday Night Football to claim that division crown, all the talk in the aftermath of the game was focused on the Eagles decision to tank that contest pregame (resting so many names) and in-game (QB switch) and just how awful a look it was for the Eagles, their coach Doug Pederson, and the league.
The narrative of "Philly did this to just move up from #9 to #6" was the prevailing note on the outrage with what the Eagles did, but when was the last time the NFL Draft was a one-round event? That's the obvious point every single one of these talking heads out there is completely missing with this "#9 to #6" argument being insufficient for what Philly did.
Moving up three spots in each round of the seven round NFL Draft was 100% the correct decision by the Eagles organization – who should only care about what they can do to better themselves – and who knows, maybe some sort of draft day trade package with the Eagles later round picks – which are now three spots higher in each round – becomes more attractive to their potential trading partners and maybe lands Philly an impact player or two.
Who knows what Philly decides to do with that draft capital, but even though the optics of losing on SNF looked awful, for an organization that hadn't exactly made the best decisions overall this year – keeping Wentz as the starter for as long as they did – coughing up the game to Washington on SNF was the correct thing for Philly to do. And not just for the jump from #9 to #6 in the 1st round of the NFL Draft. For all subsequent rounds of the draft too.
Climbing off my soapbox now to get back to this Tampa/Washington game, because it's a game that presents plenty of intrigue all the way around.
Washington's strength is on defense, specifically their front four/seven, and what's been the consensus blueprint for beating a Tom Brady-led team?
Get a pass rush up the middle, in his face and make him so uncomfortable in the pocket that he spends half the game crumbling to the ground to give himself up or spiking the ball into the ground to avoid taking the hit. Even at 7-9 SU, that's precisely the strength of this Washington Football Team, and if Washington's defense is successful at accomplishing the goal of getting to Brady, if the Football Team's offense can pull even half of their weight, the chance for the upset is there.
That puts tremendous pressure on Washington's defense to play like they are capable of though, because a bad night from them gives them little to no hope because Washington's offense just can't match the weaponry Tampa brings to the table.
If this game gets into a shootout, chances are Tampa wins with ease, and even if it doesn't, Tampa could still win with ease if Washington's offense – one that averaged just 20.9 points per game this year, the lowest by nearly a FG of any NFL playoff team (LAR and Chicago clock in at 23.2) – can't get anything done.
So there really are two questions bettors have to ask themselves when breaking down this game:
1 - Will Washington's defense do what they do and live in Tampa's backfield and frustrate Brady with their penetration?
2 - Will Washington's offense be able to do enough to remain competitive and either keep this game within this point spread and/or threaten the outright win?
Tampa's never going to have a shortage of support in the market for however long their playoff run lasts this year, but how big is too big of a point spread for Tampa in a matchup like this where the one significant strength their opponent has is something that could really give Brady and the Bucs offense fits.
Buccaneers vs. Washington Betting Resources
Playoff Matchup: NFC Wild Card Weekend
Expert Picks: Vegas Insiders
Venue: FedExField
Location: Landover, Maryland
Date: Saturday, Jan. 9, 2021
Time: 8:15 p.m. ET
TV: NBC
Buccaneers vs. Washington Betting Odds
Spread: Tampa Bay -8.5
Money-Line: Tampa Bay -400 Washington +320
Total: 45
Odds Subject to Change
2020 Betting Stats
(Straight Up - SU, Against the Spread - ATS, Over-Under - O/U)
Tampa Bay Buccaneers
Overall: 11-5 SU, 9-7 ATS, 9-7 O/U
Road: 6-2 SU, 4-4 ATS, 5-3 O/U
Offense PPG: 30.8 (3)
Defense PPG: 22.2 (8)
Offense YPG: 384.1 (7)
Defense YPG: 327.1 (6)
Washington Football Team
Overall: 7-9 SU, 8-6-2 ATS, 5-10-1 O/U
Home: 3-5 SU, 4-3-1 ATS, 2-5-1 O/U
Offense PPG: 20.9 (25)
Defense PPG: 20.6 (4)
Offense YPG: 317.2 (30)
Defense YPG: 304.6 (2)
Over vs. Under
Handicapping the Total
Not surprising at all to see 'under' action midweek push this total down from it's opener of 46, as that's just how many questions Washington has on offense.
But at the same time, Tampa's scored 40+ in back-to-back weeks entering the playoffs, and while scoring 30+ in Week 17 has historically lent itself to going 'under' the number the next time out with a point total average of 42.3 points per game, that's right on the precipice of where this number currently sits, as most of the value in the 'under' is gone. That's not to say it's time to look 'over' here, but it does make a play on the total much easier to pass on now.
That being said, teams with a great pass rush like Washington have frustrated Brady in previous games this season.
The Saints defense has been among the leaders on that side of the ball for most of this season, and the 38-3 demolishing of Tampa on SNF a few months back is hard to shake from the memory.
Brady threw three interceptions that day with all that pressure in his face, and the similarly talented front sevens that the Rams and Bears have were able to have similar success in containing the Bucs attack.
It's no secret that likely Defensive Rookie of the Year in Chase Young wants to meet Brady up close and personal in Tampa's backfield on Saturday night, and with that being the main path to success for Washington, I do expect to see the defenses rule the day for the most part in this game.
Washington's offense is just too suspect to really want to trust any 'over' play with them against pretty much anyone, especially when Washington's games since the start of December haven't finished with more than 40 combined points in them (40, 38, 35, 33, 34). Eventually runs like that do get snapped, and there is no better candidate on offense to help break a streak like that than Tom Brady and company.
The opening number of 46 was a solid number in my opinion, and with historical angles and the eye test leaning towards the 'under', that would have been the play earlier in the week. Currently, the total is probably one of the easiest passes on the board for the entire weekend.
Head-to-Head History
Nov. 11, 2018 - Washington 16 at Tampa Bay 3, Football Team +3.5, Under 51
Oct. 25, 2015 - Washington 31 vs. Tampa Bay 30, Football Team -3, Over 41.5
Buccaneers vs. Washington
Handicapping the Side
The side has had support on both sides throughout the week as there were even some +9's floating around on Washington a few days ago. Any thoughts on this side is somewhat correlated with one's opinion on the total though, as bettors that like laying the chalk with Tampa Bay here would likely generally lean 'over', while the opposite is true for Washington backers.
I prefer to side with the latter in that case, as I do believe Washington's defense will find success in disrupting Brady's rhythm, and offensively, Washington is likely to lean on their short passing and rushing attack to bleed the clock and keep Brady and the offense on the sideline huddled around heaters.
Ever since the days of the New York Giants beating Brady and the Patriots in those Super Bowls, pressure up the middle has been Brady's Achilles Heel, and it can be even more pronounced in a Bruce Arians offense that emphasizes deep shots. You need time to throw the ball downfield, and I'm not sure Brady will have much of it in this game.
Backing Washington's offense is obviously a concern, as something like a 31-14 win for the Bucs is not a stretch of an outcome either. But if a lean on historical results is wanted here like we saw with the total, I'd be remiss to leave out the fact that since the turn of the century, NFL playoff teams that entered with an 8-8 SU or worse record have gone 6-1 SU and 7-0 ATS in that first playoff game.
The last team to do it was the 2014 Carolina Panthers (-5.5) in beating Arizona 27-16, but the 2011 Denver Broncos (Tim Tebow), 2010 Seattle Seahawks, 2008 LA Chargers, 2006 NYG (only team to lose outright), and the 2004 Minnesota Vikings and LA Rams (then St Louis) are a part of that list, prior to Washington and Chicago being added to it this season (also something to keep in mind for that Bears/Saints game on Sunday).
Streaks like that will ultimately be snapped as well, but with Washington in the solid situation of being at home, and having their best unit (pass rush) being one that really is the worst matchup for their opponent here, I'll grab the points with the Football Team and hope to see them continue the pattern of playing one-score games like they have in every game since the beginning of December as well.
Key Injuries
Tampa Bay Buccaneers
WR Mike Evans: Knee - Questionable
RB Ronald Jones: Finger - Probable
RB LeSean McCoy: Personal - Questionable
LB Jason Pierre-Paul: Knee - Questionable
DT Ndamukong Suh: Personal - Questionable
LB Devin White: Illness - Out
CB Carlton Davis: Groin - Out
DL Jeremiah Ledbetter: Calf - Out
DT Steve McLendon: COVID-19 - Out
Washington Football Team
RB Antonio Gibson: Toe - Quetionable
WR Terry McLaurin: Ankle - Questionable
QB Alex Smith: Calf - Questionable
LB Thomas Davis Sr.: Knee - Out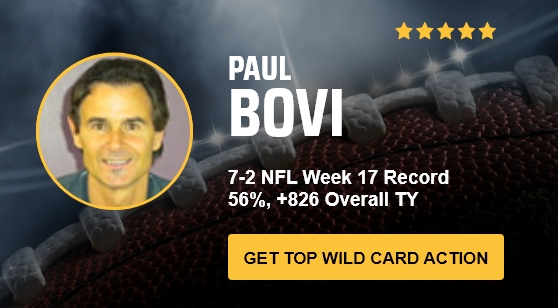 Recent Playoff History
Tampa Bay Buccaneers
None - Last Appearance 2007-2008
Washington Football Team
Jan. 10, 2016 - Washington 18 vs. Green Bay 35, Football Team -2, Over 47.5
Why Bet at WynnBet?

Why Not is the appropriate answer! For starters, WynnBet is an "Independent Sportsbook" and it differentiates itself from the competition.
WynnBET sports betting covers all the most popular options, from football to cricket. It offers betting markets for college and professional sports, focusing on US leagues such as the NFL, the NBA, and the NHL.
For mobile users, the numerous selections on the Betting App at your disposal is more impressive. Most notably, you'll get to enjoy in-play wagering, which is unavailable in the land-based establishment.
Where to place a bet this NFL Season?
Use our exclusive BetMGM Bonus Code VIBONUS to unlock BetMGM's welcome offer for new sportsbook users!
Compare the latest NFL Odds from the best sportsbooks before placing a bet on this week's games.
Check out the Kentucky Sportsbooks and their exciting pre-registration offers just before they launch legal online sports betting.
•