NFL
Last Updated Feb 02, 2023, 8:08 PM
Cincinnati Bengals vs. Kansas City Chiefs Picks, Predictions, Odds
The Conference Round of the NFL Playoffs concludes on Sunday afternoon with a highly anticipated AFC Championship Game rematch between the Cincinnati Bengals and Kansas City Chiefs. Coverage begins from Arrowhead Stadium in Kansas City at 6:30 p.m. ET on CBS.
CINCINNATI BENGALS vs. KANSAS CITY CHIEFS BETTING PREDICTION
In the first matchup of the year between these teams, Cincy managed to escape with a narrow 27-24 victory on the heels of an impressive 431-yard performance by Joe Burrow and the Bengals' offense, giving them a perfect 3-0 record in their last three matchups against the Chiefs, and that already includes a win in last year's conference championship game, which clocked in at an identical final score of 27-24.
However, under a normal set of circumstances, there's a good chance that the oddsmakers would still favor the Chiefs by a little bit more than a field goal at home in this matchup. But in last week's Divisional Round win over Buffalo, Patrick Mahomes suffered a pretty serious ankle injury, and now that the former MVP is feeling less than 100% heading into Sunday's rematch, Cincy has been flirting with the notion of becoming a short road favorite all week.
Ideally, I'd like to be getting a few more points with Cincy in this spot. But with Mahomes now somewhat limited due to a high ankle sprain, it's far more tempting to roll the dice on the Bengals winning this one outright.
Mahomes says that he's going to play Sunday, and there's no reason to think otherwise after seeing him battle through his injury down the stretch of last week's victory. But even if he was at full strength, I'd probably still find myself backing the Bengals in the Conference Round.
Cincy is arguably the most dangerous team in football at the moment. The Bengals have won 10 straight games, while racking up a lofty average of 28.3 PPG during that stretch. However, the most impressive part of this squad's success story has been their outstanding defensive play, highlighted by the Bengals holding their opponent to 20 points or less in six of their last eight contests, and now, 18 points or less in four straight.
This is a well-earned rematch between a pair of teams that have truly been the cream of the crop in the AFC all year. But even if they were on a level playing field at the moment, I'd still lean with a Bengals squad that's 3-0 in their last three matchups against Kansas City, and has been playing much better defense as of late.
Score Prediction: Bengals 27, Chiefs 24
Best Bet: Bengals ML
Take Cincy!

CINCINNATI BENGALS vs. KANSAS CITY CHIEFS BETTING ODDS
More Odds | Super Bowl Odds | Expert Picks | Player Props
CINCINNATI BENGALS vs. KANSAS CITY CHIEFS BETTING RESOURCES
Date: Sunday, January 29, 2023
Matchup: AFC North vs. AFC West
Venue: Arrowhead Stadium
Location: Kansas City, Missouri
TV-Time: CBS, 6:30 p.m. ET
CINCINNATI BENGALS BETTING ANALYSIS
To an extent, the Bengals' deep playoff run came out nowhere last postseason, considering their offense always stood a step below other top shelf contenders like Kansas City and Buffalo, and their defense ranked in the middle of the pack allowing over 22 PPG. But clearly, anything is possible with a pure winner like Joe Burrow in the driver's seat.
This Cincy team is much different now, though. The Bengals' defense finished sixth in the league in scoring this season (20 PPG), which ultimately, is the factor capable of setting them apart from the rest of the bunch, especially when combined with the fruits of their high-powered offensive unit.
However, the wide majority of bettors have consistently doubted Cincy week-after-week all year, and they've paid the price for it down the stretch, and none more so than in the Divisional Round. The Bengals are 10-0 in their last ten games, and in a matchup in which they were tagged as an insulting six-point underdog in, they stomped Buffalo by an ugly score of 27-10.
Nothing would totally surprise me in this contest. At full strength, Kansas City is the best team in football, and there's no question about it. However, the Bengals have certainly had their number in the last handful of meetings between these teams, highlighted by Cincy's perfect 3-0 record in their last three matchups against the Chiefs. So, at the very least, there was always going to be some level of doubt regarding Kansas City's chances in Sunday's AFC Championship rematch.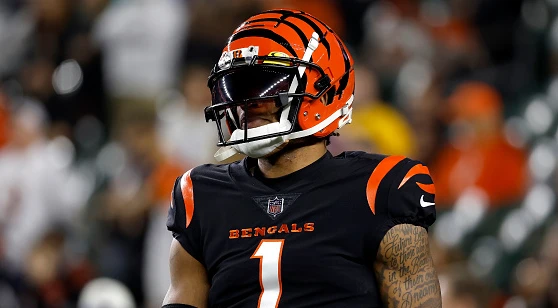 KANSAS CITY CHIEFS BETTING ANALYSIS
Typically, strong head-to-head matchup trends can be chalked up to a variety of factors, and the history between these teams is no exception. However, consistently beating the Chiefs is a bit different. This is a squad that's posted a regular season record of 64-18 since officially handing the keys to Mahomes back in 2018, and they've now reached five straight AFC Championship Games.
Regardless of their overall dominance throughout the last half-decade, though, the Chiefs have always been a bit more flawed than your traditional dynasty, especially on the defensive side of the script. So, now that they've lost to a very good Bengals team in three straight meetings, I think it's time we start paying attention to the disparities here.
The Chiefs own a slight edge on offense over Cincinnati at full strength, but the edge is ever so slight, and even if Mahomes were fully healthy heading into this one, the Bengals have already proven capable of beating Kansas City in a playoff environment at Arrowhead.
However, the main thing separating these teams is the fact that one of them has an excellent defensive unit, and the other's is mediocre at best. The Bengals' defense ranked 6th in the league in points allowed this season, and the Chiefs ranked 16th, which makes a huge difference when squaring off against a Bengals squad that's scored 27+ points in 10 of their last 16 matchups, and now that Mahomes is dealing with a serious ankle issue, it's way too tough to make a legitimate case for Kansas City in this one.
CINCINNATI BENGALS vs. KANSAS CITY CHIEFS BETTING TRENDS
The Bengals are 13-3 ATS in their last 16 games.
The Bengals are 10-0 SU in their last 10 games.
The Bengals are 5-1 ATS in their last six games against Kansas City.
The Chiefs are 2-5 ATS in their last seven games.
The Chiefs are 6-0 SU in their last six games.
The total has gone UNDER in 11 of Kansas City's last 14 games against Cincinnati.
The Chiefs are 5-0 SU in their last five home games.
The Bengals are 7-1 SU in their last eight matchups against Kansas City.
The Bengals are 5-0 ATS in their last five road games.
We may be compensated by the company links provided on this page.
Read more