NCAAB
Last Updated Aug 30, 2021, 13:45 PM
Arkansas vs. Baylor Predictions, Odds, Preview
Mar. 29, 2021

Thom Cunningham
NCAA BK Expert
VegasInsider.com
Arkansas vs. Baylor Predictions
Baylor seems to be on a similar path Virginia took to winning a 2019 National Championship. Many doubted them because of recent events, despite being a top team in the country while playing in a top conference. Also playing highly competitive games very close throughout, discounting the first game against Hartford.
Although I like Baylor winning and advancing to the championship, will they cover a somewhat high spread against a very good Arkansas team? Between the two markets, look for the point total to go OVER as the better of them.
Both Arkansas and Baylor cover the spread extremely well this season, but a common denominator to wager around is the high scoring total both teams typically produce.
If picking a spread, then go with the better and more experienced Baylor team. However, the conviction should lie with the point total of the two markets.
Score Prediction: Baylor 79 Arkansas 71
Best Bets - Side: Baylor -7
Best Bets - Total: OVER 149.5
Premium Picks - Arkansas vs. Baylor
Popular March Madness Tools
Arkansas vs. Baylor Betting Odds
Odds Subject to Change
Handicapping Arkansas vs. Baylor
When looking at the trends, Arkansas and Baylor have each covered 20 games this season. The point spread is basically split, while the point total offers a bit more confidence. Baylor has gone OVER the point total in 16 of 27 games this season, and although Arkansas is just 14-15-1 on the O/U, they average around 80 points per game.
Arkansas has gone UNDER in five straight games, but only one time has the point total been lower than the given 149. Arkansas has gone UNDER 157, 161 and 163 in three of its last four games, so consider the 149.5 a generous offering from the books.
Arkansas has covered the spread in three straight games as the underdog against Texas Tech, Missouri and (some reason) Kentucky. Arkansas narrowly escaped with a one-point win over Kentucky, so consider Baylor a massive step up in terms of talent from those other three schools.
Also note that Baylor has gotten through tough games against Villanova and Wisconsin, so seeing Arkansas won't phase Baylor much. Opposite, Arkansas is coming off a game to Oral Roberts, and also faced Colgate in round one. Outside of Texas Tech in a buzzer beater, the Razorbacks have seen weaker competition.
I'm not huge on the spread, but Baylor should win. If you like the spread then go for it, but if you're like me and you think Baylor wins but the spread isn't a lock - then consider live betting Baylor for plus-value. Its possible Arkansas sees a lead late in the game, and if so then Baylor should see plus-value. Consider that strategy if you're uneasy on the spread, but Baylor winning and the point total going OVER should be the focus.
Matchup-Region: South - 1 vs. 3
Venue: Lucas Oil Stadium
Location: Indianapolis, Indiana
Date: Mar. 29, 2021
Time-TV: 9:57 p.m. (ET) - CBS
NCAA Tournament Betting Results
1st Rd: Arkansas 85 Colgate 68, Arkansas -8.5, Under 161
2nd Rd: Arkansas 68, Texas Tech 66, Arkansas +2, Under 140.5
Sweet 16: Arkansas 72, Oral Roberts 70, Oral Roberts +11.5, Under 157
1st Rd: Baylor 79 Hartford 55, Hartford +25.5, Under 138.5
2nd Rd: Baylor 76 Wisconsin 63, Baylor -6.5, Over 136.5
Sweet 16: Baylor 62, Villanova 51, Baylor -7.5, Under 142.5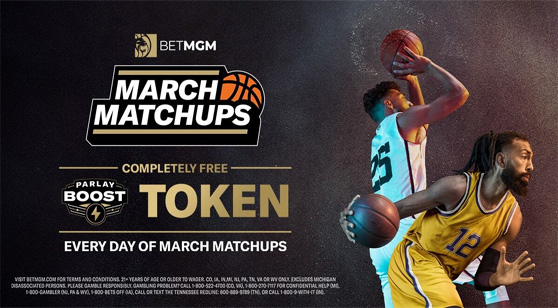 Betting Stats & Analysis - Arkansas
25-6 SU, 20-10 ATS, 14-15-1 O/U
Arkansas has a highly-prolific offense, even with their star player struggling right now. Yes , they've gone UNDER in five straight but the Razorbacks also average 81 points per game. They also allow just above 70 to opponents, so the O/U trend is a bit deceiving with Arkansas considering the style they play and the insane point totals given lately (160 vs. Colgate).
Arkansas is improving on defense though, now featuring the 26th-most efficient defense in the nation. They have four players average a double-digit point total, and a head coach who has March Madness experience that everyone seems to forget about. What's scary about Arkansas is that they haven't hit their ceiling yet.
Statistically, they are impressive in a lot of different areas. They rank 17th in blocks per game (4.9) and 12th in total rebounds per game (39.9), so they can get big. They also hit 74% of their free throws (ranks 29th) and hit on 29.3 field goals per game (ranks 15th). Finally, Arkansas averages 14.6 assists per game (ranks 82nd) and 7.9 steals per game (ranks 46th).
Betting Stats & Analysis - Baylor
25-2 SU, 17-10 ATS, 16-11 O/U
Baylor's defense has been very impressive through the tournament thus far, but the offense does need to pick up a bit. Davion Mitchell is blossoming into the most important Bear, clearly the leader for Baylor moving forward. Both of Baylor's leading scorers have almost disappeared in two straight games, a bit concerning entering a shootout against a Top 15 offense.
Even if the shots continue to miss for Baylor's key players, the defense is still playing well. Baylor enters with the 23rd-most efficient defense, while averaging the ninth-most steals per game nationally. Baylor's offensive rebounding has also been key to their success, averaging 12.6 per game which ranks 23rd.
The board battle will be the deciding factor in this game, ultimately leading to more possessions which is crucial for an evenly matched game. The Bears did struggle from beyond the arc against Villanova but still won, so look for Baylor to continue firing away from three in this one. They hit 40.8% of their three-pointers which is the best nationally.
Key Players to Watch
Arkansas
Moses Moody has to be better, plain and simple. The freshman struggled against Oral Roberts, missing wide open shots from various points of the court. He averages a team-high 17 points per game, so don't expect him to continue struggling for long. Otherwise, it's all J.D. Notae and Jalen Tate.
Tate's size advantage was key against ORU, as it will be interesting to see if he can get to the rim with similar ease. Probably not, so look for more Connor Vanover in this game and a much more aggressive Justin Smith on the boards.
Baylor
Jared Butler and MaCio Teague have to play better, much like Moody for Arkansas. Mitchell can only do so much by himself. Matthew Mayer has done a great job providing energy off the bench, while Adam Flagler should see more opportunities to score the ball.
Flo Thamba is actually the name that has to step up the most for Baylor. His rebounding and defensive effort is perfectly fine, but his offense around the rim is hard to watch. He is just one big offensive game away from Baylor seeing a blow out victory, assuming all the other pieces fall in place.
Arkansas has gone UNDER the point total in five straight games, despite averaging the 11th-most points per game nationally. (AP)
We may be compensated by the company links provided on this page.
Read more