NFL
Last Updated Aug 30, 2021, 13:49 PM
2020 NFL AFC East Predictions
AFC East Betting Odds and Forecast
When and how the 2020 NFL season gets played may still be quite up in the air, but the draft is done and the schedule has been made. Meaning, now's the time to start to sink your teeth into NFL futures odds across the board (divisions, win totals, conference titles etc) as things are pretty much set from a roster standpoint.
So let's begin with the AFC East Predictions in that regard, as there seems to be a consensus selection in the market about who will win the division, and it isn't even the franchise that is currently the 11-time defending champion of the division. I guess the only constant is change right?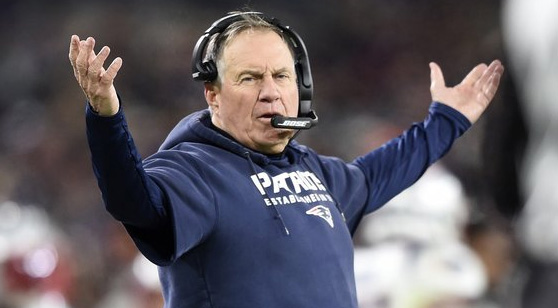 Despite losing key parts on both sides of the ball, Bill Belichick and the New England Patriots are still getting respect from the sportsbooks. (AP)
2020 AFC East Title Odds
New England (+125)
Buffalo (+145)
Miami (+700)
New York Jets (+700)
Now that Tom Brady has moved on to finish his career elsewhere, it seems that the time is now for many who believe New England's reign at the top of this division will finally come to an end. The Buffalo Bills are basically the consensus market pick at this +145 price to win the AFC East in 2020, and it's easy to see why.
Buffalo has the entire look of a team on the upswing, as they are coming off a season where they did make it to the playoffs and have done so in two of the past three seasons. They've got a young quarterback in Allen approaching his prime years, made significant moves to announce they are in "win now" mode with the wide receiver Stefon Diggs trade, and still have a nasty defense that can keep them in games with anyone. Buffalo is an easy logical choice to be the ones to dethrone New England.
2020 AFC Championship Odds
New England (+1200)
Buffalo (+1400)
Miami (+3000)
New York Jets (+3000)
New England and Buffalo are ranked 3rd and T-4th at these prices in the AFC Championship Odds betting market, with others like the Colts, Steelers and Titans sitting there shoulder to shoulder with the Bills. However, both of these AFC East teams are well behind the two favorites in the AFC – Kansas City (+280) and Baltimore (+333).
Both of those AFC East teams deserve to be in the conversation about potential franchises that could upend those big favorites in KC and Baltimore in 2020, but the Patriots still might be a little overvalued at those odds with a new QB and everything they are going through this year. Hanging tough and backing Belichick's crew to continue their reign over the division is one thing, asking them to get back to a Super Bowl in the first year without Tom Brady is another, especially at 12/1 odds.
2020 Super Bowl 55 Odds
New England (+2200)
Buffalo (+2800)
Miami (+6600)
New York Jets (+6600)
The four teams in this division have a combined 21 Super Bowl appearances in those 54 years of games, but its' going to be hard for them to add to that total in 2020.
Again it feels like the Patriots are a little overvalued given they are going into the year with Jarrett Stidham as a 23-year old QB getting his first career crack at starting. The Dolphins and Jets are priced where they should be as both are poised to be improved this season, but improving all the way to a Super Bowl title is far too ambitious.
Which leaves the ever-popular Buffalo Bills team to consider, but even those that are the biggest believers in the Bills in 2020 have to have some reservations that their team can go all the way and win the franchise's first Super Bowl. A price of +2800 may be worth a flyer to some of those stout Bills believers though.
2020 AFC East Win Totals Odds
New England 9
Buffalo 9
New York Jets 6.5
Miami 6
NFL Season Win Totals Odds are available and for the first time the Jets get a leg up on the Dolphins in the betting market, as their win total is actually set a half-game higher then the Dolphins. Buffalo and New England are tied at the top again with flat '9's' for either side which does suggest they are more even money to win the division then that earlier +145 price tag suggests.
It will be interesting to see if either the Jets or Dolphins can get a sniff at a .500 season or better though, and as their respective win total numbers suggest, New York is the team in a slightly better position there. They've got a returning QB starter rather then a rookie, they've got play-making talent on both sides of the ball, and it could probably be argued they've underachieved for nearly the entire Sam Darnold era. That rope has to be getting mighty short, meaning that 2020 could be put up or shut up time for this current Jets regime.
2020 AFC East Playoff Props
New England: Yes (-205) or No (+165)
Buffalo: Yes (-177) or No (+144)
New York Jets: Yes (+400) or No (-560)
Miami: Yes (+400) or No (-560)
These NFL Playoff Prop Odds prices are interesting for the two teams projected to be at the top of this division, as both the Bills and Patriots are rather juicy on the "yes" side of things. Both teams made the playoffs last year, and in Buffalo's case, there is still plenty to like about the overall upward trajectory this club is projected for.
Chances are New York and Miami are nothing but afterthoughts in the playoff conversation, which has to make that Patriots "No" offering at that price quite tempting for those who see a larger fall from grace for New England this year.
2020 AFC East MVP Contenders
Buffalo QB: Josh Allen (+5000)
New England QB: Jarrett Stidham (+5000)
NY Jets QB: Sam Darnold (+8000)
NY Jets RB: Le'Veon Bell (+15000)
Miami QB: Tua Tagovailoa (+15000)
QB - Quarterback, RB - Running Back, WR - Wide Receiver
As is always the case, quarterbacks lead the way in NFL MVP Futures Odds betting market, and they are the majority of AFC East players listed currently. None of them would be considered favorites with Allen and Stidham more in the mid-range category, and to win this award, one of them would have to likely torch the league in a similar fashion to what the last two MVP winners – Patrick Mahomes and Lamar Jackson – ultimately did.
2020 AFC East ROY Contenders
Offense
Miami QB: Tua Tagovailoa (+1000)
NY Jets WR: Denzel Mims (+6600)
Buffalo RB: Zach Moss (+6600)
Buffalo QB: Jake Fromm (+10000)
QB - Quarterback, RB - Running Back, WR - Wide Receiver
Defense
Buffalo DE: AJ Epensa (+3300)
New England S: Kyle Dugger (+3300)
Miami CB: Noah Igbinoghene (+6000)
New England LB: Joshua Uche (+10000)
NY Jets S: Ashtyn Davis (+10000)
Miami DT: Raekwon Davis (+10000)
DE - Defensive End, S - Safety, CB - Cornerback, LB - Linebacker, S - Safety, DT - Defensive Tackle
There are some solid options on both of those lists, but if you are taking serious looks at investing in either the Offensive or Defensive Rookie of the Year odds, then it begins and ends with grabbing a piece of Miami QB Tua Tagovailoa this year. Tagovailoa will see significant playing time throughout the year, and if he manages to stay healthy and lead Miami to an improved year, no other rookie stemming from this division has a better likelihood of winning the award.
2020 AFC East Predictions
Best Bet/Value on AFC East Division Winner
Best Value: New York Jets (+700)
Tough to disagree with plenty of strong reasons behind all the sentiment for picking the Buffalo Bills to win the AFC East, but being the team that is among the winners of the off-season popularity contest of NFL teams poised to take that "next step", should be cause for concern from the perspective of reading the market.
The Jets have many of the same pieces in place that the Bills do, albeit not the same defense or recent success that Buffalo has had, but are just as capable of taking that next step as well. And yet, here they are priced like chopped liver. QB Sam Darnold knows he's got to show better results now, and if he pulls that off, then this team is highly undervalued at this number.
Best Bet/Value on AFC Championship Winner
Best Value: Buffalo (+1400)
Not really a lot to like from this division in terms of being the Super Bowl representative from the AFC this year, but the best pick of the litter has to be Buffalo. The Bills have the recent playoff experience to fall back on in tough times late in the year, have a defense that keeps them in every game, and enough talent around Allen on offense now where games with 24+ points should come a lot more frequently.
Can the Bills use that formula to make it to Super Bowl 55? Of course. Will they? Probably not, but they are the AFC East's best shot this season.
Best Bet/Value for Super Bowl 55 Winner
Best Value: Buffalo Bills (+2800)
Again, not exactly a play loaded with confidence, but for all the reasons mentioned above regarding Buffalo's prospects this year, they are the best choice of the bunch from the AFC East in regards to winning it all in 2020. If forced to take one of these teams, the Bills would be it. Otherwise it's an easy pass overall.
Best Bets/Value for AFC East Season Win Totals
Best Over: NY Jets Over 6.5 wins
If you do believe that Darnold and company over in Jets territory are ever going to show the potential of their talent and perhaps even threaten winning this division in 2020 as I do, going 'over' this win total number is a fairly easy bet to make. After all, New York won seven games in 2019 and that was after starting 1-7 SU.
If a 6-2 straight up (SU) finish to the season can't be built off with the roster continuity this team has, and a win total number where equaling last year's record would be a win for 'over' bettors, then the market is sleeping on the 2020 Jets far too much.
Best Under: New England Under 9 wins
Again another relatively straight forward premise behind this wager, as the Patriots are likely to treat 2020 as some sort of reloading, rebuilding-type of year and put the building blocks in place for building this team for sustained success in the future as well.
Everyone in this division has been put under the Patriots thumb for over a decade now, and in getting the best shots from improved rivals, while taking a step back themselves in a post-Tom Brady era, New England tops out at 8-8 SU this year.
Best Bets/Value for Yes/No in the 2020 NFL Playoffs
Best Bet: New England "No"
I am far from a believer in Brady being any sort of savior for Tampa Bay this year, but losing him does significant damage to New England's 2020 prospects. I already stated that this team tops out at the .500 mark, and while there is potential for that to be good enough to make the playoffs, that likely won't be the case.
At a price of +165 on the "no", there is just too much potential value to pass up on this potential outcome.
Best Bets/Value for Individual Awards
Best Bet MVP: Josh Allen (+5000)
Best Bet OROY: Tua Tagovailoa (+1000)
Best Bet DROY: AJ Epensa (+3300)
The only one worth serious investment is the OROY selection on Tua Tagovailoa, as he's got everything set up for him in terms of potential success. He's going to see significant playing time, plays the right position to win a ROY award, he's just got to stay healthy. He does that and he's got a shot.
The other two selections are more forced, but focus on the idea that Buffalo does end up being as good as the market believes they are and rides the play of Allen and a stout defense to say a 1st round bye in the playoffs. Not saying that happens, but if it does, the QB that orchestrated it and an impact player on one of the league's better defenses will likely be on the short list for those respective awards.
Analysis provided by VI Expert Matt Blunt - Odds & Betting Markets Subject to Change
We may be compensated by the company links provided on this page.
Read more