NFL
Last Updated Aug 30, 2021, 9:49 AM
Falcons vs. Panthers Week 8 Predictions, Odds, Preview
Falcons vs. Panthers Video Picks
We are already at Week 8 of this very unusual 2020 NFL season, and with the expanded playoffs in place this year, talk about playoff seeding and who's got a chance to get in etc is getting ready to dominate the airwaves.
It's also a point in the season where many of the teams in the bottom half of the standings right now are likely a loss or two away from punting on the campaign, so keep that in mind as well in the coming weeks.
The Atlanta Falcons are one of those organizations that are basically already in that punt mode for 2020 and they really have nobody but themselves to blame. They've given away wins vs Dallas, Chicago, and Detroit already this year, so the 1-6 SU record that they enter this Thursday Night Football (TNF) game with really should be much closer to .500.
I'm not entirely sure if that's an indictment on just how many self-inflicted mistakes this organization has made since losing the Super Bowl a few years ago, but I do know that the majority in the market would believe it to be so.
So the question is, can that be exploited in this divisional rematch game (Carolina won 23-16 in Atlanta a few weeks back) or is this just going to be another case of the Falcons finding new and creative ways to get in the way of their own success?
Betting Resources
Week 8 Matchup: NFC South
Expert Picks: Vegas Insiders
Venue: Bank of America Stadium
Location: Charlotte, North Carolina
Date: Thursday, Oct. 29, 2020
Time: 8:20 p.m. ET
TV: NFL Network
Falcons-Panthers Betting Odds
Spread: Carolina -3
Money-Line: Carolina -140, Atlanta +130
Total: 50.5
Odds Subject to Change
2020 Betting Stats
(Straight Up - SU, Against the Spread - ATS, Over-Under - O/U)
Atlanta
Overall: 1-6 SU, 2-5 ATS, 4-3 O/U
Road: 1-2 SU, 2-1 ATS, 2-1 O/U
Offense PPG: 26.3 (Rank 13)
Defense PPG: 29.6 (Rank 26)
Offense YPG: 401.0 (Rank 6)
Defense YPG: 425.9 (Rank 31)
Carolina
Overall: 3-4 SU, 4-3 ATS, 3-4 O/U
Home: 1-2 SU, 1-2 ATS, 1-2 O/U
Offense PPG: 23.1 (Rank 25)
Defense PPG: 24.0 (Rank 13)
Offense YPG: 369.1 (Rank 15)
Defense YPG: 351.1 (Rank 13)
Over vs. Under
Handicapping the Total
Carolina's 23-16 win over the Falcons a few weeks back was a dead nuts to the 'under', but it was also a game that was dominated by drives from both teams stalling.
Six total FG's were kicked in that game, and four of those six came from inside 40 yards as it was the Panthers who accounted for three of those four sub-40 yard tries.
Oddly enough, that's actually a positive for this Falcons defense, and for 'under' thoughts, but I'm not sure they'll be able to duplicate that performance and get off the field on 3rd down as much as they did in that game.
Carolina still converted 50% of their 3rd downs in that game (6-for-12), and on the road this year, Atlanta has allowed opponents to convert 47% of their 3rd downs. That number puts them in the bottom third of the league overall and puts them right in line with what happened in the first game.
However, at the same time, Carolina's 2nd last in the league in overall opponent 3rd down conversion percentage at 56.32%, as they are a team that has only really gotten worse in that regard.
The better than projected start that this new coaching regime (Matt Rhule) had in Carolina has cooled off a bit now, and even with all of the blunders Atlanta has committed this year (and previous years) in blowing games, they are still a team loaded with talent on offense if quarterback Matt Ryan can consistently protect the ball and get it to all those weapons he does have.
Put it all together, and even with it being a short week and those games tending to lean towards lower scoring affairs, the only way I can look at this total is to go 'over' the number. Carolina might have running back Christian McCaffrey back this week and I don't need to go on to explain how big of a weapon he is for this team.
Finally, in each of the last two seasons, these two teams have always managed to cash the opposite result on the total in their 2nd meeting of the year – ie if the first game went 'over' the second went 'under' – and after some initial action bumped this total down, it's started to climb back up and over the 50-point threshold.
Hard not to agree with that latter move in this instance.
Head-to-Head History
Oct. 11, 2020 - Carolina 23 at Atlanta 16, Panthers +2.5, Under 53.5
Dec. 8, 2019 - Atlanta 40 vs. Carolina 20, Falcons -3.5, Over 48
Nov. 17, 2019 - Atlanta 29 at Carolina 3, Falcons +3.5, Under 49
Dec. 23, 2018 - Atlanta 24 at Carolina 10, Falcons -3, Under 46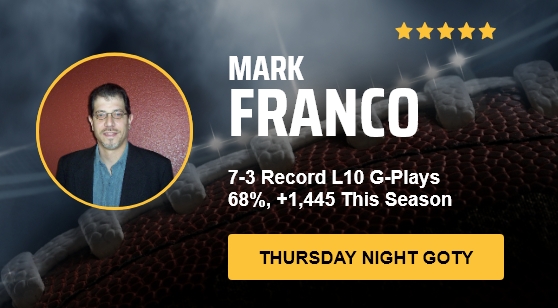 Falcons vs. Panthers
Handicapping the Side
The Falcons may not have a lot going for them in terms of how they are viewed by the outside world, but they are 2-1 ATS this season as an underdog, and since the start of last season, traditional TNF games (not counting Thanksgiving) between division rivals has seen the underdog go on to cash a spread wager in eight of their 10 opportunities.
That includes a 2-0 ATS mark this season with the New York Giants covering at Philadelphia last Thursday and Cincinnati earning the late cover at Cleveland in Week 2.
But understandably so, trusting the Falcons to get the job done is going to be next to impossible for many in the betting market with them getting less than a FG here.
There really is very little defense for some of the gaffs this team has had in blowing games this year, but there are plenty of other teams in this league that are just as average overall as the Falcons are, but they get a pass because they tend to win all the close games they are in. The Seattle Seahawks (up until losing to Arizona last week) come to mind.
The Falcons are also 8-2 ATS in their last 10 meetings with the Panthers, and that includes games that were played in the years that Carolina and Atlanta ultimately made a Super Bowl appearance.
It's far from the best number to be confident in backing this 2020 Atlanta team, but as tough as it may be to submit a wager on the Falcons, they are the only way I can look at the side. That being said, +2.5 is not something I'm excited at all about taking.
Therefore, I do believe that the best way to go overall in this game is to actually go the teaser route with both the side and total. Remember, you can't blow as many games as the Falcons have of late without first having a lead, and with a team like Atlanta that you know always finds a way to play tight games, taking all the points you can with them is a plus.
So teasing the Falcons up to +8.5 with the total down to 44.5 on a 6-point teaser is where my money has landed this week.
Key Injuries
Atlanta
DE Takkarist McKinley: Groin - Questionable
OT Kaleb McGary: Elbow - Questionable
C Alex Mack: Knee - Questionable
WR Julio Jones: Hip - Questionable
WR Russell Gage: Knee - Questionable
Carolina
RB Christian McCaffrey: Ankle - Doubtful
DE Zach Kerr: Toe - Questionable
DE Efe Obada: Back - Questionable
DE Marquis Haynes: Knee - Questionable
CB Eli Apple: Hamstring - Questionable
OT Russell Okung: Calf - Questionable
G John Miller: Ankle - Questionable
Falcons vs. Panthers - Predictions
Score Prediction: Carolina 26 Atlanta 23
Best Bet: 6-Point Teaser - Atlanta +8.5-Over 44.5
2020 Thursday Night Football (TNF) Betting Results
Betting Results
Straight Up (SU), Against the Spread (ATS)
Home-Away: 4-2 SU, 2-4 ATS
Favorites-Underdogs: 3-3 SU, 1-5 ATS
Over-Under: 3-3
2020 Thursday Night Football Betting Results
| | | | | |
| --- | --- | --- | --- | --- |
| Week | Matchup | Line/Total | Score | ATS/Total |
| 1 | Houston at Kansas City | Chiefs -9.5, 53.5 | 34-20 | Favorite-Over |
| 2 | Cincinnati at Cleveland | Browns -6, 44.5 | 35-30 | Underdog-Over |
| 3 | Miami at Jacksonville | Jaguars -3, 48.5 | 31-13 | Underdog-Under |
| 4 | Denver at N.Y. Jets | Jets -1, 41 | 37-28 | Underdog-Over |
| 5 | Tampa Bay at Chicago | Buccaneers -3.5, 44 | 20-19 | Underdog-Under |
| 6 | Kansas City at Buffalo | PPD | PPD | PPD |
| 7 | N.Y. Giants at Philadelphia | Eagles -5, 44 | 22-21 | Underdog-Under |
| 8 | Atlanta at Carolina | - | - | - |
| 9 | Green Bay at San Francisco | - | - | - |
| 10 | Indianapolis at Tennessee | - | - | - |
| 11 | Arizona at Seattle | - | - | - |
| 12 | Baltimore at Pittsburgh | - | - | - |
| 13 | Dallas at Baltimore | - | - | - |
| 14 | New England at L.A. Rams | - | - | - |
| 15 | L.A. Chargers at Las Vegas | - | - | - |
Daily Newsletter - Sign Up Today!
Sign up to get daily betting columns and advice delivered directly to your inbox.
We may be compensated by the company links provided on this page.
Read more