NFL
Last Updated Aug 30, 2021, 9:48 AM
Rams vs. Buccaneers Week 11 Predictions, Odds, Preview
Rams vs. Buccaneers - Predictions
Score Prediction: Tampa Bay 28 Los Angeles 24
Best Bet: Over 48
It's a quarterback rematch from Super Bowl LIII two years ago, as Jared Goff and the Rams hope for a different result against Tom Brady's new squad, the Tampa Bay Buccaneers.
The 13-3 score in that Super Bowl was due in large part to the two pass rushes involved making life very difficult for Goff and Brady, and two years on with one new team involved, it appears as though that hasn't changed.
The Rams still have All-Pro defensive tackle Aaron Donald and company causing chaos on each snap, and the numbers Tampa's defense has put up this year because of their front four pressure has been just as noteworthy.
Tampa Bay and the Rams are both fighting to stay where they currently are in the NFC playoff race though – currently 5th and 6th respectively – and who knows what kind of tie-breaking potential this head-to-head matchup could have for either side down the road.
Goff was 0-2 straight up against Brady when he was in New England (lost 26-10 in 2016), and both have been low-scoring games where the Rams offense didn't put up more than 10 points.
Rams fans are hoping that changes in a big way now that it's Tampa Bay's defense they are up against and not Pats head coach Bill Belichick and company, but with playoff implications and some great pass rushing skills on both sides, this very well could be another lower scoring game.
Is that how we should be betting it though?
Betting Resources
Week 11 Matchup: NFC
Expert Picks: Vegas Insiders
Venue: Raymond James Stadium
Location: Tampa, Florida
Date: Monday, Nov. 23, 2020
Time: 8:15 p.m. ET
TV: ESPN
Rams-Buccaneers Betting Odds
Spread: Tampa Bay -4.5
Money-Line: Tampa Bay -220, L.A. Rams +190
Total: 48
Odds Subject to Change
2020 Betting Stats
(Straight Up - SU, Against the Spread - ATS, Over-Under - O/U)
L.A. Rams
Overall: 6-3 SU, 5-4 ATS, 2-7 O/U
Road: 2-3 SU, 2-3 ATS, 2-3 O/U
Offense PPG: 24 (Rank 18)
Defense PPG: 18.7 (Rank 31)
Offense YPG: 395.6 (Rank 7)
Defense YPG: 296.4 (Rank 2)
Tampa Bay
Overall: 7-3 SU, 5-5 ATS, 6-4 O/U
Home: 3-1 SU, 2-2 ATS, 2-2 O/U
Offense PPG: 29.6 (Rank 6)
Defense PPG: 22.6 (Rank 25)
Offense YPG: 368.5 (Rank 14)
Defense YPG: 300.3 (Rank 3)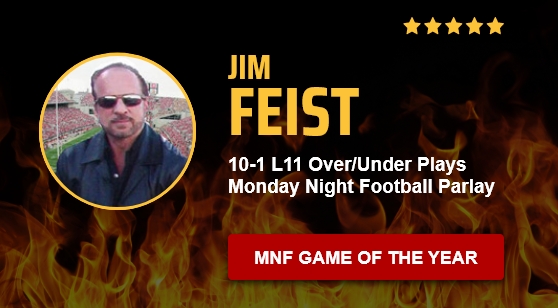 Over vs. Under
Handicapping the Total
The Rams come into this game on a 0-6 O/U run overall, as they've grown comfortable finding more success in these low-scoring games.
LA is 4-2 SU in those contests and just aim to do what they do and do it well. It's far fewer formations with more plays run from each setup.
Defensively it creates chaos up front and lets the secondary lock down things at the back, and for the most part it's worked out well for LA of late. They held four of those six opponents to 16 points or less, three of which finished with 10 or less.
Tough not to start to lean to the 'under' with that run.
But at the same time, the three opponents they held to 10 or less were the Bears, Washington, and the Giants. All bottom-feeding offenses at the time (or still very much so).
Holding Seattle to 16 last week was mightily impressive, but Miami scored 28 on them, and San Francisco put 21 on them in a 24-16 win by the 49ers while they were still healthy.
Even going back further, their other three games this season were a 20-17 win over Dallas in the opener, a 37-19 win in Philadelphia, and a 35-32 loss in Buffalo in a game the Rams know they coughed up.
Outside of Seattle (a division rival), any opponent that's had a semi-alright offense has actually done fairly well against LA.
Brady and the Bucs would trail only Seattle in terms of being the best offenses the Rams have faced this season, and asking LA to put together two successive weeks of full lock down mode against offenses like that is a little bit much to ask these days no?
Tampa bounced back in a big way last week with a 46-23 win in Carolina after they were embarrassed on Sunday Night Football the week prior by New Orleans.
Expecting teams to be a scoring machine off a 40+ point effort is also a bit much to ask, especially when pressure up the middle – the thing the Rams are very good at – is what Brady hates and forces him to slide into multiple sacks each time.
But if expecting the Rams defense to show their past form against passable offenses, Brady and company should be able to manufacture their fair share of scoring drives here.
They put up 40 in beating the Raiders this year and the following week was that Monday Night Football game against the Giants that snuck 'over' the total late, so there is precedent for Tampa's offense staying functional enough to cash an 'over' ticket off a 40-point effort.
Tampa is also 3-1 O/U the last four times they've had a total anywhere in the 40's, and the lone 'under' was thanks to the Chicago Bears sharing the football field with one of these teams again.
I do lean towards Belichick and the scheme being the thing that frustrated Goff in those two previous meetings vs Brady, and Tampa's allowed at least 20 against in four straight weeks.
Their defense had their one standout game – like the Rams vs Seattle – when Tampa held Aaron Rodgers and Green Bay to 10 points in that win, but the following game was a road game in Vegas where 65 points were scored.
Awfully similar situation to what the Rams are in this week – on the road off their best defensive performance.
So give me the high side of this total as I'm still not sure either defense is all it's cracked up to be. The Rams may be on a 0-6 O/U run overall, but they were also the favorite in all of those games.
The last five times they've been an underdog they've gone 5-0 O/U, with that 35-32 loss in Buffalo being the last occurrence. In two games as an underdog this year, Rams games have averaged 61.5 points/game and we don't need anywhere near that for an 'over' ticket.
Tampa's defense gives up things to everyone, and L.A. may already know they'll have to play a bit faster when it is Brady and company on the other side.
Can only take the high side of this total.
Head-to-Head History
Sept. 29, 2019 - Tampa Bay 55 at Los Angeles 40, Buccaneers +9, Over 48.5
Sep. 25, 2016 - Los Angeles 37 vs. Tampa Bay 32, Rams +3.5, Over 40.5
Rams vs. Buccaneers
Handicapping the Side
The spread is an interesting proposition as it's moved back and forth in the -3.5 to -4.5 range for Tampa as it's a matchup and spread that should see plenty of support for both sides.
When it becomes all about execution like it so often is with these two, it's who's going to make the bigger mistake(s). There are cases to be made for both sides in that debate and it makes this spread one that's far easier to pass on.
I do believe we see the better versions of both teams here as both have to consider it as a bit of a measuring stick game to begin with.
The Rams performed well in their last test – vs Seattle – while the Bucs did not – vs New Orleans – so maybe you give a slight lean to the home side, but that always leaves in-play as probably the more viable option now to try and get a better number than where it currently sits.
Could even go the ML route with Tampa should the Rams score first, or even find various spots during the game where you could possibly have both sides at plus-money ML prices.
Definitely no need to be in a hurry to bet this spread pre-game though.
Key Injuries
Rams
K Kai Forbath: Ankle - Out
S Taylor Rapp: Knee - Out
OT Andrew Whitworth: Knee - Out
C Brian Allen: Knee - Questionable
Tampa Bay
G Ali Marpet: Concussion - Questionable
RB T.J. Logan: Knee - Out
2020 Monday Night Football (MNF) Betting Results
Betting Results
Straight Up (SU), Against the Spread (ATS)
Home-Away: 4-6 SU, 6-4 ATS
Favorites-Underdogs: 7-3 SU, 5-5 ATS
Over-Under: 4-6
2020 Monday Night Football Betting Results
| | | | | |
| --- | --- | --- | --- | --- |
| Week | Matchup | Line/Total | Score | ATS-Total |
| 1 | Pittsburgh at N.Y. Giants | Steelers -6, 44 | 26-16 | Favorite-Under |
| 1 | Tennessee at Denver | Titans -3, 41.5 | 16-14 | Underdog-Under |
| 2 | New Orleans at Las Vegas | Saints -4, 47.5 | 34-24 | Underdog-Over |
| 3 | Kansas City at Baltimore | Ravens -3.5, 55 | 34-20 | Underdog-Under |
| 4 | Atlanta at Green Bay | Packers -5, 56.5 | 30-16 | Favorite-Under |
| 5 | L.A. Chargers at New Orleans | Saints -7, 49 | 30-27 (OT) | Underdog-Over |
| 6 | Arizona at Dallas | Cowboys -1, 56 | 38-10 | Underdog-Under |
| 7 | Chicago at L.A. Rams | Rams -6.5, 44 | 24-10 | Favorite-Under |
| 8 | Tampa Bay at N.Y. Giants | Buccaneers -12.5, 47 | 25-23 | Underdog-Over |
| 9 | New England at N.Y. Jets | Patriots -9, 42 | 30-27 | Underdog-Over |
| 10 | Minnesota at Chicago | Vikings -3.5, 44 | 19-13 | Favorite-Under |
| 11 | L.A. Rams at Tampa Bay | - | - | - |
| 12 | Seattle at Philadelphia | - | - | - |
| 13 | Buffalo at San Francisco | - | - | - |
| 14 | Baltimore at Cleveland | - | - | - |
| 15 | Pittsburgh at Cincinnati | - | - | - |
| 16 | Buffalo at New England | - | - | - |
Daily Newsletter - Sign Up Today!
Sign up to get daily betting columns and advice delivered directly to your inbox.
We may be compensated by the company links provided on this page.
Read more