VegasInsider Podcast Network
Media | Social Media | Podcasts
Great Dane Nation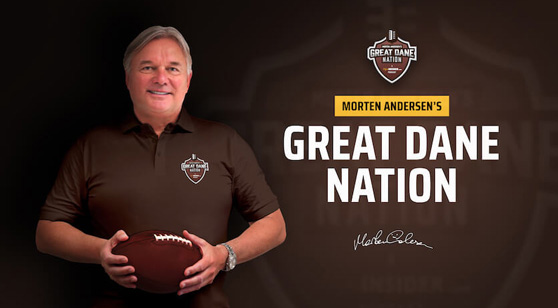 "Great Dane Nation" is a weekly podcast hosted by Pro Football Hall of Fame kicker Morten "The Great Dane" Andersen, proudly presented by Vegas Insider!
Each week, Morten is joined by fellow legends of the game to talk about their life in football, tell stories, talk about today's NFL, and bring our listeners inside the locker room in a way they've never been before. Occasionally, Morten is joined by his friends from outside the football world, like Charles Barkley and Bill Murray!
Each episode, Morten is joined by his sidekick, TommyFreezePops (Tom Carroll). They talk ball, preview each week's biggest games, and have a ton of fun along the way.
If you love football past and present, "Great Dane Nation" is the perfect podcast for you.
VegasInsider Podcast
Welcome to the VegasInsider Podcast - your home for the best sports betting content on the airwaves!
Whether it's the sports we're all talking about, or the sports you're just talking about with your group chat, we've got you covered! NFL, NBA, MLB, NHL, College Football, College Basketball, Tennis, UFC, Horse Racing, Golf, F1 - if you can bet on it, we'll have a show for you on the VegasInsider Podcast feed!
VegasInsider media manager TommyFreezePops (Tom Carroll) welcomes us into "Episode 0" on the feed. You'll hear his voice, along with many others from the VI universe, throughout the various shows that will live right here on your favorite podcast platform.
Subscribe, leave us a 5-star review on Apple Podcasts, and get ready to cash in with the best sports handicapping information in the business!