NCAAF
Last Updated Jul 24, 2022, 7:33 PM
2022 Boston College Eagles Betting Odds, Picks & Predictions
2022 BOSTON COLLEGE EAGLES BETTING ODDS, PREDICTIONS, PREVIEW
The 2021 Boston College Eagles stumbled to a 6-6 regular-season record, and it was also 6-6 ATS while going 0-6 SU inside the Atlantic Division of the ACC. If not for a 4-0 SU run through the non-conference portion of the schedule, it would not have qualified for a bowl. The Eagles were slated to face East Carolina in the Military Bowl, but a major COVID outbreak within the program canceled that game and the Eagles weren't involved in the postseason.
Head coach Jeff Hafley gets a healthy QB Phil Jurkovec, for hopefully the entire season. He suffered a hand injury which limited him to just six games. QB Dennis Grosel actually completed more passes (57.8% to 54.2%) than Jurkovec, but he also made far more miscues with seven picks across 192 attempts. Jurkovec also won't be mistaken for Lamar Jackson anytime soon, but he is capable if he needs to run, going for 322 yards with 6.4 yards per attempt and five rushing scores. A full season of Jurkovec is likely to net this team at least one, perhaps two, more wins.
With Grosel subbing for the injured Jurkovec for a majority of the season, the offense was rather stagnant. In fact, the latter was putting up 350 yards per game through the air prior to his hand injury, but things quickly devolved with Grosel under center, and the team finished with just 184.8 yards per game through the air to finish 107th in the nation.
Jurkovec will be glad to link up with WR Zay Flowers, too. The dynamic receiver posted 44 grabs for a team-high 746 yards and five scores, netting 17.0 yards per catch. Unfortunately, TE Hunter Long has moved on, but the team did add TE George Takacs from Notre Dame through the transfer portal. RB Pat Garwo III is back, too, after finishing with 1,045 rushing yards and seven scores across 12 games. He averaged 5.1 yards per attempt and was one of the biggest constants in the offensive attack in 2021.
On defense, Boston College was fourth in the ACC in total defense, while allowing just 173.5 yards per game through the air to finish fourth in the country. The team is expecting seven starters, including LB Kam Arnold (35 tackles, 1 forced fumble, 1 fumble recovery, 1 sack), DE Marcus Valdez (5 sacks, 7 tackles for loss) and S Jaiden Woodbey.
After perusing the schedule, this is looking like a six-win team again. The home schedule is rather easy, sans for a home date with Clemson. The road schedule looks a bit more perilous with trips to Virginia Tech, Florida State, Wake Forest, NC State and Notre Dame. That's a tall order. But if BC can pull off an upset or two, and win the games it should, it might exceed the 6.5-win number. Still, I am projecting 6-6.
Best Bet: Boston College Under 6.5 Wins (-125)
2022 BOSTON COLLEGE EAGLES SCHEDULE
Sat., Sept. 3 - vs. Rutgers
Sat., Sept. 10 - at Virginia Tech
Sat., Sept. 17 - vs. Maine
Sat., Sept. 24 - at FSU
Sat., Oct. 1 - vs. Louisville
Sat., Oct. 8 - vs. Clemson
Sat., Oct. 22 - at Wake Forest
Sat., Oct. 29 - at UConn
Fri., Nov. 4 - vs. Duke
Sat., Sept. 12 - at NC State
Sat., Sept. 19 - at Notre Dame
Sat., Nov. 26 - vs. Syracuse
WIN TOTAL ODDS
Over 6.5 (-105)
Under 6.5 (-125)
BOSTON COLLEGE EAGLES ODDS TO WIN ACC CHAMPIONSHIP
+3500
You never know what's going to happen in the wacky Coastal Division of the ACC, but the Atlantic Division has been a little more predictable in recent seasons. Wake Forest broke through to oust Clemson at the top last season, and those two teams should be vying for supremacy in the Atlantic this season, with NC State another team a lot of people are picking.
Boston College is going to struggle to simply qualify for bowl eligibility. I could see this team doing a similar act to last season, winning two or three non-conference games, while posting a 2-6 or 3-5 mark inside the ACC. This isn't a championship-caliber squad.
BOSTON COLLEGE EAGLES ODDS TO WIN NATIONAL CHAMPIONSHIP
+40000
The Eagles would do well to have a 7-5 season. That would likely exceed expectations. Boston College isn't going to contend for a national title anytime soon. Doug Flutie or Matt Ryan aren't walking through that door. A.J. Dillon or William Green aren't walking through that door. Bill Romanowski isn't...yeah, you get the picture. And, even then, those dudes represent the recent heyday of BC Football, but they never sniffed a national title, either.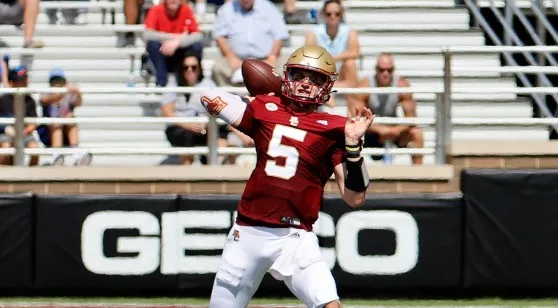 BOSTON COLLEGE EAGLES 2022 HEISMAN CONTENDERS & ODDS
Phil Jurkovec (QB) +8000
Jurkovec is a player which a lot of people are comparing to Pittsburgh's Kenny Pickett. The Boston College quarterback is viewed as a potential NFL prospect, and some feel he could finish up strong in Chestnut Hill and potentially emerge as a Day 1 or Day 2 quarterback in the league.
While all of that is certainly possible, he isn't likely to win the Heisman. He is a bit of a dual threat option, and his injury last season was to the hand, not his legs, so he'll show off his mobility again in 2022. However, the BC offense just doesn't have the pizazz, and he won't produce mind-boggling numbers to win the hardware, even with an East Coast bias among the voters.
2021 BOSTON COLLEGE EAGLES BETTING RESULTS
SU: 6-6
ATS: 6-6
O/U: 3-9
ATS-Home: 3-3
ATS-Road: 3-3
ATS-Favorite: 4-2
ATS-Underdog: 2-4
MORE CONFERENCE ODDS
We may be compensated by the company links provided on this page.
Read more