NBA
Last Updated Aug 30, 2021, 9:44 AM
Hawks vs. 76ers Predictions, Odds, Preview
June 20, 2021

by Michael Crosson
NBA Expert
VegasInsider.com
Eastern Conference postseason action will resume on Sunday night with the Hawks and Sixers set to square off for a winner-take-all Game 7 in The City of Brotherly Love at eight o'clock Eastern time on TNT.
Hawks vs. 76ers Betting Resources
Betting Odds - Hawks vs. 76ers
Subject to Change
Spread: 76ers -7
Money-Line: Philadelphia -300, Atlanta +250
Total: 216.5
After narrowly escaping State Farm Arena with a victory in Game 6, the Sixers travel back to Philadelphia for Sunday's second-round series finale as a seven-point favorite over the visiting Hawks – which is right on par with the Sixers' previous two home playoff matchups against Atlanta (Game 2 – PHI -6.5, Game 5 – ATL +7.5).
The over-under for Game 7 has fallen to OU 216.5 – marking the first time the total has stooped below 220 for a matchup in this series since Game 1 (O 219.5).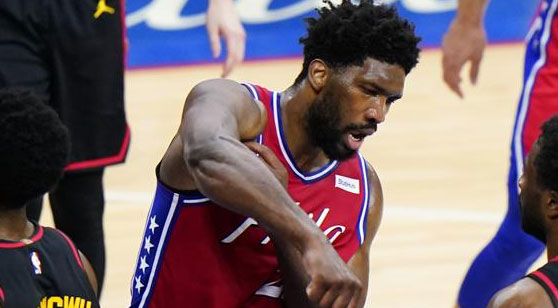 Joel Embiid and the 76ers look to finish off the Hawks at home in Game 7 on Sunday night. (AP)
Hawks vs. 76ers Current Form
After posting dominant four-to-one victories to start their respective postseason campaigns, the Hawks and Sixers opened this second-round series with one gigantic rollercoaster of an affair – as Atlanta jumped out to a 26-point lead in the first half of Game 1 behind a combined 7-of-10 long-range performance from Trae Young and Bojan Bogdanovic.
Only to have that lead slowly shrunken down to four points before the conclusion of the event, as Philadelphia's suffocating second-half defense nearly paved the way for Joel Embiid and company to pull off a stunning comeback in the opener – outscoring the Hawks, 70-54 in the final two stanzas of the narrow loss mainly thanks to Young and Bogdanovic shooting just 2-of-13 from downtown during those periods.
The next few altercations looked a lot like the end of the first one, as the Sixers rumbled to a pair of decisive 16-point victories while asserting a convincing series-advantage in Games 2 and 3 – and then appeared to have Atlanta on the ropes again in Game 4 by building a commanding 18-point lead in the second quarter.
Philadelphia completely fell apart on offense down the stretch of Game 4 though, as Embiid contributed just four points on 0-of-12 shooting during the Sixers' disastrous 38-point performance in the second half – deadlocking this series at two games apiece heading into Game 5.
The Sixers appeared to have everything under control for most of Game 5 too, as Philadelphia went into the fourth quarter at home boasting an 18-point lead over Atlanta – propelled by 31 points on 11-of-13 shooting from Embiid across the opening three stanzas.
Yet again though, Atlanta completely obliterated Philadelphia in the fourth quarter – as the Hawks erupted for 40 points on 73% from the floor across the final 12 minutes of the event, compared to the Sixers' lowly 19 points on 29% from the floor during that timeframe (0-4 3PA).
On the brink of elimination in Game 6 at State Farm Arena, Embiid simply didn't have his best stuff – considering the All-Pro scored just 22 points on 9-of-24 shooting to lead the Sixers' underwhelming survival effort in Atlanta this past Friday.
Luckily for The Process though, a few members of Philadelphia's supporting cast showed up adequately prepared for the must-win event – as Tobias Harris, Seth Curry, and Tyrese Maxey combined for 64 of the Sixers' 104 points on 50% shooting to narrowly pave the way to Sunday's Game 7 at the Wells Fargo Center.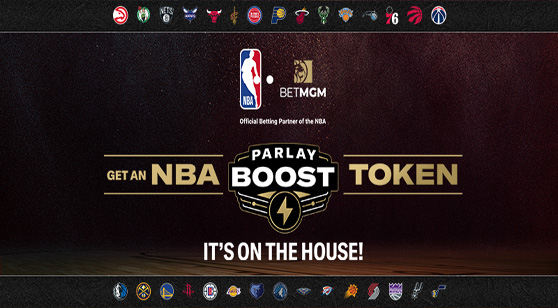 Hawks vs. 76ers Head-to-Head
Jun. 18, 2021 - 76ers 104 vs. Hawks 99, Philadelphia -3, Under 223
Jun. 16, 2021 - Hawks 109 at 76ers 106, Atlanta +7.5, Under 223.5
Jun. 14, 2021 - Hawks 103 vs. 76ers 100, Atlanta +3, Under 226
Jun. 11, 2021 - 76ers 127 at Hawks 111, Philadelphia -2, Over 224.5
Jun. 8, 2021 - 76ers 118 vs. Hawks 102, Philadelphia -6.5, Under 225.5
Jun. 6, 2021 - Hawks 128 at 76ers 124, Atlanta +4.5, Over 219.5
Apr. 30, 2021 - 76ers 126 vs. Hawks 104, Philadelphia -7.5, Over 224
Apr. 28, 2021 - 76ers 127 vs. Hawks 83, Philadelphia -9.5, Under 213
Jan. 11, 2021 - Hawks 112 vs. 76ers 94, Atlanta -6, Under 223.5
The Sixers won two of three matchups against Atlanta during the regular season – with their first two meetings staying 'under' the total due to the losers of those affairs averaging just 88.5 points per game, and the third cruising over the number as a result of these teams combining for 230 points during a blowout victory for Philadelphia (126-104).
Atlanta's lone win over the Sixers came during Philadelphia's mid-January COVID-19 crisis, as Ben Simmons, Shake Milton, Matisse Thybulle, Curry, and Harris were all forced to sit out for health and safety reasons – resulting in an 18-point victory for the Hawks.
The Sixers were healthy for their back-to-back set against Atlanta towards the end of April though, and things played out much differently – as Philadelphia throttled the Hawks by an average of 33 points in a pair of home victories to close out the month.

(SU-Straight Up, ATS - Against the Spread, OU - Over-Under)
Atlanta Hawks Betting Outlook
Inside the Stats (2020-2021)
Overall: 48-35 SU, 46-36-1 ATS, 38-45 OU
Road: 20-22 SU, 20-21-1 ATS, 20-22-1 OU
After finishing up the regular season tied with New York in the standings at 41-31, the Hawks stumbled out of the gate in The Big Apple to start their first-round series – as Atlanta narrowly toppled the Knicks in Game 1 at MSG on Young's game-winning floater, which was followed by a disappointing nine-point loss in Game 2.
Atlanta played the following three matchups with a chip on its shoulder though, as the Hawks stomped New York by an average of 14 points the rest of the way – which included a dominant series-ending victory at MSG in Game 5 (103-89).
The Hawks also played lights out to kick off their series-opener against Philadelphia, outscoring the Sixers, 74-54 in the first half of Game 1 – which enabled Atlanta to cling onto a four-point win despite getting smoked by 16 in the final two periods.
The pedigree of Atlanta's roster might not be quite as impressive as Philadelphia's – but over the course of this series, the Hawks have proven beyond a doubt they are a legitimate threat to the Eastern Conference throne, especially when Trae is at his best.
Philadelphia 76ers Betting Outlook
Inside the Stats (2020-2021)
Overall: 56-27 SU, 44-36-3 ATS, 40-43 OU
Home: 33-9 SU, 25-16-1 ATS, 24-18 OU
Aside from the first half of Game 1 and the second half of Game 5 (ATL +45), the Sixers have completely dominated throughout this second-round matchup against Atlanta – smoking the Hawks by 67 points across the other 144 minutes of action.
I completely understand the mentality of those scared off by Philadelphia's brutally cold offensive stretches as of late – but the Sixers have been phenomenal at home all season, and I still think they are the far more talented squad in this series.
Key Injuries
Atlanta Hawks
PF De'Andre Hunter: Knee - Out
PG Brandon Goodwin: Illness - Out
SF Cameron Reddish: Achilles - Out
Philadelphia 76ers
SG Danny Green: Calf - Out
Hawks vs. 76ers Player Prop Best Bet
Joel Embiid – To Score 35+ Points (+160)
After averaging 38.7 points on 56% from the field across his first three home playoff outings against Atlanta, Embiid had another tough road expedition during Friday night's slugfest at State Farm Arena – contributing just 22 points on 38% shooting to Philadelphia's narrow series-extending victory in Game 6.
I'll back Embiid to have a big night in Game 7 though – as the Sixers' superstar appears to genuinely feed off the hostile energy that Philadelphia's home crowd typically brings.
Hawks vs. 76ers Prediction
After stunning their home crowd by blowing a late 25-point lead at the Wells Fargo Center in Game 5, the Sixers travel back to Philadelphia for Game 7 as a hefty seven-point favorite against the Hawks.
I'll lay the points with Philadelphia here, as the Sixers still appear to be the far more talented squad in this matchup – and they should be due for an offensive explosion after their pair of brutal letdowns at home in this series.
Score Prediction: 76ers 116, Hawks 101
Best Bet: Philadelphia -7
We may be compensated by the company links provided on this page.
Read more