2020 NFL NFC South Predictions
NFC South Betting Odds and Forecast
There was no shortage of noisy headlines coming out of the NFC South this off-season, as we had a new coaching hire, a big name RB return to the state where he played college football, and three of the four teams making significant free agent QB signings, some more newsworthy then anything else in the league.
New Orleans kept Drew Brees around with a two-year deal in free agency, and new Carolina HC Matt Rhule tapped former Saints backup QB Teddy Bridgewater as his QB to rebuild around with the Panthers adding him in free agency. But the biggest signing of them all came thanks to the Bucs, as they signed Tom Brady to a deal and that announcement brought instant change to the markets. And then a month later, likely with large thanks to Brady himself, Tampa was able to convince TE Rob Gronkowski to get back on the football field with his old QB in a new locale.
The NFC South should be plenty of fun in 2020.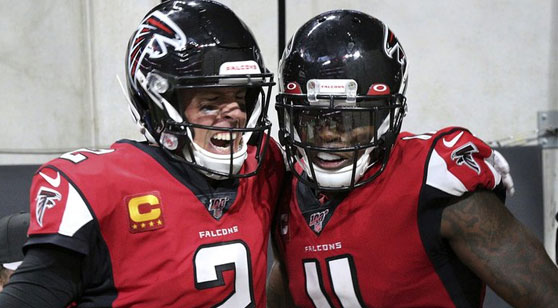 The Falcons closed out last season on a strong note and look to be the surprise of the NFC South (AP).
2020 NFC South Title Odds
New Orleans (-110)
Tampa Bay (+125)
Atlanta (+1000)
Carolina (+2000)
If it weren't for Rhule and the youthful rebuilding project the Panthers have decided to do, it's hard not to feel like this is the division where aging football players go out to pasture. New Orleans knows what they've got in Drew Brees, so bringing him back for another crack or two at a deep run does make sense. He's still 42 this year, and Father time is still undefeated. And Atlanta is hoping that bringing RB Todd Gurley back to the state of Georgia will help his career be reborn as he's still just 26-years old.
But Tampa has taken it to the next level there, as they now enter 2020 with a coach and starting TE that they plucked out of retirement, and a 43-year old QB who will soon be there as well. Tampa is hoping that Brady's experience and ability to protect the ball is going to take them to that next level, because they've got the talent to get there, but QB Jameis Winston threw a league high 30 INT's in 2019. But Winston did also throw 30 TD's and finish the year with the exact same QBR as the new guy Tom Brady.
So we will see how this plays out in Tampa, as there is always a time when hype meets the reality of the team on the field, and which way the organization goes after that can be quite telling. That time is likely coming for Tampa Bay sometime in October when their identity on the field has been established. Many believe that the Brady addition will be the thing that gets the Bucs to that next level, but he's still a 43-year old QB when it comes down to it.
2020 NFC Championship Odds
New Orleans (+650)
Tampa Bay (+650)
Atlanta (+2000)
Carolina (+4500)
This is where you can start to see some of the effect the Brady signing has had on market numbers and how numbers on backing Buccaneers success are approaching overvalued territory. It was just in the Divisional odds that we saw New Orleans at -110 compared to +125 for Tampa, and now to win the conference they are in a dead heat? That tells you a lot of Tampa futures have come in already, as this would suggest a run to the Super Bowl for the Bucs via a wildcard route. Not sure that's the way I'd be looking to go right now.
2020 Super Bowl 55 Odds
New Orleans (+1300)
Tampa Bay (+1300)
Atlanta (+4000)
Carolina (+10000)
Here we've got it again, as New Orleans and Tampa Bay are priced as identical upper echelon favorites, despite the division odds being what they are. Brady's signing moved the needle significantly enough to where having him throw to a WR that's as talented and as big of a target at Mike Evans is, has forced some in the market to have flashbacks to that 2007 Brady-Moss connection in their first year in New England when the Patriots nearly ran the table.
Problem with that is that Brady was in the prime of his career at 30-years old back then, not where he's at now facing much stiffer competition from a depth perspective in his new division and new conference then the one or two teams he tended to have to worry about in the AFC.
Forcing a Super Bowl future play on one of these NFC South teams is again a decision between the Saints and Buccaneers, all the while still shopping around for the best price if it's the latter.
2020 NFC South Win Totals Odds
New Orleans (10)
Tampa Bay (9.5)
Atlanta (7.5)
Carolina (5.5)
The numbers that are quoted from Draft Kings here do actually list the Saints with a -121 price for the 'over' and a -110 price for the 'over' on Tampa Bay. That lines up more with the division prices in giving the Saints the slight edge here. But when you need to get to 10 wins just to push, rather then win like you would with Tampa, that changes the betting dynamic completely.
If the Bucs are anywhere near as good as the hype around them suggests, them and the Saints tough first place schedule makes getting to that 11-win mark all that much harder for New Orleans this year. Atlanta isn't likely to roll over and play dead as a team that's trying to recapture it's recent success, and even in the early stages of rebuilding, Carolina won't be an easy out all the time.
These NFL Wins Totals Odds make for some intriguing questions that need to be answered as a bettor is you are going to look at one of these plays. Can the Saints get to 11 wins with everyone improving around them? Can Tom Brady and the Bucs really live up to the hype and go 10-6 SU? Are the numbers on the other two teams in this division the ones to attack with all the attention on the Saints/Bucs? You'll need a stance on at least one of those ideas to invest in any of these win total futures.
2020 NFC South Playoff Props
New Orleans: Yes (-335) or No (+260)
Tampa Bay: Yes (-286) or No (+225)
Atlanta: Yes (+250) or No (-315)
Carolina: Yes (+490) or No (-715)


The race for the division between Tampa and New Orleans has been the ongoing theme for this piece, and one of those chalky 'yes' options will likely hit as a division winner. The Bucs and Saints could both end up making the playoffs, but the most intriguing number in the NFL Playoff Prop Odds is that 'yes' at +250 on the Falcons.

Atlanta has gotten next to no publicity this off-season outside of the Gurley deal, as they are either a team nobody has belief in anymore, or they are generally being slept on, or possibly a bit of both. The Falcons still have an offense that can put up a boatload of points when they are humming, and it's not like QB Matt Ryan has more NFL games in front of him then behind him. A strong year by the Falcons would throw a huge monkey wrench into the expected outcome of this division for most.
2020 NFC South MVP Contenders
Tampa Bay QB: Tom Brady (+1600)
New Orleans QB: Drew Brees (+2500)
Carolina RB: Christian McCaffrey (+5000)
Atlanta QB: Matt Ryan (+5000)
Carolina QB: Teddy Bridgewater (+10000)
New Orleans RB: Alvin Kamara (+10000)
New Orleans WR: Michael Thomas (+10000)
Atlanta RB: Todd Gurley (+15000)
Atlanta WR: Julio Jones (+15000)
New Orleans QB: Jameis Winston (+15000)
New Orleans QB: Taysom Hill (+15000)
Tampa Bay TE: Rob Gronkowski (+15000)
Tampa Bay WR: Mike Evans (+20000)


QB - Quarterback, RB - Running Back, WR - Wide Receiver, TE - Tight End
2020 NFC South ROY Contenders
Offense
Tampa Bay RB: Ke'Shawn Vaughn (+2000)
New Orleans TE: Adam Trautman (+10000)

Defense
Carolina DL: Derrick Brown (+2500)
Atlanta CB: AJ Terrell (+3300)
Tampa Bay CB: Antoine Winfield, Jr (+3300)
Carolina S: Jeremy Chinn (+5000)
Carolina DL: Yetur Gross-Matos (+5000)
New Orleans LB: Zack Baun (+6600)
Atlanta DL: Marlon Davidson (+10000)


QB - Quarterback, RB - Running Back, WR - Wide Receiver, TE - Tight End, DL - Defensive Lineman

Simply by the amount of candidates in each Rookie of the Year section, you can tell which side of the ball was the primary focus for these NFC South teams in the 2020 NFL draft. Keeping the ball out of their own end zone by either getting to the QB through the rush, or having DB's on the outside to break things up, appeared to be that end goal, with the rebuilding Panthers trying to do what they can to rebuild both sides of the ball with talent.

There is no shortage of names in the NFL MVP Futures Odds side of things either, although a big chunk of them after the QB's are easier to rule out. Any MVP level of success the Gronkowski's, or Julio Jones, or Mike Evans of the world are going to have are going to be in large part due to the great play of their respective QB's, and quarterbacks always will get the benefit of the doubt in that regard when it comes to MVP voting.
2020 NFC South Predictions
Best Bet/Value on NFC South Division Winner
Best Best: Atlanta (+1000)
Went the value route here, as I'm not interesting in any of the prices in either of the two favorites, although one of the Saints/Bucs is going to be the likely winner. But at 10/1 odds, how can you not take a piece of Atlanta here.
The Falcons still have an offense that can put up points with anyone in this league, and that statement still holds true if the Gurley acquisition turns out to be a bust. But there was minimal risk for the Falcons to take someone of his caliber on at the position, and if they get Gurley at or near his best, then who knows how far the Falcons could take things this year.
And when the two favorites are rolling with quarterbacks that are both in the 40's, individual name and Hall of Fame career(s) aside, a +1000 number is a little hard to pass up when there QB is "just" 35 and a few years removed from a Super Bowl appearance as well.
Best Bet/Value on NFC Championship Winner
Best Best: New Orleans (+650)
Atlanta as a value type selection here does make a bit of sense, but I believe it's better to trust the Falcons for more short term goals like winning a division, and see where they take it. Not entirely sure Atlanta has what it takes to get through some of the other elite contenders in this conference.
The Saints do though, and last year's home playoff loss to the Vikings in that Wildcard round was not how they envisioned that season ending. The band is back together so to speak for this club, and they all know that it's Super Bowl or bust.
That does bring some pressure, but it also means the team is pretty good, and after falling just short in miraculous and heartbreaking ways the past few years, backing New Orleans to finally clearly all those hurdles and get Brees to one more Super Bowl is worth some stake.
Best Bet/Value for Super Bowl 55 Winner
Best Value: New Orleans (+1300)
Showing my hand a bit here in these last two selections in terms of which team I prefer in the Saints vs Buccaneers battle everyone expects the NFC South to be. For all the reasons listed earlier about the Saints knowing how lofty their goals are for the next year two, it's these futures markets that end deeper into the season where backing the Saints becomes more of a sound betting choice from a price perspective.
Sure, you could lay the -110 on the Saints for the division or even the -300 plus on them to make the playoffs, but if those are perceived more like "givens", why not take it the extra yard or two with the Saints at these prices offered to win Conference and Super Bowl titles. Obviously the same approach can be said for the Buccaneers as well if you prefer them, but if getting to the playoffs is quite certain for them, the reward is much greater to take theses to win two or three more games.
Best Bets/Value for AFC South Season Win Totals
Best Over: Atlanta Over 7.5 wins
Any hope Atlanta would have at cashing a potential ticket to win this division would need to have them finish well above a 8-8 SU campaign.
The end of the schedule isn't so favorable to the Falcons given that they finish with vs New Orleans, at LAC, vs Tampa Bay, at Kansas City, and vs Tampa Bay, and that's partly why general belief in Atlanta isn't high, but if the season has gone well up until that final run, everything's right in front of the Falcons and ripe for the taking.
There aren't too many reasons to think that Atlanta isn't capable fo piling up a few wins before then, as they've also got a five week stretch where the only opponent that was a playoff team a year ago was Minnesota, while the others include Detroit, Denver, and Carolina twice.
Atlanta didn't bring Gurley over here with the belief they are an up-and-coming team at best. This is an organization that believes they can win now, and with all the attention diverted elsewhere in this division, I'm inclined to be of that belief on Atlanta as well.
Best Under: Tampa Bay Under 9.5 wins
Once Brady announced he was off to Tampa Bay, the bump in Buccaneers futures was expected, but it's gone a little overboard. Yes, Brady's weapons in New England were lacking last year, and share some blame in Brady's own numbers nosediving, but a 53.7 rating is far from any good, and it's the exact same one Tampa's own QB had last year.
Winston's turnovers definitely cost Tampa some games, but protecting the football is definitely something a QB that's in his mid-20's like Winston can easily work on. Yes, Brady already has mastered that skill, but it that really going to be the difference between Tampa being a team nobody talked about seriously for the playoffs, to all of a sudden be a Super Bowl contender.
Resumes speak volumes though, and there is no better resume in the league right now then Brady. But he's still a 43-year old QB that has shown plenty of signs of diminishing skills the past few years, regardless of the level of talent he had around him. Can you imagine if going into the 2019 season, some middling team with some playmaking talent went out and got a QB like Joe Flacco or Marcus Mariota – each who posted QBR's around 53.7 in 2018 – and then they all of a sudden became among the favorites for the conference/Super Bowl. Oh, and they'd be in their early 40's as well. That would be lunacy.
But that's where we are with Tom Brady these days, speaking more about what he's done, and not what he's going to do. Betting lines don't care about resumes, but yet those resumes always bleed into the betting lines and create a perception that is not necessarily representative of reality.
Put it this way, if you forgot the name "Tom Brady", and I told you the Bucs went out and signed a 43-year old QB to be their starter, and he finished in the middle of the pack in QBR last year, and did so in arguably one of the worst divisions with the Jets and Dolphins being there. Would you be over-the-moon excited about Tampa's futures prospects priced as a conference and Super Bowl favorite? I know I sure wouldn't.
Best Bets for Yes/No in the 2020 NFL Playoffs
Best Bet: Atlanta "Yes"
No reason to change that line of thought on the Falcons playing above the expected level this year, especially when this playoff bet gives me that nice cushion of them sneaking into a wildcard spot. As long as they can take care of the games they are supposed to win, and not choke away the tough ones when they are up, backing the idea that Atlanta will be back in the playoffs again at this 'yes' price is something I can't pass up.
Best Bets/Value for Individual Awards
Best Bet MVP: Drew Brees (+2500)
Best Bet OROY: Ke'Shawn Vaughn (+2000)
Best Bet DROY: Antoine Winfield Jr (+3300)
Included the two Tampa Bay rookies here out of necessity to make a pick, as if the Bucs are going to live up to all those lofty expectations, getting key contributions from their rookies could be the deciding factor in putting them over the top.
It's Brees as the MVP that's the only selection that warrants serious merit, although the same problem that concerns backing Brady and the Bucs regarding Brady's age and effectiveness does apply to Brees in theory as well.
Where to place a bet this NFL Season?
Use our exclusive BetMGM Bonus Code VIBONUS1500 to unlock BetMGM's welcome offer for new sportsbook users!
Compare the latest NFL Odds from the best sportsbooks before placing a bet on this week's games.
Check out the North Carolina Sportsbooks just before they launch legal online sports betting.
•