Auto
Last Updated Jun 05, 2022, 2:50 PM
Enjoy Illinois 300 Picks, Predictions, Odds
The NASCAR Cup Series will race at a track Sunday for its first time ever and the best news is that it isn't a road course or doesn't have dirt laid over the asphalt. It's short track racing in Southern Illinois just east of St. Louis across the Mississippi River. 
It's the Enjoy Illinois 300 at World Wide Technology Raceway, formerly known as Gateway Raceway. The layout is just what I think most of us fans have craved over the years when we chanted "less cookie-cutters, more shorts tracks" and then recently chanted "less road courses, more short tracks". See, NASCAR listens.
ENJOY ILLINOIS 300 PICKS & PREDICTIONS
WWT Raceway is a flat 1.25-mile egg-shaped layout with four differing corners. If looking from the air, it looks very similar to Darlington Raceway, but Darlington has steep banking while WWT is flat.
Hey Christopher Bell, what do you expect at the track you won a Truck Series race at in 2016? 
"This weekend is going to be new for everybody and it's going to be really interesting with these transmissions because we've done a lot of shifting at tracks that we didn't expect to be shifting at and we know that we are going to be shifting at Gateway, so that is going to add another element to the race for sure," said Bell. "It's definitely a unique race track because turns 1, 2, 3, and 4 are completely different. There is new pavement from the last time I was there, and it will be good to have more time in practice to dial in the car. There are lots of unknowns but I'm excited."
More on Bell and the great run he's on lately as he's being offered to win at 14-to-1 by Caesars sportsbooks. But he's so right about the unknowns as if we already didn't have enough unknowns on the season that has produced 11 different winners in 14 races. The unknowns of a brand new car every still are still getting adjusted to as well as the unknown of the new Goodyear tire which seems to be 50-50 proposition it will blow after 25 laps.
We'll have to take notice of Friday's practice speeds, especially the 10-consecutive lap averages (5:00 pm ET), as well as Saturday's qualifying (11:00 am ET), but I still feel solid about the drivers I've pre-bet based on what happened at Phoneix and Richmond already, and I'll add New Hampshire to the group when they race later this season.
Get the VI Daily Newsletter!
Get the VI Daily Newsletter!
ENJOY ILLINOIS 300 BETTING RESOURCES
Date: Sunday, June 5, 2022
Venue: World Wide Technology Raceway at Gateway
Location: Madison, Illinois
Distance: 300 miles
Laps: 240
Network-Time: FS1 - 3:30 p.m. ET
"I think you can apply a lot of things there that you do at those racetracks, but it kind of has its own nuances that are different than those two. But I think the same general things will apply," three-time winner at WWT Kevin Harvick said.
Yes, Harvick has lots of experience at WWT beginning with his first career Xfinity Series win in 2000, winning there again in 2001, and then winning a Truck Series race in 2010. It was a prelude to his flat short track greatness that has seen him win a track record nine times at Phoenix, four times at New Hampshire, and three times in Richmond. In 2006 he won four times in the six races between those three tracks. Do well at one on a season, expect to do well on the others. BetMGM has him at 25-to-1 odds which we should pay attention to or maybe get some action before he performs well in practice and the odds drop.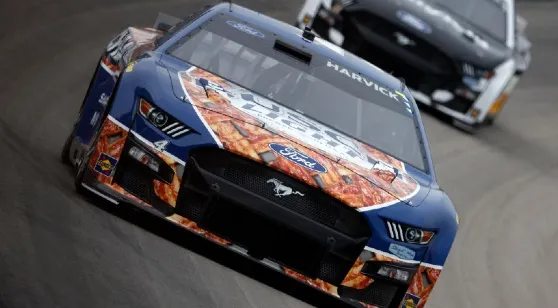 Harvick hasn't won since that magical 2020 season when he won nine times, but he showed very well at Phoenix with sixth place and also Richmond with a runner-up. His car has been sluggish on the bigger tracks, but mix in his own flat track skills and an SHR Mustang that seems to be set up well on the flats, I think he has a great shot to win this week.
The driver I started all my betting equations with was Denny Hamlin because he's been the king of the flat tracks over his career. He's being offered at 8-to-1 odds at BetMGM sportsbooks.
"It's going to be a challenge," Hamlin said of racing at WWT. "I think track position is going to be very important just based off of how this car races on flatter tracks. We'll be shifting quite a bit, so that could make passing pretty difficult. But besides the on-track stuff, I'm excited to be going to a new market for the series and getting to race in front of fans who may not have seen us race before."   
Hamlin wasn't happy about his performances on the similar tracks with the NextGen car that can be applied or copied to WWT citing a 30th at Martinsville, a place he always does well at, but let's not forget how he used pit strategy to win at Richmond after leading only five laps. It was his first win of the season and first top-five. We'll get a better idea of what he has for this week after practices so pay attention.
But how about we look at his flat track history: three wins at New Hampshire with a series-best 9.6 average finish, two wins at Phoneix and second-best with a 10.6 average finish, and four wins at Richmond with an 8.5 average finish.
Hamlin also has two races to his credit at WWT Raceway, the last coming in the Xfinity Series during his Cup rookie season when he started from the pole, led a race-high 169 laps, and finished third (Carl Edwards won). Hamlin likes the flat tracks, always has and still does. 
ENJOY ILLINOIS 300 BETTING ANALYSIS
The March 13 race at Phoenix was a sure sign to us all that the 2022 season may be a bit different as Chase Briscoe led 101 laps before grabbing the checkers for his first Cup win. The season started with Austin Cindric winning his first Cup race at the Daytona 500, then Kyle Larson won at Fontana, and Alex Bowman won at Las Vegas. But the Briscoe win tilted the scales into a bizarro world that is still surprising us weekly.  
Ryan Blaney led a race-high 143 laps in the Phoenix race and finished fourth. Great starter, weak finisher. That's been his story all season, except for winning the non-points All-Star Race at Texas where no one could pass and the top cars wrecked. He also led a race-high 128 laps in April at Richmond and finished seventh. Regardless of what happened and who's fault it is that Blaney didn't win those races he dominated, I'm still very happy about taking 12-to-1 odds on Blaney to win this week. The two tracks that are most relevant to WWT Raceway, Blaney dominated. I was hoping to find better odds but Caesars at 12-to-1 was good enough at the time. BetMGM has him 10-to-1. 
Caesars has seven drivers listed at +850 or less and one of them is William Byron. BetMGM has him 9-to-1, one of six drivers 9-to-1 or less with favored Kyle Larson a very fair +750, or 15-to-2. Shop around, get the best number. If in Las Vegas, you have to visit Circa Sports or the SuperBook at Westgate to get the best NASCAR numbers in the world with the lowest theoretic hold percentage.
Byron is a driver I like, someone who I think will take over the king of the flat track moniker from Harvick and Hamlin. He was third at Richmond after leading 122 laps and then six days later he won at Martinsville for the first time after leading a race-high 212 laps. Still, this will be only the second time he's ever been on the track. His last time was a 2016 Truck Series race where he started third, led 47 laps, and later got involved in an accident and finished 17th.
"I don't know what to expect this weekend really," Byron said. "I think Gateway will race similar to how Phoenix (Raceway) does. We had some speed there earlier this year so I think we have a good starting point, plus we have a full 50-minute practice this Friday to really feel things out. It's been a few years since I've raced there, and when I did, we had a good race going and led a bunch of laps. The last few weeks we haven't gotten the results we've wanted despite leading laps and running upfront. This weekend is a good chance for us to turn that around heading into the summer stretch of the season."  
Yes, I will have a bet on him this week as sort of an insurance policy. I've thrown out Larson because I wasn't impressed with any of his runs on similar tracks this season. His only win this season came in the second race of the season. It seems like ages since then.
Chase Elliott is another interesting driver this week who didn't impress me at Phoenix, Richmond or Martinsville. But you wouldn't know it by his odds where Caesars again has him overpriced at +850 while BetMGM has him at 10-to-1 odds. Give me 12-to-1 and I'll bite.
ENJOY ILLINOIS 300 CONTENDERS
Here are a couple of other drivers I think will do well Sunday:
Kyle Busch (8/1) - He won an Xfinity Series race at WWT in 2008 and has top-10s at both Phoenix and Richmond using the NextGen car this season. He's been stronger on the 1.5-mile ovals, but his true racing spirit belongs on a short track. And I call the 1.25 mile layout a short track because of the slower speed with no banking.
Ross Chastain (9/1) - The new point leader still leads the series with seven top-fives and probably should have had another last week at Charlotte along with his third win. He won a Truck Series race at WWT in 2019. He also was runner-up at Phoenix in March.
Martin Truex Jr. (9/1) - Based on the last two seasons, this should be a spot he gets his first win of thre season. But the old car is gone, NextGen is now, and it hasn't been going like the past. Two top-fives in the first 14 races isn't Truex type of numbers. Richmond, Phoenix, New Hampshire, and Martinsville all have been great for him in the past. He won at WWT in a 2004 Xfinity Series race. No 2022 wins yet and the books are protecting him like he's a fan favorite like Elliott. Why? Come on with 9-to-1. I'll bet him at 16-to-1. Come on Caesars, no one is betting him. You have to add more chum to the mix for me to bite.
Tyler Reddick (16/1) - His team had the perfect set-up at Phoenix in March and finished third on the day and then was 12th at Richmond a month later. He currently sits 16th in points, the last driver set to make the playoffs. Four top-fives in 14 starts this season is strong for a non-powerhouse team like RCR.
Christopher Bell (14/1) - I'll be searching long and hard for the best odds which are sure to vary by large margins. This track is made for his style. He has three poles this season, and four top-five finishes. He was sixth at Richmond after leading 53 laps. 
That's all I have for this week, best wishes on all your wagers this week.
ENJOY ILLINOIS 300 TOP-5 FINISH PREDICTION
#12 Ryan Blaney (+1200)
#11 Denny Hamlin (+800)
#4 Kevin Harvick (+2500)
#24 William Byron (+900)
#18 Kyle Busch (+800)
We may be compensated by the company links provided on this page.
Read more