Auto
Last Updated May 29, 2022, 6:45 PM
Coca-Cola 600 Picks, Predictions, Odds
The 14th race of the season takes us to Charlotte Motor Speedway for the Coca-Cola 600, the longest race of the season and one of the more historic races in NASCAR history running continuously since 1960. 
Sunday's race on Memorial Day Weekend will again show respect to the fallen soldiers of our Armed Forces with each of the 40 cars starting having a soldier's name on the visor with the family of the soldier being special guests. Charlotte Motor Speedway really does take it up a notch for Memorial Day probably better than any sport. Who does it better?    
COCA-COLA 600 PICKS & PREDICTIONS
"There isn't any sport that honors the military any better than NASCAR," Kevin Harvick said. "I know a lot of sports do a lot of things for our military, but when you roll into this particular weekend with the Coke 600 and you're a part of the celebration and remembrance for all the things that have happened with our military, to see the support that NASCAR and everybody in our garage gives the military, especially on this particular weekend, is something that gives you goosebumps."
Yes, me too. It's the pageantry of the day mixed in with the race that Charlotte does so well. 
The whole scene mixes well because the racing at Charlotte's 1.5-mile quad-oval with 24 degrees of banking in the turns usually produces good racing. 
Although, the last few Coca-Cola 600s have been blowouts similar to the 1989 season Super Bowl when the 49ers beat the Broncos 55-10. Last season, Kyle Larson led 327 of the 400 laps to win for the first time at Charlotte. In 2018, Kyle Busch led 377 laps to win his first cup race at Charlotte.
But then there are races like 2017 when Austin Dillon would lead just two laps but found himself in the perfect pit sequence to win for the first time at Charlotte in the Cup Series.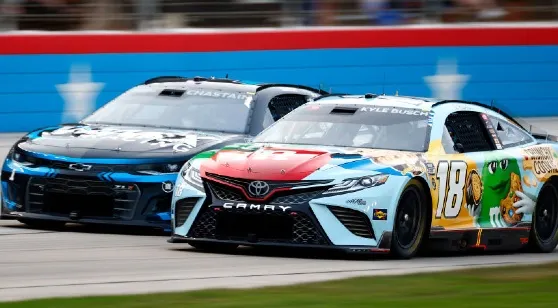 COCA-COLA 600 BETTING RESOURCES
Date: Sunday, May 29, 2022
TV-Time: FOX, 6:00 p.m. ET
Venue: Charlotte Motor Speedway
Location: Concord, North Carolina
Distance: 600 miles
Laps: 400
The point is that lots of different things can happen in the longest race of the season because the temperatures change so much from a 6:00 pm ET start time in daylight to dusk to twilight and then night falls for the last 100 laps. It forces the pit crew to make quick decisions on the fly during each pit stop to adapt to the conditions. And it's virtually impossible to set your car up for a late cool run because the car won't respond the same with the sun still out to start the race.         
"There's just not a lot of room for error because somebody's going to be good and you've got to put yourself in a position to stay on the lead lap," Harvick said. "There are so many different areas of transition that you go through in that race because of the fact that the sun goes down after it starts hot and slick. Then as you transition into the night, you have to have something completely different in your car compared to what you had at the beginning of the race. So there's a sacrifice you have to make at the beginning of the race to just basically try to keep yourself in a good position. Don't make any mistakes, stay on the lead lap, and try and put yourself in a good position for the night because that's when it really counts."
Harvick is a three-time winner at Charlotte, twice winning the Coca-Cola 600, and is being offered at 30-to-1 odds to win by the Las Vegas SuperBook but I haven't seen the speed out of him on similar tracks of Las Vegas and Kansas. Although he was fast at Darlington's 1.366-mile layout with fourth-place.
I think the driver I have to key on first is Kyle Busch who is the SuperBook's second choice to win at 7-to-1 odds. He's been great on 1.5-mile tracks so far and he knows it."I mean, the mile-and-a-half stuff has kind of been our bread and butter a little bit this year, I guess you'd say," Busch said. "You know, at California we were OK. I thought we were quick, but we got behind early, but then Vegas and Kansas were really good. We were fast there. So being another mile-and-a-half here, hopefully that bodes well."
Get the VI Daily Newsletter!
Get the VI Daily Newsletter!
COCA-COLA 600 BETTING ANALYSIS
Busch was fourth at Las Vegas after leading 49 laps and he was third at Kansas after leading 18 laps. The Atlanta race doesn't fit the criteria because they used the superspeedway race package. The crazy thing about Busch is that it took him so long to win in his adopted hometown. He won nine times in the Xfinity Series at Charlotte and eight times in the Truck Series. I think he wants another Cup win.
Ross Chastain is 10-to-1 to win at Ceasars and the SuperBook and he leads the Cup Series with two wins and seven top-five finishes, but his past record at Charlotte hasn't been as nice. His best finish in four starts was 21st in 2020. He was 37th last season. But this is a new season, a new team, and a new attitude. I feel like I have to have a piece of him each week. He was third at Las Vegas after leading a race-high 83 laps and was seventh at Kansas.
The best price I saw on Kyle Larson was 11-to-2 at the SuperBook. He has only one win so far in 2020 after 10 wins in 2021, but this is right where he was last season and he'd go on to win this race. It was only his second top-five at Charlotte in 15 starts. I always get the feeling with him that the only thing that can stop him is a flat tire or mechanical issues. And this Goodyear tire wear after 25 laps has been killing me this season. 
These good cars now have the randomness of losing races because the tire may or may not blow, a new concern that all teams have to face and deal with. Do you pit earlier than fuel says? We've seen drivers come in early often this season. My ruling after 13 races and an All-Star Race is that the new 18-inch low profile tires look awesome, but the tire itself stinks and does the one big lug nut every team has had issues with.
But hey, 11 different winners in 13 races is something all involved in NASCAR should pat themselves on the back for.
COCA-COLA 600 CONTENDERS
I like Joe Gibbs Racing cars this week the most. It just looks like they're putting it all together with flashes of dominance but only Busch and Hamlin have wins this season so far. Martin Truex Jr. has three Charlotte wins but is only 9-to-1 to win as if it's 2019 again. 
Denny Hamlin is 10-to-1 to win at every bet shop but has just two top-fives in 13 starts this season, one of them was a win at Richmond. He's on the upswing and he's never won at Charlotte other than a non-points All-Star Race in 2015. It's odd, 30 starts, no wins for the veteran. What would it mean to finally win the Coca-Cola 600, Denny? 
"The Coca-Cola 600 is a race that I haven't won that I really would like to win, Hamlin said. "It's a tough race, it's an endurance race that really tests the driver and the car and it's one of the toughest for a reason. It's one that I've been close, but I just haven't been able to get the checkered flag there yet. Winning this race would certainly be something that would get added very high on the resume."
Then there's Christopher Bell who the SuperBook is offering at 18-to-1 odds to win. He's been the perfect model of consistency over the last month with a fourth at Dover, sixth at Darlington, and fourth at Kansas. He's banging on the door for a win, and someplace is going to answer soon. 
Another driver I like to win is Alex Bowman at 18-to-1 odds, the winner at Las Vegas. This is the kind of race I could see him winning where the pit crew makes adjustments during the first three stages in the longest race of the season, kind of like they did in Vegas. They do a great job on the fly, I'm surprised they don't have more than one win. He was fifth in this race last season. 
Then there's Chase Elliott (15/2) who has been on a roll at Charlotte. In 10 Cup starts he has a 2020 win and five top-fives with 246 laps led. He was runner-up last season and runner-up in 2020 in between his win. He's riding a streak of finishing fourth or better in his last four starts there. He made a comment after winning one of the two COVID-19 races within four days at Charlotte in 2020 that it's cool but it's still not the Coca-Cola, so it sounds like he wants it bad.
COCA-COLA 600 TOP-5 FINISH PREDICTION
#18 Kyle Busch (+700)
#1 Ross Chastain (+1000)
#11 Denny Hamlin (+1000)
#48 Alex Bowman (+1800)
#5 Kyle Larson (11/2)
We may be compensated by the company links provided on this page.
Read more