MLB
Last Updated Oct 08, 2021, 8:00 AM
Boston Red Sox vs. Tampa Bay Rays Predictions, Odds, Preview
October 8, 2021

Jonathan Willis
MLB Expert
VegasInsider.com
Game 2 of the ALDS sees the Tampa Bay Rays host the Boston Red Sox after winning Game 1. Opening pitch is set for 7:02 p.m. ET and will air on FS1 from Tropicana Field in St. Petersburg, Florida.
Boston Red Sox vs. Tampa Bay Rays Game 2 Predictions
The Tampa Bay Rays got off to a great start in their AL Divisional Series against the Boston Red Sox. Shane McClanahan threw five scoreless innings, and the bullpen overcame a rough eighth inning to secure the shutout. That puts Boston's back against the wall entering Game 2 in St. Petersburg on Friday night.
Tampa Bay has now won 12 of its last 16 meetings with Boston after winning Game 1. The Red Sox outhit the Rays nine to six, but Tampa Bay made the most of its opportunities in a 5-0 win. Randy Arozarena made history as the first player to steal home and hit a home run in the same game.
The Rays will keep the good times going in Game 2. Chris Sale has looked shaky in recent outings, while Shane Baz might be the next dynamite rookie pitcher in the Rays' farm system.
Score Prediction: Rays 6, Red Sox 3
Best Bet: Tampa Bay ML
Best Bet: Over
Boston Red Sox vs. Tampa Bay Rays Game 2 Betting Odds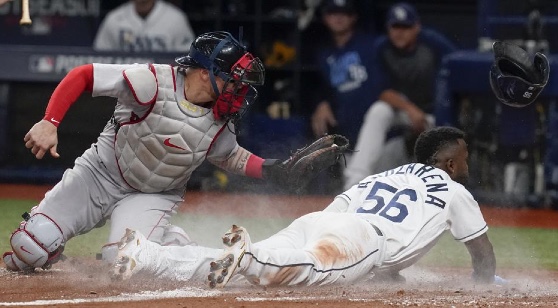 Randy Arozarena became the first player ever to steal home and hit a home run in the same playoff game. (AP)
Boston Red Sox vs. Tampa Bay Rays Game 2 Betting Resources
Matchup: AL East
Date: Friday, October 8, 2021
Venue: Tropicana Field
Location: St. Petersburg, Florida
TV-Time: FS1 - 7:02 p.m. ET
Inside the Stats - Boston Red Sox
Record: 93-70
Run Line: 86-77
O/U: 75-84-4
Runs: 829 (5th)
Batting Average: .261 (3rd)
On Base Percentage: .328 (7th)
ERA: 4.26 (15th)
WHIP: 1.38 (23rd)
Inside the Stats - Tampa Bay Rays
Record: 100-62
Run Line: 96-66
O/U: 84-71-7
Runs: 857 (2nd)
Batting Average: .242 (14th)
On Base Percentage: .321 (11th)
ERA: 3.67 (4th)
WHIP: 1.17 (3rd)
Key Players to Watch
BOS: Rafael Devers - 3B (.279 avg, 38 HRs, 113 RBIs)
BOS: Xander Boagerts - SS (.295 avg, 23 HRs, 79 RBIs)
TMB: Randy Arozarena - LF (.274 avg, 20 HRs, 69 RBIs)
TMB: Austin Meadows - DH (.234 avg, 27 HRs, 106 RBIs)
Boston Red Sox vs. Tampa Bay Rays Game 2 Probable Pitchers
BOS: Chris Sale - LHP (5-1, 3.16 ERA, 52 Ks, 1.34 WHIP)
TMB: Shane Baz - RHP (2-0, 2.03 ERA, 18 Ks, 0.68 WHIP)
Chris Sale will get the start for the Boston Red Sox in Game 2 of the ALDS. (AP)
Boston Red Sox vs. Tampa Bay Rays Game 2 Betting Analysis
Florida native Sale will take the mound for Boston in Game 2. Sale wasn't available for the first four months of the season due to injury, but he was largely solid for the Red Sox in his nine regular season starts. The veteran southpaw was 5-1 with a 3.16 ERA, but his 1.34 WHIP points to some issues.
Sale's issues were magnified in his last three starts. He has allowed seven earned runs in 12.2 innings of work. Additionally, he has struggled against the Rays, allowing 16 hits in 9.2 innings in two starts against Tampa Bay last month.
Kyle Schwarber, Xander Bogaerts, and Christian Arroyo all had two hits against the Rays in Game 1. However, Tampa Bay didn't allow a walk, and no Boston player was able to get an extra-base hit on Thursday. That stymied this offense, leading to the shutout.
Rafael Devers and Hunter Renfroe will need to have better games if Boston wants to even the series. Devers and Renfroe each had a single hit yesterday, but both players also left five players stranded on base.
Tampa Bay will call upon rookie Baz to start Game 2. Baz was the Rays' top-rated prospect after Wander Franco was called up this summer. He has been solid in his three starts in the majors, posting a 0.68 WHIP and a 2.03 ERA in 13.1 innings. All three of the runs he allowed were solo home runs, so Baz must limit the long ball.
Franco was superb in his playoff debut. He went two-for-four with doubles off Eduardo Rodriguez and Nick Pivetta. The 20-year-old is living up to the hype, and he is poised to be one of the league's brightest stars next season.
Arozarena was the star of the 2020 postseason. He is likely to win AL Rookie of the Year, and he was the star of Game 1 for Tampa Bay. He got on base in three of his five at-bats, and he ended up scoring three of the Rays' five runs.
Nelson Cruz crushed a towering home run in the first inning of Game 1. Tampa Bay acquired him from Minnesota to bolster their lineup, and he opened the scoring with a shot that hit the Tropicana Field roof. Cruz has the power Tampa Bay has needed to make this offense even better in October.
The Rays are hoping that Brandon Lowe doesn't repeat his postseason performance in 2020. Lowe didn't get off to a great start though, going 0-4 in Game 1. Kevin Cash might move him down in the order on Friday until he starts hitting.
Boston Red Sox vs. Tampa Bay Rays Game 2 Betting Trends
Boston has won four straight playoff games when playing as the underdog after losing the game prior.
Tampa Bay has won the first inning in three of its last four home games when facing a team with a winning record.
Boston has led after three innings in three of its last four divisional playoff games as the underdog.
Boston has gone UNDER the run total in six straight divisional road games.
We may be compensated by the company links provided on this page.
Read more