Athletic Club vs Atletico Madrid Predictions, Odds, Preview
Athletic Club vs. Atletico Madrid Predictions
Atlético Madrid have responded from their wobble with two home wins over strugglers Eibar and Huesca with an aggregate score of 7-0, but we are likely to see a cagier game as they travel to an Athletic Club side that have drawn their last five games.
Bilbao have been treading water in mid-table all season and have lost all four matches so far against La Liga's runaway front three.
They have only lost four home games all year but Atléti's away form has generally been pretty good this season.
This match just matters so much more to the visitors and with a bit more confidence in front of goal they should be able to get the job done and stay three points clear of Real Madrid at the top of the table.
Score Prediction - Atletico Madrid 1 Athletic Club 0
Athletic Club vs. Atletico Madrid Best Bets
Atlético Madrid (-115)
Both Teams to Score - No (-155)
Under 2.5 (-175)
Under 1.5 (+160)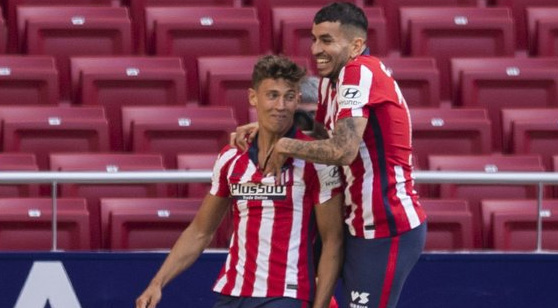 Atletico Madrid has produced a 9-4-2 record on the road this season, outscoring opponnents 22-11. (AP)
Athletic Club vs. Atletico Madrid Betting Analysis
Atletico Madrid will visit San Mames Barria to face Athletic Club on Sunday Apr. 25, 2021 in Spain's La Liga with kick off set for 19:00 local time (3:00 p.m. ET).
Heading into this Matchday 32 fixture Marcelino Garcia and his Athletic Club squad are seated in 10th place in the league with a total of 38 points from their 31 games played while Diego Simeone and his Atletico Madrid team sit with 70 points in 2nd place.
After 31 matches played so far this league season, these two squads are separated on the table by 8 places and a total of 32 points.
Athletic Club vs. Atletico Madrid Form
Athletic Club have now earned a total of 3 points in their last five matches, with a form run of D,L,D,D,L having earned a draw against Real Betis in their previous match.
Their opponents Atletico Madrid took a win against Eibar in their previous match and now own a run of form of W,D,L,W,L and 7 points in their last five matches.
In their last five matches played at their San Mames Barria, the hosts Athletic Club have now won a total of 5 points.
Meanwhile, playing away from home their last five times, Atletico Madrid have earned 5 points.
Athletic Club vs. Atletico Madrid Head To Head
Over the years, Athletic Club and Atletico Madrid have met on a total of 41 occasions.
Athletic Club have won a total of 10 matches against the visitors, while Atletico Madrid have claimed a total of 25 wins.
Matches between the clubs have ended drawn on 6 occasions.
Recent La Liga Meetings
Mar. 10, 2021 - Atletico Madrid 2 vs. Athletic Club 1
June 14, 2020 - Athletic Club 1 vs. Atletico Madrid 1
Athletic Club vs. Atletico Madrid Stats & Analysis
In their last game, Athletic Club earned 1 point from their drawn match. Marcelino Garcia's men played against Real Betis.
After 90 minutes, the score was 0 - 0. While facing Real Betis, Athletic Club had 60% of ball possession. Taking a look at stats from their previous game, Athletic Club has those following stats: 15 shots in attack and 7 shots conceded.
In their last game Atletico Madrid came away with a victory. In that match, Diego Simeone's men faced Eibar. That match ended with a 5 - 0 scoreline. In their match against Eibar, Atletico Madrid claimed 62% of the ball.
Athletic Club vs. Atletico Madrid Match Odds
Atletico Madrid is the favourite to win this match between Athletic Club and Atletico Madrid according to the bookmakers.
Atletico Madrid -115
Athletic Club +350
Draw +240
Over 2.5 (+130)
Under 2.5 (-175)
Odds per BetMGM - Subject to Change
•