Tennessee Volunteers vs. Kentucky Wildcats Picks, Predictions, Odds
The Tennessee Volunteers (11-4, 2-2 SEC) travel to meet the Kentucky Wildcats (13-3, 3-1) in a huge Southeastern Conference tilt at Rupp Arena in Lexington, Ky. on Saturday. Tip-off is scheduled for 1:00 p.m. ET, and the game can be viewed on ESPN.
SCORE PREDICTION
Kentucky 71, Tennessee 68
BEST BETS
Tennessee +5.5 (-110) at BetMGM
Under 142.5 (-110) at BetMGM
TENNESSEE VOLUNTEERS VS. KENTUCKY WILDCATS PREDICTIONS
After a disappointing trip to LSU last Saturday, resulting in a 79-67 setback against the Tigers, the Volunteers returned home and pounded South Carolina by a 66-46 to cover as 15.5-point favorites as the UNDER easily connected. The Vols struggled a little bit on offense, but used as a suffocating defense to hold the Gamecocks to just 35% shooting, and 17 total buckets. And South Carolina didn't help itself with a ridiculous 6-of-17 night at the free-throw line, while turning it over 22 times. The latter also has to do with good D by Tennessee, however. The Vols weren't super crisp, hitting 44%, or 24-of-55, from the field. And for whatever reason, Tennessee struggled with its free throws, too, going just 11-of-25, or 44%. It could have been a much more sound beating if not for that.
Kentucky's last loss also came at the hands of LSU on Jan. 4. Since, the Wildcats have rattled off a pair of victories at home over Georgia and a road win at Vanderbilt. The Wildcats covered last time out against the Commodores, hitting 53% from the field, while going 50% from behind the 3-point line. They also turned it over just eight times while outrebounding the 'Dores at a 3-to-2 clip. Standout Oscar Tshiebwe was particularly impressive against Vandy, hitting 11-of-16 from the field for a game-high 30 points, 13 rebounds and a steal while also collecting eight free throws in 10 attempts, while the rest of the team was 2-of-6 from the charity stripe.
TENNESSEE VOLUNTEERS VS. KENTUCKY WILDCATS BETTING ODDS
TENNESSEE VOLUNTEERS VS. KENTUCKY WILDCATS BETTING RESOURCES
Matchup: SEC
Date: Saturday, January 15, 2022
Venue: Rupp Arena
Location: Lexington, Kentucky
TV-Time: ESPN - 1:00 p.m. ET
TENNESSEE VOLUNTEERS BETTING ANALYSIS
Straight Up - SU, Against the Spread - ATS, Over-Under (O/U)
The Volunteers covered against South Carolina last time out at home, snapping an 0-2 ATS mini skid in the process. Overall, the Vols have been good against the number, covering seven of the past 10 games overall. On the road, they're 1-2 SU/2-1 ATS so far this season, cashing the UNDER in two of those three away games. The only OVER on the road came last time out in Baton Rouge against the Tigers of LSU, a 79-67 loss last Saturday.
Tennessee has enjoyed traveling to Lexington lately, something not many teams have been able to say in recent...well, ever. The Volunteers have won three consecutive trips to Rupp Arena, while covering each of the three, and four of the past five visits. The OVER has connected in four straight meetings at Rupp, including the three straight wins by Tennessee at Lexington.
KENTUCKY WILDCATS BETTING ANALYSIS
Straight Up - SU, Against the Spread - ATS, Over-Under (O/U)
One note of concern for Kentucky is the health status of G Sahvir Wheeler. He is fifth on the team in scoring at 9.6 PPG, while contributing a team-high 7.3 APG. If he is unable to run the point for the Wildcats, that completely changes the complexion of this game. He is also the team's best free-throw shooter at 85.7%.
Like the Vols, the Wildcats snapped a two-game mini slide against the number with a win and cover at Vanderbilt. They're still 5-2 ATS in the past seven games overall, identical to Tennessee's work against the number during the same span.
At home, Kentucky has cover three of the past four games, although it failed to cash as 23-point favorites against Georgia last time at home. They're 1-1 ATS in two games against conference foes at Rupp this season, also splitting the OVER-UNDER in those two games.
As far as totals, there isn't much to glean from Kentucky's recent run, as it has alternated UNDER and OVER results in each of the past six outings. If you believe in circumstantial trends like that, then an OVER is right around the corner on Saturday.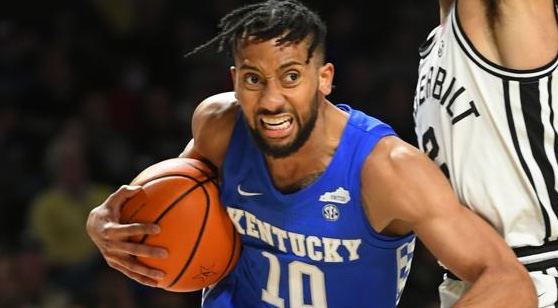 The home team is 0-5 ATS in the previous five meetings in this rivalry series. (AP)
INSIDE THE STATS - TENNESSEE VOLUNTEERS
Record: 11-4
VI Ranking: 27
PS/G: 75.3 (108th)
PA/G: 60.7 (24th)
ORtg: 105.4 (126th)
DRtg: 85.0 (9th)
INSIDE THE STATS - KENTUCKY WILDCATS
Record: 13-3
VI Ranking: 17
PS/G: 82.6 (12th)
PA/G: 62.1 (32nd)
ORtg: 116.6 (6th)
DRtg: 87.7 (24th)
KEY PLAYERS TO WATCH
TENN: Kennedy Chandler - G (13.4 PPG, 5.1 APG, 3.1 RPG, 2.3 SPG)
TENN: Santiago Vescovi - G (13.6 PPG, 4.6 RPG, 3.4 APG, 2.1 SPG)
UK: Oscar Tshiebwe - F (17.0 PPG, 15.1 RPG, 1.4 BPG, 1.3 SPG)
UK: Tyty Washington, Jr. - G (13.7 PPG, 4.8 APG, 4.3 RPG, 1.1 SPG)
TENNESSEE VOLUNTEERS VS. KENTUCKY WILDCATS BETTING CONCLUSION
While Tennessee has won three consecutive games in this series, and I have some concerns about Kentucky with Wheeler a question mark, I think the Wildcats get it done on their home court. The Vols are a lockdown defense, but they're going to have their hands full all day with Tshiebwe. He might be the best all-around player in the SEC, and he is an absolute terror on the glass while also swatting an occasional swat or two. Tennessee will need to get its perimeter game going, as the paint will be a no-fly zone when he is on the court.
The latter is a problem, as Tennessee ranks just 248th in the nation, pumping it threes at just a 32.1% pace. In fact, they're more of a methodical offense, while locking it down at the defensive end. I want to like the OVER in this one, based on recent trends in the series, but the UNDER just makes more sense in this current installment given the makeup of the rosters and recent performances.
TENNESSEE VOLUNTEERS VS. KENTUCKY WILDCATS BETTING TRENDS
Tennessee is 5-2 ATS in the past seven games overall.
Tennessee is 3-5-1 ATS in the past nine games on the road.
Kentucky is 5-2 ATS in the past seven games overall.
Kentucky is 3-1 ATS in the past four home games.
The UNDER is 8-2 in the past 10 games for Tennessee.
The UNDER is 8-3 in the past 11 road games for Tennessee.
The OVER is 3-1 in the past four home games for Kentucky.
Tennessee is 4-2 ATS in the past six meetings vs. Kentucky.
Tennessee is 3-0 SU/ATS in the past three trips to Kentucky.
The road team is 5-0 ATS in the past five meetings.
The OVER is 6-2 in the past eight meetings.
The OVER is 4-0 in the past four meetings at Kentucky.
•