NFL
Last Updated Aug 30, 2021, 9:49 AM
Seahawks vs. Cardinals Week 7 Predictions, Odds, Preview
Thanks to the switch by the NFL to move the Las Vegas Raiders and their health concerns out of this spot, it's now the 4th straight week we've got the NFC West under the bright Sunday Night Football lights, and second straight week it's a divisional matchup between two teams.
I get why the NFL made the move this week so that they wouldn't be left without a SNF game should the Raiders game have to be postponed, but these national media biases with the NFC East continually getting prime time coverage as well as the NFC West now is starting to become cringe-worthy.
The NFL didn't have that many choices of quality matchups to push back without a NFC West team involved, but hopefully in the future if there are more postponements like this we as fans actually get to see some different teams for once.
It's not like the worst of the worst matchups anyone could dream up could be THAT much worse than what we saw from the Eagles and Giants earlier this week on Thursday Night.
But just like everything else in life, we can only deal with what's directly in front of us, and for this Sunday Night it means another three-hour gush session over how good QB Russell Wilson and the Seahawks appear to be.
I'm not here to crap on Russell Wilson, because there is no doubt he's been playing spectacular for the better part of 18 months now, but we've all been told countless times already this year that he's never received a MVP vote and I'm sure we will hear it countless times more.
But one player does not make a complete football team, and if you are so hung up on Wilson's numbers, chances are you are missing the bulk of the plot with the Seahawks.
Betting Resources
Week 7 Matchup: NFC vs. NFC
Expert Picks: Vegas Insiders
Venue: State Farm Stadium
Location: Glendale, Arizona
Date: Sunday, Oct. 25, 2020
Time: 8:15 p.m. ET
TV: NBC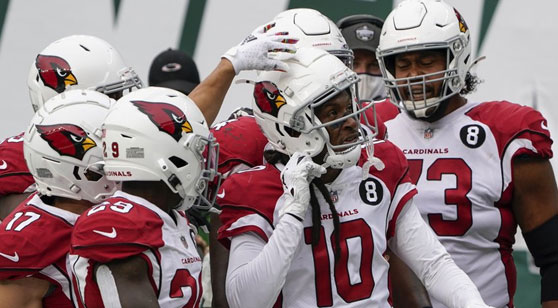 The Cardinals return home as they seek their third straight win when they face Seattle. (AP)
Buccaneers-Raiders Betting Odds
Spread: Seattle -3.5
Money-Line: Seattle -180 Arizona +160
Total: 56
Odds Subject to Change
2020 Betting Stats
(Straight Up - SU, Against the Spread - ATS, Over-Under - O/U)
Seattle
Overall: 5-0 SU, 4-1 ATS, 3-2 O/U
Road: 2-0 SU, 2-0 ATS, 1-1 O/U
Offense PPG: 33.8 (Rank 1)
Defense PPG: 27.0 (Rank 18)
Offense YPG: 395.8 (Rank 8)
Defense YPG: 471.2 (Rank 32)
Arizona
Overall: 4-2 SU, 4-2 ATS, 0-6 O/U
Home: 1-1 SU, 1-1 ATS, 0-2 O/U
Offense PPG: 27.7 (Rank 11)
Defense PPG: 18.7 (Rank 2)
Offense YPG: 402.5 (Rank 5)
Defense YPG: 346.2 (Rank 12)
Over vs. Under
Handicapping the Total
For as good as Wilson has been these past few years, what often gets lost in that discussion by many is the fact that Wilson has HAD to be that good in order to give his team a chance to win.
Seattle's defense has been that bad for multiple seasons now, and they enter this week having the 4th worst opponent third down conversion numbers in the game – opponents convert 6.8 3rd downs vs Seattle per game. Seattle also has allowed opponents to convert 50% of their 3rd down opportunities this year too, a number that ranks fourth last as well.
But it's that 6.8 conversion number is the exact same as what the Dallas Cowboys enter the week with, and all we've heard about the Cowboys defense this year (ad nauseum too I may add) is how historically bad and brutal they are. Why does the Seahawks defense get to always skate by that criticism?
They skate by it because Wilson often bails their ass out time and time again, and as the old sports adage goes, "winning cures everything." In this case, "cure" is the wrong word to use, because all the winning Seattle has done has completely "masked" all their deficiencies everywhere else. But using masks to cover things up fits in with 2020 rather well.
Seattle has cashed two straight 'unders' though but when you see that both were by just a single point vs the closing numbers of 55 and 54, those results are more about being on the right side of the coin flip rather than being a strong handicap. And with the Seahawks having the QB that they do, and the defense that they do, it's pretty easy to start any Seahawks breakdown with a lean to the 'over'.
But then you look at Arizona, a team that's been perfect to the 'under' through six weeks (0-6 O/U), and are 10th in the league in defensive EPA/play. The Cardinals also have plenty of experience dealing with the great Russell Wilson the past few years, and really for this total, it's more about what you believe has to give in this game, because something's definitely got to give.
Will Arizona's perfect 'under' run this year get snapped thanks to a great QB and awful defense on the other side? The Cardinals have scored 30 or more in two straight, and all three of their SU victories this year, and you've got to figure they believe they need that many to have a shot against Wilson and company.
Or do you believe that it will be Arizona's lower scoring ways that help dictate the tempo and pace of this game to frustrate Wilson and that Seahawks attack, ultimately forcing this game below a very high mid-50's total?
It's easy to see the total going either way in my view, so it makes this total one of the easier passes on the year for me.
Head-to-Head History
Dec. 22, 2019 - Arizona 27 at Seattle 13, Cardinals +8, Under 51
Sep. 29, 2019 - Seattle 27 at Arizona 10, Seahawks -5.5, Under 49
Dec. 30, 2018 - Seattle 27 vs. Arizona 24, Cardinals +14, Over 39.5
Sep. 30, 2018 - Seattle 20 at Arizona 17, Cardinals +3.5, Under 40
Seahawks vs. Cardinals
Handicapping the Side
Passing on the side is not something I'm doing, because to go along with that rough defense the Seahawks have got, another disturbing stat line for the Seahawks is not only does their defense allow the opposition to stay on the field with converting 3rd downs half the time, but Wilson and the offense for all the good they do, aren't good at converting 3rd downs themselves.
Seattle converts three 3rd downs per game right now – dead last in the league – and their 3rd down conversion percentage on offense is just 32.6%, ranked 31st of 32 teams, with only the awful New York Jets (30.2%) trailing them. Even the Washington football team who's started three different QB's this year has a better 3rd down conversion rate than the Seahawks do. I don't care how hyped up Wilson's individual accolades may get, last I checked, football is still a team game, and you can go up and down the list with this Seattle side and see just awful numbers as a team everywhere – they've been outgained in total yards in four of their five games for example.
Eventually that type of play catches up with a team and the losses follow, and this is one of those spots where it's the home side I've got to back.
Arizona's defense ranks 7th in the league in opponent 3rd down conversion percentage (36.49%) and it will be that unit's ability to get off the field (or not) that ultimately determines the ATS/SU outcome of this game. When at home, that defensive 3rd down conversion % drops to 33% for Cardinals opponents, and if this game does indeed turn into a typical Seattle shootout where the final score is 33-30 or something like that, I've got plenty of faith trusting Kyler Murray, DeAndre Hopkins, Larry Fitzgerald and the rest of that Arizona gang to hold their own.
Obviously there is much more context some of those numbers I put out there with Seattle on offense and defense, but when the Seahawks 3rd down offensive and defensive numbers are on par with the 2020 NY Jets on offense and the 2020 Dallas Cowboys on defense, I don't care what else there is, that tells me this Seattle Seahawks team is not a good football team
The fact that this huge blind spot exists with the undefeated Seahawks in the market right now is something that hopefully can be exploited. ,Given any Seattle talk is all over-the-top positive because of Wilson's play is, when the reality of their team numbers tells a much different, NY Jets/Dallas Cowboys type story, it's hopefully something I can take advantage of by fading Seattle in this game and likely a few more of their coming games as well.
Key Injuries
Seattle
G Mike Iupati: Back - Questionable
RB Carlos Hyde: Shoulder - Questionable
LB Jordyn Brooks: Knee - Questionable
S Jamal Adams: Groin - Doubtful
RB Rashaad Penny: Knee - Out
S Delano Hill: Back - Out
Arizona
CB Dre Kirkpatrick: Foot - Questionable
DE Jordan Phillips: Foot - Questionable
OT Kelvin Beachum: Ankle - Questionable
LB Kylie Fitts: Hamstring - Questionable
G J.R. Sweezy: Elbow - Out
Seahawks vs. Cardinals - Predictions
Score Prediction: Arizona 30 Seattle 23
Best Bet: Arizona +3.5
Best Bet: Arizona +160
2020 Sunday Night Football (SNF) Betting Results
Betting Results
Straight Up (SU), Against the Spread (ATS)
Home-Away: 4-2 SU, 3-3 ATS
Favorites-Underdogs: 2-4 SU, 1-5 ATS
Over-Under: 2-4
2020 Sunday Night Football Betting Results
| | | | | |
| --- | --- | --- | --- | --- |
| Week | Matchup | Line/Total | Score | ATS/Total |
| 1 | Dallas at L.A. Rams | Pick 'em, 51 | 20-17 | Underdog/Under |
| 2 | New England at Seattle | Seahawks -4.5, 45 | 35-30 | Favorite/Over |
| 3 | Green Bay at New Orleans | Saints -3, 52 | 37-30 | Underdog/Over |
| 4 | Philadelphia at San Francisco | 49ers -8, 45.5 | 25-20 | Underdog/Under |
| 5 | Minnesota at Seattle | Seahawks -5.5, 54 | 27-26 | Underdog/Under |
| 6 | L.A. Rams at San Francisco | 49ers +2.5, 51.5 | 24-16 | Underdog/Under |
| 7 | Seattle at Arizona | - | - | - |
| 8 | Dallas at Philadelphia | - | - | - |
| 9 | New Orleans at Tampa Bay | - | - | - |
| 10 | Baltimore at New England | - | - | - |
| 11 | Kansas City at Las Vegas | - | - | - |
| 12 | Chicago at Green Bay | - | - | - |
| 13 | Denver at Kansas City | - | - | - |
| 14 | Pittsburgh at Buffalo | - | - | - |
| 15 | San Francisco at Dallas | - | - | - |
| 16 | Tennessee at Green Bay | - | - | - |
| 17 | TBA vs. TBA | - | - | - |
Daily Newsletter - Sign Up Today!
Sign up to get daily betting columns and advice delivered directly to your inbox.
We may be compensated by the company links provided on this page.
Read more