New Orleans Saints vs New England Patriots Predictions, Odds, Picks
After a pair of somewhat disconcerting starts to the new season, the New Orleans Saints will visit the New England Patriots in Foxborough this Sunday afternoon – as both teams head into Week 3 eyeing their respective second victory of the year following a 1-1 split to kick things off.
Score Prediction: New Orleans 21, New England 20
Best Bet: New Orleans +3
New Orleans Saints vs. New England Patriots Predictions
After stomping the Packers to open the season (W, 38-3), New Orleans appeared to have its offensive situation completely ironed out following the recent retirement of Drew Brees – as the Saints entered their Week 2 matchup against Carolina narrowly favored over the Panthers in Charlotte (CAR +3).
In last week's event though, New Orleans brought virtually nothing to the table offensively (L, 26-7) – as Jameis Winston completed just 50% of his passes for 111 yards and threw two picks throughout the Saints' ugly loss, and Alvin Kamara rushed just eight times for five yards (0.63 YPC).
On the other hand, the Patriots have somewhat fallen in line with the majority's expectations to start the new season, considering New England dropped a heartbreaker against the Dolphins at home in Week 1 (L, 17-16) – and then thumped the Jets by a hefty margin in Week 2 (W, 25-6).
It's nearly impossible to deny how dominant New England's defense was against Miami and New York to start the year, considering the Patriots' defense currently ranks second in scoring and fifth in yards allowed (11.5 PPG, 297.5 YPG).
I slightly worry about the Pats' heading into this week's matchup though, as New Orleans will be the first "complete package" that the Patriots have faced during the Mac Jones' era – considering the Saints typically wield a combination of both quick-strike scoring ability and sturdy defense.
I'll take the points with the Saints in this matchup, as I just haven't quite seen enough from Jones to warrant laying points here against an incredibly well-coached team like the Saints – while I also can't ignore the brief flash of dominance New Orleans showed against Green Bay in Week 1.
New Orleans Saints vs. New England Patriots Betting Odds
The Patriots head into Week 3 as a three-point favorite against the visiting Saints, which is roughly the same tally New England was favored by in their home opener against the Dolphins (MIA +3.5).
The over-under for Sunday's matchup is currently stationed at OU 42 – marking the lowest total set for a game containing either of these teams this year.
New Orleans Saints vs. New England Patriots Betting Resources
Matchup: NFC South vs. AFC East
Date: Sunday, September 26, 2021
Venue: Gillette Stadium
Location: Foxboro, Massachusetts
TV-Time: FOX - 1:00 p.m. ET
New Orleans Saints Betting Analysis
Straight Up - SU, Against the Spread - ATS, Over-Under (O/U)
SU: 1-1
ATS: 1-1
O/U: 0-2
ATS - Home: 1-0
ATS - Away: 0-1
Two weeks have come and gone in the new NFL season, and it's probably fair to say – we're still not quite sure what New Orleans brings to the table offensively with Brees no longer in the driver's seat.
The Packers' defense isn't a joke, considering Green Bay previously ranked 7th in yards allowed and 15th in points allowed last year (23.2 PPG, 329.9 YPG) – and Winston and company appeared to handle them with relative ease during the Saints' blowout victory in Week 1 (Winston – 130.8 QBR).
The following week though, the Saints drew another solid defensive unit in Carolina and looked awful – as New Orleans generated just seven points behind horrid performances from both Winston (26.9 QBR) and Kamara (8 CAR, 5 YDS).
It's tough to predict which version of the Saints will jog out of the tunnel on any given Sunday – but as long as New Orleans settles somewhere between its previous two performances, I still feel comfortable taking the points here.
New England Patriots Betting Analysis
Straight Up - SU, Against the Spread - ATS, Over-Under (O/U)
SU: 1-1
ATS: 1-1
O/U: 0-2
ATS - Home: 0-1
ATS - Away: 1-0
After juggling a lose-lose situation between Cam Newton and Jared Stidham for most of last season, New England selected the former member of the Alabama Crimson Tide, Jones, in the first round of the latest NFL draft.
Jones didn't exactly dazzle viewers during his first pair of outings for the Patriots – but he's finally produced that sense of overall stability Bill Belichick has been desperately seeking, as Jones completed over 73% of 30 or more pass attempts in each of New England's first two games and is still yet to turn the ball over (73.9% CMP, 96.7 QBR).
My concerns about Jones ahead of this Sunday's matchup primarily deal with his hesitancy to throw the long-ball, as New England's rookie currently ranks 24 th across all QBs in yards per attempt (6.8 YPA) – and despite scraping by against the Dolphins and Jets, he'll probably need to test out some deeper waters to help keep pace with New Orleans in Week 3.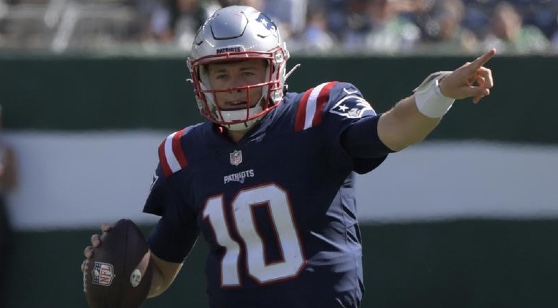 The New England Patriots have failed to cover the spread in four of their last six games. (AP)
Inside the Stats - New Orleans Saints
Record: 1-1
Division Standing: 3rd - NFC South
Points Scored: 45
Points Allowed: 29
PS/G: 22.5 (18th)
PA/G: 14.5 (6th)
Inside the Stats - New England Patriots
Record: 1-1
Division Standing: 1st - AFC East
Points Scored: 41
Points Allowed: 23
PS/G: 20.5 (23rd)
PA/G: 11.5 (2nd)
Key Players to Watch
NOR: Alvin Kamara - RB (28 carries, 88 yards, TD)
NOR: Juwan Johnson - WR (4 catches, 44 yards, 2 TD)
NWE: Mac Jones - QB (51/69, 467 yards, TD)
NWE: Damien Harris - RB (39 carries, 162 yards, TD)
New Orleans Saints vs. New England Patriots Conclusion
After thumping the Jets in the Meadowlands last week, the Patriots return to Foxborough in Week 3 as a narrow home favorite over the visiting Saints – and personally, I think Vegas has the wrong team favored in this matchup.
Belichick is notorious for negating the most threatening aspect of his opponents' offenses – and in this week's case, New Orleans' four-time Pro-Bowl running back (Kamara) will likely be his primary focus. Jameis showed in us Week 1 that he might still have some tricks up his sleeve though – considering the 27-year-old Florida State product tossed five touchdown passes on just 20 pass attempts during the Saints' blowout victory over Green Bay (14-20 CMP, 5 TD, 0 INT).
I doubt Winston will post another five-touchdown, zero-pick stat line anytime soon – but I still cling to my faith in the former Heisman winner's ability to sling the ball around the yard, which is why I'm also rolling with Jameis' passing yards over in this matchup.
New Orleans Saints vs. New England Patriots Betting Trends
New Orleans has won 13 of its last 16 road games.
New England has failed to cover the spread in four of its last five games when facing the NFC.
New England has gone UNDER the point total in nine of its last 10 games.
Where to place a bet this NFL Season?
Use our exclusive BetMGM Bonus Code VIBONUS1500 to unlock BetMGM's welcome offer for new sportsbook users!
Compare the latest NFL Odds from the best sportsbooks before placing a bet on this week's games.
Check out the North Carolina Sportsbooks just before they launch legal online sports betting.
•