Caesars Sportsbook Kentucky Promo Code December 2023 – VIBAM1000
The Caesars Sportsbook Kentucky promo code is now live!
If you use code VIBAM1000, you can get the offer. Get up to $1,000 Back in Bonus Bets if Your First Bet Doesn't Win!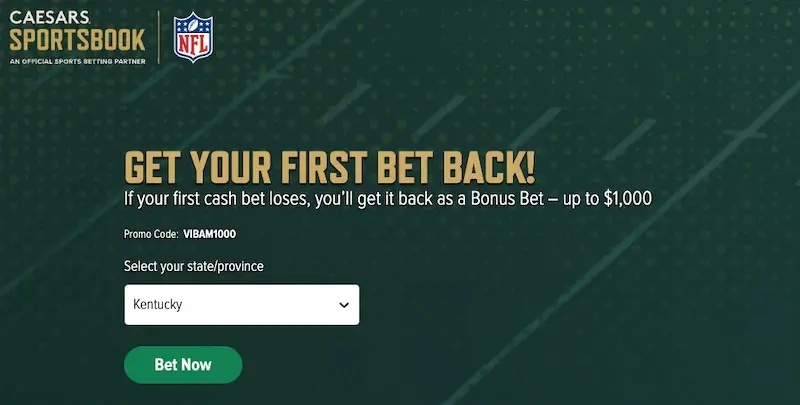 Users must be 21+ to participate, regardless of the 18+ state regulation. Gambling Problem? Call 1-800-GAMBLER.
It's an exclusive opportunity to receive bonus funds upon signing up and making your first deposit with Caesars. By entering the provided promo code during registration, users can unlock a fantastic welcome bonus as they begin their online sports betting journey with one of the best sportsbooks in the industry.
CONTENTS
CAESARS KENTUCKY PROMO CODE - VIBAM1000
As expected, the Caesars Kentucky welcome offer is pretty great.
Finally, you can take advantage of the offer. Get up to $1,000 Back in Bonus Bets if Your First Bet Doesn't Win!
Make sure to use promo code VIBAM1000!
| | | |
| --- | --- | --- |
| Caesars Kentucky Promo Code | Retail Partner | Mobile Launch Date |
| VIBAM1000 | Keeneland & Red Mile Race Tracks | Sept. 28, 2023 |
WHEN WILL THE CAESARS SPORTSBOOK KY APP LAUNCH?
Caesars Sportsbook KY has officially launched! Prior, the operator announced a licensing partnership with Keeneland Race Course.
The Caesars-Keeneland partnership also includes retail sports betting, which means that there will soon be a retail sportsbook at both the Keeneland and Red Mile race tracks. A temporary sportsbook might open at the locations while a permanent sportsbook is being built. Retail sports betting in Kentucky went live on September 7, 2023, strategically aligning with the first game of the NFL regular season.
HOW TO SIGN UP FOR CAESARS SPORTSBOOK KENTUCKY
Visit Caesars Sportsbook KY: Use any of our provided links to navigate to the Caesars Sportsbook KY website to begin your Caesars Sportsbook KY legal online sports betting journey.
Click "Sign Up": On the homepage, locate the "Sign Up" or "Join Now" button and click on it. This button is prominently displayed and will guide you through the process of registering for a Caesars Kentucky account.
Provide Personal Information: Fill in the required information on the registration form. This typically includes your full name, date of birth, email address, and mobile phone number. Ensure that the information is accurate and matches your legal identification. Remember that the legal betting age is 18 in Kentucky, but you need to be 21+ for Caesars KY.
Create Username and Password: Choose a unique username and secure password for your account. Make sure your password meets any security requirements (such as minimum length and character types) and keep it confidential.
Enter Caesars Kentucky Promo Code: Enter the Caesars Sportsbook Kentucky promo code when prompted: VIBAM1000 - This is where you can apply any bonus code to unlock the newest and best Caesars Sportsbook KY promotions.
Agree to Terms and Conditions: Carefully read and agree to the terms and conditions of using the Caesars Sportsbook KY platform. This includes agreeing to their privacy policy and confirming your legal age.
Deposit Funds: After successfully registering for a Caesars Sportsbook KY account, navigate to the cashier or banking section of your account. Remember to use your Caesars Sportsbook KY promo codes before making a deposit. Choose a preferred payment method and deposit funds into your account. This will enable you to start placing bets.
Start Betting: With your account funded, you're now ready to start betting on your favorite sports! Browse the available markets, make your selections, and place your wagers.
ONGOING CAESARS KENTUCKY PROMOTIONS
Note: these promotions are available in other states, too.
DAILY ODDS BOOSTS
The operator offers daily odds boosts on various sports events. These enhanced odds provide users with the opportunity to potentially increase their winnings on selected bets. Many of these odds boosts are curates parlays of team's spreads, moneylines, or player prop bets. Caesars Sportsbook Kentucky includes many of the same boosts.
PARLAY INSURANCE
The online sportsbook provides parlay insurance, where if one leg of a parlay bet loses, the user can receive a refund in the form of bonus bets. This promotion enhances the appeal of placing parlay bets by offering a safety net for potential losses.
BEST KENTUCKY SPORTS TEAMS TO WAGER ON
KENTUCKY WILDCATS
The Kentucky Wildcats are a college basketball powerhouse, drawing passionate support from the state's residents. With a rich history and strong performances in the NCAA basketball tournament, the Wildcats offer consistent betting opportunities. Their high-caliber matchups and potential for deep tournament runs make them a favorite among Kentucky online sportsbooks and Kentucky sports fans alike.
LOUISVILLE CARDINALS
The Louisville Cardinals' college basketball team also commands a dedicated fan base. Known for intense rivalries and competitive play, the Cardinals provide ample betting excitement. Their competitive ACC matchups and potential to contend in the NCAA tournament make them a compelling option for Kentucky sports betting enthusiasts. While they have had some bad teams over the past few years, we are confident that the Cardinals will bounce back soon.
INDIANAPOLIS COLTS
The Indianapolis Colts are the favorite NFL team of many Kentucky bettors. Led by star players and seasoned coaching, the Colts' games offer varied betting markets and the potential for thrilling matchups. Their performances in a competitive AFC South division and in the broader NFL landscape make them a key choice for pro football enthusiasts in Kentucky.
CINCINNATI BENGALS
While the Colts have their share of fans in Kentucky, the Bengals are by far the most popular NFL team in the state. Located just across the Ohio River from Kentucky, the Cincinnati Bengals attract substantial interest from Kentucky sports bettors. With their presence in the AFC North and engaging divisional clashes, the Bengals offer a range of betting opportunities. Led by enigmatic QB Joe Burrow, the Bengals have had a resurgence lately and are more popular than ever, both inside and outside of Kentucky.
CINCINNATI REDS
With their stadium right on the banks of the Ohio River and a long home run away from the Kentucky state line, the Cincinnati Reds are Kentucky's MLB team. The Caesars Sportsbook KY has many odds boosts and game-specific promotions for the Reds throughout the MLB season.
INDIANA PACERS
While the NBA isn't a big deal in Kentucky due to the overwhelming popularity of college basketball, the Indiana Pacers are considered a top team in Kentucky. With their energetic performances and participation in the competitive Eastern Conference, the Pacers are an entertaining team to follow. Whether it's regular season matchups or potential playoff runs, the team's presence in the NBA scene offers Kentucky residents a chance to engage in basketball betting throughout the season.
MEMPHIS GRIZZLIES
The Grizzlies are the closest team to those in Western Kentucky, and the team's games are featured on cable television across the state. Caesars and the Grizz have an established partnership, and it is our expectation that Caesars Kentucky will offer many Grizz-related promotions for bettors in the state.
TOP KENTUCKY SPORTS LEAGUES
The NCAA offers a plethora of college sports to bet on, including basketball and football. With passionate fan bases and exciting matchups, NCAA betting in Kentucky spans from thrilling March Madness basketball to intense college football rivalries. Plus the neighboring professional teams make Kentucky a diverse sports betting market.
NCAAB
There is no doubt that college basketball is king in Kentucky. Thankfully when the legislature decided to legalize Kentucky sports betting, they authorized betting on college sports. The University of Kentucky and University of Louisville are popular wagering options among sports bettors in the state.
NCAAF
College football captivates Kentucky bettors with its iconic teams like the Kentucky Wildcats and Louisville Cardinals. The dramatic matchups and bowl games create a dynamic landscape for NCAAF betting enthusiasts.
NFL
The NFL is a major draw for Kentucky sports bettors, featuring the Indianapolis Colts and Cincinnati Bengals as nearby teams. With a wide range of betting markets, the league's popularity makes it a prominent choice for football wagering.
NBA
The NBA offers basketball betting action with the Indiana Pacers and Memphis Grizzlies as the state's two favorite teams. Kentucky residents can engage in NBA betting, placing wagers on fast-paced games and following the season's developments closely.
NHL
While not especially popular in Kentucky, the NHL provides opportunities for hockey enthusiasts to engage in sports betting. Fans can wager on games from the league, adding a diverse dimension to Kentucky's sports betting scene.
MLB
Although Kentucky doesn't have an MLB team, baseball fans in the state still enjoy betting on Major League Baseball. The Cincinnati Reds are the preferred team of most Kentuckians. With a long season and up to 15 games each day, MLB remains a popular choice for Kentucky sports betting.
KENTUCKY HORSE RACING
Horse racing holds deep cultural and historical significance in Kentucky, known as the "Horse Capital of the World." The state is home to iconic races like the Kentucky Derby, showcasing top thoroughbreds and attracting a global audience.
Residents and enthusiasts can engage in the excitement of horse racing by placing wagers on the Caesars Racebook. Through the platform, users can explore various wagering options, such as win, place, show, exacta, and more, enhancing their horse racing experience and potentially winning rewards.
KENTUCKY DERBY
The Kentucky Derby, held annually at Churchill Downs in Louisville, is one of the most prestigious and iconic horse racing events in the world. Its rich history, dating back to 1875, and the allure of the "Run for the Roses" captivate global audiences.
Beyond horse racing enthusiasts, the Derby has become a cultural event, blending high-stakes competition, extravagant fashion, and a celebratory atmosphere that symbolizes Kentucky's deep connection to the sport of kings.
CAESARS SPORTSBOOK KY + KEENELAND AND RED MILE PARTNERSHIP
Caesars Sportsbook in Kentucky has established a partnership with Red Mile Gaming & Racing, a prominent entertainment destination in the state. This collaboration is likely to enhance the betting experience for users by integrating Caesars' sports betting platform with the offerings at the Red Mile Racecourse.
The partnership provides a seamless connection between horse racing events and sports betting opportunities, creating a comprehensive gaming experience for patrons of both establishments.
SPORTS BETTING VS. HORSE RACING
Caesars Sportsbook Kentucky and Caesars Racebook cater to distinct forms of betting. Caesars Sportsbook Kentucky primarily focuses on traditional sports betting, offering wagering options on various sports leagues like the NFL, NBA, and college sports. It provides a diverse array of bet types, including point spreads, moneylines, prop bets, and totals.
On the other hand, Caesars Racebook specializes exclusively in horse racing betting. It's designed to cater to the unique intricacies of horse racing wagers, including bets on specific horses to win, place, or show, as well as exotic bets like exactas and trifectas.
Due to the specialized nature of horse racing and the distinctive wagering options it entails, Caesars Racebook is the dedicated platform for those seeking to engage in horse race betting, while Caesars Sportsbook Kentucky covers a broader spectrum of traditional sports betting activities.
KENTUCKY NFL BETTING
NFL betting holds immense popularity in Kentucky and is surely a big part of the sports betting market. The Caesars Sportsbook KY app allows fans to engage in the excitement of professional football action. The Indianapolis Colts and Cincinnati Bengals, situated nearby, draw passionate followings and amplify the NFL fervor.
To participate, users can place wagers on the Caesars Sportsbook KY app. The platform offers an array of NFL betting options, encompassing point spreads, moneylines, prop bets, and more, providing Kentucky sports betting fans with a comprehensive avenue to enjoy and potentially profit from the NFL season's thrilling games.
CAESARS SPORTSBOOK KENTUCKY BET TYPES
The operator offers a diverse range of bet types within the app, enhancing the sports betting experience for users. Some of these include Moneylines, Point Spreads, Over/Under (Totals), Parlays, Props, Futures, and Teasers.
ALTERNATE LINES
The Alternate Lines feature allows users to explore different point spreads and totals than the standard odds offer. It provides bettors with the flexibility to adjust the lines to suit their predictions, offering potentially more favorable odds for their bets.
LIVE BETTING
Live Betting enables users to place wagers on ongoing games in real time. As the match progresses, the odds and available bets are updated based on the game's developments, providing a dynamic and interactive way to engage with sports events while they unfold. Live betting is growing in the US sports betting industry, as it's taken off in past years in Europe.
SAME GAME PARLAYS
The Same Game Parlays feature lets users combine multiple bets within a single game. Bettors can select a range of predictions like player props, team performance, and more, bundling them together for potentially higher payouts if all selections prove correct.
ODDS BOOSTS
Odds Boosts are special promotions that enhance the odds for specific bets. The book selects certain bets each day and increases their potential payouts, providing users with boosted odds for those specific wagers. It's a way to offer better value and potentially higher returns on selected bets.
MORE ON CAESARS SPORTSBOOK KENTUCKY
The Caesars Sportsbook Kentucky app offers an intuitive user experience, combining a user-friendly layout with smooth navigation. The app's responsiveness ensures swift loading times and seamless transitions between sections.
Its clear presentation of betting markets, odds, and bet types facilitates easy decision-making. With a wide range of sports and betting options, coupled with efficient customer support, the app caters to both novice and experienced bettors. Overall, the Caesars Sportsbook Kentucky app delivers a satisfying and enjoyable platform for sports enthusiasts to engage in their betting activities.
This is definitely a top-tier online sportsbook, but there a few drawbacks to the app that should be noted. Below are some pros and cons.
PROS & CONS OF CAESARS SPORTSBOOK KENTUCKY
Here are three pros and three cons of Caesars Sportsbook Kentucky.
PROS
User-Friendly Interface: The Caesars Sportsbook Kentucky app offers a user-friendly interface, making it easy for both beginners and experienced bettors to navigate through the various sports markets and bet types.
Wide Betting Selection: With an array of sports leagues, including local favorites like the NFL, NBA, and college basketball, the app provides an extensive selection of betting options, appealing to a diverse range of sports enthusiasts.
Promotional Offers: Caesars Sportsbook KY offers attractive promotional deals, such as odds boosts and special bonuses, enhancing the value of bets and potentially providing extra incentives to users for . Don't forget to use the Caesars Sportsbook Kentucky promo code to unlock a great welcome bonus.
CONS
Regulatory Limitations: While the app is available in Kentucky, it has some limitations on betting options and markets compared to states with more liberal gambling regulations, potentially restricting the variety of bets that users can place.
Dependence on Technology: The app's convenience relies on users' access to stable internet connections and smartphones. Technical issues or connectivity problems could disrupt the betting experience.
Responsible Gambling Challenges: The ease of mobile betting could pose challenges for those prone to compulsive gambling. Users might need to exercise discipline to ensure responsible betting practices and manage their bankroll effectively.
DOES CAESARS KENTUCKY HAVE A REWARDS PROGRAM?
Yes, Caesars Sportsbook Kentucky offers the Caesars Rewards program. It is a comprehensive loyalty program that allows users to earn points, tier credits, and rewards for their betting activities.
As users place bets on sports or play at Caesars' casinos, they accumulate points that can be redeemed for various benefits such as discounts on hotel stays, dining, entertainment, and even cash back. The program typically features different tiers, each offering progressively better rewards and perks, encouraging users to engage in more betting and gaming activities to enhance their loyalty experience.
CAESARS SPORTSBOOK KENTUCKY CUSTOMER SERVICE & BANKING OPTIONS
Caesars Sportsbook Kentucky provides a diverse range of customer service options to assist users, including live chat, email support, and a dedicated phone line. Additionally, the platform offers multiple payment options, encompassing credit and debit cards, e-wallets, and online banking transfers, ensuring convenience for users when depositing and withdrawing funds.
CUSTOMER SERVICE
Caesars KY Customer Service Email: For assistance, you can reach out to Caesars Sportsbook Kentucky via email at support@caesarssportsbook.com.
Caesars KY Customer Support Number: If you prefer to speak directly, you can contact Caesars Sportsbook Kentucky's customer support team at 1-800-522-4700.
FAQ/Resource Page: Visit here for commonly asked questions and helpful resources to address any inquiries you may have about the platform's features, betting options, and more.
BANKING OPTIONS
DEPOSIT
Credit/Debit Card: Users are able to deposit funds using major credit and debit cards like Visa and Mastercard for swift and secure transactions.
E-wallets: Popular e-wallets such as PayPal, Skrill, and Neteller are available for convenient and quick deposits.
Online Banking: A direct online banking transfer option provides users with the ability to link their bank accounts for secure deposits.
WITHDRAWAL
Credit/Debit Card: Users have the option to withdraw funds to their original credit or debit card used for deposits.
E-wallets: E-wallets like PayPal, Skrill, and Neteller could be utilized for efficient withdrawals, providing users with faster access to their winnings.
ACH/Bank Transfer: ACH (Automated Clearing House) or bank transfer are an option for users to receive their withdrawals directly into their bank accounts.
TIMELINE OF LEGAL SPORTS BETTING IN KENTUCKY
Sports betting in Kentucky has undergone a transformative journey. In 2019, the state made its first major move towards legalizing sports wagering when lawmakers introduced bills to regulate the industry.
The bills focused on both retail and online sports betting, signaling a shift in Kentucky's stance on gambling. However, legislative sessions concluded without the bills becoming law, and discussions continued into the following year.
2020 marked a significant turning point as the Kentucky House passed a sports betting bill, demonstrating increasing support for legal wagering. Yet, the bill faced challenges in the Senate, and the session ended without final approval.
The momentum persisted in 2021, as lawmakers revisited the issue. A comprehensive sports betting bill was introduced, aiming to legalize both retail and online betting across various sports, including collegiate events. The bill came up short that year, but it became clear that there was a lot of interest in Kentucky sports betting.
In 2023, legislators finally had enough support and votes to pass legislation to legalize and regulate sports betting in the state. And now legal sports betting is here! On September 28, 2023, sports bettors rejoiced as Kentucky joined the expanding landscape of legal online sports betting. Additionally, retail sportsbooks opened their doors on September 7, 2023, a well-timed initiative coinciding with the kickoff of the NFL regular season.
FINAL THOUGHTS ON CAESARS SPORTSBOOK KENTUCKY
In conclusion, Caesars Sportsbook Kentucky delivers a comprehensive and enjoyable sports betting experience.
Again, the current offer is Get up to $1,000 Back in Bonus Bets if Your First Bet Doesn't Win!.
Remember to use the Caesars Sportsbook Kentucky promo code VIBAM1000 to unlock it.
The functionality of the app, coupled with its user-friendly interface makes placing bets on a wide range of sports leagues, including the local favorites like college basketball and the NFL, both seamless and exciting. The app's features such as Alternate Lines, Live Betting, Same Game Parlays, and Odds Boosts add a layer of versatility and engagement to the betting journey.
With a commitment to responsible gambling and a promo code to enhance your starting advantage, Caesars Sportsbook Kentucky is a prominent destination for both seasoned and novice bettors looking to engage with the thrill of sports wagering.
CAESARS SPORTSBOOK KY FAQ
WHAT IS THE CAESARS SPORTSBOOK KY SIGN-UP OFFER?
The Caesars Sportsbook KY welcome bonus stands out. Get up to $1,000 Back in Bonus Bets if Your First Bet Doesn't Win!
CAN I BET ON THE KENTUCKY DERBY USING CAESARS SPORTSBOOK KY?
Not exactly. As one of the most prestigious horse racing events, you will be able to place bets on the Kentucky Derby through Caesars Racebook, which is separate from a Caesars Sportsbook KY account.
IS CAESARS SPORTSBOOK KY LEGAL?
Yes, Caesars Sportsbook KY is legal and available online!
HOW DO I REDEEM MY CAESARS REWARDS POINTS?
You can typically redeem your Caesars Rewards points through the Caesars Rewards program by accessing your account, selecting the "Redeem" option, and choosing from the available rewards, such as discounts, cashback, or other offerings.
•