UFC
Last Updated Dec 23, 2021, 19:51 PM
UFC Fight Night: Vieira vs. Tate Predictions, Picks, Odds
Nov. 20, 2021

by Adam Lykkesteen
VI Combat Sports Expert
VegasInsider.com
Former Women's Bantamweight champion, Miesha Tate, returns to action this weekend fresh off a comeback win in July, as she will take on no. 7 ranked contender in the women's 135-pound division, Ketlen Vieira. Tate herself is ranked right below Vieira at no. 8. A win over Ketlen would put her a step closer to title contention.
The UFC Vegas 43 event has other notable fights scheduled including Michael Chiesa versus unbeaten prospect Sean Brady, as well as a fun bantamweight scrap between Adrian Yanez and Davey Grant. Heavyweights Augusto Sakai and Tai Tuivasa are also expected to lock horns.
UFC Fight Night Vieira vs. Tate Betting Predictions
Dial the clocks back three years to March of 2018; Ketlen Vieira has just beaten Cat Zingano and improves to 10-0 as a pro, 4-0 in the UFC. Back then, Vieira made it look as if her run at the title was inevitable as she just kept winning.
A run-in with hard-hitting Mexican, Irene Aldana, would quickly knock Vieira's title talks off the table however, and since then Vieira has struggled to string wins together. She lost her last bout via unanimous decision, and managed to land seven strikes over 15 minutes. Seriously, seven strikes in 15 minutes.
Most of you will be familiar with Miesha Tate; Rousey's biggest rival back in the day, and the challenger who would steal the belt from Holm with a rear-naked choke. Tate was definitely legit back in the day, but after embarking on a two-fight skid, including a submission loss to Amanda Nunes, Miesha would hang the gloves up for good.
Or so we thought, earlier this year, Tate made her comeback and beat veteran Marion Reneau from post to pillar, earning a performance bonus in doing so. Is she truly back, though? This question is tough to answer, but I will put it out there that there's a huge statistical tendency going against Tate here, as she launches her career for the second time.
Fighters retiring and coming back rarely tend to do well in any sport, MMA being perhaps the worst sport to do this in.
The list is endless: Alexander Gustafsson, Kevin Lee, and even Tate's own former rival, Ronda Rousey, have tried coming back after retiring, all to face a similar unfortunate fate - losing.
Matchup wise, Vieira is not good standing, and she really lacks volume with her punches. However, the same can be said for Tate, who has averaged just over two strikes per minute throughout her 18 fights on the big stage. In her last fight she did much better than her striking numbers indicate, but we must also remember that she faced 44-year old Marion Reneau on a four-fight skid in that outing. The level of competition is everything here.
Vieira isn't an expert striker, she's decent at best, but that might still be better than Tate, who has always struggled with opponents that can stop her takedowns. Just watch her bout against Raquel Pennington, Tate literally can't do anything without her takedowns. I'm not being disrespectful, she landed one strike in round three. That's simply not good enough in this day and age.
The age is on Vieira's side, as is the reach and height. I know Miesha is running around talking about this 'Miesha 2.0', but historically that narrative has almost never held up for any fighter in this sport. I see no reason to think it will for Miesha, who also recently became a mother. Betting wise it's mind-boggling to see Tate being favored against Vieira. I'll put my money where my mouth is and pick Vieira on the moneyline here. I have a feeling that plus money will change places once we get closer to the fight. You'll most likely want to get out early if you're on the Vieira side.
Best Bet: Ketlen Vieira ML (+100)
UFC Fight Night Vieira vs. Tate Betting Resources
Date: Saturday, November 20, 2021
Venue: UFC Apex
Location: Las Vegas, Nevada
Network: ESPN+
Prelims Time: 3:00 p.m. ET
Main Card Time: 6:00 p.m. ET
UFC Fight Night Vieira vs. Tate Card Picks
Michael Chiesa vs. Sean Brady
Pure grappler versus grappler with expert striking. Can you spell checkmate matchup? Chiesa is perhaps one of the strongest grapplers on the 170-pound roster at the minute, averaging well over one takedown every round, and getting opponents out of there with slick submissions. However, on the feet he is a complete fish out of water.
This is where Brady, (14-0), will have a huge advantage. Just going by Sean's four dominant victories in the UFC, there's nothing that suggests he isn't every bit as good a grappler as Chiesa, which is bad news for "Maverick" this weekend. Chiesa, the 33-year old former lightweight, has fought the best at 155-pounds and Welterweight, but has always fallen short against the big names. Kevin Lee snapped his three-fight winning streak at lightweight, and Luque most recently demolished his welterweight title plans.
What Chiesa lacks is simply a well-rounded game. In this day and age, you can't make it against the top guys unless you know how to work in all areas of fighting - standing and grappling. Chiesa's lacklustre striking isn't even in the same universe as what Brady brings, and on the ground I could honestly see the youngster excel too.
Sean Brady has won 14 straight fights. (Getty)
Having never been taken down in his entire career, Brady should be every bit as strong on the ground as Chiesa, most likely meaning we will see a striking bout this Saturday, granted the ground games of both guys will cancel each other out. In that scenario, which is highly likely in my mind, you'd be insane to favor Chiesa, who averages less than two punches every minute. Brady averages a little under five. Is that going to be a close fight? I don't think so.
Now, remember those submission skills I told you Chiesa possesses? About that …While Michael has been known to submit guys in the past, "Maverick" hasn't won via 'sub since 2018, when he beat a washed up Carlos Condit on a four-fight losing streak. As of late, Chiesa has actually been the one on the receiving end of the submissions, as he got 'subbed by Kevin Lee in 2017, Anthony Pettis in 2018, and recently by Vicente Luque earlier this year. In turn, he only has one submission win in the last four years, which is that aforementioned win over Condit.
I love Sean Brady in this spot, and it seems that the betting market does too. However, the Chiesa name has recognition at this point, which might be why we're getting Brady at -165 this weekend. That line is nowhere near high enough. Brady can win this fight in any way he wants. I'll comfortably back the unbeaten prospect all the way up to -250 in this spot. Call me crazy, but I don't even think Chiesa will be Brady's toughest challenge.
Best Bet: Brady ML (-165)
Rani Yahya vs. Kyung Ho Kang
Just before the co-main event of UFC Vegas 43 kicks off, we have a great bantamweight bout to look forward to. This fight is in many ways similar to the co-main, in that it features two grapplers with one being a superior striker. The superior striker is Kang.
Yahya's grappling is to be respected, and most of his opponents' gameplans seem to revolve around staying on their feet. Kang's grappling is good though, and if not on level with Yahya it is still very good. Good enough to avoid being submitted. Yahya is, as I mentioned, a strong grappler, but he isn't much more than that. 21 submission wins, 6 by way of decision, and not a single knockout victory in a 20-year pro career tells me that Yahya's striking is seriously subpar.
Kang has a nice 7-inch reach advantage to work with here, and has been getting it done consistently as of late. It has been two years since we last saw Kyung, but we just saw that a two-year hiatus doesn't mean much if you show up to fight, in last weekend's main event. Yair looked incredible. As with the co-main event matchup, the grappler with the superior striking should look to remain standing and win on the strike totals. If Kang can keep his feet under him for the better part of 15 minutes, I have little doubt he will get his hand raised at the end of it all.
If Yahya had better striking, he perhaps I would see this fight differently, but given that he even lands less strikes on average than Michael Chiesa, who I used as an example of low volume, I can't help but go with Kang in this fight. Yahya is one we rarely see finished though, so I expect him to hang in there for the full three rounds to see a decision, granted it won't go his way.
Best Bet: Kang via Decision (-105)
Joanne Calderwood vs. Taila Santos
Women's 125-pound prospect, Taila Santos, gets to test her skill set against divisional veteran, Joanne Calderwood. Taila Santos is one of these prospects with zero to none chinks in the armor. Her well-roundedness is a testament to her high-level skill set. The last time we saw Santos, she dominated another veteran, Roxanne Modafferi, for three rounds, scoring an impressive total of five takedowns on top of a knockdown.
Since losing a razor-thin split-decision to Mara Romero Borella, Santos has not won a single round on the judges' scorecards. She is really starting to come into her own. Looking at the opponent, Calderwood is a high-volume forward-marching striker with the advantage in strength of schedule here. However, Joanne's results have always been mixed in the octagon, having not won back-to-back fights since 2019.
As far as I'm concerned, this is totally Santos' fight to lose. On the feet the fight could be fairly closely contested, but Taila can just decide to take this fight to the ground if that happens to be the case. Calderwood's 63% takedown defense is decent, but Santos' 86% takedown accuracy is mind-blowing. I don't think I've ever seen someone averaging over two takedowns per fight with such a high success rate. Santos has the ground advantage for sure.
The only thing going against Santos is the experience, but as a professional she actually has more wins than Joanne, so I don't think it'll be an x-factor. The betting is probably where it needs to be. Santos is the better fighter overall, and Calderwood doesn't have fight-ending abilities -- most fighters don't at this weight class, so that's not a knock on "JoJo".
Santos is six years younger, and she has a nice little three-inch reach advantage. All arrows seem to point in the same direction. Calderwood rarely gets finished, so I expect this fight to go the full fifteen. If the moneyline on Santos is too steep for your liking, why not play around with the props. I think the Santos by decision play is a good way to go.
Best Bet: Santos via Decision (-300)
Joanne Calderwood has won four striaght fights after losing the fight prior. (Getty)
Davey Grant vs. Adrian Yanez
Undefeated in the UFC at 3-0, Texas' own Adrian Yanez is starting to look like a serious addition to the already stacked 135-pound division. In all of his three wins, Yanez has collected a performance bonus. He has yet to go the distance in the UFC.
Davey Grant, 35, is a good test for a young guy like Yanez, and Adrian could meet some much-needed resistance on the feet.
Yanez will want to stay off the ground in this bout, as Davey Grant has the definite grappling advantage. Yanez does have a perfect 100% takedown defense so far though, so I expect him to be able to keep this fight standing.
On the feet, Yanez is a very dangerous boxer as he lands over six strikes every minute on average. On the receiving end, Yanez does tend to absorb a bit much for my liking, but his chin has held up so far against dangerous competition such as Randy Costa. Davey Grant has shown that he can strike with the younger guys before, most notably when he flatlined Jonathan Martinez after being dropped himself, back in March.

Personally, I think Yanez absorbs a bit too much for liking, but on the other hand Grant is too old for me to consider him a strong play even though he has the grappling advantage. Just going by statistics, neither of these guys tend to see the scorecards. Grant has only gone the distance thrice in his eight-fight UFC tenure, and Yanez has yet to even do so once in his three bouts under the UFC mantle. I'll go with the fight doesn't go the distance prop for this one.
Best Bet: Fight Goes Distance - No
Tucker Lutz vs. Pat Sabatini
In the featured preliminary bout of UFC Vegas 43. Tucker Lutz takes on Pat Sabatini. Both fighters are well-versed in the grappling department here while Lutz holds the advantage on the feet. Sabatini is most likely the more dangerous submission artist, so I won't be surprised if Lutz uses his grappling to ward off the takedowns of Sabatini in this fight.
If Tucker can keep this fight on the feet, I see him winning for the most part. Pat has some good shots, but he throws too little to win a striking bout against a guy like Lutz, who always stays active, switching up his targets with calf kicks and crisp jabs.
Similarly to Tucker's last opponent, Kevin Aguilar, Pat Sabatini mostly works in blitzes on the feet, which Lutz is good at handling. Against Aguilar, Tucker seamlessly cruised out of the way each time his opponent moved forward, and kept targeting the lead lead while working his jab in the upstairs department. The million dollar question is can Sabatini can this fight to the ground, and if he does, can we submit Lutz? Possibly.
However, I feel much more safe backing a guy with an advantage standing that I'm certain of, than a guy with an iffy advantage on the ground. Lutz is the guy with the striking advantage. 84% takedown defense for Lutz is good news if you're backing him this weekend, and he seems to be very well-versed in defending takedown and reversing clinch position to his advantage.
I'm a fan of both fighters here, but I have to pick one, and that is going to be Tucker Lutz. Lutz is composed and rarely comes blitzing forward looking for the finish. Therefore, I suspect he will earn himself a unanimous decision win this weekend.
Best Bet: Lutz via Decision (+135)
Tucker Lutz has won 12 of his last 13 fights. (Getty)
Rafa Garcia vs. Natan Levy
Perhaps the toughest fight to call on the entire card right here. Rafa Garcia got a tough reality check in his UFC debut, as the was matched up against prospect Nasrat Haqparast. Despite giving the fans a good performance, when the judges' scorecards were read he ended up on the wrong side of a unanimous decision.
He would then go on to fight Gruetzemacher, but came up short once the scorecards were read, once again. Cardio is not Garcia's friend. In his two UFC bouts, he looks decent in the first two rounds, but in the third his output decreases. This is a trend he needs to get rid of, or it might cost him his job within the promotion this weekend.
Now, on to Natan Levy, the unbeaten 30-year old who will be making his debut in this fight. Levy is a well-rounded guy with a base in grappling. At 6-0, experience isn't exactly something Levy possesses a wealth of, though it should be said he has an amateur career to fill in the gap just a little bit. Competition wise, this is a gigantic leap in levels for Levy, who has yet to face an opponent on the professional scene with a winning record, outside of his win on the contender series.
The same can't be said for Garcia, who has gone the distance in his two UFC outings against great competition. The 30 minutes he has gotten in that UFC octagon is a big advantage for him over the lesser experienced Natan Levy. I get the 'you can only beat who is in front of you' notion is apparent here for Levy, but for once I'll actually be on the other side of that claim for once, I just don't think six professional outings is enough to make you UFC level, unless we're having to do with the next Ciryl Gane here. I doubt we are though.
You can analyze the matchup all you want, but it really comes down to one question: is Levy ready for the big leagues? By no means does Garcia represent the top of the division skill-wise, but he is a guy who will hang in there with you for the full fifteen if you let him, and who will press you for the entire time, despite aforementioned cardio issues. Give me the experienced fighter here.
Best Bet: Garcia ML (-110)
Loma Lookboonmee vs. Lupita Godinez
Once again, Lupita Godinez shows just how game she is, as she jumps back into action just one month after losing her last fight to Luana Carolina. Gotta love that willingness to compete, the question is however, is she rushing into this bout?
In her last outing, in which she fought a late-notice replacement who outsized her greatly, Godinez struggled to get her wrestling going, and found herself forced to strike with an eight-inch reach disadvantage. Tough luck. This time around, she is facing an opponent who is actually her size though, and that might be the x-factor at play.
Lookboonmee, formally known as Konklak Supishara, is primarily a striker with some wrestling in her back pocket. There's little doubt that Godinez will be dictating dance on the ground however, should the fight end up there. Let's not forget that Godinez got off seven minutes of control time against an opponent in the weight class above, who completely outsized her. Luana Carolina is no bum either.
Regarding Godinez' spontaneous fighting style, I don't think I'll put too much into it when handicapping this fight. It just seems to be the way she flows, and if she's comfortable taking fights continuously on a month's notice, I won't give her a hard time about it. It imagine it wouldn't hurt to get some good time in the gym though. Lookboonmee is good on the feet, but giving up takedowns against strikers like Angela Hill and Jinh Yu Frey is not a good look.
I think we are going to see Godinez' wrestling in action once again, as we have in her three UFC bouts, of which she has won two as far as I'm concerned. That Jessica Penne decision was really bad. Godinez has an endless gas tank, and when she fights a similarly sized opponent she tends to do well on the outside. The clinch will be her go-to weapon this Saturday, and Lookboonmee won't be able to deal with the pressure. I'll take the grappler over the striker here.
Best Bet: Godinez via Decision (-150)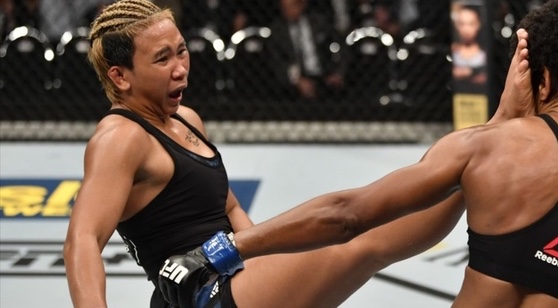 Loma Lookboonme has seen five striaght fights go the distance. (AP)
Fares Ziam vs. Terrance McKinney
Terrance McKinney makes his second walk to the UFC octagon this weekend, as he will take on Fares Ziam, a technical striker who is currently 2-1 in the promotion. This is in many ways a battle of two styles. On the one hand we have McKinney who is an absolute wrecking machine. Apart from a third round submission win in his fourth MMA fight, all of McKinney's wins have come in the first round. This guy is a dangerous finisher.
On the other hand we've got a more patient and technical striker who is more accustomed to going the distance. Just going by the style descriptions alone, the advantage lies with Ziam. Generally, about half of all fights in this weight class go the distance, so there's already a statistical advantage for Fares, given the fact that Terrance has never gone the distance in his entire career.
Terrance could be a fish out of water if this fight goes into the third round. McKinney can finish anybody if his opponent isn't aware of the danger in the opening minutes, but due to the fact that Ziam has yet to get knocked out, I don't think Terrance will be able to win that way. If McKinney wants to win here, he has to do what he has never done before, and win a decision.
Can he do that against Ziam? I just don't see it happening. Reach and technique are both on Fares' side, and who knows whether Terrance's cardio will hold up over three rounds. We could be looking at a knockout-or-bust fighter, just going by his career tendencies.
I think the technical and more patient striker finds his openings once the dust settles in the second round. McKinney is predicting another first-round knockout, but let's not forget that Fares has hands too. If Terrance gets too reckless he can get caught.After all, all of his losses have come inside the distance.
Best Bet: Ziam ML (-110)
Cory Durden vs. Qileng Aori
Two very tough competitors face off on the prelims of UFC Vegas 43. Qileng Aori made his UFC debut back in April, losing a unanimous decision to Jeff Molina. The bout would win fight of the night. Durden is possibly the more technical fighter in this matchup - I'm saying that because we usually see Aori throw caution to the wind from start to finish.
Aori has fought at 145-pounds as well as 135-pounds, and now makes the cut to 125-pounds. He is huge for this weight class. In his debut, he showed grit and determination along with a seamlessly endless gas tank. Jeff Molina, the fighter he faced, is no joke, and is currently unbeaten in the UFC. The grappling could be even, but I'd actually give Aori the advantage, just because he is so relentless. He never takes a back step.
Durden's biggest moment was a draw against striking prospect Chris Gutierrez, but he hasn't managed to get a win inside the octagon yet. Aori is young enough for me to believe he will evolve from fight to fight. If we add just a pinch of technique to that brawling style, he can be a force of destruction against these smaller guys. Betting-wise this is a dog-or-pass situation. Durden doesn't have any real advantages, and Aori has that gas tank.
The volume is going to be a big issue for Durden here. Even though Aori tends to eat some shots, the pressure and power of Qileng means Cory might fall behind heavily on the strike totals. He doesn't have the takedowns to stifle the pressure of Aori either, leading me to the conclusion that the comeback on Aori at +125 has great value. He's younger, bigger, and has the striking advantage.
Best Bet: Aori ML (+125)
Sean Soriano vs. Shayilan Nuerdanbieke
Sean Soriano most likely gets his final chance at making it in the UFC this weekend when he takes on newly-signed Shayilan Nuerdanbieke in the second bout of UFC Vegas 43. Sean Soriano was initially signed back in 2014, but a 0-3 run would eject him from the promotion. Since then, he's racked up some wins and got the call once again on short-notice in May of this year, against Christos Giagos.
The fight wouldn't go Soriano's way either, but given the short-notice nature of it I can give him a pass. The bout was also at 155-pounds, and Sean usually fights in the weight class below. Props to him for stepping up though. This matchup is striker versus grappler. Soriano is truly a great striker, and actually rocked Giagos multiple times in the first round of his last bout. The problem Sean has is grappling. He has been submitted in five of his seven pro losses.
At first glance, Nuerdanbieke looks like Soriano's kryptonite; a grappler with submission skills on the mat, however, when you dig a little deeper it becomes clear that the striking gap is giant between these two fighters - in favor of Soriano. Nuerdanbieke usually works his takedown early, but when he faces fighters who can stay on their feet he just doesn't seem to know what to do. He has nothing to work with on the feet.
In his UFC debut, which he lost 30-27 if you ask me, he managed to land 17 strikes in 15 minutes. Shayilan found grappling success early in that fight, but he just doesn't do any damage, which is why he is able to lose a round of which he controls four minutes of. Even from top position, Shayilan solely relies on his position to win the round. The problem with that game plan is that MMA scoring is based on damage, and you're not doing any damage if you don't throw strikes, or even hunt for submissions.
Nuerdanbieke is also unable to check leg kicks, which is a huge red flag coming into this fight. Soriano will chew that lead leg up, and unless Shayilan manages to sink in a submission early, he will be unable to stand by the third.
Soriano's grappling has led him down many times in the past, but I think expecting Shayilan to out wrestle him consistently is a tall order given the nature of his UFC debut. The striker takes this one.
Best Bet: Soriano via KO (-275)
We may be compensated by the company links provided on this page.
Read more