UFC
Last Updated Feb 26, 2022, 7:52 PM
UFC Vegas 49 Picks, Predictions, Odds
US Sports Betting Industry Expert
21 minute read
---
The last UFC event of the month goes down February 26, 2022 at the UFC Apex. The Fight Night is headlined by lightweight contender Islam Makhachev and veteran Bobby Green. The two will meet at a catchweight of 160 lbs due to Green coming in on short notice. Bobby recently fought in the octagon picking up a unanimous decision win over Nasrat Haqparast looking sharp as ever. 
In the co-main event, former light heavyweight turned middleweight Misha Cirkunov takes on young contender Wellington Turman at 185 lbs. Here is all that UFC Vegas 49 has in store:
UFC Vegas 49 Main Card Fights
160 lbs Islam Makhachev (-800) vs. Bobby Green (+550)
185 lbs Misha Cirkunov (-125) vs. Wellington Turman (+100)
125 lbs Ji Yeon Kim (-175) vs. Priscila Cachoeira (+150)
155 lbs Arman Tsarukyan (-275) vs. Joel Álvarez (+225)
185 lbs Gregory Rodrigues (-175) vs. Armen Petrosyan (+150) 
UFC Vegas 49 Prelims Fights
155 lbs Zhu Rong (+187) vs. Ignacio Bahamondes (-225)
145 lbs Josiane Nunes (-200) vs. Ramona Pascual (+170)
155 lbs Terrance McKinney (+110) vs. Fares Ziam (-138)
135 lbs Alejandre Perez (+187) vs. Jonathan Martinez (-225)
170 lbs Ramiz Brahimaj (-350) vs. Micheal Gillmore (+275)
125 lbs Victor Altamirano (+110) vs. Carlos Hernández (-138)
Islam Makhachev vs. Bobby Green Predictions
Makhachev is the touted prospect of former lightweight champion Khabib Nurmagomedov. In many ways his fighting style is similar to that of Khabib, however he differentiates a bit in the striking department. I think he is a tad sharper than the G.O.A.T there.
Bobby Green is a veteran of the sport with 18 total walks made to the UFC octagon, not counting six from Strikeforce. He is a well-rounded guy most known for using the philly shell defense in the octagon. In the cage he has not always gotten the best results however the skills have always been there for Bobby. He is the king of being on the wrong end of some bad decisions yet it seems he has come into his own as of late. Green is 5-2 in his last seven and has picked up three performance bonuses in his last six. 
Makhachev will obviously try to drag Green down to the ground where he can start to implement that critically acclaimed Dagestani grappling. Against guys that are as lethal on the ground as Makhachev is, you can't rely on defensive wrestling to ward off takedowns. The takedown defense must first and foremost come in the shape of movement - Bobby cannot allow himself to be pushed back to the fence.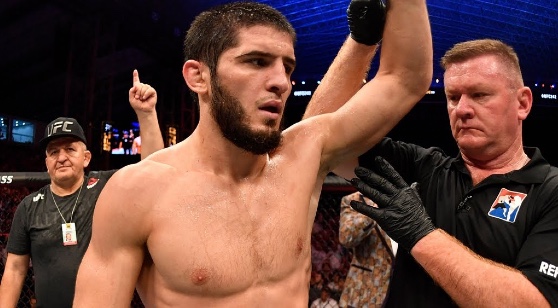 Green's movement is one of his main accolades, however the smaller UFC Apex octagon will favor the grappler in most scenarios. There is far less area to move around for Bobby.
Due to that reason I believe it will only be a matter of time before Green gets cornered on the fence and taken down. Makhachev has to be cautious with Green's striking as Bobby always keeps his hands down by his waist making it hard to see where shots are coming from. That said the power Green possesses is not enough to act as a consistent grappling deterrent. 
Impressively enough, Clay Guida was actually able to nullify the wrestling of esteemed grappler, and former Olympian wrestler, Mark O. Madsen when they fought at UFC Fight Night: Cannonier vs. Gastelum. Guida did it with excessive lateral movement, never allowing himself to settle with his back on the cage.
If Green can keep that up for five rounds, he has a shot here, however the lengths Islam has to go to in order to get the 'dub are far less. Green has to be perfect for 25 minutes.
To perhaps no one's surprise I'm going with Islam to get the win on Saturday. The short-notice replacement for Green also destroys whatever chance he might have had of winning this fight.
Best Bet: Islam Makhachev ML (-800)
Misha Cirkunov vs. Wellington Turman Predictions
Wellington Turman has had a tough time winning in the UFC. Right now he has a record of 2-3 in the UFC with two losses coming via knockout. His two wins came against Markus Perez who is no longer with the promotion, and Sam Alvey who is winless in eight bouts straight. Those are not exactly wins against top level competition. On the flip side the guys he's losing to are not really all that great either. Sure, he has faced some good competition, but getting knocked out against Andrew Sanchez is a blemish on any man's record in my book, especially when that KO is the only one Sanchez has gotten in the UFC.
After getting knocked out against Bruno Silva, by far the most respectable loss on Turman's record, Wellington just didn't seem like himself against Sam Alvey. He was timid, hesitant, second-guessing his every move in the octagon. Getting knocked out cold twice can take its toll on any fighter, mentally more so than physically. Turman needs to sort that stuff out, otherwise anyone worth their own salt will give you a run for your money in the UFC.
Both guys excel on the ground. Cirkunov is the more aggressive grappler of the two meaning he more often goes for takedowns and doesn't let a few unsuccessful attempts stop him from trying. 
Turman is more of a positional grappler whereas Cirkunov always hunts for submissions on the ground. That is a big advantage for Misha too. Submission attempts are, or should be, weighed as potential fight-ending actions, meaning if Cirkunov frequently goes for submissions on the ground he could be up on the scorecards. Judges will probably favor ground control over submission attempts however, as we have seen countless times in the past.
Wellington is the younger guy so I get why the betting line is close, however from what I've seen he just doesn't have 'it' to compete in the UFC. That youth means he can still improve though.
Cirkunov used to be a light heavyweight and has a three-inch height advantage and a five-inch reach advantage. Now top this off with a higher average volume and lower numbers on strikes absorbed too. 
Best Bet: Misha Cirkunov ML (-125)
Ji Yeon Kim vs. Priscila Cachoeira Predictions
Both fighters are competing to keep their job here. Ji Yeon Kim is 3-4 in the UFC, Cachoeira is 2-4.
Neither fighter has ever gotten a takedown in the UFC nor have they attempted a submission. The fight will most definitely play out on the feet where Kim has a seven-inch reach advantage.
Determining who is the better striker is simple to me: who wins more often when a fight plays out standing? The answer is Ji Yeon Kim. In fights where opponents have controlled her for less than a minute she is 3-1. Meanwhile Cachoeira's average control time in the octagon is 15 seconds.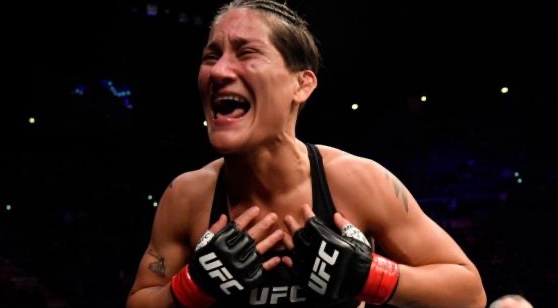 Given the fact that the UFC matchmakers are scraping the bottom of the barrel with this matchup it's safe to say that there will be some randomness involved in the outcome. It's one of those fights where the first person to secure a takedown wins a round because neither has the scrambling ability to get back to their feet. These matchups are always hard to predict.
That said, Kim is the superior striker in my mind. Neither fighter holds a win over anyone still on the roster, however Kim's win over veteran Justine Kish stands out as fairly decent. 
The reach advantage will most likely be the determining factor. Kim can dart in and out of range whilst popping the jab in Cachoeira's face. Priscila needs to get close and take away the reach advantage, however since she averages those aforementioned 15 seconds of control time a fight I don't reckon she has the clinch in her toolbox.
Kim gets it done with jabs and light combinations.
Best Bet: Ji Yeon Kim (-175) via Decision
Arman Tsarukyan vs. Joel Alvarez Predictions
This is a great fight between two very talented guys. Tsarukyan is a potent wrestler with strong top control. His claim to fame was a 'close' fight with Islam Makhachev in his debut. The bout won fight of the night despite Arman losing all rounds on two judges' cards.
Álvarez is a long and scrappy striker with a strong submission game. Overall the guy brings a 100% finish rate into his bout on Saturday, with three knockouts and 16 submissions.
The question is: can Álvarez deter Tsarukyan from shooting with his submission game? If this is the case, the betting line is way off. Álvarez is a superior striker with a reach advantage of five inches. He is also the taller man by eight inches.
Álvarez has had a bad history with the scale and if he comes overweight I'm not sure the UFC will let him compete. That would be the third time he has missed weight. I know Mr. White doesn't look well on stuff like that. However let's just assume he comes in and makes the weight, I think the fight will be a good one.
As I mentioned earlier, Arman's claim to fame is that 'close' fight with Islam. I'm marking 'close' with apostrophes because it wasn't really a close fight. He got blown out of the water in reality. However fans remember the fight because Islam did not win as easily has he normally does. That bias is still affecting his odds today almost three years later.
Meanwhile sportsbooks have never shown Joel much respect. What's most hysterical is the fact that he closed a +235 'dog and cashed in his most recent outing against Thiago Moises who was also coming off a fight labelled 'close' against Islam Makhachev.
The fact that Tsarukyan faces someone who can hang with him in the grappling department means everything in this fight. He does not have the ability to fall back on his wrestling. He needs to pick his shots very carefully if he wants to shoot and if he gets hurt and decides to panic wrestle he might end up in a guillotine. 
Alvarez is hittable and if Arman decides to strike he could pick him apart on the feet. The matchup is still too close to warrant such a wide betting line though, which is why I'm going with the underdog. 
Let's also not forget that both guys are 4-1 in the UFC. On paper that means they have gotten equal results in the octagon. If you rate finishes over decisions then Alvarez has actually been doing better.
Let's expose the bias - Álvarez is a prospect just as Tsarukyan. He just hasn't had a 'close' fight against a big name. Since the moneyline already offers great underdog odds, I won't get too greedy with the method of victory. Alvarez has a 100% finish rate, however such trends are bound to be watered out once you start facing the tougher competition in the UFC.
Best Bet: Joel Álvarez ML (+225) 
Gregory Rodrigues vs. Armen Petrosyan Predictions
Unbeaten Armenian prospect Armen Petrosyan has a 100% finish rate with all of his wins coming by way of knockout. He makes his debut this Saturday against grappling wiz Gregory Rodrigues.
This is a classic striker versus grappler matchup. If you're backing Petrosyan you're basically banking on Rodrigues not taking him to the ground and keeping him there.
Rodrigues is a good grappler but he does not pile up a lot of control time with his takedowns. This is a great plus for Petrosyan. Gregory also does not go for submissions a lot when he is on the ground. In the case that Gregory gets a bunch of takedowns, Armen might be able to survive long enough to see the next round which, as we all know, starts on the feet.
On paper the statistics on both fighters may make you side with Rodrigues, however watching UFC reject Jordan Williams easily KO him in under three minutes makes me side with the striker.
Armen is a really heavy-handed striker. There is so much weight behind everything he throws. Rodrigues has had some durability issues in the past and its not great to have a suspect chin against a guy with a 100% knockout rate.
The takedowns are there but if he does not sink in a submission Petrosyan will come on strong late.
Watching the sequences of Rodrigues' most recent fight also feeds my suspicion that he does not deal with pressure well. He is one of those guys that does not have any close-range defense. He was wobbled against Park and had the same response as in his Jordan Williams fight - backing up with his chin straight up in the air, not moving laterally. When Rodrigues is hurt he freezes. He does not move away from the cage. He essentially traps himself. The striker will prevail here.
Best Bet: Armen Petrosyan ML (+150)
Zhu Rong vs. Ignacio Bahamondes Predictions
In the featured preliminary bout of UFC Vegas 49 the youngest fighter on the UFC roster, Zhu Rong, makes his third walk to the octagon under the UFC mantle. Rong is a pretty well-rounded guy. He has a good fundamental wrestling game and some slick striking to back it up. 
In his debut he was matched up against a solid fighter with good fundamentals. In the early going he took pictures and waited too much. He had a hard time getting started. However in rounds two and three he turned it up a notch, seemingly more focused after getting that first round out of the way. He came back to win the last round (on my scorecard).
You could tell in that debut that Rong was a bit green. He is a work in progress for sure, however the fundamentals are there. The grappling is solid, the sprawling is solid and the striking is solid too. He just needs to let his hands go and put it all together. Once he finally did let the hands go against Vargas he managed to wobble him a few times. When he is in the zone he is lighting fast.
In his second fight you can immediately see the improvements made. In his fight against Brandon Jenkins Zhu takes the center of the octagon right away and starts landing. Granted the UFC probably gave him a lay up with the matchmaking in that fight, but you can see how his game is evolving still.
Bahamondes is a great striker but he has zero grappling. Just by looking at this record you can tell right away; almost all knockout wins, half of his losses via submission. 
In the UFC he has a polished 100% takedown defense, but the guys he has faced have not been strong grapplers. John Makdessi has zero takedowns in 18 UFC bouts. Roosevelt Roberts does have some grappling but he only averages about one takedown a fight. Zhu managed to land six just in his most recent time out. That's big.
On the feet I think it's anyone's fight. I will probably give Bahamondes a little advantage early on as he will be first in the exchanges. However in rounds two and three I don't see what stops Zhu from implementing those takedowns and getting off some solid ground and pound.
It might be a long shot but I'm taking the younger, more unpolished work in progress here. There is too much value on such a young prospect to pass up the moneyline.
Best Bet: Zhu Rong ML (+187)
Terrance McKinney vs. Fares Ziam Predictions
In the prelims we have another prospect versus prospect matchup. This card is filled to the brim with talent.
McKinney is another one of these touted prospects with a 100% finish rate recently signed to the UFC. The 27-year old made headlines with a seven-second debuting knockout over Matt Frevola at UFC 263. In 11 professional wins five have come by knockout and six via submission. He can get it done anywhere.
Fares Ziam is slightly less flashy in the octagon but he is still a nice addition to the lower ranks of the lightweight division. When I say that he's less flashy I mean that he's involved in fights that go to decisions more often than his opponent here.
Ziam is mainly a striker however he does possess submission abilities that we have yet to see in the UFC. His two UFC wins have been against solid competition if you ask me. Luigi Vendramini is a great fighter, who unfortunately has been used as a stepping stone for prospects by the UFC, and Jamie Mullarkey just knocked out touted prospect Devonte Smith viciously. Both are fighters Ziam beat via decision.
McKinney always comes right out the gate extremely hot, taking the center and immediately pressuring his opponent. However all that pressure sometimes makes him overzealous and there are little pockets on the feet where counter attacks can be made against Terrance. 
Terrance is so overzealous for the finish that he sometimes blows out his gas tank prematurely. Of course he can fall back on his wrestling but Ziam has already shown that he can go the distance against a superior grappler and win with his striking. 
The lowdown is this: Ziam is comfortable taking this fight to the scorecards, meanwhile I don't think McKinney wants that.
Given the fact that Ziam has never been knocked out in his career I have to give him the overall advantage in this fight. His game is a more cautious and calculated one, whereas his opponent is rushing for the finish.
I think Fares starts landing in rounds two and three and wins a decision.
Best Bet: Fares Ziam (-138) via Decision
Alejandro Pérez vs. Jonathan Martinez Best Bet
Alejandro Pérez had a tough 2019 and went on a two-fight losing streak that year. Although losing to respectable opponents, Pérez would take a two-year hiatus following his loss to Yadong Song and recently made his return at UFC Fight Night: Santos vs. Walker, in early October 2021.
Pérez is an enigma. Where does he fit in with the rest of the division? His UFC run of eight wins and three losses, with one draw, speaks volumes to his abilities, however given his aforementioned two-year hiatus all his wins are now against guys no longer with the promotion. Eddie Wineland is the only exception but how good of a win is that really? Wineland is 1-4 in his last five bouts and Pérez was one of four to best the veteran in that run. Not to mention Pérez barely got through him, drawing with the veteran on the strike totals and dropping the first round unanimously on all scorecards.
Looking at Jonathan Martinez now, there are more things to like. First and foremost he is significantly younger and has been competing against more relevant guys. He did come up short against Davey Grant, an underrated guy I hold in high regard at 135 lbs, but he won the first round in that fight - dropping Davey and doing good work. Eventually Grant came back and ended the fight himself. 
Martinez is fighting real competition. Grant just had an absolute war with Adrian Yanez, one of the most touted 135 lb prospects at the moment. Meanwhile in Alejandro Pérez' comeback fight of 2021, the UFC feeds him Johnny Eduardo, a 43-year-old guy I have never heard of with a 3-4 UFC record. Alejandro not only gets outlanded in that fight, he actually loses the first round against a total layup opponent. Not a good look.
Both guys are fairly decent strikers however I'll probably give the advantage to Jonathan Martinez. He has a three-inch reach advantage and has the better output. Pérez' personal record of strikes landed in the UFC is 61 strikes over the course of 15 minutes against Albert Morales in 2016. That's him pumping out absolute max volume. Jonathan Martinez easily lands 92 strikes in his last fight against an undefeated debuting prospect. That's a huge difference in skill and activity. 
Pérez does have the veteran experience, and now I'll cut him some slack, but I can't see how he stays with the organisation for another year or two with the current form he has displayed in the octagon. Jonathan is only 27-years-old, a work in progress. 
They brought Alejandro out of the ice last year but I'm just not sold on his performance. Is he ready for a young guy like Martinez? Don't think so.
There is a slight question mark surrounding the durability of Jonathan Martinez. He was KO'ed cold against Davey Grant and dropped twice against Andre Soukhamthath. Could it be a result of his weight cutting struggles, or does he just have a bad chin? Who knows, but regardless I just don't think Pérez has what it takes to go the full 15 with a young cat like Martinez and get his hand raised.
Best Bet: Jonathan Martinez ML (-225)
Ramiz Brahimaj vs. Micheal Gillmore Best Bet
Striker versus grappler.
Ramiz Brahimaj is a low-rank submission or bust fighter. Just by looking at his record you can tell that in fights where he fails to lock in the 'sub he doesn't do well. All nine pro wins coming by way of submission. Zero wins by decision, out of all fights of his that have gone the distance none have seen him come out victorious. That's worrisome. He faces Micheal Gillmore, a decent striker with three knockouts and three wins by decision.
Gillmore probably does have the better striking here, but he made his debut at 33-years of age, which is rarely a good sign, and then the UFC matched him up against wrestling phenom Andre Petroski in a fight where he actually doesn't do half bad. The judges actually disagreed on who was ahead in both rounds one and two, however he was finished in round three so there's that. Not a bad performance at all though. He spends 57% of the 13 minutes and 12 seconds bout being controlled and actually wins rounds.
Can he do the same against Brahimaj? Maybe. However Brahimaj is far more submission oriented than Petroski and now you realize that three of Gillmore's four losses have come by way of submission. If Brahimaj wants the takedowns they are there, and he will be able to sink in that choke once on the ground. My only concern is this: how good are you if you have never won a 15 minute fight in your career? A lack of composure is what that is, and stuff like that is bound to be exposed once you leave the regional scene and make it to the UFC. 
In Brahimaj's two UFC losses he just gets completely blown out of the water. First by Max Griffin on a two-fight losing streak, who to my knowledge has no significant grappling credentials. Once it's all said and done Ramiz attempts one takedown in that fight. Why? It's a gritty fight, typical Max Griffin fashion, and Ramiz eats enough elbows to make the referee step in. With that loss he becomes the first TKO on Griffin's record since 2016. The question still remains: why aren't you immediately shooting for takedowns? You know you don't have three-round composure to your game, so you should be focused on securing the early takedowns. Perhaps a little worrisome fight IQ there. 
After beating Sasha Palatnikov via flash first-round sub' the UFC decide to match him up against savvy veteran Court McGee and ends up losing that fight unanimously (3 x 27-30). 
In this fight, against McGee, he actually does go for takedowns, but after getting knocked down in round one, historically his best round, he just never regains his composure and is dominated for the remainder of the fight. Even on the ground McGee was the one controlling the action.
I think this is an intentional layup for Brahimaj orchestrated by the UFC matchmakers, however they may have missed how lacking Ramiz' cardio really is. Why else would they match up a submission grappler against a striker with no wrestling and a bunch of submission losses?
For value I'd be sweating bullets watching this fight unfold if Gillmore somehow survives the first round. The cardio is just not there for Ramiz, meanwhile Gillmore is actually 3-0 in fights that have hit the scorecards. 
You're essentially banking on Ramiz to get the submission, if you're on that side, or Gillmore to survive round one. 
With the odds we have available I will back the far more valued side.
Best Bet: Micheal Gillmore ML (+275) 
We may be compensated by the company links provided on this page.
Read more