UFC
Last Updated Feb 04, 2023, 10:37 PM
UFC Fight Night Lewis vs Spivak Picks, Predictions, Odds
US Sports Betting Industry Expert
8 minute read
---
After an exciting UFC 283 event, we're back with five more "Best Value Bets" for UFC Fight Night: Lewis vs Spivak. The event will be headlined with a UFC Heavyweight Bout between the knockout machine Derrick Lewis and the 'Polar Bear' Sergey Spivak. 
UFC Bettors should make a note that this card was originally scheduled to take place in South Korea so the promotion will be starting the preliminary card at 10:00 p.m. ET and the main card will start at 1:00 a.m. ET. The event takes place from the UFC APEX in Las Vegas, Nevada.
As always, I'll be taking a look at each of the five fights on the main card, providing analysis and finding the best value bets.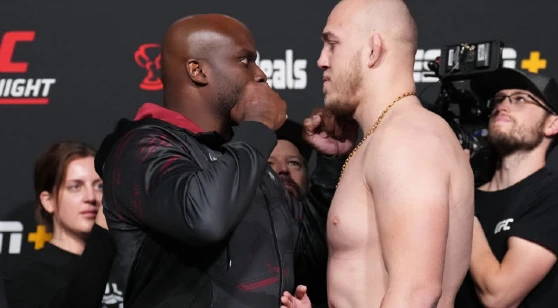 UFC Fight Night Best Lewis vs Spivak Main Card Bets & Analysis
UFC Main Card Best Bets
Spivak to Win by KO/TKO/DQ (+135)
Da Un Jung Moneyline (-238)
Tybura Moneyline (-137)
Choi Moneyline (-175)
Kinoshita by KO/TKO or DQ (+140) 
UFC Fight Night Derrick Lewis vs Sergey Spivak Picks
Heavyweight Bout
Derrick Lewis +185 vs Sergey Spivak -233
Over 1.5 (-106) Under 1.5 (-120)
Derrick Lewis makes his return to the octagon this Saturday hoping to snap his losing streak and earn his 22nd career victory. It hasn't been all sunshine and rainbows for the 'Black Beast' recently, having lost 3 of his last 4 fights via KO/TKO and coming off a tough loss to Sergei Pavlovich last summer. 
For Sergey Spivak, it's been a slow burn as far as his UFC career goes, but he is now 11th in the Heavyweight rankings with a great opportunity to climb, facing the 7th-ranked fighter in the division. After suffering the KO loss to Tom Aspinall a year and a half ago, Spivak has bounced back nicely, getting TKO wins over Greg Hardy and Augusto Sakai. That said, this wasn't exactly the best competition the UFC had to offer, but the difficulty level will be higher in this one. 
Derrick Lewis doesn't throw a lot of strikes, nor does he ever attempt takedowns. But the strikes he does throw are usually with purpose and more often than not-killshots. 21 career KO wins, 13 of which have come in the UFC is nothing to scoff at, but I don't think we are getting the best version of him anymore. There has been some evidence of him in much better shape recently, but it's just one photo and I won't give it any weight... until the weigh-ins. All in all, Spivak is the better grappler, throws 1.22 more strikes per minute and has the necessary power to get this one done via KO. Lewis is now at 7 career KO/TKO losses and turns 38 next week. This one is most likely going to end before the final bell, and I'm trusting Spivak to be the one to have his hand raised. 
Best Bet: Sergey Spivak to Win by KO/TKO/DQ (+135)
UFC Fight Night Da Un Jung vs Devin Clark Picks
Light Heavyweight Bout
Da Un Jung -238 vs Devin Clark +195
Over 2.5 (+130) Under 2.5 (-166)
The co-main event of UFC Fight Night will feature a Light-Heavyweight bout between Da Un Jung and Devin Clark. Both fighters are coming off KO losses last summer and are looking to get back into the win column, but the stakes are much higher for Clark. Having lost 3 of his last 4 fights, Clark is dangerously close to being cut from the UFC and this may be his last chance to rebound. 
For Un, it's a much different story. The 29-year-old had won 4 of his last 5 fights (1 draw) before facing Dustin Jacoby last July and is still very much considered a solid prospect. He has a solid reach advantage and stylistically has the tools to get the win here. 
His boxing is very good, dishing out 4.05 strikes per minute and his takedown defence is at 88%. This will come in very handy against an opponent who averages 2.30 takedowns per 15. His reach should allow him to keep Clark at a distance and do some heavy damage, especially considering how bad Clark's striking defence is. I don't really see a path to victory for Devin Clark here, but Jung Da Un is more than capable of finishing the fight early or coasting to a decision win. 
Best Bet: Da Un Jung Moneyline (-238)
UFC Fight Night Marcin Tybura vs Blagoy Ivanov Picks
Heavyweight Bout
Marcin Tybura -137 vs Blagoy Ivanov +110
Over 2.5 (-235) Under 2.5 (+180)
Oh boy, get ready for this one. Another heavyweight bout on the main card, but I'm definitely not looking forward to this one. We have Marcon Tybura taking on Blagoy Ivanov. Tybura is 10th in the division rankings, having won 4 of his last 5 fights and is coming off a decision win over Alexander Romanov. He has taken on some very good competition since joining in 2016 and has proven himself as a respectable fighter in the division. 
For Ivanov, it's been a slightly different story since joining the UFC in 2018, holding a 3-3 record since and losing all 3 by decision. He lost to Augusto Sakai, Derrick Lewis and JDS, but also got Ben Rothwell, Tai Tuivasa and most recently Marcos Rogerio de Lima. 
When it comes to striking, Tybura is the better striker as he can work from a distance and absorbs 0.83 fewer strikes per minute. Ivanov is a great defensive grappler and is very difficult to take down to the mat, but for this fight, I expect striking to be the difference maker. Tybura is more active and has a 5-inch reach advantage. Ivanov takes too much damage and hasn't been using his grappling nearly enough for me to consider backing him. I expect Tybura to grind out a decision victory in a slugfest. 
Best Bet: Marcin Tybura Moneyline (-137)
UFC Fight Night Choi Doo-ho vs Kyle Nelson Picks 
Featherweight Bout
Choi Doo-ho -175 vs Kyle Nelson +150
Over 2.5 (+142) Under 2.5 (-182)
'The Korean Superboy' Doo-ho Choi makes his return to the UFC octagon after more than 3 years against Kyle Nelson. Both of these fighters are unranked in the Featherweight division, but given their track record, we should be in for a banger. 
Doo-ho Choi is known as a very explosive and powerful striker, holding 11 career TKO/KO wins, but his career has taken a dive in the last few years due to injuries. He hasn't won a  fight since 2016 and is on a 3-fight losing streak, with 2 TKO losses in a row. Choi's striking volume is also very impressive, but he absorbs 6.38 strikes per minute, and we have yet to see how he has recovered. 
Kyle Nelson is also on a 2-fight losing streak whilst losing 4 of his last 5. He hasn't been very active either in the last few years but he did make a comeback last summer against Jai Herbert and lost via unanimous decision. His grappling is by far his best skill, but he doesn't have the volume or power when it comes to striking to that of his opponent.
That said, Choi is by far the better fighter in this one, he should be able to get it done in this one. There are some concerns, for example, the long layoff and past injury issues, but if he comes back at even 80% of what he used to be, he should easily get the win. 
Best Bet: Choi Doo-ho Moneyline (-175)
UFC Fight Night Yusaku Kinoshita vs Adam Fugitt Picks
Welterweight Bout
Yusaku Kinoshita -333 vs Adam Fugitt +250
Over 1.5 (-192) Under 1.5 (+150)
The 5th and final fight on the main card will have Yusaku Kinoshita taking on Adam Fugitt in the Welterweight division. This is one of those fights where the bet makes itself, and we're just along for the ride. On one side of the octagon, we have a young phenom looking to quickly make a name for himself, and on the other, an older and a bit more experienced fighter who has yet to carve out a successful career. 
Yusaku Kinoshita started his amateur MMA career at the age of just 16 and is already considered one of the most exciting prospects in the UFC at 22. Some are even calling him the next Conor McGregor, but I would hold off on any comparisons just yet. He is very promising though, with a pro-MMA record of 6-1 so far, with his only loss coming due to a disqualification (cage grabbing after already getting the KO win). 
For the 34-year-old Adam Fugitt, it's been a steady road to the UFC since starting his pro career 6 years ago, but upon joining, he was immediately given a fight against Michael Morales. Not something anyone would want for their debut, and Fugitt was TKO-ed in the 3rd round after getting outstruck for 2.5 rounds. Fugitt has solid grappling, but I'm not sure if he will be able to use it against an opponent like Kinoshita, someone who has an unorthodox stance and style. 
As I already mentioned, this bet is really making itself, and I'm just the messenger. No real point in looking at the moneyline, as Kinoshita is a heavy favourite and I don't see Fugitt grinding out a decision win. A TKO/KO win for Kinoshita seems like the most likely outcome.
Best Bet: Yusaku Kinoshita by KO/TKO or DQ (+140) 
We may be compensated by the company links provided on this page.
Read more