UFC 292 Betting Trends & Action Report
UFC 292 betting trends are taking shape for a big Saturday night at TD Garden in Boston. Atop the 12-fight card are two title fights: Aljamain Sterling vs. Sean O'Malley in the main event, and Zhang Weili vs. Amanda Lemos in the co-main.
If UFC 292 odds are any indication, the five-bout main card is dominated by solid favorites, with only one chalk under -200. But as is demonstrated countless times, anything can happen in the octagon.
BetMGM's Alex Rella, The SuperBook's Casey Degnon and UFC betting analyst Nick Kalikas provide insights on UFC 292 betting odds, trends and action. Check back through fight night for updates.
Sterling vs O'Malley Betting
UPDATE 11:40 P.M. ET SATURDAY: As the main event draws near tonight, Sterling is a -250 favorite to O'Malley's +200 underdog price at BetMGM Nevada. And BetMGM's Las Vegas market – both retail and digital – is seeing boatloads of action on the popular 'dog.
"The main event is O'Malley, all day and all night. Tickets are approaching 8/1, and there are a lot of tickets. Money is just over 3/1 in favor of O'Malley," BetMGM Nevada's Scott Shelton said. "They're playing O'Malley on the parlays, too. We're gonna need the favorite."
UPDATE 12:30 P.M. ET SATURDAY: BetMGM put the main event on its UFC 292 betting board back in mid-June. At that time, Sterling was a healthy -375 favorite. Several hours before tonight's bout, the odds have shortened to Sterling -250/O'Malley +200.
"We saw about split action since we opened the fight, but the customers have been supporting O'Malley more so in recent days, especially when it comes to various props that have him winning inside the distance," Rella said. "Given O'Malley's popularity and Sterling's inability to connect with most UFC fans, I would anticipate the liability to continue to rise on the challenger throughout the day. Many customers are even expecting a quick one, as O'Malley to win in 60 seconds or less is the biggest liability of the fight, at 45/1.
"On paper, it's the classic striker vs. grappler matchup. The book would be do well if the champ grinded out a decision victory."
With public bettors likely to engage in favorite moneyline parlays – as they often do on big UFC cards – that could help counter O'Malley liability. If O'Malley weren't so popular.
"The chalky parlays are definitely going to play a big role for the books and customers today. The opening fight of the night on the early prelims is the closest one on paper, with Karine Silva -130 vs. Maryna Moroz +110, but then the odds get wider fast," Rella said. "Anytime the favorites sweep on the pay-per-view, it's a rough night for the books. If the favorites sweep the first four fights on the main card, the book will be hoping for an upset, but it's not a cut-and-dried scenario.
"Most of our large parlays currently contain Sterling, but enough have O'Malley, as well. And given the liability on the underdog in the individual fight itself, it'll be a high liability situation either way."
UPDATE 2 P.M. ET FRIDAY: On Aug. 6, The SuperBook opened reigning bantamweight champion Sterling a -250 favorite and O'Malley a +200 underdog. Those odds then shifted slightly toward the fave, at Sterling -260/O'Malley +210, and it's now back at the opener.
Sterling's solid favorite status is not indicative of UFC 292 betting trends thus far.
"I think it's fair to say O'Malley is a trendy 'dog. More tickets and money on him as of right now. He's also involved in more parlays," Degnon said. "I think we will continue to see public support on the 'dog here. He's a popular fighter who knocks out a lot of people. Anytime you have a fan favorite as an underdog, there is usually liability that follows."
To Degnon's point, O'Malley enters Saturday's main event at 16-1, with 11 victories by knockout/technical knockout. On the flip side, Sterling is 23-3 with just three wins by KO/TKO.
Public bettors often like to stack UFC favorites into moneyline parlays. In this instance, underdog O'Malley is and will likely remain the preferred play.
"Favorites are always involved in parlays on fight night," Degnon said. "But I think O'Malley is popular enough that even with the chalk parlays, we still might be rooting for Sterling to get the cash."
Expert Analysis
Kalikas said that, generally speaking, this fight will pit the sharp bettors against the public masses. But not entirely.
"Initial action bet Sterling up," said Kalikas, a well-regarded MMA oddsmaker along with his role as a betting analyst. "It's gonna be Pros vs. Joes, with the Pros on Sterling and the Joes on O'Malley. But I know there are some sharp bettors who will be on O'Malley."
Kalikas then broke down the main event.
"Stylistically, it's pretty clear how this will play out. Sterling will have the edge on the ground, O'Malley will have the striking advantage, the edge on the feet," Kalikas said. "O'Malley is gonna have to implement a solid game plan and stay off his back, which is gonna be hard against a fighter like Sterling."
The contrast between the two – Aljamain's fights often go the distance, O'Malley's often do not – makes for an intriguing matchup.
"I don't think this fight goes to the scorecards. Something's got to give," Kalikas said. "I think we probably see a finish. Either O'Malley by knockout or Sterling on the floor. And I think it'll be Sterling finding a finish on the ground."
Weili vs Lemos Betting
UPDATE 11:30 P.M. ET SATURDAY: With this women's strawweight title bout coming up soon, BetMGM Nevada – so solely the sportsbook's Las Vegas retail and digital market – has the bout priced at Weili -320/Lemos +250.
"Tickets are almost dead even, literally like seven more on Lemos. Money is 2/1 on Lemos," BetMGM Nevada's Scott Shelton said. "But like Magny-Garry, they're playing the 'dog on straight bets and the favorite on parlays. We'd gladly pay the straight bets on Lemos to get Zhang out of the parlay mix."
UPDATE 12:30 P.M. ET SATURDAY: The Weili-Lemos bout went up Aug. 8 at BetMGM, priced at Weili -350/Lemos +265. It's now into Weili -320/Lemos +250, but that price shortening isn't reflective of most bettors' opinions at the moment.
"The action tells the clear story that customers think the champion will retain her title, and likely in a violent fashion. The most popular prop bet is Weili to win by KO/TKO, DQ or submission at -150," Rella said. "On the moneyline alone, we have taken over 10 times more money on Weili. Interestingly, though, Lemos had the highest liability of any UFC fighter in any weight class to finish the year as champion when we offered futures markets at the start of the year.
"An upset would be good for BetMGM tonight, but it could sting down the road."
UPDATE 2 P.M. ET FRIDAY: Weili puts her women's strawweight belt on the line against fifth-ranked challenger Lemos. The SuperBook opened this fight at Weili -350/Lemos +275 on Aug. 6, and the price tightened to Weili -310/Lemos +250. It's now Weili -330/Lemos +260.
"Not a ton of interest in this fight yet, but we are starting to see some liability build up on Weili via parlays," Degnon said. "Although the market has moved down on Zhang a little bit, we haven't taken a lot of 'dog money. I would be surprised if we didn't need Lemos to pull the upset come Saturday night."
After two consecutive losses to Rose Namajunas, Weili (23-3) bounced back with victories over Joanna Jedrzejczyk in UFC 248 and Carla Esparza in UFC 281. Lemos (13-2-1) enters off a UFC Fight Night TKO victory over Marina Rodriguez.
Expert Analysis
Kalikas noted that the first lines to go up on this fight had Weili a much larger favorite.
"It hit the market at -600 for Zhang, and it's down to half that, with a lot of early sharp bettors taking the big 'dog price on Lemos. And with good reason. The line definitely opened too high," Kalikas said. "We've seen a lot of sharp action continue to flow in on the Lemos side. But now, closer to fight day, we're starting to see some sharp buyback on Zhang, and some parlay action on Zhang, too."
Kalikas said Weili's price got as short as -280 at some sportsbooks before the rebound. But the price could see another round of shortening by Saturday night.
"If anything, it drops again by fight day," he said. "Lemos is just too dangerous to lay that kind of chalk against. There's only one bet to make, win or lose, and it's on the 'dog. Even if Zhang goes out and dominates, I still don't think it's smart pre-fight to lay that number against Lemos."
Magny vs Garry Betting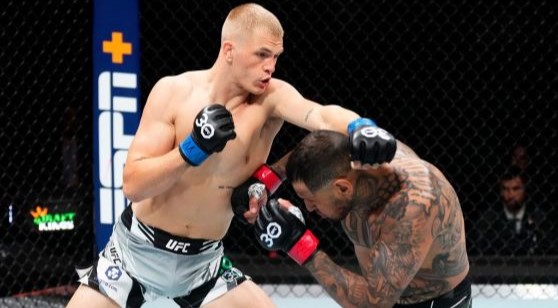 UPDATE 11:20 P.M. ET SATURDAY: Shortly before this welterweight bout goes off, BetMGM Nevada – so strictly BetMGM's Las Vegas retail and digital market – has Ian Garry -500 and Neil Magny +375.
"Tickets are 3/1 on the 'dog, and money is just over 4/1 on Magny," BetMGM Nevada's Scott Shelton said. "But all the parlays are on Garry. So we'd definitely like to pay off on Magny."
UPDATE 12:30 P.M. ET SATURDAY: This fight is a newcomer to UFC 292 betting trends. Neil Magny stepped in last week to face rising star Ian Garry, after Geoff Neal withdrew for medical reasons.
With Magny taking the bout on short notice, Garry opened a healthy -400 chalk Monday at BetMGM. And the bout is now at Garry -500/Magny +360.
"If Magny were to stymie the surging young prospect, this would be a tremendous outcome for the book," Rella said. "Garry is included in almost every large parlay we've seen so far, and we've taken 20 times more money on him on the moneyline itself."
UPDATE 2 P.M. ET FRIDAY: On Monday at The SuperBook, Garry opened a hefty -420 chalk to Magny's +320 price, and the odds quickly moved even more in favor of Garry. The SuperBook now has this welterweight bout at Garry -550/Magny +400.
Early bettors didn't mind laying the heavy lumber in this hastily arranged bout. Garry was supposed to face Neal, but Neal had to withdraw last week for undisclosed medical reasons.
"It's been all Garry so far, which isn't surprising," Degnon said. "Magny is a last-minute fill-in that the public is eager to fade. The anticipation is that we'll need the 'dog based off both straight bets and parlays."
Expert Analysis
Despite the short prep time for Magny, Kalikas is taking the Lee Corso approach to this fight: Not so fast, my friends. Kalikas is hugely impressed by the Irishman Garry, but Magny might not be as much of a pushover as UFC 292 betting trends suggest.
"Ian Garry has been getting a lot of buzz," Kalikas said. "He's kind of like the next Conor McGregor. He's from Ireland, extremely popular. He's a talented and charismatic fighter, and he's one of the highlights of this card.
"Still, he's going against a very solid, proven veteran. So it's a big step up. But a lot of people feel Garry is ready, and it shows with the line move."
Indeed, the first oddsmakers to post had Garry at -300, and as noted above, he's now in the -500/-550 range.
"It's all one-way action, which tells you how much respect Garry has from bettors, because Magny is such an experienced fighter and is a difficult matchup for most opponents," Kalikas said. "Magny is a puzzle most guys can't crack, but in this case, I feel like Garry can crack the puzzle."
If so, it's one more step in a sky's-the-limit scenario, in Kalikas' mind.
"Garry is genuinely a super nice guy outside the ring. He's a star in the making," Kalikas said. "It's hard not to like this guy. If he can keep on winning, the UFC has a mega-star on its hands."
More UFC 292 Betting Trends
UPDATE 12:30 P.M. ET SATURDAY: Marlon Vera opened a -185 favorite to Pedro Munhoz's +150 'dog price. The price moved marginally on the UFC 292 odds board, sitting at Vera -190/Munhoz +155 earlier today. It's now back at the opener.k
"Not much has changed since we opened this fight on Aug. 7," Rella said. "Many customers are expecting Vera to turn it on late again, as the biggest liability prop is for Chito to win by KO/TKO/DQ in Round 3, at 20/1. A Munhoz victory in any fashion would be good for the book."
UPDATE 2 P.M. ET FRIDAY: The opening matchup on the main card is the closest of those five bouts one on the UFC 292 odds board. Marlon Vera opened -190 to Pedro Munhoz's +160 price on Aug. 6 at The SuperBook. The bantamweight bout was at Vera -200/Munhoz +170 midweek and is now at Vera -210/Munhoz +175.
"The public is more interested in Vera so far. More tickets and money on him right now, and I think that will continue to be the case leading up to the fight," Degnon said. "The Munhoz parlay liability is slightly higher, even with less tickets, just because of the plus-money price. It's a popular fight, so I think both fighters will see action, but I anticipate more love for Vera."
Perhaps surprisingly, Degnon also pointed to the early prelims card for a bout taking some noteworthy action. Natalia Silva and Andrea Lee square off in a women's flyweight matchup.
Silva opened a solid -350 favorite and Lee a +275 underdog on Aug. 6. The SuperBook is now at Silva -360/Lee +280.
"It's interesting because we have taken some respected money on both sides," Degnon said. "We got as high as Silva -400/Lee +300, but did see some buyback on Lee +300. That knocked us down to Silva -350, where we saw some action on the favorite. We have kind of settled in the middle, knowing that we have sharp money on both fighters."
Expert Analysis
Kalikas also went to the closest main-card match in the UFC 292 betting trends market, Vera vs. Munhoz. The first oddsmakers to post this bout had Vera at -160, and there was a sizable early move toward the favorite.
"Sharps have bet the price up on Vera. He's been a little more respected by the betting market," Kalikas said. "A lot of people believe he's a legitimate title contender. Despite his setbacks of late, he's a popular and capable fighter.
"Munhoz historically has flown under the radar, not getting the respect he deserves. And the price on this fight is now becoming a little bit disrespectful. I do expect this to be a very competitive fight."
One potential advantage for the underdog Munhoz: Vera is perhaps better suited for five-round matchups, which this bout is not.
"Vera is a slow starter, and this is only a three-round fight," Kalikas said. "It's gonna be more competitive than everybody anticipates when it hits the scorecards. People are betting Over 2.5 on the round prop, which has steamed up from -200 to -400.
"There's an outside shot of a finish. But both fighters are so good that they should withstand each other, and this goes to the scorecards."
•