UFC
Last Updated Aug 30, 2021, 9:44 AM
UFC Fight Night Gane vs. Volkov Predictions
Jun. 23, 2021

by Adam Lykkesteen
UFC Expert
VegasInsider.com
This Saturday the UFC returns to the Apex for UFC Vegas 30, headlined by heavyweight prospect Ciryl Gane taking on the 6'7'' Russian behemoth Alexander Volkov. Gane is unbeaten in his MMA career at 8-0, while Volkov is headed into Saturday's main event off a win over fan-favorite UFC legend Alistair Overeem.
UFC Vegas 30 Betting Resources
Date: Saturday, June 26, 2021
Venue: UFC Apex
Location: Las Vegas, Nevada, United States
The co-main event also takes place in the Heavyweight division, with Tanner Boser making a quick turnaround against OSP. Saint Preux was initially scheduled to fight Maxim Grishim, who withdrew from the fight due to undisclosed reasons. Boser steps in on short notice to save the show, and fought just 21 days ago, losing a close split-decision to Ilir Latifi.
The UFC Vegas 30 card is stacked with intriguing matchups from top to bottom. Join me as I go through them all and predict the winners, while looking at the betting lines.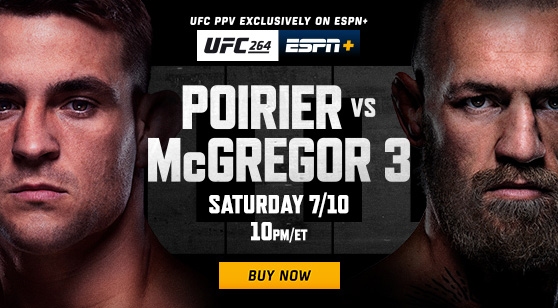 UFC Fight Night: Gane vs. Volkov Main Event
CYRIL GANE VS. ALEXANDER VOLKOV
Heavyweight Bout
Gane is the dark horse in the Heavyweight division. How he is not more talked about is beyond me. His level of dominance displayed throughout his five UFC wins is perhaps only rivalled by a Khabib Nurmagomedov, or an Islam Makachev.
He is one of the best technical strikers I've seen in a long time, especially in the Heavyweight division. He kicks well, and has an uncanny ability to stay out of danger against big punchers such as Jairzinho Rozenstruik and Junior Dos Santos. He has a striking defense of seventy percent, which means that if you throw 10 strikes at him you only land three - unbelievable! He also absorbs under two strikes per minute on average, which is statistically unheard of for a Heavyweight after five fights.
Volkov's biggest claim to fame is his height and reach. The 6'7'' Russian is called 'Drago' for a reason. However, his technical striking doesn't come close to Gane's leg kicks and distance management. Gane's reach of 81'' means Volkov will have a reach disadvantage for the second time in his career.
Gane is on his way to the top, and despite the debated experience gap Cyril is good enough to work around that with picture perfect technique.
Prediction: Gane (-155) def. Volkov
UFC Fight Night: Gane vs. Volkov Co-Main Event
TANNER BOSER VS. OVINCE SAINT PREUX
Heavyweight Bout
Co-main event time! We've got a great heavyweight battle on our hands in the co-main event of UFC Vegas 30. Tanner Boser steps in on short notice to face UFC veteran Ovince Saint Preux. Preux was initially scheduled to face Maxim Grishin at UFC Vegas 30, but now it'll be Boser standing across the octagon from him on Saturday when the UFC Apex cage closes.
OSP is one of the anywhere-anytime kinda guys, who has a few good wins now and then. However, I think Boser schools him on the feet. On the ground OSP has submission skills to work with, but striking has never been his key to victory. Sure, Boser is coming into this fight on a twp-fight skid, but both of those decisions were extremely contested. I honestly thought he beat Latifi and Arlovski.
OSP is older by 9 years, which is significant. His only notable advantage is the reach, but Boser's youth and aggressiveness will allow him to work around that reach discrepancy.
Prediction: Boser (-185) def. Saint Preux
UFC Fight Night: Gane vs. Volkov Main Card
RENATO MOICANO VS. JAI HERBERT
Lightweight Bout
Renato Moicano really needs a win on Saturday, if he wants to avoid ending up as the next James Vick. He has lost three of his last four via knockout in round one. Meanwhile, Jai Herbert has less to lose in this spot, as he is coming off a tough-fought losing debut against UFC veteran Francisco Trinaldo.
Herbert gets to test himself against good competition, while Moicano badly needs a win. Moicano's recent hop around the divisional ladder makes me wonder where his head is at. After losing to Aldo and The Zombie, he went up to Lightweight and beat Hadzovic seemingly thinking 155 was his new home.
Unfortunately he would run into another KO at the hands of Rafael Fiziev in his next outing, and now, he's moving back down to Featherweight. It seems like he's getting desperate if you ask me. He wants to fix his flaw, and thinks a move in weight is the way to do it.
As I stated earlier, Herbert is the one with the least to lose in this fight, and that means he can take his time and pick his spots against the more aggressive Moicano. Herbert is a knockout puncher, that has always been his shtick, and Moicano runs into the big shots when he gets too eager to trade - we saw that against Fiziev.
I say Jai pulls off the upset on Saturday, and sends Moicano back down for another go at Featherweight. Herbert also has his usual reach advantage, here of 5-inches.
Prediction: Herbet (+200) def. Moicano
TIM MEANS VS. NICOLAS DALBY
Welterweight Bout
Tim Means seems to be on a bit of a career resurgence right now as he has won two in a row. Dalby is technically also coming into this fight on a two-fight win streak, as his fight against Jesse Ronson was ruled a no-contest. Both fighters are quite scrappy strikers with some solid ground game to back it up. Dalby probably has the better durability, but Means has recently shown that he can go three hard rounds against hard-hitting youngsters, such as Mike Perry. Physically, I think Dalby is stronger, and I think he will win the clinch exchanges for that reason alone. Means has always been sort of a tall and lanky guy, while Dalby balloons up in between fights. He could probably be a Middleweight fighter. Despite both guys being scrappy, Means has more miles on the clock and has had quite an inconsistent run in his last 10, winning five and losing five. Dalby was initially cut from the UFC back in 2016, but the guy suffered from clinical depression at the time, and hasn't officially lost a fight since 2018. Dalby uses his grueling elbows in the clinch and most likely busts up Means on Saturday.
Prediction: Dalby (+115) def. Means
ANDRE FILI VS. DANIEL PINEDA
Featherweight Bout
Andre Fili is well on his way to becoming the gatekeeper at 145 lbs at this point. He has a 21-8 record, and usually strings a few wins together now and then before running into a hungry young prospect, where Fili ends up as a stepping stone.
Pineda is a guy who initially joined the UFC back in 2012, where a 3-4 run would eject him from the promotion. In 2020 he returned in a big way with a win over Herbert Burns, however his momentum would be brought to a halt in his next fight where he was knocked out by Cub Swanson.
Daniel Pineda is a submission wiz by heart, and usually prefers to win by getting the fight to the ground and wrapping a limb around his opponent's neck. The five-year age advantage for Fili concerns me, as well as the aforementioned KO loss to Cub Swanson. If Swanson can find the openings on the feet then I'm pretty sure Fili can too.
Prediction: Fili (-225) def. Pineda
RAONI BARCELOS VS. TIMUR VALIEV
Bantamweight Bout
The fighters in this matchup have the skills to become among the best in the division, so it'll be interesting to see who gets the 'dub on Saturday. Barcelos has the more proven UFC record, winning all of his five fights for the promotion. Valiev, on the other hand, initially lost his debut to Trevin Jones, but the fight was later ruled a no-contest due to a failed drug test by Jones.
Valiev would go on to win his next fight via unanimous domination against Martin Day in February. It's tough to know exactly how good Valiev is, due to the fact that we've only really seen him in one legitimate UFC fight. Barcelos has proven himself to be of the consistent variety however, winning all of his UFC bouts in dominant fashion.
Both guys can grapple, both guys can strike. Neither guy has ever been finished to strikes. God, this is a good matchup. If I have to pick one, I'd say Barcelos simply because we know he can hang with UFC level competition, whereas Valiev failed his debut, disregarding the fact that Jones popped for a banned substance.
Nevertheless, this fight will undoubtedly be close, and I see a close decision either way the fight goes. However, gun to my head I say Barcelos probably gets the dub here and sends Valiev back to the drawing board.
Prediction: Barcelos (-225) def. Valiev
UFC Fight Night: Gane vs. Volkov Prelims
YANCY MEDEIROS VS. DAMIR HADZOVIC
Lightweight Bout
Yancy Medeiros is an MMA veteran with 14 fights under the UFC mantle. In spite of beating some good fighters throughout his career, most notably Alex Oliveira and John Makdessi, Medeiros has struggled badly in his last three outings where he was knocked out by Cerrone, then Gillespie, and most recently suffered a unanimous decision loss to Lando Vannata.
Damir Hadzovic isn't a top tier fighter, but he shows up and gives a good account of himself, despite what his 3-4 UFC record might tell you. I think Medeiros is on his way out of the promotion, unfortunately, which means Hadzovic should be able to get the dub here.
Both fighters are fairly well-rounded, and Medeiros holds no big advantage over Damir anywhere, so 'The Bosnian Bomber' will probably get his hand raised on Saturday.
Prediction: Hadzovic (-150) def. Medeiros
CHARLES ROSA VS. JUSTIN JAYNES
Featherweight Bout
This fight is the grappler versus the striker. Charles Rosa is a grappling wiz with a 4-5 UFC record. He last fought in February where he lost a unanimous decision to newly-signed Darrick Minner. Justin Jaynes is the brawler who likes to stay on his feet and try to catch his opponent with a blitzing combination.
I think Jaynes has shown his hand at this point. He is four fights into his UFC contract, with a 1-3 record. His only win came by first-round KO against Frank Camacho (2-5 in the UFC). Justin only has that overhand right, and I think Rosa avoids it and takes it to the ground where he wins by submission.
Prediction: Rosa (-175) def. Jaynes
JULIA AVILA VS. JULIJA STOLIARENKO
Women's Bantamweight Bout
Neither fighter is really established in the UFC yet, but Avila has the better track record so far (2-1 in the UFC), while Stoliarenko has come up short in her only two fights under the UFC mantle.
Unless Stoliarenko shows me she can win a UFC fight, I can't predict her to win against Avila who has proven just that. The low volume for Stoliarenko concerns me, and she just doesn't seem to have the grit and determination to get her hand raised in the octagon. Avila has the volume and a two-inch reach advantage.
The two-fight skid for Julija also means she doesn't have a lot of momentum behind her, which isn't good when you probably need to win your next fight to keep your job.
Prediction: Avila (-375) def. Stoliarenko
MARCIN PRACHNIO VS. IKE VILLANUEVA
Light Heavyweight Bout
Villanueva finally got his hand raised in the octagon in his last outing against Vinicius Moreira. The win would be his first in the UFC, and snapped his two-fight skid. However, despite winning his last fight I don't consider Villanueva a fighter that will last in the UFC. His skills simply aren't there.
It took a matchup sent from above against one of the worst fighters the UFC in history, Vinicius Moreira, for Villanueva to be able to win, and on Saturday he'll be back in hell because Marcin is a game opponent. Don't get me wrong, I know Prachnio has struggled in the UFC. He lost his first three fights for the promotion, but he gave a hell of a performance in his last outing against Khalil Rountree by getting the unanimous decision dub.
I usually don't read too much into wins and losses, but Villenueva's 18-11 record seriously hurts my eyes. The guy literally only wins sixty percent of the time he fights. Say what you will about Prachnio but at least he doesn't have double-digit losses (his record is 14-5).
Prediction: Prachnio (-200) def. Villanueva
WARLLEY ALVES VS. JEREMIAH WELLS
Welterweight Bout
34-year old Jeremiah Wells got the call from the UFC after picking up two finishes in a row in the CFFC. Wells is a well-rounded guy and has three KO wins, three submissions, and two decision wins on his pro resume. He has never been finished as a pro.
Wells has big power in his hands. Warlley Alves might just be too experienced to walk into one of those bombs Wells likes to throw, which is why I think Jeremiah might have problems in this fight. It doesn't help the guy that he's making his big stage debut here either, as we all know UFC debutants tend to have a low win percentage.
Alves has wins over Colby Covington, Mounir Lazzez, and Sergio Moraes. He has a strong ground game and can handle himself on the feet too. Wells might get in some good shots in the first round, but when the bell rings to start Round 2 the more experienced UFC fighter will be fresher and ready to grapple. Wells also carries a lot of muscle for his frame, and I wonder if he'll fade against UFC competition. Gotta go with the experienced guy here.
Prediction: Alves (-225) def. Wells
SHAVKAT RAKHMONOV VS. MICHEL PRAZERES
Welterweight Bout
All aboard the Shavkat Rakhmonov hypetrain! The guy is undefeated and just won his UFC debut against a savvy veteran, Alex Oliveira. Let me tell you about this guy. 26-years old, 13-0 record, and a hundred percent finish rate, everything is there to make this guy the new blood in the Welterweight division, he just needs to keep winning.
Can he do it against Michel Prazeres though? I'm not so sure. What separates MMA from Boxing is exactly what we are seeing here, a prospect not getting fed easy matchups to build him up. In the UFC you are basically thrown to the wolves every single time you make that walk to the octagon.
Pitting Shavkat against Prazeres is a bit too much too soon for Rakhmonov. Prazeres has expert grappling and technical striking. I hope Rakhmonov gives a good account of himself though, because the Welterweight division is in dire need of some new blood after Chimaev's supposed retirement and Holland's fall from grace.
Prediction: Prazeres (+250) def. Rakhmonov
KENNEDY NZECHUKWU VS. DANILO MARQUES
Light Heavyweight Bout
Both fighters in this matchup are quite green in their UFC careers. Yet, there is a significant age difference of seven years in favor of Kennedy Nzechukwu, who also has a 6-inch reach advantage over Marques.
Kennedy is a natural power striker, who likes to get the job done with a KO. Marques is a grappler who likes to drag his fights to the ground and go for submissions while on the canvas. Who usually wins in this scenario?
The grappler surely, however, Kennedy has some quite significant advantages that I touched upon earlier. Reach and age are very important factors, especially when you're looking to win standing.
Marques might get a few takedowns, but the striking power is in favor of Kennedy, and there will be a constant threat of the KO for Marques. It just takes on punch, and I foresee some panic wrestling from Marques once the 'African Savage' connects.
Prediction: Nzechukwu (-135) def. Marques
Odds & Bouts Subject to Change
We may be compensated by the company links provided on this page.
Read more