Caesars Sportsbook Promo Code: VIMAXSPORTFULL - Up to $1,250 - October 03, 2022
29 minute read
---
Caesars Sportsbook is a brand that's growing at a rapid pace, and is now available in a number of states across the US. Use promo code VIMAXSPORTFULL in eligible states, including Kansas, which went live with Caesars Sportsbook on September 1st, 2022! Caesars is also live in PA as of September 2nd!

This platform is also live in multiple states such as New York, Louisiana, and Illinois, for the following: Your First Bet Is On Caesars Up To $1,250, plus get 1,000 Tier Credits and 1,000 Reward Credits®!
VIMAXSPORTFULL FOR UP TO $1,250 ON CAESARS! (October 2022)
When you're a new customer and you use our exclusive promo code VIMAXSPORTFULL, your first bet is on Caesars up to $1,250, plus get 1,000 Tier Credits and 1,000 Reward Credits®! Hurry and sign up now; these codes will expire soon.
This block contains unexpected or invalid content.ResolveConvert to HTML
Caesars Sportsbook Promo Code
Visit Caesars Sportsbook
💰 Caesars Promo Code
VIMAXSPORTFULL
💸 Caesars Sportsbook Offer
Up To $1,250 On Caesars
(T&C's Apply, 21+, Only in AZ, NJ, PA, IA, IL, KS, CO, IN, MI, VA, TN, WV, WY)
👉 Eligibility
New customers, 21+ in AZ, NJ, IA, IL, CO, IN, KS, MI, NY, PA, VA, TN, WV, LA, WY
📱 Mobile App
iOS & Android
✅ Last Verified
October 03, 2022
NFL SPECIAL OFFER FOR RAMS-49ERS THIS WEEK!
If you're looking for a great way to add some value to your betting experience and you're betting Rams vs. 49ers, try the Caesars Sportsbook special offer!
VEGASINSIDER CAESARS SPORTSBOOK RATING
| | |
| --- | --- |
| Overall Caesars Rating | |
| Caesars Welcome Offer | |
| Caesars Licensing / Safety | |
| Caesars App | |
| Caesars Customer Service | |
| Caesars Cashout Time | |
CONTENTS
CAESARS SPORTSBOOK WELCOME OFFER
Caesars has greatly improved their welcome offer in hopes of pushing their most recent expansion into new states with legal online betting. Once you've secured your account, you can grab the Caesars Sportsbook sign up bonus: your first bet is on Caesars Up To $1,250, plus get 1,000 Tier Credits and 1,000 Reward Credits®!
The Caesars app promo code does have wagering requirements you need to follow to keep the promotional credit. It's always a good idea to look into the finer points of the terms and conditions before you opt-in for a promo. Other than the expected requirements for eligible markets, this promotional offer is relatively easy to secure.
HOW DO I USE THE CAESARS PROMO CODE
It takes a few steps to claim your Caesars Sportsbook bonus code. Once you have completed these requirements, you will receive up to $1,250 in betting credit.
Follow these instructions to unlock the rewards that come with your Caesars promo code:
Sign up for a new account on the Caesars Sportsbook website.
Enter your information in each section - personal details, contact details, as well as your ID verification.
Enter the promo code when prompted.
Make your first deposit using a valid payment method
Place a real money sports wager of at least $10 using these funds.
Your free bet that equals your deposited sports wager will then be available in your account.
EXPIRED CAESARS OFFERS
Below you can find information on old and expired Caesars welcome offers. These typically replaced the current offer that Caesars has.
BET $100, GET A FREE NBA JERSEY
Caesars Sportsbook had a fantastic offer for users looking to score a free NBA Jersey. Any user that opted in to the promotion and placed at least $100 in real money wagers on the NBA during the promotional period that ended on February 7th, 2022 received a $150 NBA store gift card!
NFL OFFER - SUPER BOWL LVI ROYAL GIVEAWAY
ALL new and existing customers were able to win a VIP trip to Super Bowl 56 on a private jet, just by betting with Caesars during the NFL Season!
Players who used our code VIMAXSPORTFULL and placed a $10 bet on the NFL (min bet $10, min odds -200) automatically got an entry to win two tickets to Super Bowl 56, a two-night stay at a Caesars Rewards Las Vegas Resort, a private jet to and from the game, and airfare to and from Las Vegas. The runner up would receive two tickets to Super Bowl 56 and a two night stay plus airfare to Los Angeles.
NFL JERSEY GIVEAWAY
All new and existing customers would receive a FREE NFL JERSEY when they place $100 in NFL bets in the month of September in 2021. This offer expired September 30th, 2021. Customers received a free gift card to the NFL shop to pick a jersey or clothing of their choice.
CAESARS UPCOMING NFL GAME ODDS
Here are odds for the an upcoming NFL game this week:
CAESARS FUTURE ODDS
You can find here-below a selection of updated Caesars Sportsbook Odds for the upcoming NFL season. Here are odds for the upcoming Super Bowl!
Updated October 03, 2022 9:00 AM ET - Odds Provided by Caesars - Subject to Change
| NFL Team | Caesars Sportsbook Odds |
| --- | --- |
| Buffalo Bills | +400 |
| Kansas City Chiefs | +700 |
| Philadelphia Eagles | +750 |
| Green Bay Packers | +1000 |
| Tampa Bay Buccaneers | +1200 |
| Los Angeles Rams | +1400 |
CAESARS SPORTSBOOK BET TYPES
Caesars Sportsbook has all the markets covered, including spreads, totals, moneyline, player props, and more. Take a look at some notable bets you can place below:
SPREAD BET
Spread betting is when you bet on the margin of victory in a given matchup.
In the example above, the Buffalo Bills are favored by 2.5 points, which means they must win by three or more points for you to cash in a bet on the Bills against the spread.
MONEY LINE BET
Money line betting is when you bet on a game straight up.
The Bills are the favorite, so they are listed at a -135 price, while the Los Angeles Rams are at +115.
TOTALS BET
Totals betting is when you bet on the total score of the game.
In the example above, the over/under is set at 52 points.
HALF BET
Half betting is when you bet on a single half like you would a whole game, including spread, money line and total.
PROP BET
Prop betting is when you bet on a particular action to happen in a game, such as a team to score a certain amount of touchdowns or a player to throw for a certain amount of yards. Prop bets do not involve the actual outcome of the game.
In this example, both Josh Allen and Matthew Stafford are favored to throw for over 1.5 touchdowns in this matchup rather than under.
FUTURES BET
Last but not least, we have futures betting, which is when you bet on something to happen in the future, whether that be the winner of the championship, conference, or division.
HOW TO SIGN UP AT CAESARS SPORTSBOOK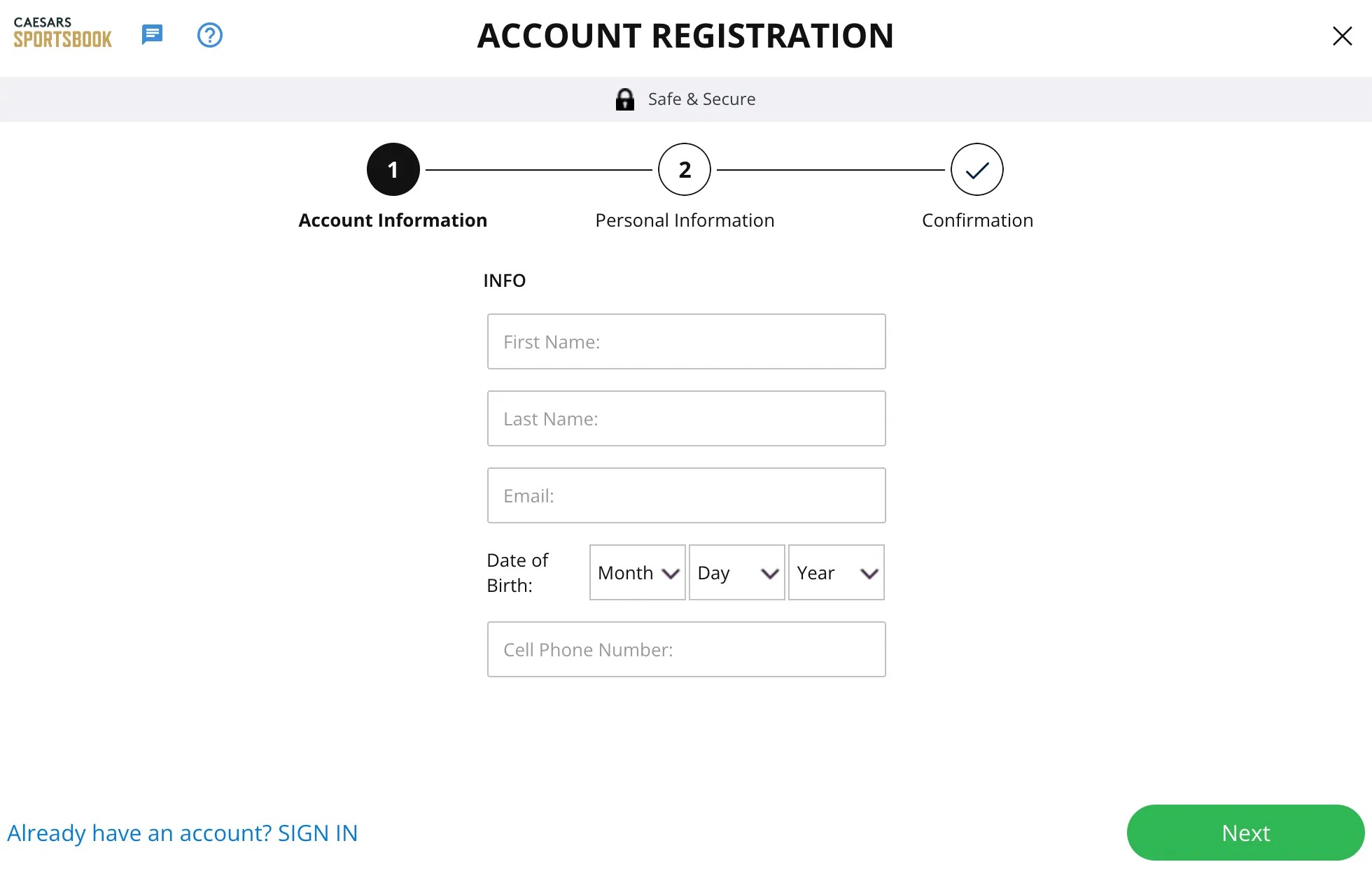 Caesars online sportsbook has opened its virtual doors to sports bettors in several states, including New Jersey and Colorado. An excellent welcome offer, regular promotions, and competitive odds on a wide variety of betting markets await you, just follow these steps to sign up:
Go to Caesars Sportsbook using your desktop or mobile device. It's a super straightforward download process whether you're using Apple or Android devices. Just go to the app store of your choice, find the Caesars Sportsbook app, and download. Make sure your device is up-to-date and you're on a solid WiFi connection! Desktop users can simply navigate to the main Caesars Sportsbook website, select their state, and register. Don't forget to use our links!

Enter your email address and choose a strong password. Don't worry: Caesars won't opt you into any newsletters without your consent, and will only send the occasional promotional email. These are not to be missed out on, as they might include exclusive offers!

Scroll down to enter personal details and choose security questions.

Enter our promo code VIMAXSPORTFULL for up to $1,250 on Caesars when prompted. Once you make your first eligible deposit according to the T&C's, you'll see those bonus funds!

Confirm your details and click on the "Join Now" icon to start betting with Caesars Sportsbook!
SIGN UP FOR THE CAESARS APP
Singing up with the Caesars app is simple, but our very own Brad Szalach broke it down for you in this handy informational video!
CAESARS SPORTSBOOK MOBILE APP
Online sportsbooks usually offer their product on a downloadable mobile app. The Caesars Sportbook app came into existence intending to provide a comprehensive platform to bettors, and it is meeting that mark.
You can download the Caesars Sportsbook app on any supported iOS or Android device.
The Caesars Sportsbook app features all the same sports and bet types as its desktop version. Players have access to both major professional sports as well as some college-level sports betting. Basketball, football, golf, hockey, motor racing, soccer, and tennis are available for sports wagering. It's a great addition to any bettor's home screen.
HOW DOES CAESARS COMPARE TO OTHER SPORTSBOOKS?
Caesars is a top tier mobile app in the industry. They recently updated their UI to enhance user experience, and help customers make bets even easier to place. We will take a look at some competitors in the industry and see how Caesars compares.
GENERAL APP USER EXPERIENCE
First we will compare how easy it is to use the Caesars Sportsbook app and the competitors mobile apps as well. We tested using an iPhone 13 Pro and here is what we found:
BetMGM: Easy to read - Large promo section - Can easily search sports
Caesars: Looks fantastic - Casino section stands out - Boosts are clearly marked
FanDuel: Too much of information - Cluttered sports section
PLACING A BET
We also tested to see how easy it is to place a bet on each induvial platform. We again tested using an iPhone 13 Pro and here is what we found:
BetMGM: Clear bet slip - Allows to switch between parlay and round robin
Caesars: Easily readable lines - Shows settles and open bets as well
FanDuel: Simple UI - Shows amount clearly - Has extra options
Overall Caesars fairs very well when it comes to competing with these top US books. FanDuel and BetMGM are some of the top leaders in the game, and Caesars arguably takes the crown for the most easily usable app.
STEP-BY-STEP: HOW TO BET USING YOUR CAESARS BETSLIP
Simply put, Caesars has one of the most attractive and easy-to-read interfaces out there. If you're still stumped on how to bet, check this step-by-step:
Open your Caesars App and navigate either to your betslip at the top, or to the bet of your choice. Just find a line you'd like to bet on and tap on it.
Once you've found your preferred bet, make sure you know which type of bet it is and how much you'd like to wager. Keep in mind that tapping on the button indicating a +/- amount means you're betting on the spread. Moneylines are straightforward wagers, and you can also bet on totals.
You've tapped your bet and now it's added to your betslip. Great! If you're ready, enter your stake and hit Bet Now! If you want a parlay, keep adding legs.
Once you've added all your selections, fill in your wager amount (stake) and hit Bet to bet. Simple!
MOBILE APP USABILITY
This block contains unexpected or invalid content.ResolveConvert to HTML
| Feature Evaluated | Caesars Rank |
| --- | --- |
| Speed | Great |
| Navigation | Good |
| Game Options | Fantastic |
| Betslip | Average |
SPEED
Caesars Sportsbook App was a breeze to use. We didn't notice any lag when going from one section to another, and everything loaded up rather quickly.
NAVIGATION
Navigating the app was also pretty simple. As mentioned above, the app looks fantastic and everything is easy to read.
GAME OPTIONS
This is where Caesars really shines. Whether its markets on the sportsbook side or games on the casino side, there are tons of options at your disposal.
BETSLIP
Caesars' betslip is pretty much on par with other operators. One nice little feature is that the betslip doesn't take up the whole screen, so you're able to peruse and add to your slip as you go.
CUSTOMER FEEDBACK ON THE APP
We also took a look at how consumers graded the Caesars Sportsbook App, both on the App Store and Google Play Store. Check out some notable pros and cons of each platform below:
APP STORE
The Caesars Sportsbook App has a strong 4.6 rating across 33,000 reviews on the Apple App Store.
| iOS Positives | iOS Negatives |
| --- | --- |
| Promos Easy To See | Too Much Scrolling |
| New Layout | Clunky Navigation At Times |
| Tons of Game Options | Location Issues |
GOOGLE PLAY STORE
The Caesars Sportsbook App has a pretty solid 4.4 rating across 14,000 reviews on the Google Play Store.
| Android Positives | Android Negatives |
| --- | --- |
| Quick Payouts & Deposits | Glitchy |
| Great Boosts | Navigation Issues |
| Odds Easy To View | Live Scores Slow |
HOW TO BET ON CAESARS SPORTSBOOK
You will certainly want to get into the thrilling betting action once you have opened your account. Needless to say, you need to fund your account first. Caesars Sportsbook supports several deposit methods, including:
Play+ Prepaid Card
PayPal
eCheck by VIP Preferred
Once you have made your deposit and claimed your Caesars Sportsbook deposit bonus, login and click on the homepage or tap the Caesars Sportsbook icon. This will bring you to the main bookmaker page where you'll find a list of upcoming games and their current odds. You can also find odds by market or by time.
Clicking on these will bring up the wagering menu for that specific day. Similarly, click on any of the sports listed on the left side of the page to bring up betting menus for those sports.
After finding the sport, league, and individual event you wish to bet on, you'll have several options to choose from. Typically, you see odds for the spread, money line, and total points. However, there are usually many other betting options for each match.
When you find and click on the bet you want to make, a betting slip with your selection pops up. Double-check the odds and then enter your wager amount. The bet slip displays the wager amount and the potential return. Once satisfied, hit the "Place Bet" icon and you're all set.
Do you want to place a parlay bet? Add your selected games to the bet slip, scroll down to the "Parlays" section, enter your bet amount, and click the "Place Bet" icon. Caesars Sportsbook also lets you build a variety of combination bets. Don't forget about all the live betting options.
OTHER CAESARS SPORTSBOOK OFFERS
As mentioned, Caesars offers a generous sportsbook welcome promo in the form of your first bet is on Caesars Up To $1,250, plus get 1,000 Tier Credits and 1,000 Reward Credits®. To qualify, make your first deposit using the Caesars sports betting promo code and then make your first wager.
The great deals don't end there: Caesars has other exciting offers! Be sure to check the promotions page to see the latest offers.
WEEKLY BIG BET OFFER
The Weekly Big Bet offer will net you a Caesars free bet if you bet a certain amount. For example, you may see the $200 Bet Bonus, which nets you extra betting cash to the tune of $200 if you bet $500 of more. It's almost like a "buy one, get another item of half value free" kind of deal.
PROFIT BOOSTS
This is where you can find some real value: profit boosts are special lines picked by Caesars that have adjusted odds to give you, the bettor, a higher payout if you win. These promotional boosts are a great way to increase your expected payout on this site versus others, so it's always smart to look at the lines that are being "profit boosted" when you log on to bet.
BETTING MARKETS / AVAILABLE SPORTS
For a big name in online sportsbooks, it offers the minimum expected sports. Players can only choose from the following sports to wager on:
All of these sports offer wagering on a professional sports level. Football and basketball are also available at the college level, but certain bets may be restricted based on your location.
Your Caesars promo code will unlock access to the following bet types:
Moneyline bets
Teaser bets
Total (over/under) bets
Future bets
Spread bets
Parlays
CAESARS RACEBOOK LAUNCHES
In partnership with NYRA Bets, Caesars now offers pari-mutuel betting on horse racing with Caesars Racebook in multiple states, including Ohio, Florida, and Indiana!
Many big-name tracks are offered, such as Belmont and Santa Anita, and players can earn Caesars Rewards.
CAESARS SPORTSBOOK: TEAM AND ARENA PARTNERSHIPS
Caesars Sportsbook has partnered with several teams and venues to bring their branding and expertise to professional sports. The list of entities includes:
BALTIMORE RAVENS
They've only been around since 1996, but this Maryland-based franchise has two NFL Championships under their belt, with more surely on the way. Caesars has a foothold in the MD casino and sports betting market through their Horseshoe Casino in the state, and now, they're partnered with the Baltimore Ravens to promote safe, legal betting in the Old Line.
LSU TIGERS
A behemoth of college sports, Louisiana State University is well-known for being a formidable contender in football, basketball, and more. When Louisiana went live with online betting in 2021, Caesars jumped at the chance to partner with the Tigers, and the two are now offering branding, legal sports betting services, and more to LSU fans. If you're an eligible bettor in Louisiana, you too can bet on your favorite collegiate teams legally and safely with Caesars!
ARIZONA DIAMONDBACKS
A unique partnership among sportsbook companies, the Arizona Diamondbacks are partnered with Caesars in the Grand Canyon State to offer the full scope of legal betting both online and in-person. You can bet at Chase Field at an exciting retail location right next to the action, or bet safely and legally from your home computer or smartphone!
MADISON SQUARE GARDEN
Affectionately called The Garden, this famed location for sports and entertainment in the heart of NYC is now a partner of Caesars Sportsbook! Since New York legalized online betting in 2022, numerous national operators were eager to hop into the market, which continues to be one of the biggest betting markets in the world. Today, you can get online with Caesars while you're sitting at the Garden or on the go in the city, and place bets on the Knicks, Nets, Yankees, and more! (By the way, Madison Square Garden is a circular arena. Figure that one out.)
MEMPHIS GRIZZLIES
In August 2022, the Memphis Grizzlies announced a partnership with Caesars Sportsbook! In-person betting at FedExForum will be available soon, but you can already get online and bet with Caesars anywhere in-state with your mobile phone.
Stay tuned for more team and venue partnerships through Caesars!
CAESARS SPORTSBOOK WELCOME OFFERS BY STATE
State
Offer in State
Claim Bonus
Kansas
Up To $1,250 On Caesars
T&C's Apply, 21+
CLAIM BONUS
Pennsylvania
Up To $1,250 On Caesars
T&C's Apply, 21+
CLAIM BONUS
Louisiana
Up To $1,250 On Caesars
T&C's Apply, 21+
CLAIM BONUS
New York
Up To $1,250 On Caesars
T&C's Apply, 21+
CLAIM BONUS
Arizona
Up To $1,250 On Caesars
T&C's Apply, 21+
CLAIM BONUS
Colorado
Up To $1,250 On Caesars
T&C's Apply, 21+
CLAIM BONUS
Michigan
Up To $1,250 On Caesars
T&C's Apply, 21+
CLAIM BONUS
Virginia
Up To $1,250 On Caesars
T&C's Apply, 21+
CLAIM BONUS
Tennessee
Up To $1,250 On Caesars
T&C's Apply, 21+
CLAIM BONUS
Iowa
Up To $1,250 On Caesars
T&C's Apply, 21+
CLAIM BONUS
Indiana
Up To $1,250 On Caesars
T&C's Apply, 21+
CLAIM BONUS
New Jersey
Up To $1,250 On Caesars
T&C's Apply, 21+
CLAIM BONUS
West Virginia
Up To $1,250 On Caesars
T&C's Apply, 21+
CLAIM BONUS
Wyoming
Up To $1,250 On Caesars
T&C's Apply, 21+
CLAIM BONUS
🚨 CAESARS NOW LIVE IN KANSAS!
As of September 1st, 2022, users in Kansas can get online with Caesars Sportsbook and get access to the same welcome offer as in other states: up to $1,250 on Caesars! Use code VIMAXSPORTFULL or sign up using our links!
Click the button below to go right to the Caesars registration page and net your bonus credit!
SIGN UP WITH CAESARS SPORTSBOOK KANSAS!
CAESARS PENNSYLVANIA
Harrah's Philadelphia is home to the retail location of the Caesars Sportsbook, and users in the Keystone State can get online for legal betting on their favorite sports! Sign up with the links on this page for a welcome offer right out of the gate, competitive lines on Phillies baseball or Steelers football, and more!
CAESARS LOUISIANA
Two locations including Horseshoe Casinos and Louisiana Downs are partners with Caesars in the Pelican State, offering in-person and online sports betting since the early part of 2022. You can get online with Caesars in Louisiana for Android & iOS or by visiting the site on your home computer. Make sure you're in one of the 55 of 64 parishes to legalize betting if you want to play, though!
CAESARS NEW YORK
Among the biggest markets for legal online sports betting, New York has been live since January 2022 and continues to be a top competitor in the national market. If you're looking to bet with Caesars, you can either head upstate to a number of casino locations or just get on your phone or computer and bet!
CAESARS ARIZONA
Arizona went live with sports betting in 2021 and is a solid destination for betting, almost rivaling that of neighboring Nevada. Caesars is actually partnered with the Arizona Diamondbacks to offer betting in the state, and users can either bet at Chase Field or online!
CAESARS COLORADO
In Colorado, two casinos are partnered with Caesars for in-person play, but the best way to play is still online. Getting online with our links is your quickest line to betting with a top-performing platform. With Caesars, you get competitive odds and a ton of boosted bets: use them on the Rockies, the Nuggets, the Broncos, and more!
CAESARS MICHIGAN
Detroit, Michigan has a number of celebrated teams (mostly the Red Wings) and a passionate crowd of fans, and today those fans can bet on the Lions, Wings, and more through Caesars. Licensed through two local casinos, Caesars is available now that betting has been legal since 2019 in the Great Lake State. If you're at Turtle Creek or Leelanau Sands, you can bet in-person, or take a trip to your app store, then sign up using our links above!
CAESARS VIRGINIA
Virginia is slated to get an in-person Caesars location in 2024, but that doesn't mean you can't get online and bet in VA right now. While there aren't any pro sports teams in Virginia, college football and basketball are absolutely on the menu when you're betting with Caesars.
CAESARS TENNESSEE
In Tennessee, users can get online through their smartphone or desktop to bet on the Grizzlies, the Volunteers, the Titans, and more. There aren't any in-person (retail) locations just yet, but the FedEx Forum (home of the Grizzlies) will soon be available. Why not do both, get online with Caesars in Tennessee today and then bet in-person when you're watching the game?
CAESARS IOWA
Iowa was one of the early adopters of legal, online sportsbooks, and as a result, Caesars was quick to enter the market there. You can bet on a myriad of sports in-person at two locations including a Harrah's/Horseshoe Casino, or you can bet online and get access to the same developed, easy-to-use platform as in other states.
CAESARS INDIANA
The Hoosier State loves basketball, and now they can bet on it legally through Caesars! The Caesars Southern Indiana Casino is open for business, but you can also get online (you're noticing a pattern here, aren't you?) online through the mobile app. Pacers basketball is readily available, in addition to Colts football, the Guardians, and more!
CAESARS NEW JERSEY
The Garden State is known for a lot of things including gambling. There's both the Caesars Atlantic City and a Harrah's location in the state, which is the East Coast's favorite destination to gamble in-person. If you're looking to bet on the Devils, the Giants, and more, try Caesars online!
CAESARS WEST VIRGINIA
West Virginia, home to everyone's favorite country boy, is also home to Caesars at the Mountaineer Casino, Racetrack & Resort. If you can't hop over to Cumberland, just sign on using the Caesars app and get access to a sizable welcome offer by using our links!
CAESARS WYOMING
Tucked into what some call the most beautiful part of the country, Wyoming isn't big on the list of gambling destinations for many folks, but it should be. Though the state doesn't hold claim to any big names in sports, college betting is alive and well with Caesars in Wyoming!
CAESARS SPORTSBOOK RELIES ON GEOCOMPLY FOR IP COMPLIANCE
When it came to verifying the IP address of end users in legal US sports betting markets, Caesars Sportsbook turned to GeoComply to meet this need.
Based in Vancouver, this Canadian gaming tech company has developed the necessary tracking software to ensure compliance with sports betting regulations. This technology's reach extends to individual US states, Canadian provinces and regulated countries all around the world. GeoComply has grown to become an industry leader with a global reach in the mobile gaming industry.
GeoComply gives Caesars Sportsbook the ability to track usage of its mobile sports betting app by identifying any customer's physical location. This allows the company to remain fully compliant with any state gaming regulations tied to IP tracking. This also prevents any misuse of the Caesars Sportsbook app by unauthorized users.
STREAMING AND LIVE BETTING ON CAESARS
The Caesars sportsbook is relatively lacking in the live streaming department, but that's no surprise- securing streaming deals and fighting with the major conglomerates like CBS and FOX is no easy task. Typically, you'll have to see a streaming deal happen separately from a sports betting agreement, so we're not likely to see all of our favorite sports in live stream on the Caesars platform.
However, the online sportsbook does offer live in-game betting.
CAESARS SPORTSBOOK AVAILABLE STATES
Caesars is available for online sports betting in the following states:
WHY JOIN CAESARS SPORTSBOOK
There is a growing list of reasons why players should join Caesars and make use of the promo code. As a big name in online sportsbooks, Caesars has the following mentionable highlights:
Licensed and regulated operator
24/7 customer support
Wide offering of popular sports to wager on
Various bet types available
Mobile app available that features a sleek interface
Ongoing promotions for existing players
CUSTOMER SERVICE
The Caesars sportsbook also has quality customer service options offered. Pretty much any kind of customer service you would want is offered by this online sportsbook. You can look at the Frequently Asked Questions section to see if your question has already been answered.
Should you require additional help, you have a toll-free phone number you can call, an email address you can utilize, or a live chat option: this is a staff favorite, as it allows you to get real-time answers from an actual representative quickly.
OUR VERDICT
Overall, the Caesars sportsbook offers the best features of an online sportsbook. The people at Caesars are working hard to set themselves apart from the competition. They're making huge strides with recent partnerships, and are offering a top-performing sportsbook app with sleek features and competitive promotions.
The Action Network rated the app 9.5/ 10 in their comprehensive Caesars Sportsbook review of the app and betting tips to make the most of the latest Caesars Sportsbook Promo Code.
Unfortunately, the lack of live streaming is a setback, and we'd like to see some of the user-focused features like the FAQ section and customer support in general to improve a bit. Overall, though, downloading and betting with Caesars Sportsbook is definitely worth your time.
CAESARS SPORTSBOOK FAQ
DOES CAESARS SPORTSBOOK HAVE A PROMO CODE?
Yes! Using our code VIMAXSPORTFULL will get you up to $1,250 on Caesars, plus 1,000 Tier Credits and 1,000 Reward Credits! Just use our code at sign-up or click one of the sign up links on this page.
HOW DO I GET MY FREE BET BONUS AT CAESARS?
It's simple, just use our code VIMAXSPORTFULL at sign-up when prompted for a promo code, or just click one of the sign up links on this review to take you directly to the promo-enabled registration page. If your first wager up to $1,250 is a loss, Caesars will net you another free bet credit up to that amount! (Terms and conditions apply.)
WHERE DO YOU ENTER YOUR PROMO CODE AT CAESARS?
Enter Caesars Sportsbook promo code VIMAXSPORTFULL in the box labeled "PROMO" when you're signing up.
WHY AM I HAVING TROUBLE CONNECTING?
This could be for a lot of reasons, but the best course of action is to restart your device. Caesars has a dedicated support team, so reach out to them if you have any issues placing a wager or cashing in a winning bet by connecting to support through the app or website.
DO I HAVE TO BE IN A LEGAL STATE TO BET WITH CAESARS?
Yes, you have to be in one of the states where Caesars is licensed. Check this list for a breakdown of available states and promos!
DO I HAVE TO BE IN A LEGAL STATE TO WITHDRAW MY WINNINGS FROM CAESARS SPORTSBOOK?
No, as long as you have an internet connection, you can access the Caesars Sportsbook and make deposits and withdrawals: you just can't bet.
WHY DID MY BANK DECLINE MY TRANSACTION WITH CAESARS?
Check with your financial institution for details: chances are, your bank does not accept this kind of transaction. If you're located in Iowa or Tennessee, you won't be able to use credit cards to bet.
DOES CAESARS OFFER LIVE BETTING?
Yes, Caesars offers live betting on a ton of popular markets.
Caesars Sportsbook offer is New players only. 21+ or older. Full T&C apply. Available in AZ, NJ, IA, IL, CO, IN, MI, PA, NY, VA, TN, WV, LA, KS, WY
What We Like
What We Don't Like

Customer service options

No live streaming

Mobile sportsbook app

Small sports market offered

Payment options
Other great sportsbooks where you can find a live promotion:
bet365 Bonus Code | BetMGM Promo Code | PointsBet Promo Code | Borgata Bonus Code | WynnBET Promo Code | DraftKings Promo Code | FanDuel Promo Code | BetRivers Promo Code | FOX Bet Promo code | Unibet Promo Code | Betfred Promo Code | theScore Bet Promo Code
We may be compensated by the company links provided on this page.
Read more