2022 Penn State Nittany Lions Betting Odds, Picks & Predictions
2022 PENN STATE NITTANY LIONS BETTING ODDS, PREDICTIONS, PREVIEW
Things started out all right for Penn State, including a road win at Wisconsin to start the season, a home win over Auburn in mid-September and a shutout over Indiana at home in early October to open 5-0. Unfortunately for head coach James Franklin, his Nittany Lions won just twice in the final seven regular-season games while losing to Arkansas in the Outback Bowl.
The good news for Penn State is that the experienced QB Sean Clifford is back under center. He has started 33 games across the past three seasons, and he completed 62.4% of his passes for 2,912 yards, 20 touchdowns and six interceptions while running for 117 yards and a pair of scores.
The run game is a mystery heading into 2022. RB Keyvone Lee led the team with 495 yards and 4.8 yards per attempt, but he found the end zone just twice. There is hope, as incoming freshmen RBs Kaytron Allen and Nick Singleton are highly-touted prospects who could easily push their way into a major piece of the offensive pie. Penn State didn't have a 100-yard rusher last season, and that's something which won't sit well with the old-school faithful.
The defense has some issues in the front seven, but help is on the way with DE Adisa Isaac and DT P.J. Mustipher, who return from major injuries. New defensive coordinator Manny Diaz, the former head coach at the University of Miami, will have his hands full. LB Curtis Jacobs is the only returning linebacker for the Lions. The best part of the D is in the backfield, where S Ji'Ayir Brown and CB Joey Porter Jr. are top-notch, and the team has some impressive recruits joining the fray with CB Kalen King and S Jaylen Reed. The secondary might be one of the best in the Big Ten if things break right.
For the second straight season, Penn State opens on the road against a conference foe from the West Division. That's a tough way to start. The Nittany Lions also have a trip to The Plains to face Auburn, and a 1-2 start is certainly possible. If Clifford and the offense can get some help in the run game, and the front seven develops quickly, this will easily be a team which makes a bowl, perhaps another New Year's Day bowl game. However, it's easy to envision at least four losses, likely to Purdue and/or Auburn in September, as well as Michigan and Ohio State. Lean to the UNDER for the total wins for these Lions.
Best Bet: Penn State Under 8.5 Wins (-130)
2022 PENN STATE NITTANY LIONS SCHEDULE
Thu., Sept. 1 - at Purdue
Sat., Sept. 10 - vs. Ohio
Sat., Sept. 17 - at Auburn
Sat., Sept. 24 - vs. Central Michigan
Sat., Oct. 1 - vs. Northwestern
Sat., Oct. 15 - at Michigan
Sat., Oct. 22 - vs. Minnesota
Sat., Oct. 29 - vs. Ohio State
Sat., Nov. 5 - at Indiana
Sat., Nov. 12 - vs. Maryland
Sat., Nov. 19 - at Rutgers
Sat., Nov. 26 - vs. Michigan State
WIN TOTAL ODDS
Over 8.5 (+100)
Under 8.5 (-130)
PENN STATE NITTANY LIONS ODDS TO WIN BIG TEN CHAMPIONSHIP
+900
Penn State making the Big Ten Championship Game would mean it likely topped Michigan and/or Ohio State, and ended up going unbeaten or with one loss in the East Division. That's highly unlikely, and it's easily conceivable that the Nittany Lions could start out in an 0-1 hole with a loss at Purdue in the opening weekend. Don't waste your money on this bet, as there are just too many questions for Penn State as far as key parts of the offense and the front seven on defense.
PENN STATE NITTANY LIONS ODDS TO WIN NATIONAL CHAMPIONSHIP
+6600
James Franklin's team lost a total of six games last season, and it hasn't really been a serious National Championship contender in decades. This team has lost at least two games in each season since 2005, and that isn't likely to change anytime soon.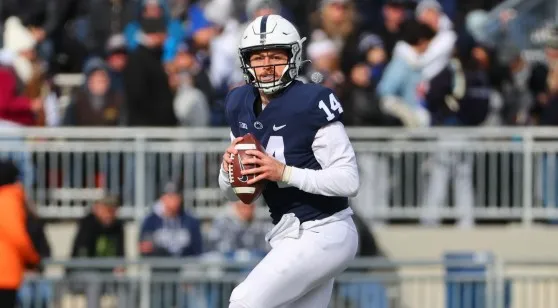 PENN STATE NITTANY LIONS 2022 HEISMAN CONTENDERS & ODDS
Sean Clifford (QB) +8000
Joey Porter (CB) +25000
Parker Washington (WR) +25000
Clifford is a highly experienced and is a system quarterback. He is serviceable, even above-average at times, but he won't post the video-game-like numbers needed to wow the voters and earn a trip to New York City. We haven't seen a defensive player win the Heisman since 1997 when CB Charles Woodson turned the trick. Don't take Porter's candidacy with an ounce of seriousness.
2021 PENN STATE NITTANY LIONS BETTING RESULTS
SU: 7-6
ATS: 5-8
O/U: 3-10
ATS-Home: 4-3
ATS-Road: 3-3
ATS-Favorite: 5-3
ATS-Underdog: 2-3
MORE CONFERENCE ODDS
•