NCAAF
Last Updated Jul 19, 2022, 8:01 PM
2022 SMU Mustangs Betting Odds, Picks & Predictions
2022 SMU MUSTANGS BETTING ODDS, PREDICTIONS, PREVIEW
It's a new era for SMU football. After leading the Mustangs to a strong start and a spot in the AP Top 25 for each of the last three seasons, Sonny Dykes has left Dallas for rival TCU. Former offensive coordinator Rhett Lashlee will be replacing Dykes, and this is the first head coaching gig for the 39-year-old. Lashlee won't change the offense much, but there are fears that SMU won't have the same bite on this side of the ball as the veteran offensive coordinator has been up and down when he hasn't been on Gus Malzahn's staff. We saw that over the last two years at Miami, as the Hurricanes failed to live up to expectations with Lashlee at OC.
Lashlee will have the benefit of working with arguably the best quarterback in the AAC in Tanner Mordecai. The Oklahoma transfer was excellent in his first season at SMU last year, completing 67.8% of his passes for 3,628 yards (8.0 YPA) with 39 touchdowns and 12 interceptions. This offensive line did an excellent job keeping him upright considering how often Mordecai threw downfield, and he was able to keep plays alive with his legs too.
Danny Gray and Reggie Roberson Jr. have both moved on, so senior Rashee Rice figures to be the main target in the passing game. North Carolina transfer Beau Corrales could also make a big impact if he can stay healthy, and the Mustangs brought in other transfers like Teddy Knox from Mississippi State, Jake Bailey from Rice, and Kelvontay Dixon from Texas.
There is some experience on the offensive line, and that position group has been buoyed by transfers too. That could lead to a big year for new running back Camar Wheaton. Wheaton will have to beat out Tre Siggers for the starting job, but he is a five-star running back. He originally signed with Alabama before leaving Tuscaloosa after one season to return to the Lone Star State.
SMU ranked 71st in Defensive SP+ last season. The Mustangs will return seven starters (and five seniors) on this side of the ball, including two potential First Team All-AAC defensive linemen in DeVere Levelston and Turner Coxe. Levelston and Coxe combined for 12.5 sacks last year on their way to winning all-conference honors. Nose guard Elijah Chatman was a Second Team All-AAC pick last year, as he was able to clog the middle of the defense.
This secondary went through growing pains last year. The Mustangs allowed 8.4 YPA and 284.0 YPG, but SMU is hoping that the trial by fire will lead to improvement from young cornerbacks Bryce McMorris and Jahari Rogers.
The Mustangs have the potential to challenge for the AAC title. Mordecai is an elite signal caller, and the offense could be just as explosive as it was in 2021. However, Lashlee is unproven as a head coach, and there are still concerns about this defense, so the 'Under' is the pick.
Best Bet: Under 7 Wins (-105)
2022 SMU MUSTANGS SCHEDULE
Sat., Sept. 3 - at North Texas
Sat., Sept. 10 - vs. Lamar
Sat., Sept. 17 - at Maryland
Sat., Sept. 24 - vs. TCU
Sat., Oct. 1 - at UCF
Fri., Oct. 14 - vs. Navy
Sat., Oct. 22 - vs. Cincinnati
Sat., Oct. 29 - at Tulsa
Sat., Nov. 5 - vs. Houston
Sat., Nov. 12 - at USF
Thu., Nov. 17 - at Tulane
Sat., Nov. 26 - vs. Memphis
WIN TOTAL ODDS
Over 7 (-115)
Under 7 (-105)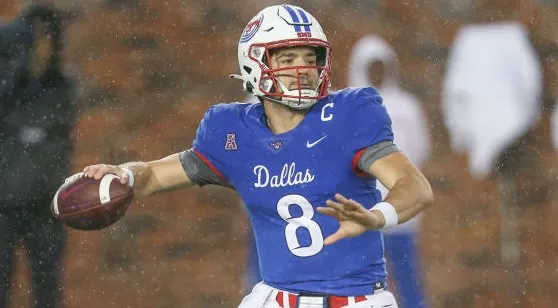 SMU MUSTANGS ODDS TO WIN AAC CHAMPIONSHIP
+1600
The Mustangs don't have the luxury of playing the worst team in the conference (Temple), and they have to face the four best teams in the AAC. The good news is that only one of those games is on the road (UCF), as SMU hosts Cincinnati, Houston, and Memphis. SMU does have some value at this price if you believe in Lashlee and the potential for this offense.
SMU MUSTANGS ODDS TO WIN NATIONAL CHAMPIONSHIP
+50000
SMU has not been ranked in the postseason Top 25 since the halcyon days of the Pony Express. While the Mustangs were ranked at different points over the last three seasons, they were never able to climb higher than 15th and stand little chance of earning consideration from the CFP Selection Committee.
SMU MUSTANGS 2022 HEISMAN CONTENDERS & ODDS
The SMU Mustangs do not have any Heisman contenders to begin the 2022 season.
2021 SMU MUSTANGS BETTING RESULTS
SU: 8-4
ATS: 6-6
O/U: 6-6
ATS-Home: 5-1
ATS-Road: 1-5
ATS-Favorite: 5-5
ATS-Underdog: 1-1
MORE CONFERENCE ODDS
We may be compensated by the company links provided on this page.
Read more