San Francisco 49ers vs. Cincinnati Bengals Predictions, Odds, Picks
Week 14 NFL Picks & Predictions
Games Scheduled for 1:00 p.m. ET
The San Francisco 49ers (6-6) travel to meet the Cincinnati Bengals (7-5) in an NFC-AFC battle at Paul Brown Stadium in Cincinnati on Sunday in Week 14. Kickoff is scheduled for 4:25 p.m. ET, and the game can be viewed on FOX.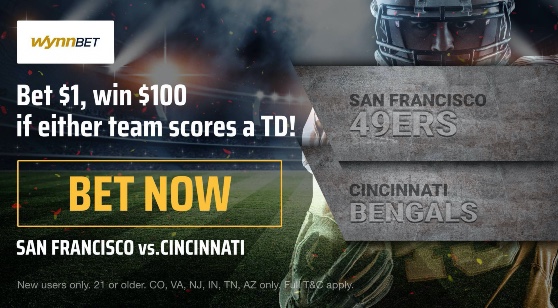 Score Prediction
Cincinnati 30, San Francisco 27
Best Bets
Bengals +110 ML at FanDuel
Bengals +2 (-110) at DraftKings
Over 48.5 (-110) at PointsBet
Over 23.5 first-half total (-110)
San Francisco 49ers vs. Cincinnati Bengals Predictions
The 49ers were rolling along in the previous three weeks, working their way up the standings with a presumably favorable matchup against the last-place Seahawks in Seattle on tap. The 49ers lost outright by a 30-23 score as three-point favorites, and just like that they're back to .500.
The Bengals are facing a California team at home for the second consecutive weekend. They hope the 49ers aren't rude guests like the Chargers, who came from Los Angeles and put a 41-22 West Coast style beatdown on the Bengals, answering Cincinnati's question of Who Dey? Dey the Bolts who beat the Bengals. And the Niners are lining up for their shot now.
San Francisco 49ers vs. Cincinnati Bengals Betting Odds
San Francisco 49ers vs. Cincinnati Bengals Betting Resources
Matchup: NFC West vs. AFC North
Date: Sunday, December 12, 2021
Venue: Paul Brown Stadium
Location: Cincinnati, Ohio
TV-Time: CBS - 4:25 p.m. ET
Week 14 NFL Picks & Predictions
Games Scheduled for 4:05 p.m. through 8:20 p.m. ET
San Francisco 49ers Betting Analysis
Straight Up - SU, Against the Spread - ATS, Over-Under (O/U)
SU: 6-6
ATS: 5-7
O/U: 7-5
ATS - Home: 2-4
ATS - Away: 3-3
The loss in Seattle last week was shocking, to a point. I mean, the Seahawks also won the first meeting in Santa Clara back in Week 4 by seven points. In fact, the Seahawks might be petitioning the NFL Commissioner's office to allow them to only play the 49ers, as they also swept the Niners last season, and are 5-1 SU in the past six meetings.
So San Francisco looks to bounce back this week, but it'll have to do so east of the Mississippi River. They were successful last time, winning 30-10 in Jacksonville as a 6.5-point favorite as the UNDER hit. But, that's Jacksonville, right? Well, the 49ers are 4-0 SU/3-1 ATS east of the Mississippi this season, also beating the Chicago Bears, Detroit Lions and Philadelphia Eagles. OK, the four teams they have faced so far EoM are 13-35-1, but in this season's NFL, stacking wins in any fashion, in any way, is impressive.
The one situation the 49ers haven't handled well is being the favorite, and that's where we are. San Francisco is 4-11 ATS in the past 15 games as a favorite. It actually opened as a one-point 'dog, but the line has shifted to Frisco laying up to a point and a half at most shops at time of publication.
Cincinnati Bengals Betting Analysis
Straight Up - SU, Against the Spread - ATS, Over-Under (O/U)
SU: 7-5
ATS: 6-6
O/U: 6-6
ATS - Home: 2-4
ATS - Away: 4-2
The Bengals spanked the Pittsburgh Steelers in Week 12, winning 41-10, and it looked like the Bengals were about to be in great shape. They had a West Coast team coming into cool, windy conditions, and a season-high third straight cover was going to happen, right? Wrong. The Chargers fired out of the chute, leaving the Bengals to play catch-up. They almost did, but just couldn't get over the hump. Cincinnati's offense managed just 22 points against the Bolts, a departure from the 36.5 PPG the Bengals had hung on the Raiders and Steelers in the two prior games.
In addition, it's bit worrisome that the Bengals have allowed 34 or more points three times in the past five games. They need to nip that in the bud quickly, or 'dey' ain't beating anyone. Of course, total bettors are perfectly fine with the way things have been going, as Cincinnati has cashed the OVER in five of the past six games overall, with a lot of teams trending even or to the UNDER lately.
The OVER is 7-2-1 in the past 10 for the 49ers as a road favorite. (AP)
Inside the Stats - San Francisco 49ers
Record: 6-6
Division Standing: 1-4
Points Scored: 303
Points Allowed: 278
PS/G: 25.3
PA/G: 23.2
>
Inside the Stats - Cincinnati Bengals
Record: 7-5
Division Standing: 3-1
Points Scored: 331
Points Allowed: 267
PS/G: 27.6
PA/G: 22.3
Key Players to Watch
SFO: Jimmy Garoppolo - QB (207/310, 2,641 yards, 15 TD, 8 TD)
SFO: Deebo Samuel - WR (56 catches, 1,209 total yards, 10 total TDs)
CIN: Joe Burrow - QB (259/379, 3,135 yards, 23 TD, 14 INT)
CIN: Joe Mixon - RB (227 rushes, 978 yards, 12 TD)
San Francisco 49ers vs. Cincinnati Bengals Betting Conclusion
OK, now for the most important part. You have to save the best for last, right? Injuries, and there are a lot of them. The 49ers have gotten tremendous production out of rookie RB Elijah Mitchell, but he is out. Swiss Army Knife WR Deebo Samuel is questionable due to a groin injury, too, and it sounds like he might be more of a game-time decision. If Samuel is ruled out, that changes quite a bit, including the potential of the offense and the total outlook.
On the Bengals side of the ball, RB Joe Mixon is likely going to be a game-time decision, while WR Tee Higgins is also questionable. Like Deebo, above, if one or both of those players are sidelined for the Bengals, particularly Mixon, that changes the outlook for the OVER. If he is out, Cincinnati is going to want to go vertical - A LOT. It will be a mostly aerial-based attack. It still probably will be anyway. Let's consider both Deebo and Mixon will play, and we'll go OVER as the best play in this one.
San Francisco 49ers vs. Cincinnati Bengals Betting Trends
San Francisco is 4-11 in the past 15 games as a favorite.
Cincinnati is 1-4 ATS in the past five home games.
The OVER is 5-2 in the past seven games for San Francisco.
The OVER is 7-2-1 in the past 10 as a road favorite for San Francisco.
The OVER is 5-1 in the past six games for Cincinnati.
Where to place a bet this NFL Season?
Use our exclusive BetMGM Bonus Code VIBONUS1500 to unlock BetMGM's welcome offer for new sportsbook users!
Compare the latest NFL Odds from the best sportsbooks before placing a bet on this week's games.
Check out the North Carolina Sportsbooks just before they launch legal online sports betting.
•