FanDuel Racing Review
The No. 1 legal sportsbook operator in the United States has expanded into horse betting. The FanDuel Racing website and mobile betting app takes the excitement of betting on horse races to a whole new level.
A perfect example of this would be the recent FanDuel Meet at Kentucky Downs. More than $20 million was wagered on the races during this year's event.
CONTENTS
FANDUEL RACING PROMOTIONS
As a relatively new gaming product from FanDuel, the horse racing site and mobile app are still evolving. Legal in more than 20 states, an initial promotional schedule has been released to complement its use among horse betting fans.
PROMO CODE
Any bonus or promotional incentives for FanDuel horse racing could be accompanied by a special promo code. These bonus and promo codes are used to activate a specific offer.
For example, FanDuel Sportsbook has a great welcome offer.
The current FanDuel Racing welcome offer is much smaller in scale. New customers can receive a 100% match on their initial deposit up to $50.

Gambling problem? Call 1-800 GAMBLER
Horse racing promotions and incentives are unique to this particular form of online gaming. Bonuses can be tied to the live race card at certain tracks. Win bet insurance offers a payout for a second or third finish.
Handicapping contests and other incentives are often added for major graded events such as the Kentucky Derby and annual Breeders' Cup.
FANDUEL RACING PROS & CONS
As with any online gaming betting site/app, there are bound to be strong points in what they have to offer. There are also a few areas where the site and app can improve. This FanDuel horse racing review found a few points of interest for each.
FANDUEL RACING PROS
At the top of the list is the gaming company behind this new offering. FanDuel has become the No. 1 legal US sportsbook operator in terms of market share. The site's original success is tied to daily fantasy sports (DFS).
FanDuel's market reach has the ability to promote horse racing across a wide section of the country. This is a major positive for local tracks, breeders and the horse racing industry as a whole.
The mechanics behind the FanDuel horse racing site and mobile app brings quite a bit of experience and expertise into the marketplace.
Easy deposits, fast payouts and a name you can trust are part and parcel of using the FanDuel Racing platform.
FANDUEL RACING CONS
FanDuel is still relatively new to horse betting. This might cause a bit of a learning curve with the FanDuel Racing gaming product.
The lack of an overall rewards program based on customer loyalty. This type of incentive could be added in the near future.
UPCOMING RACE SCHEDULE
| Date | Race | Track |
| --- | --- | --- |
| November 3 | FanDuel Breeders' Cup Juvenile Presented by Thoroughbred Aftercare Alliance | Santa Anita Park |
| November 4 | Longines Breeders' Cup Classic | Santa Anita Park |
HOW TO SIGN UP WITH FANDUEL RACING
There is an easy three-step process to sign up for a FanDuel Racing account as follows:
Register for a FanDuel Racing account online with a valid email address, password and state of residence.
Verify both identity and eligibility through additional required information.
Activate a new FanDuel Racing account through an initial deposit. Any applicable FanDuel bonus or promo codes would be applied at this time.
BETTING WITH THE FANDUEL HORSE RACING APP
FanDuel Racing is available online through the actual site and a downloadable mobile app.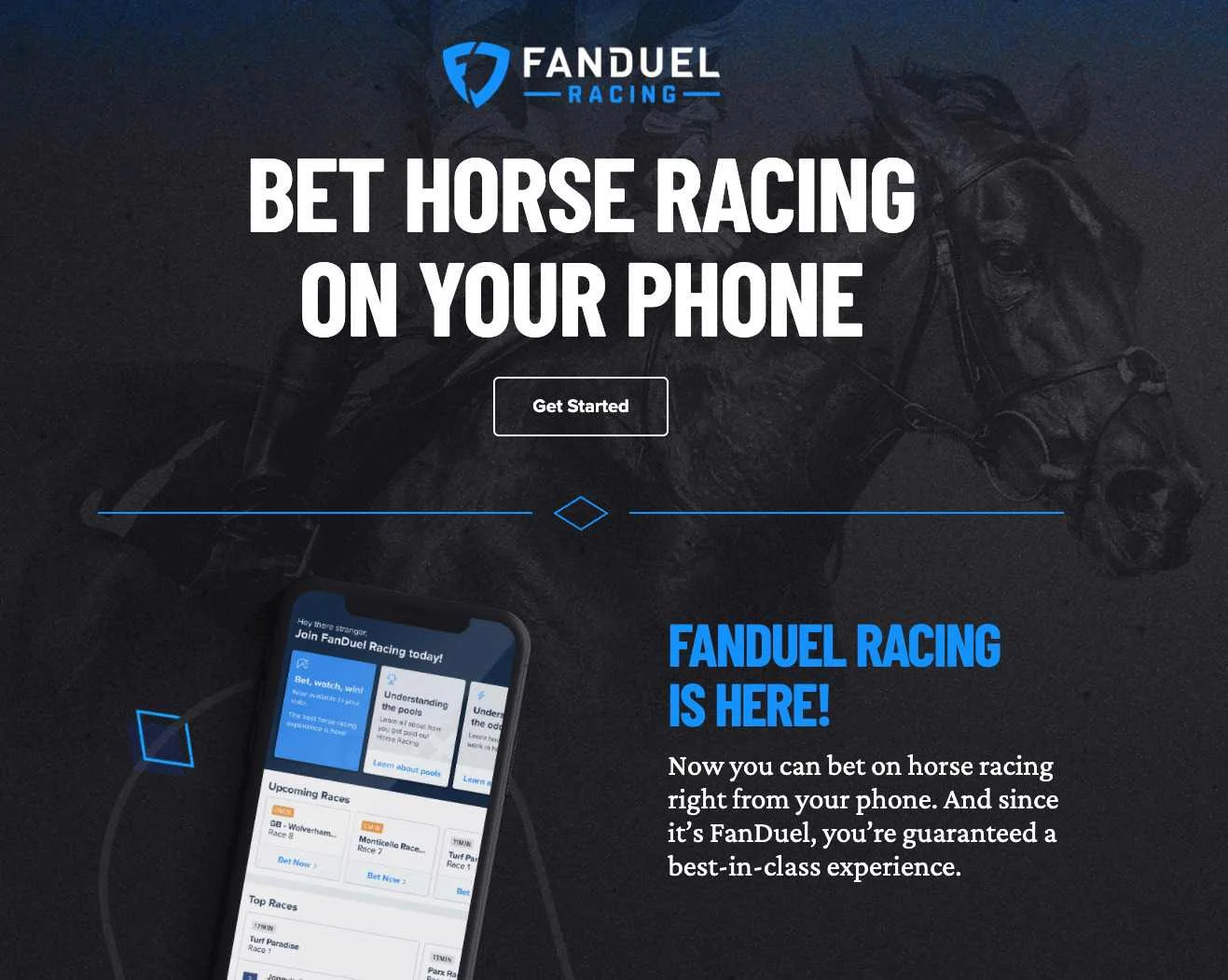 HOW TO DOWNLOAD ON IOS
The FanDuel iOS mobile racing app can be downloaded from the actual site. It can also be installed by visiting the App Store.
The process is simple and the actual app is easy to use. Sections include Races Starting Soon, Today's Popular Races and a listing of the Top Tracks offering a live daily card.
HOW TO DOWNLOAD ON ANDROID
The FanDuel Racing app for Android devices is also easy to download. As long as a betting customer resides in a state listed on the site, they can access the mobile app through the Google Play Store or by following the download links on the website.
FANDUEL RACING STATE BY STATE
FanDuel Racing is available in more than 20 states across the US. A convenient map highlighting all the legal markets is posted on the FanDuel Racing site and mobile app.
Most of the Northeast and Midwest states are on this list. Beyond that, two very popular markets on the map are Florida and California.
FANDUEL RACING EASE OF USE - 4 OUT OF 5
Designed in the same fashion as the FanDuel sportsbook site and app, FanDuel horse racing scored high grades for ease of use.
Everything on the site and app is laid out in a very simple fashion. There is a tutorial on understanding horse racing odds. There is also a "Best Bets of the Day" section with insider tips.
All the races can be viewed live through FanDuel's streaming options. This lets customers watch the races they bet on live.
FANDUEL RACING PAYMENT OPTIONS - 4 OUT OF 5
The available payment options for funding an online account remain rather standard across all FanDuel online gaming products.
Credit and debit cards can be used to make payments. Online banking is another popular option for both deposits and withdrawals. Other banking options include eChecks, PayPal, PayNearMe and wire transfers. The withdrawal limit for FanDuel Racebook are set at $10,000.
There is a FanDuel Racing Prepaid Card that can be used to fund an online account. A digital version of the physical card is available as soon as your initial deposit funds clear.
FANDUEL RACING CUSTOMER SERVICE - 5 OUT OF 5
As the biggest US sportsbook operator in the US, FanDuel is already known for having excellent customer service. Even though FanDuel Racing is a separate site and mobile app, that level of excellence is apparent.
Along with the ability to contact customer service online, there is a comprehensive tutorial for FanDuel horse racing on the site and mobile app. This covers almost every conceivable topic related to betting on horses through FanDuel Racing.
There is even a section on state-specific rules for betting on the races.
FANDUEL RACING FAQ
HOW MANY DIFFERENT RACE TRACKS DOES FANDUEL RACING OFFER?
Betting customers will have access to live racing cards at more than 150 different race tracks around the world.
HOW CAN I VIEW RACE RESULTS THROUGH AN ONLINE FANDUEL RACING ACCOUNT?
There is a stand-alone "Bet, Watch and Win" section on the website and mobile app for viewing races. Race results are available through the heading "More" at the bottom right of the home page.
HOW DO I REQUEST A WITHDRAWAL FROM AN ONLINE RACING ACCOUNT?
Withdrawal requests are also accessed through the "More" tab. This leads to the withdrawal option within the account balance box.
OUR FANDUEL RACING VERDICT - 4 OUT OF 5
FanDuel Racing is an excellent addition to betting on horse races through an online site and betting app. The current marketplace remains crowded with multiple options. However, the FanDuel brand has the ability to attract new customers to the horse racing industry.
For sports bettors that are new to betting on horses, this is an excellent way to get started. The expansive lists of available states is another strong suit for betting on horse races through FanDuel.
Other great racebooks you can place a wager with:
4NJBets | AmWager | BetMGM Horse Racing | Caesars Racebook | DRF Bets | NYRA Bets | PlayUp Racebook | TVG | TwinSpires | Xpressbet
•