Argentina 2022 World Cup Team Preview
US Sports Betting Industry Expert
6 minute read
---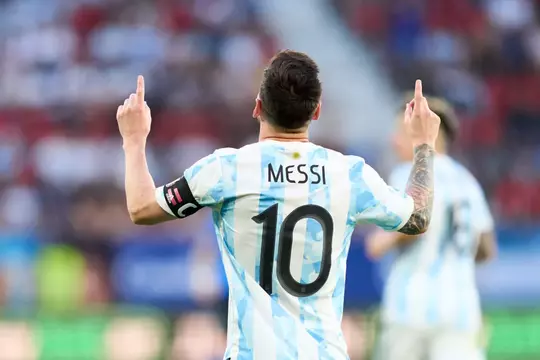 World Cup 2022 | Odds | Venues | Groups: A B C D E F G H | Knockout: Rd 16 | Quarterfinals | Semifinals | Finals
CONTENTS
Argentina To Win 2022 World Cup Odds
Argentina are among the favourites to win the 2022 World Cup – but betting sites don't think Lionel Messi and co. warrant being top of the soccer odds. Argentina haven't had the best of World Cup experiences over the last three decades, but have twice won the tournament (in 1978 and 1986).
Two final defeats (in 1990 and 2014) is all they have to show for the past 30 years. Meanwhile, it was only last year that Messi finally got his hands on a trophy with Argentina, when they won the Copa America.
Thankfully for boss Lionel Scaloni, Argentina head into the Qatar World Cup having remained unbeaten in more than a year. They beat Brazil to lift the Copa America trophy in 2021, went on a six-game run without conceding a goal, and this summer stuffed Italy 3-0 in the recently-rejuvenated Finalissima.
Messi, naturally, draws the attention of media, fans and soccer bettors alike. But Argentina boasts a wealth of other talent. Angel Di Maria, Nicolás Otamendi, Leandro Paredes and Paulo Dybala are hugely experienced players. Exequiel Palacios and Julian Alvarez are part of a younger generation coming into the team, meaning head coach Scaloni has plenty of options when considering his World Cup squad.
Odds Provided by BetMGM. Accurate as of Aug. 3, 2022 - Subject to Change
Argentina are the fifth favourites to win the 2022 World Cup. Their odds of 8/1 put them level with Spain, but behind the likes of Brazil, France and England. These odds have actually come in from 10/1 earlier this year, when a 1-1 tie with Ecuador in March cast some doubt on their ability to see off opponents.
Still, the triumph over Italy at Wembley in June ensured those odds came back in. SOuth American clubs and nations love to pit themselves against European counterparts – and the Finalissima result proved, to some, that Scaloni's side is ready for Qatar.
With Giovani Lo Celso and Rodrigo De Paul now firmly embedded in the Scaloni system, and Emiliano Martinez proving to be one of the world's best goalkeepers, Argentina are well placed to challenge for the World Cup. And the bookies will almost certainly slash their odds if La Albiceleste get off to a winning start.
Argentina Path To Final
Argentina's path to the World Cup final could well see them take on Brazil. But apart from that, they have one of the easiest routes to the final thanks to FIFA's decision to put hosts Qatar into pot 1.
Pot Draw
Argentina were seeded fourth for the 2022 World Cup draw, so they were placed in Pot 1. They secured their seeding thanks to a largely seamless qualifying campaign, where they finished behind only Brazil in the South American table.
Group Stage
Argentina face Saudi Arabia, Mexico and Poland in Group C. Neither Saudi nor Poland were top seeds in their respective pots. Mexico were seeded top of Pot 2 but have not beaten Argentina since the 2004 Copa America.
Potential Knockout Stage Games
Assuming Argentina tops Group C, they will play the runner-up of Group D in the last-16. That's likely to be Denmark or Australia. If we go by seed, the projection is they would then face likely Group A winners Netherlands in the quarter-finals. Beat them and it's probably a date with rivals Brazil in the semis, while either England or France could await in the final.
Argentina Previous World Cup Finishes
Argentina have twice won the World Cup and were runners-up in the inaugural competition back in 1930. Here's Argentina's World Cup record in full:
1930 – Runners-up
1934 – First Round
1958 – Group Stage
1962 – Group Stage
1966 – Quarterfinals
1974 – Second Round
1978 – Champions
1982 – Second Round
1986 – Champions
1990 – Runners-up
1994 – Last-16
1998 – Quarterfinals
2002 – Group Stage
2006 – Quarterfinals
2010 – Quarterfinals
2014 – Runners-up
2018 – Last-16
Argentina Golden Boot Odds
Odds Provided by bet365. Accurate as of Aug. 3, 2022 - Subject to Change
Argentina World Cup FAQ
Want to know more about Argentina at the World Cup? Check out these answers to some frequently asked questions.
Has Argentina qualified for the World Cup 2022?
Yes. Argentina qualified behind Brazil in the South American qualification route to the 2022 Qatar World Cup. Lionel Messi and Lautaro Martínez were Argentina's lead scorers during qualifying.
Why Is World Cup 2022 In November?
The World Cup in 2022 takes place this November because it is being held in Qatar. FIFA officials decided a summer World Cup in 104 degrees heat would not be possible.
Will Argentina win the World Cup again?
Argentina are one of the favourites to win the 2022 World Cup for the first time since 1986. However, they could meet old rivals Brazil in the semi-finals in Qatar. What's more, either England or France could await them in the final.
Will Messi play at the World Cup?
Yes. Lionel Messi will play what is likely to be his last World Cup this winter. The 35-year-old led Argentina to the 2014 World Cup final, only to lose to Germany. He has won just two trophies with his country – the 2021 Copa America and 2022 .
How much World Cup prize money can Argentina win?
Argentina could earn as much as $62 million in prize money, should they go all the way and win the World Cup. The Argentine Football Federation receives any prize money earned during the tournament.
We may be compensated by the company links provided on this page.
Read more